Hold onto your china teapot 'cos there's a wave of booze spiked Afternoon Tea offerings coming your way
Loose-leaf tea; dainty china; fiddly sandwiches with the crusts cut off… it's all a bit BBC drama for BarChick's liking. Check these boozy afternoon teas and get booking – you'll have your little finger poking out before you can say 'I'll be mother'.
A three-martini lunch? Now you're talking. It might sound like you need to have a titanium liver to get through the afternoon without going sideways, but the Martinis in question are miniatures. Anyone who's got through 2 of Alessandro's legendary Martinis at Duke's will understand. There's still all the quality – this is DUKES baby, home of the Martini. Each of the East Indian Company gin cocktails have been designed to pair with part of the meal. Think crisp clarity of the lemon twist classic is alongside sarnies. Marmalade Martinis with warm scones, and finally there's the First Romance Tea martini. Now this kind of romance we approve of. It's made with vermouth that's infused using The East India Company's First Romance Tea – a black tea with fruits and flower petals. Sip while you indulge in handmade pastries like a peanut chocolate delice and doughnut praline and congratulations, consider us wooed.
Served every day from noon to 6pm with 4 sittings: 12pm, 2pm, 4pm and 5.45pm - £48 per person.
35 St James's Pl, St. James's, London SW1A 1NY
Taking a playful approach to the traditional afternoon tea and keeping classic Lyan fun at the forefront, Fancy Tea is a tongue-in-cheek take on a high-end 80s dinner party with a bold Lyan twist and cocktails created by the talented team. Made up sandwiches, savouries, scones and sweets as well as four different cocktails; guests can expect an indulgent menu full
of bold flavours and 80s-inspired delights that make for an unforgettable experiance
Fancy Tea is priced at £58 for the full tea selection, four paired cocktails, cakes and savouries. The Boozeless Tea (£38) and a Champagne Tea (£48) are also available. Fancy Tea will be available in Lyaness from Thursday to Sunday, between 12pm and 5pm. Last sitting at 4pm.
Sea Containers London, 20 Upper Ground, London, SE1 9PD
It's all under-the-radar female winemakers wine-makers FTW at this immersive wine tasting afternoon tea which pairs bad-ass wines with mini servings from 28°-50°'s equally killer à la carte food menu. 28°-50°'s female Head Sommelier Ksenia Karpenko is the babe behind this vino-laced tea served at the recently opened South Kensington restaurant. You'll explore 5 glasses of awesome wines from leading European women winemakers (including a glass of Bolly) alongside miniature versions of the restaurant's popular dishes, including a gazpacho, fresh salmon ceviche, rich truffle arancini, and even the slow cooked lamb shoulder. Sweet toothed? 28°-50°'s famous chocolate Madeleines with crème anglaise and scones with champagne infused strawberry jam and clotted cream will sort you out.
The winemakers afternoon tea will be on offer at all four 28°-50° restaurants from midday until 6pm every day and is priced at £60 per person. 
Marylebone: 15-17 Marylebone Ln, London W1U 2NE | Covent Garden: 10 Upper St Martin's Ln, London WC2H 9FB | South Kensington: 96 Draycott Ave, London SW3 3AD | Chelsea: 300 King's Rd, London SW3 5UH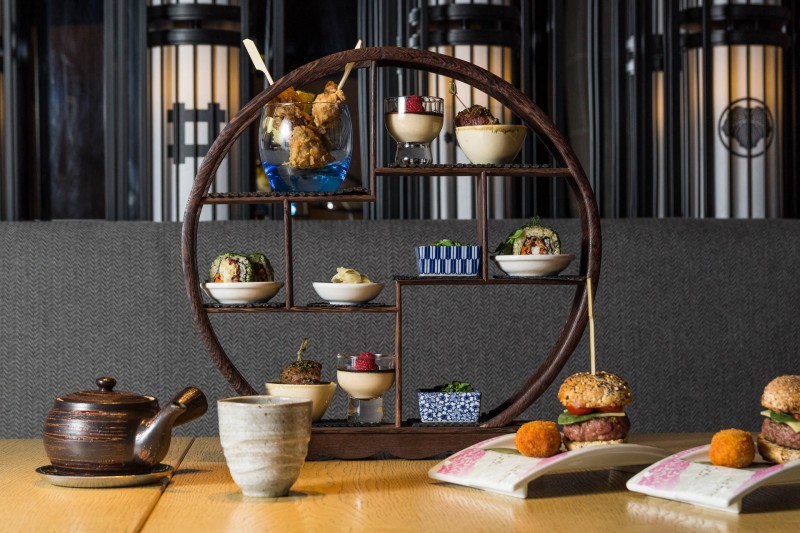 Sure, it's a mouthful. But not nearly as much a mouthful as you're going to be taking when you're presented with more Asian-inspired treats than you can shake a chopstick at. Ginza Onodera is stylish AF. They're waving sayonara to the sarnies and ushering in umami-packed Japanese treats. Chicken karaage, wagyu beef sliders and seared salmon tataki. No, you're salivating. But enough food chat – let's get down to the business of booze. The sweet thing about this Afternoon Tea is that you can get busy with Champagne, matcha tea, or cocktails. We're not trying to sway you but their Japanese version of a Bramble, the Panacea #2 (Sake, Elderflower Gin, Crème de Mure, Apricot palinka, Lime) is top. 
The Onodera Ochakai afternoon tea is served from 2-4pm on Saturdays and Sundays. £37 each for Afternoon Tea with cocktails.
15 Bury St, St. James's, London SW1Y 6AL
There ain't no party like a liquor-laced afternoon tea party – at least that's the sentiment of the Cocktail Trading Co boys. If you fancy a boozy bash that involves pop classics, finger sandwiches, and cocktails garnished with Mr Kipling cakes, then this is one invitation you don't want to turn down. Taking place on the first and last Sunday of each month, guests can expect more colourful concoctions, cheesy tunes and flamboyant fun. You'll find BarChick shaking it to Shaggy (guilty pleasure, okay?) while getting our green on with the Cucumber Manwich. It's green tea infused Bombay Sapphire Gin, cucumber and Galia melon juice, served long with Suze bitters and a solid spritz of bubbles.
Afternoon Par-Tea takes place on the first and last Saturdays of the month from 1-3pm at the Cocktail Trading Co, 68 Bethnal Green Rd, London, E1 6GQ. Tickets cost £35.
68 Bethnal Green Rd, E1 6GQ
Love your gin as much as you love cake? Then this'll tickle your fancy. Head to the antiquated living room that is Mr Fogg's Gin Parlour (you'll find it hidden upstairs at Mr Fogg's Tavern) and settle into one of the plush chaise longues beneath the Victorian light shades, tassels and retro floral wallpaper. It's here where Phileas' late Aunt Gertrude left her nephew a whopping collection of over 200 gins, 25 tonics and 40 botanicals. Sign up for the G&Tea for two and you can make your way through it, kicking off with a G&T, of course. Check out a few more from Mr Fogg's collection and then get onto the afternoon tea to soak it all up with homemade Victorian sweet and savoury treats, alongside a Bombay Sapphire gin teapot cocktail – just in case you were still in need of hydration.
Available Friday, Saturday & Sunday – from £44 per person.
1 New Row, Covent Garden, London WC2N 4EA
The intrepid exploror is at it again at his House of Botanicals in Fitzrovia, with a Tipsy Afternoon Tea kicking off at 13:01 every Saturday. The man is nothing if not weirdly and precisely punctual. Spend the afternoon amongst the greenhouse vibes of this flora filled bar with your pinkies out as you sip on fruity teas laced with plenty of the good stuff (booze). There's a sick choice of five teapot cocktails to indulge in (like A Roaring Brew made with Kumquat and butter fat-washed Woodford Reserve Bourbon, amontillado sherry, peach purée, lemon juice & orange marmalade), and obviously plenty of sweet and savoury delicacies to keep you going.
Available every Saturday from £44 per person. Upgrade to a bottomless cocktail teapot for an additional £20pp, or if you're swerving the booze try the tipsy-free tea also on offer. 
48 Newman Street, Fitzrovia, London W1T 1QQ
Take a trip down the rabbit hole in the middle of the Sanderson Hotel in Fitzrovia, and you'll find yourself sharing some epic treats and wicked savoury delights with the Mad Hatter. That's our kinda trip. You'll find menus hidden inside vintage books and teapots adorned with kings and queens. Wash everything down with Alice's Exotic Fruits "Drink Me" potion, a few of the the Mad Hatter's cocktails (the Tequila based Off With Your Head is a bit of us) and a glass of Veuve Clicquot Champagne for good measure. And for the afternoon tea traditionalists, finish up with warm scones, clotted cream and fruit preserve, perfectly paired with Alice-inspired tea infusions. You absolutely won't wanna be late for this one. 
Mad Hatters Afternoon Tea is served daily in The Restaurant at Sanderson. Our Mad Hatters Afternoon Tea is priced from £48 per person and £35 per child (for children 4-11 years old). On celebratory days and bank holidays, Mad Hatters Afternoon Tea is priced from £58 per person for special packages.
50 Berners St, Fitzrovia, London W1T 3NG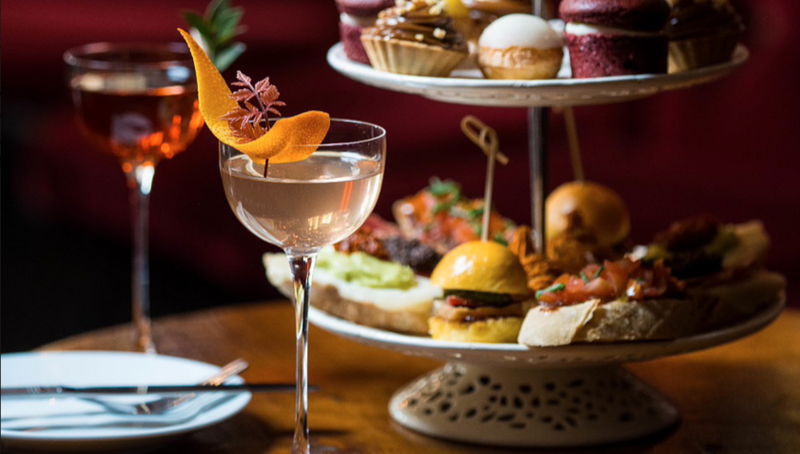 It starts off small n' savoury on the MAP Maison Afternoon Tea menu. It's all about tapas at this Haggerston joint, baby. We're talking mini iberico burgers and mozzarella and avocado baguettes; on the sweet side of things, expect the likes of mille-feuille, chocolate cake and the chef's daily choux mix. The best bit? It's the 90 minutes of free-flowing cocktails and prosecco, as well as your choice of teapot each from their eclectic tea selection, which has all been designed in collab with one of the UK's top tea specialists.
Afternoon tea, the bottomless way, is £50 per person, or you can take the non-alcoholic route for £25. Available on Tuesday to Sunday from 13.00 to 17.00 throughout the year. 
321 Kingsland Road, London E8 4DL