Loose-leaf tea, dainty china, fiddly sandwiches with the crusts cut off… it's all a bit BBC drama for BarChick's liking. But boozy afternoon teas? Now we're talking. Check out our picks and get booking - you'll have your little finger poking out before you can say "I'll be mother".
Wanna experience a whole world of flavour? Modelled after the Jules Verne classic, this tea at the indubitably posh hotel The Kensington has the goods. Each delish morsel is inspired by different international destinations: London, Paris, Cairo and Rome. Get ready for Cairo-themed finger sandwiches with caramelised onions and hummus, the cutest beef and gravy pies by way of London, a lush Parisian Mont Blanc and a classic Roman tiramisu, plus loads of other sweets, savouries and scones (with plenty of jam and clotted cream, of course!). In the mood for a drink? Us too. Get involved with the whimsical menu of fizzy, fresh cocktails and quench your thirst properly. 
Priced at £58 per person, with a glass of Perrier-Jouët Grand Brut for an additional £18 per person or a cocktail for £16.
109-113 Queen's Gate, South Kensington, London SW7 5LP
The Four Seasons' afternoon tea is as lavish as they come thanks to its swanky setting in the Amaranto Lounge, with Champagne, fine teas and finger sandwiches. Really, though, the pastries are the big draw here, and they're more adorable than the royal corgis: think a chocolate tart with lemon verbena crémeux, caramel and almonds; a hazelnut millefeuille with mascarpone cream and mandarin; and caramel choux with mango and passionfruit mousse. Dreamy.
Priced at £64 per person. Add a glass of Ruinart and you'll pay £86 per person. Served from 2.30-5.30pm.
Hamilton Pl, London W1J 7DR
A three-Martini lunch? We're in. It might sound like you need to have a titanium liver to get through the afternoon without going sideways, but not to worry: the Martinis in question are miniature versions of the famed classics created by Dukes' very own bartending legend Alessandro Palazzi. For further insurance, you'll also get to line your stomach with traditional finger sandwiches, some seriously good sweet treats (helloooo, caramelised cheescake with blood orange) and freshly baked scones - all with tea courtesy of East India Company.
Served every day from noon to 6pm with 4 sittings: 12pm, 2pm, 4pm and 5.45pm - £48 per person.
35 St James's Pl, St. James's, London SW1A 1NY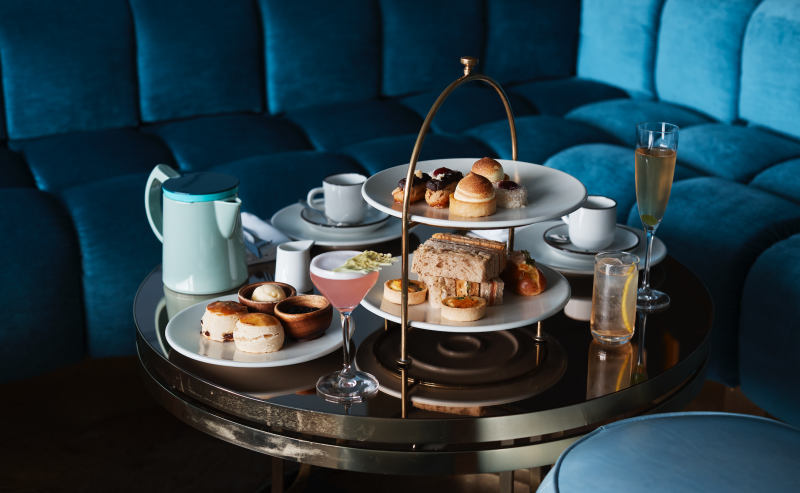 Taking a playful approach to the traditional afternoon tea and keeping classic Lyan fun at the forefront, Spirited Tea is a tongue-in-cheek take on the afternoon tea with a classic Lyan twist, complete with cocktails created by the team using their unique core ingredients. Expect all the usual suspects; cucumber and cream cheese sandwiches (yes, with the crusts cut off), plump scones (it's cream first, then jam, BTW), extra indulgent sweets (caramelised banana and chocolate éclair, anyone?) and plenty of Lyan flair.
Spirited Tea is priced at £55 for the full tea selection, three paired cocktails, cakes and savouries (with dietaries and aversions considerately accommodated with notification advance). A boozeless tea (£35) and a Champagne tea (£45) are also available. Spirited Tea will be available in Lyaness on Saturday and Sunday, between 12pm and 5pm. Last sittings are at 3.30pm. Must be pre-booked.
Sea Containers London, 20 Upper Ground, London, SE1 9PD
Think the afternoon is too early to hit the tequila? Pair it with cakes and savoury treats and you, my friend, have the perfect loophole. This is the world's first afternoon tea centred around the love and appreciation of our fave spirit. Featuring a sweet and savoury menu of luxurious Mexican-inspired plates, you can expect insane sweets like decadent dark chocolate and chilli brownies that sit alongside a zesty key lime chilli posset and seasonal fruit tarts, plus mini veggie burritos, chicken tacos and tequila-grilled prawns. No afternoon tea is complete without scones, darling, and these come accompanied by a tequila-infused jam packing a sweet and boozy punch. The fiesta on top of the cake stand is, of course, a Margarita made with Volcán Tequila Blanco, AKA the next best thing to a plane when it comes to transporting you to the shores of Mexico.
Priced at £39.00 per person.
50-60 Southampton Row, London WC1B 4AR
It's all under-the-radar female winemakers wine-makers FTW at this immersive wine tasting afternoon tea which pairs bad-ass wines with mini servings from 28°-50°'s equally killer à la carte food menu. 28°-50°'s female head sommelier Ksenia Karpenko is the babe behind this vino-laced tea served at the recently opened South Kensington restaurant. You'll explore five awesome wines from leading European women winemakers (including a glass of Bolly) alongside miniature versions of the restaurant's popular dishes: gazpacho, fresh salmon ceviche, rich truffle arancini and even the slow cooked lamb shoulder. Sweet-toothed? 28°-50°'s famous chocolate Madeleines with crème anglaise and scones with Champagne-infused strawberry jam and clotted cream will sort you out.
Winemakers Afternoon Tea is on offer from midday until 6pm Sunday to Friday and is priced at £75 per person. 
Marylebone: 15-17 Marylebone Ln, London W1U 2NE | Covent Garden: 10 Upper St Martin's Ln, London WC2H 9FB | South Kensington: 96 Draycott Ave, London SW3 3AD | Chelsea: 300 King's Rd, London SW3 5UH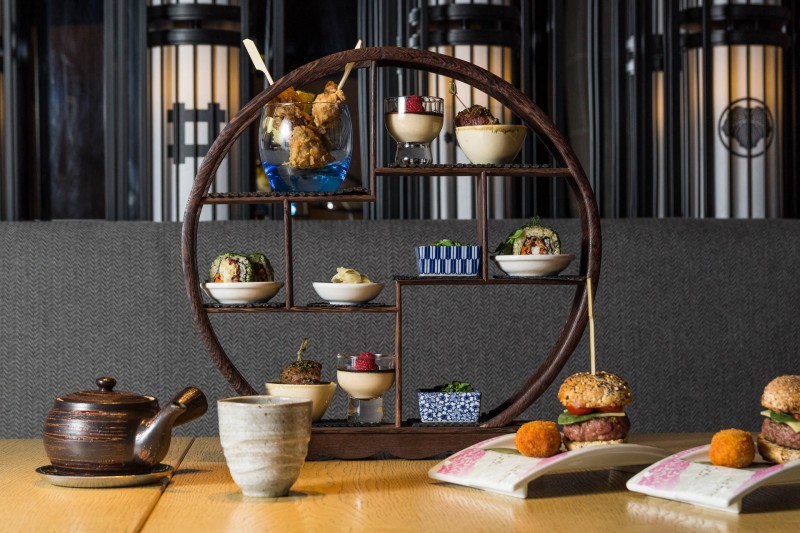 Ginza's Asian-inspired afternoon tea is stylish AF - and it's waving sayonara to the sarnies and ushering in umami-packed Japanese dishes: chicken karaage, wagyu beef sliders and seared salmon tataki. No, you're salivating. But enough food chat - let's get down to the business of booze. The sweet thing about this afternoon tea is that you can get busy with Champagne, matcha tea or cocktails. We're not trying to sway you, but the restaurant's Japanese riff on a Bramble, the Panacea #2 (sake, elderflower gin, crème de mure, apricot palinka, lime), is top. 
Served from 2-4pm on Saturdays and Sundays. £45 per person or £63 with a glass of Champagne.
15 Bury St, St. James's, London SW1Y 6AL
Take a trip down the rabbit hole in the middle of the Sanderson Hotel in Fitzrovia, and you'll find yourself sharing some epic treats and wicked savoury delights with the Mad Hatter. You'll find menus hidden inside vintage books and teapots adorned with kings and queens. Wash everything down with Alice's Exotic Fruits "Drink Me" potion, a few of the the Mad Hatter's cocktails (the tequila-based Off With Your Head is a bit of us) and a glass of Veuve Clicquot Champagne for good measure. And for the afternoon tea traditionalists, finish up with warm scones, clotted cream and fruit preserve, perfectly paired with Alice-inspired tea infusions. You won't wanna be late for this one. 
Mad Hatters Afternoon Tea is served daily in The Restaurant at Sanderson, priced at £48 per person. Add Champagne for £10 more.
50 Berners St, Fitzrovia, London W1T 3NG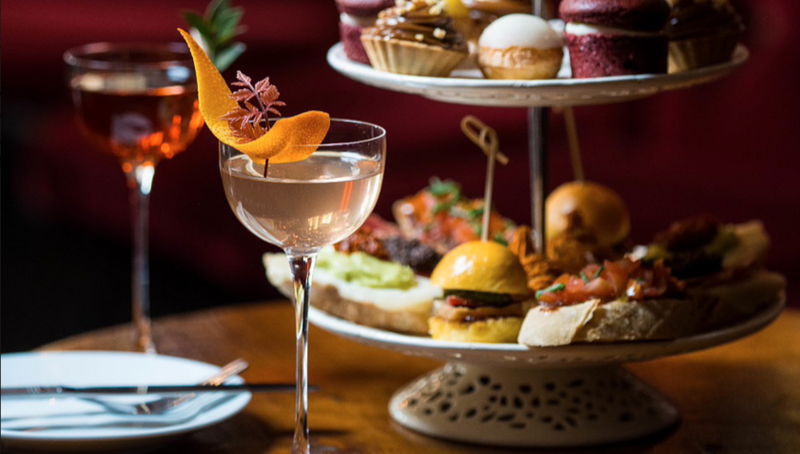 It starts off small n' savoury on the Map Maison Afternoon Tea menu. It's all about tapas at this Haggerston joint, baby. We're talking mini Iberico burgers and mozzarella and avocado baguettes; on the sweet side of things, expect the likes of mille-feuille, chocolate cake and the chef's daily choux mix. The best bit? It's the 90 minutes of free-flowing cocktails and prosecco, as well as your choice of teapot each from their eclectic tea selection, which has all been designed in collab with one of the UK's top tea specialists.
Afternoon tea, the bottomless way, is £55 per person, or you can take the non-alcoholic route for £27.50.
321 Kingsland Road, London E8 4DL