Finger Lickin' Chicken
Who doesn't feel like chicken tonight? Exactly. There's no need to wing it, be hip (or thigh) and follow BarChick's advice, after all she is the best bird in town (sorry).
Dedicated to fiery Portuguese piri piri chicken, this is the ultimate place to get your chicken fix if you're on the Fulham Road. Get the party started with a round of their very tasty Espresso Martinis then let the chicken steal the show (after the traditional Portuguese starter of olives, carrots and pate that is). If you're feeling very brave then order the Dynamite chicken, it's extra hot and will have you reaching for the cocktail menu in double quick time (but that's no bad thing). If you're a bit pathetic the garlic and piri piri is the one for you. Do go heavy on the sides and do get the custard tart, BarChick still has dreams about it. Nandos who?
343 Fulham Road, London, SW10 9TW 
Winner, winner, chicken dinner; Clutch, off Columbia Road is the thigh and breast man's dream. Drag your dirty-fried-chicken habit kicking and screaming into the organic age, eat buckets of the free-range good stuff and wash it down with a cocktail or two.
4 Ravenscroft Street, London, E2 7QG
If you're going to have chicken tonight you might as well make it a good one. It's a slick operation in here with tiny tables for two or more, a small bar if you're down for a drink before eating and a whole load of chickens cooking rotisserie style in the open plan kitchen. The menu is our kinda straightforward; 2 courses for £17 and 3 courses for £22. The chicken which is the main course stays the same whilst the two starters and two puddings change weekly. Get boozy and go for their fresh cocktails... Negronis, Gin and Tonics, Ibizan Rose that tastes like a party, or Champagne if you're feeling flash. Get stuck in and stay as long as you can cos the mini cab spot next door is open 24 hours baby. Who ever knew chicken could taste so darn good? We didn't till Le Coq.
292-294 St Paul's Road, London, N1 2LH
It's deep and dirty South down here, and we like it, so if you're ridin' North come and get your fix. Pull up a red leather seat and watch those chickens roasting under the swinging red lamps. When it comes to the crunch you can have them whole, half or quartered on tin plates (cowboy style), and make friends with some sides while you're at it. Finish up with apple pie. Warning: you can scoop as much out of the big bowl as you like. Dangerous.
79 Highgate Road, London, NW5 1TL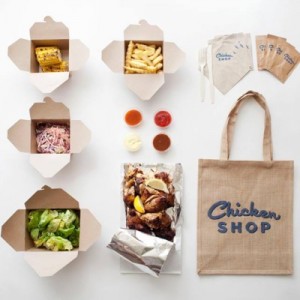 This super sweet, industrial style bar isn't just home to Oksar's badass drinks. Oh no. Forget the three month waiting list upstairs for food, because down here the crispy, boneless chicken wings with garlic aioli are actually one of the best things you'll ever eat. Fact.
39 Whitfield Street, London, W1T 2SF
Eat chicken while being watched over by Damian Hirst's artwork "Cock and Bull", yup those guys are on full display, all pickled in formaldehyde. We're into it. This is one big ass chicken shed. The choice is simple: chicken or steak. The chicken comes whole and perched magnificently on a skewer. Oh, and do wash it down with a few of Mr Hix's bottled cocktails.
32 Rivington Street, London, EC2A 3LX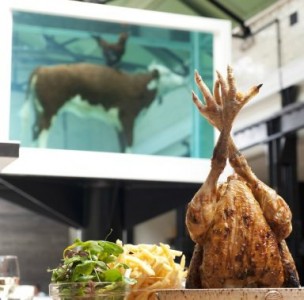 This place is kinda funky: leather banquettes, exposed brickwork, graffiti and neon signs. Choose your size and choose your marinade, and do accompany it with a side of mac n cheese and some frozen Jam Jar Margaritas. Do do the inferno wing challenge, the sauce is made with ghost chillies (remember water won't help, try yoghurt.)
43 The Broadway, Muswell Hill, London, N10 3HA
These guys only do one dish, the rotisserie chicken, and that's fine by us. Succulent and carefully sourced, the chickens are prepared in a secret marinade recipe and are served with a choice of house sauce, ranch sauce, BBQ sauce, chilli sauce or gravy. Eat sides, bites, desserts and drink wine, beer or spirits.
14 Denman Street, London, W1D 7HJ
In Covent Garden with a food menu that will give you the meat sweats, this is the perfect place to head if you want a spread of Southern cooking. With fall-off-the-bone ribs, homemade slaw, smooth mash and our favourite: Beer Can Chicken… YES.
34 King street, Covent Garden, London, WC2E 8JD
French brasserie styles with a glitter ball taking centre stage, this place isn't afraid to crank the sound system and have a little party while you eat. As you walk in on the left you'll notice a delicious line of chickens roasting on the spit, order them halved, spiced or with garlic and lemon butter. Delicieux.
16 Brewer Street, London, W1
Hidden in the buzzing Kingly Court, sit al fresco outside or settle indoors amongst the industrial styles. There's a cool bar with cocktails by Ryan Cheti but on this occasion we're here for the chicken. Think chicken burgers with minced thigh meat, chicken pie, lemon chicken wings, pollo-porro pasta and Harissa hot wings.
Kingly Court, Carnaby, London, W1B 5PW
Joe don't mess around, he cuts straight to the point in his family run Soho hangout. Not only is the chicken roasted, but its damn affordable to. Be sure to go big on the sides, and wash it all down with some beers and wine. There's always some kinda deal on so it's good for you cheapskates, gotta love Joe right?
55 Berwick St, London, London, W1D 2JB