From fireball haynests to boozy custard tipples, ceramic ski boots and brussels sprouts garnishes - 'tis the season to be jolly, and these epic festive cocktails will have you doing just that.
Polano – Three Six Six
In standard Three Six Six style, this cocktail is completely insane. Set a hay nest on fire to reveal a boozy rum cocktail nestling inside a weird tear-drop shaped glass. Made with: Koko Kanu rum, tarragon-infused rhubarb liquor, Ancho Reyes, ancho syrup, lime juice, cardamom bitters, sumac powder.
126 St John's Hill, Battersea,  SW11 1SL
Black Forest - Dalloway Terrace
The two best things in life meet in one boozy mashup - the hot chocolate cocktail which you can sip it from Dalloway's awesome fairylit terrace - we're all over this situation. Made with: made with Gin, Vermouth, Cherry Heering and Marcoloni Hot Chocolate. 16-22 Great Russell St, London WC1B 3NN
The 12 Drinks of Christmas - Duck and Waffle 
White beard? Check. Making the best Christmas cocktails in town? Check. We're 99% Rich Woods, Head of Cocktail Development at Duck and Waffle is actually Santa. He's created a list of 12 drinks that mix up the flavours we usually associate with this most wonderful time of year; Panettone Flip, a Milky Bar Snowball, a Pine Cone Negroni and how about your roast in your Cosmo? These drinks are the reason Christmas is our favourite time of year.
Minc'd Pie – The Gibson
Served up in a badass pig-faced vessel, garnished with a big slab of minced meat cooked in dark beer. Hello Christmas! Made with: Johnnie Walker Gold Reserve, apple and elderflower Juice, smoked Chai tea, garden herbs & crab apple jelly, poppy paste, beer and eau de vie 
44 Old Street, EC1V 9AQ
The Queen Raffald – Mews of Mayfair
This drink is in homage to 18th Century food author legend Elizabeth Raffald – a.k.a 'Queen of Custard' ('cos she wrote a book with 13 different custard recipes - who knew!). This intense creamy booziness also comes with a mini gingerbread man for dunking - winner. Made with: Dark rum Diplomatico Reserva Exclusiva, gingerbread liqueur, Ambrosia Deluxe custard with clotted Cream, and topped with grated Nutmeg and dark chocolate.
10 Lancashire Ct, Mayfair, London W1S 1EY, UK
Mince Pie In a Manger –  The Bluebird Instagram at the ready for this epic little cocktail that's basically a dessert in/on a snowglobe. Made with:  toffee vodka, Mozart chocolate liqueur, amaretto, and muddled clementine, served with a homemade mince pie 350 King's Road, London SW3 5UU
The Naughty Cacao Boy at The Booking Office
BarChick is all about this intense hot choc drink, loaded with Baileys and served with all-you-can-eat cookies. We're gunna dunk 'til we pop. Made with: Intense dark hot chocolate, mixed with Baileys, Brandy and a ristreto espresso. Served with cookies.
St Pancras Renaissance Hotel London, Euston Road, NW1 2AR
Home Alone - London Cocktail Club
The world's most epic Christmas film in a cocktail. What's in it? Stoli Salted Caramel vodka, chocolate sauce, almond half and half , Horlicks powder, Monin popcorn syrup. Chocolate cravings?!London Cocktail Club, various locations
Hot Espresso Martini - The Bluebird Bar
That boozy heady classic, made warm and all dressed up like a lil' work of festive art. Pow! Made with: Belevedere Red Limited Edition Vodka, Kahlua, Frangelico, vanilla syrup, shaken with espresso coffee.
350 King's Rd, London SW3 5UU
Mulled Wine Flight at Club Zetter 
Why have one when you can have three with this mulled wine flight 'Gold, Frankincense and Myrrh' ('cos there's no such thing as greedy when it's Christmas baby!). What's in it? The white one: Friulano with Acacia honey, elderflower tea, golden apple juice and cinnamon. The Rose one: Les Duclax Cotes-de-Provence with Frankincense, star anise, whole cloves and rose petals. The Red one: Alpha Zeta Corvina, Myrrh, dried plum and whole cloves.
 86-88 Clerkenwell Rd, London EC1M 5RJ, UK
Unmasked - Bird of Smithfield 
Hell yeah, we're all over that delicious inch of sweet alcoholic foam. Made with: Whiskey, bourbon, bayleaf, cinnamon and sugar
26 Smithfield St, London, EC1A 9LB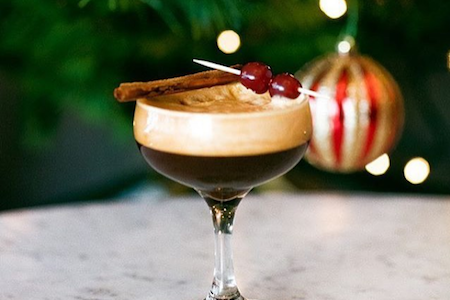 Apres-Ski Sharer - Piste at Archer Street
'Cos chugging out of a ski boot is just how they roll at the Piste Apres-Ski pop up. Made with: Red Berry Ciroc with grand Marnier, lemon, winter grenadine and Cranberry juice topped with soda water.  
The Mandarin Eggnog - The Zetter Townhouse
Get one of these on the house when you head to Zetter Townhouse during the week before Christmas. Boom! Made with: Single cream, Grand Marnier and 'mandarin milk' (milk cooked with dried mandarin segments and orange rind to infuse the flavour).
28-30 Seymour Street, London W1H 7JB
Christmas Carol - Holborn Dining Room
It's all about the sexy glassware at this epic gin bar. Made with: Rum, homemade plum purée and plum bitters.
252 High Holborn, London WC1V 7EN
Sprouting Gordon's Gin Fizz - M Restaurants
But the bomb diggity of Christmas cocktails has got to be this sexed up G&T, with one of your five a day to boot. Made with: Gordon's gin, lime and lemon juice, cranberry and honey syrup and prosecco. M, 2 & 3 Threadneedle Walk, 60 Threadneedle Street, London, EC2R 8HP M Zig Zag Building, 70 Victoria St, Westminster, London SW1E 6SQ, UK
Other blogs you might fancy: Where to drink London's craziest cocktails 10 hot London bars to try this month 50 London bars you gotta try