Organising a hen or stag? Gotta get team bonding? Want to learn something new but languages not your thing? These killer cocktail masterclasses will teach you all the life skills you need so get ready for banter with bartenders, gin tastings on a motherf*cking boat and Daiquiri battles. Geek up and get down.
The Private Ones To Book
15-16 Gerrard Street, London W1D 6JE
Take a former Chinatown gambling den, add an all-star bar cast and some legendary dim sum, et voila, you have Opium Cocktail and Dim Sum Parlour. This is where BarChick learn a trick or two at our Christmas party, it's epic.
BEST FOR: Epic banter with the bartenders - you're in luck if Bruce is there.
GROUP SIZE: 12
PRICE TAG: ££
13 Well Court, Off Bow Lane, London, EC4M 9DN
Tucked away in the big bad City is a bar we love for its insane collection of gin and rum. Even better, every Tuesday The Duppy Share take you through a series of five rums, learning about the different styles of the different islands. The final step is the chance to blend your own bottle to take home with you. Yeah boi.
BEST FOR: Creating your own Rum Blend that you can take home with you.
GROUP SIZE: 12
PRICE TAG: ££
65 Rivington Street, London EC2A 3AY
Get ready for an eclectic Naria as you head through their wardrobe and into a land of great drinks, big tunes and good times. This quirky cocktail den is a classic and is where some of the best work - and play.
BEST FOR: Party times; you'll have so much fun, you'll end up learning by mistake.
GROUP SIZE: 18
PRICE TAG: ££
46 Commercial Street, London E1 6LT
This cocktail bar's bringing some southern soul to Shoreditch's Commercial Street. Geek out on a bit of a boozy history, learn how to make 4 staple cocktails and then have a Daiquiri battle with your friends to win a £50 bar tab.
BEST FOR: Embrace your competitive side while boozing it up. It can get raucous.
GROUP SIZE: 12
PRICE TAG: ££
Shake, Rattle & Stir Gin Journeys
22-24 Bride Lane, London EC4Y 8DT
Got a thing for juniper? This one's for all the gin lovers. Brush up on your drink history first while you're being driven around town on your own private booze cruise or on a motherf*cking boat! If you're after an experience, this it it.
BEST FOR: Taking your booze show on the road (or water)!
GROUP SIZE: 12 (boat) & 20 (coach)
PRICE TAG: ££
The Savoy Hotel, 189 Strand, London WC2R 0EU
Frank Sinatra and Marilyn Monroe once called this their London hangout, so raise a glass in their memory and relax into pure class. Includes a full three course meal and four drinks.
BEST FOR: Pulling out all the stops and flashing major cash.
GROUP SIZE: 4
PRICE TAG: £££££ (we're talking £200 a head, but it's worth every penny)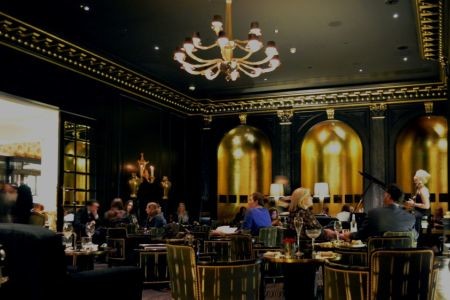 61 Goodge Street, London W1T 1TL
This is a serious drinkers party bar, where you can sing and dance along to ACDC under swinging lights, sipping on that perfect Martini. There's no pretence, and one of the best happy hours in London.
BEST FOR: Rock and roll fun times and bigger groups.
GROUP SIZE: 25
PRICE TAG: ££
177 Portobello Road, London W11 2DY
If Club Tropicana's your guilty pleasure descend into this Tiki-tastic drinking den beneath Portobello Road and get ready for lots of rum, plenty of fire and serious island vibes. It's impossible for Tiki not to be fun. Fact.
BEST FOR: A tropical escape.
GROUP SIZE: 20
PRICE TAG: ££
8 Broadwick Street, London W1F 8HN
For the sweeter things in life, head into a basement in Soho for this super chic land of cocktails being paired up with desserts. It's indulgent and delicious and has hen party written all over it.
BEST FOR: Indulge in your sweet tooth with a touch of class.
GROUP SIZE: 12
PRICE TAG: ££
104-122 City Road, London EC1V 2NR
Upstairs is all specialty drinks and delicious cheese toasties but you'll find BarChick downstairs in the land of DJ's and debauchery. Loves Company is a one stop shop run by some of the industry's best.
BEST FOR: Flirting with bartenders. Despite the teachers being some of the best around this is one for people who are as much about the party as the learning.
GROUP SIZE: 20
PRICE TAG: ££
Various Locations
With locations in W1, E2, W6, SW11, EC3, SE1, SE1, these beer legends have got a lot going on. With slightly different vibes in each it's a good all rounder with a specific focus on beer tastings.
BEST FOR: Beer drinkers and pub enthusiasts
GROUP SIZE: 15
PRICE TAG: £
OXO Tower Wharf, Barge House Street, South Bank, London SE1 9PH
Feel on top of the world from this sky high bar Thames side bar that has one of the best views of landmarks on the Thames.
BEST FOR: Kill two birds with one stone: sightseeing and cocktails with a ridiculous view. For those who are keeping it classy and want to make it into an occasion.
GROUP SIZE: 8
PRICE TAG: £££
10 Chatsworth Road, London E5 0LP
From the founder of Quiquiriqui mescal comes this new breed of British off license filled with carefully selected products by small boutique brands; a lot of TLC has gone in to this joint. With a special try before you buy option in their tasting room, as well as a regular monthly, and bespoke, classes, this is where to expand your booze brain.
BEST FOR: The cocktail geeks.
GROUP SIZE: 15
PRICE TAG: ££
The Regulars
These killer cocktail bars do masterclasses regularly that you can drop into. Times and dates vary so check on their site or give them a call.
69 Colebrooke Row, London N1 8AA
Tony C is to cocktails what Heston is to food, so get ready to have your mind blown. With classes covering categories such as Champagne, rum and even a Mad Men cocktail class, learn how to make some of the best of these drinks at home.
BEST FOR: Get that perfect balance of timeless classics and mind bending originals.
GROUP SIZE: 25
PRICE TAG: ££
489 Hackney Road, London E2 9ED
This slightly hidden cleaned up version of a den of inequity takes classes to another level. With several rolling through the week, there's something for everyone from novice shakers to semi-professionals.
BEST FOR: When you really want to up your A game, head down their rabbit hole.
GROUP SIZE:
PRICE TAG: ££
2 Highgate Road, London NW5 1NR
A former Victorian loo, this bite size bar is one of the best bars in north London and one of the smallest gin distilleries in town. From the same peeps as the ever awesome Vestal Vodka, they top out at 24 bottles of their Highwayman Gin a day and every Tuesday they invite you down to get involved. Learn the history of gin, and make your own with up to 12 botanicals, all the while happily sipping away, of course.
BEST FOR: Gin geeks.
GROUP SIZE: 15
PRICE TAG: ££
109-125 Knightsbridge, London SW1X 7RJ
Swap your late night for an early morning cocktail session at the Fifth Floor in Knightsbridge. Start with a solid breakfast at 9:30 followed by a lesson on three classics, and finished off with a decadent lunch. The focuses changes every week, so check their site.
BEST FOR: If you want your cocktail history with a solid side of food.
GROUP SIZE: 30
PRICE TAG: £££
61 Poland Street, London W1F 7NU
This is the kind of bar that never goes out of fashion. Creator of the modern classic these guys bring classic cocktails to the forefront of the Soho booze scene, so if you want a bit of history go get it in their super swank members bar in Soho.
BEST FOR: nailing a bucket list cocktail bar and masterclass in one. Best of all you can snag a table afterwards and hang out down here 'til 11.
PRICE TAG: ££
32 Goodge Street, London W1T 2QJ
This former brothel and residence to one particular Reverend (guess his name), is picturesquely shabby with an easy going feel that's ideal for getting comfortable. With Spirited Sermons every two weeks on different products with some of the top experts on hand to give you all the deets, you'll be sure to walk away feeling particularly unlightened.
BEST FOR: Group learning that keeps you moving.
GROUP SIZE: 20
PRICE TAG: ££