Sometimes while your heart cries out for a steady stream of cocktails, your head (and everyone else) is blabbering on about vitamins, vegetables and cold-press.
JUST JUICE
This stylised little juice bar looks set to be London's first cold-press juice bar chain, oh how far we've come. A little bit intimidating at first don't let the hardcore health or the prices put you off.
5 Thayer Street, Marylebone, London W1U 3JG
Located in Neal's Yard, this stripped back joint offers an array of elixirs, teas, juices and smoothies. These guys take a holistic approach to your cold-press, believing that beauty starts on the inside, aww.
16a Neal's Yard, Covent Garden, London, WC2H 9DP
Nowhere in London needs a heavy hit of vitamins quite like Soho, right? Surprisingly founded by Will Ricker of La Bodega Negra and Casa Negra fame, and Joe Cross of Fat Sick and Nearly Dead there's nothing this pair don't know about retoxing and detoxing. Dine in or pick up one their seriously reasonable rainbow juice cleanses.
4 Peter Street, London W1F 0DN
Specialising in nut milks, these guys are an East London delight. Find them stocked in all the cutest places as well as at all the big guns too. Think Selfridges vs. The Albion in Shoreditch. They began making nut milks as an alternative to the shop-bought pasteurised almond milk which, with all its sugar, just didn't compare.
Various Locations
Probably the most glam of all the juice cleanses, Plenish is stocked in all the sexiest places. Selfridges, Liberty, Harvey Nicks… this stuff is high end. A little more spenny than your average, Plenish is served in huge 500ml bottles, and cleanse packages can be purchased online in a variety of different set ups; everyone from the beginners to the hardcore are catered for here.
Various Locations
When The Good Life Eatery opened it was one of the first accessible and cool healthy eating joints in London. Juices here are badged up as bottled salads and a slew of Sloane rangers sashay on down here to get a hit. Featured regularly on the Instagram feeds of the Made in Chelsea massive, the kids can't get enough of this place.
59 Sloane Avenue, London SW3 3DH
JUICE THE BARCHICK WAY
We're all for health but we say take your inner green goddess for a walk on the wild side and let your liver live a little. Here's how to carry on the party while keeping your conscience quiet. Just grab a juice from one of these joints and spike it, simples.
Tucked away behind the railway arch in Peckham, Ali Baba is market stall magic and now has a juicy hut to boot. You'll find Chris and the gang here ready to kick-start your day with goodness.
125a Rye Lane, London SE15 4RY
Just add booze: Mango Pickle Back
Fresh mango juice
Whiskey
Pickle House pickle juice
Available in most health food and organic shops as well as some restaurants and cafés, Cocoface is a coconut water brand with a difference. Fresher than wet paint, stick a straw in this bad boy and you're ready to roll. Not only is coconut water more hydrating than water itself, but the Cocoface 'shell and all' approach makes for a pretty cool serving vessel.
Just add booze: Cocoface Pina Colada
1 Cocoface coconut
60 ml Rum
2 bananas, frozen
Handful pineapple, frozen
1 tablespoon soaked chia seeds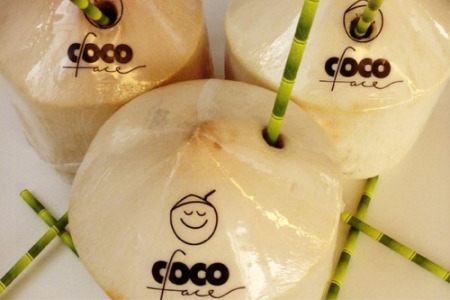 Owner Tanya Maher is a big deal in the world of raw living food, rock up here and find her doing her fab thing most days. The technicolour fridge is stocked with juices, nut milks and shooters; BarChick can't get enough of the Liver Flush, for obvious reasons. As Europe's first cold press cocktail bar these guys know a thing or two about sticking superfoods in your bubbles and calling it a cleanse.
Just add booze: What The Doctor Ordered
1 My Doctor Juice (beetroot, carrot, celery, apple, lemon, ginger)
60ml Belvedere Vodka
3 fresh cherries
1 cardamom pod
Dash of Peychaud bitters