What's the worst thing to find in your stockings at Christmas? Your dad. What's the best? Literally any one of these 15 delicious cocktails embracing the Christmas spirits.
Espresso Martini Society
If you wanna make sure your Christmas is buzzing, you're going to have to check out The Espresso Martini Society's new digs in Shoreditch. After a sell-out stint in Soho earlier in the year, they're now serving up the largest list of Espresso Martini variations in the world with a festive twist. The twenty-strong menu features a whole host of Christmas classics, ranging from The Gingerbread Man to The Randy Brandy, with tickets only £10pp including a complimentary espresso martini. £10 tickets are Each session lasts 1hr30 and includes a complimentary cocktail.
The Espresso Martini Society, 42 Hanbury St, E1 5JL.
www.timeout.com/espresso-martini-society
One Aldwych Christmas Showtime Cocktails at The Lobby Bar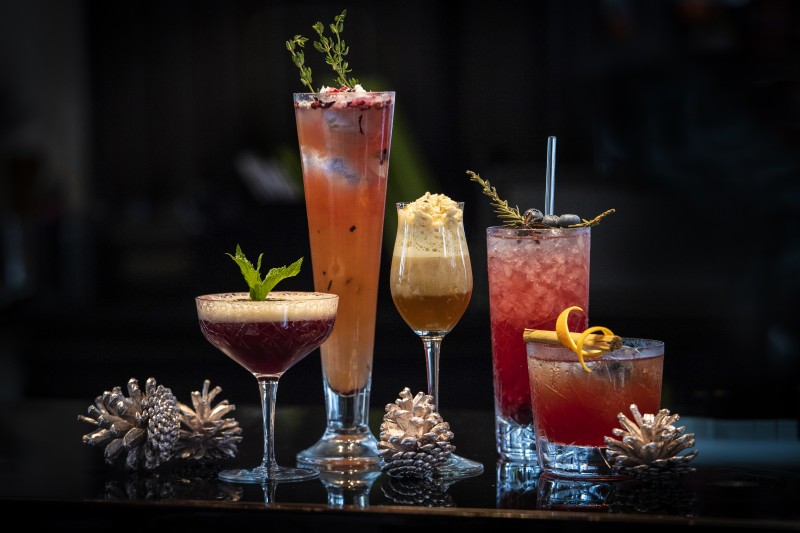 For a razzle dazzle menu of theatrical drinks to enjoy this festive season, The Lobby Bar at One Aldwych hotel in Covent Garden is putting on a show of spectacular Christmas Showtime Cocktails for which you're gonna want a front row seat. Centre stage is the Snow Dome Christmas Tree, which towers 25-foot up and features 130 snow domes among natural birch twigs and twinkling lights. As with any great show, there are some stand out stars on the bill, including the Father Negroni with Beefeater 24, Cinnamon Campari and Antica Formula, and Mulled Berries, a sweet concoction of Tequila Altos Silver, Mulled Wine, Agave Syrup, Lime Juice and Pedrino Tonic, all served with a complimentary mince pie. The show goes on until the 7th January.
1 Aldwych, London WC2B 4BZ
www.onealdwych.com/food-drink/the-lobby-bar  
Quaglino's Bar Festive Cocktail
The mixology maestros at Quaglino's bar have created this special Christmas cocktail for the festive season. Classic, creamy and comforting, Bianco Natale! consists of Cointreau, Cacao white, yellow Chartreuse, lemon juice, egg white, chocolate bitters with a dark chocolate garnish. Get your Christmas glad rags on and pop on those dancing shows and get ready to jingle your bells in Mayfair this Christmas.
16 Bury St, St. James's, London SW1Y 6AJ
 www.quaglinos-restaurant.co.uk/at/bar
Blade's Oat Nog
Blade in Soho is no ordinary bar, and they're serving no ordinary Christmas cocktails this year, either. This salon-cum-bar offers a banging selection of drinks while they also tend to your barnet. Get that work Christmas party blow-dry while enjoying their Oat-Nog - a vegan twist on the classic festive tipple combining Stagg Jr. Bourbon or Foursquare Dominus Rum (it's your choice), with Maple Syrup, Vanilla Bitters, Oatly Oat Cream, Oatly Barista Oat Milk (which is THE BOMB), Real Organic Cinnamon and is garnished with a luxury soft date stuffed with pecans. Chop chop.
26 Frith St, Soho, London W1D 5LD
Overture at The Beaufort Bar 
For a spritz of festive fizz, The Beaufort Bar's Overture comprises exactly that. With a new cocktail menu that truly distinguishes itself from the iconic American Bar, the menu features a refined signature offering, including grower Champagnes and sparkling wine, expertly prepared mixed drinks, and a well-chosen, in-depth whisky selection. The beautiful Overture combines Grey Goose Vodka, Cucumber Syrup, Hibiscus Kirsch, Tonic and topped up with Perrier Jouet Belle Epoque Champagne.
The Savoy, Strand, London WC2R 0EZ
www.fairmont.com/savoy-london/dining/beaufortbar
The Skylight Cobbler
Skylight's cosy Christmas cocktail called the Skylight Cobbler will take the chill out of any winter night and is the perfect tipple of choice before skating the night away or channeling your inner Pingu and getting toasty in one of Skylight's multiple igloos. Blending Bombay Sapphire, 30et40, Lemon Juice, Peach Syrup, Sugar Syrup and topped off with Plum Bitters, this festive tipple is as delicious as London's iconic skyline which you can enjoy while you sip.
Tobacco Dock, Pennington St. Car Park entrance, Wapping, London E1W 2SF
Sanderson's Chocolate Factory at The Long Bar
Grab yourself a Golden Ticket and head into the magical and delicious world of Willy Wonka this Christmas at Sanderson Hotel's Long Bar, where a bespoke cocktail menu features the likes of the Wonka's Martini, a mix of Grey Goose vodka, Eager apple juice, green apple and lemon; Glop Glop, a concoction of Mozart dry chocolate vodka, Briottet orange liqueur and Lillet Blanc vermouth; and The Blue Meadow Star, mixing Star of Bombay gin, orange, and Fever-Tree Elderflower tonic. Each cocktail is as surprising and delightful as finding Zac Efron waiting for you under the tree on Christmas morning.
Enjoy Wonka's menu from 27 November until 4 January at Sanderson, 50 Berners Street London, W1T 3NG
www.morganshotelgroup.com/long-bar 
Winter Whisky Cocktails at Aster's Hunters Lodge
Aster has been transformed into a cosy hunting lodge this festive season complete with sheepskin blankets, warming drinks, festive snacks and mounted deer heads. In partnership with Macallan and Laphroaig Whiskies, the cocktail menu has been designed to warm you from your fingers to your toes, with three winter whisky cocktails including The Laird with Macallan Gold, Antica formula and Angostura bitter; Festive Fireside with Laphroaig 10-year-old, Courvoisier, ginger syrup, Noilly prat and Napoleon Mandarine liqueur, and Monarch of the Glen with Macallan Gold, honey, cloves, cinnamon and orange. 
Aster 150 Victoria St, Westminster, London SW1E 5LB 
The Ivy Chelsea Garden
Known for the prettiest floral installations in West London, Ivy Chelsea Garden have created a limited-edition Gingerbread Espresso Martini to help bring the Christmas spirit to SW3 this winter. The festive drink combines a freshly pulled espresso shot, Wyborowa Vodka, Bepi Tosolini Expre liqueur and gingerbread syrup for a subtle twist on the classic Espresso Martini. The perfect way to stay perky through for your Kings Road Christmas shopping.
195 -197 King's Rd, Chelsea, London SW3 5EQ
Bōkan 39 Rooftop Terrace & Bar
The Spice Girl's reunion is great n all, but our favourite ginger spice is the kind that comes in festive cocktails, like The Hot Gin & Gingerbread at Bōkan; is a deliciously warming biscuity tipple of Sipsmith gin and gingerbread syrup, garnished with a wedge of orange to be enjoyed while talking limitless selfies with the epic view. 
Floor 39, 40 Marsh Wall, London E14 9TP 
Savage Garden

All credit to him, Mr Tumnus knows how to make a banging cocktail, even if he is half goat. Tumnus's Tea is a hot cocktail made with Absolut Elyx, poppy tea, saffron, condensed milk and star anise served at the magical Narnia Terrace at Savage Garden. Warm enough to melt the White Witch's heart.
Savage Garden, 7 Pepys Street, London, EC3N 4AF 
The House of Song - The Grinch

If you're yet to feel the joys of Christmas and are currently suffering from resting Grinch face, this bold and punchy cocktail should lift your spirits. Available at Farringdon's Piano Works and Leicester Square's Studio 88, where you can request your favourite Christmas tunes to be played live all night long, The Grinch is made with Gold rum, blue curacao, lime, pineapple, mint and a candy cane garnish. 
The Piano Works, 113-117 Farringdon Road (Corner of Ray Street), London EC1R 3BXY
& Studio 88, 47 Whitcomb Street (Off Wardour Street), London WC2H 7DH
Granary Square Brasserie
Granary Square Brasserie have designed three cocktails inspired by the local areas 'Christmas by Design theme', including Snow on the Square made with Absolut Elyx Vodka, Absolut vanilla, Koko Kanu rum, Champagne and a Champagne foam to finish; the Winter Martini which incorporates Absolut Elyx Vodka, Baileys, pumpkin spice syrup and whipped cream; and the Candy Cosmo made with Absolut Elyx Vodka, Grand Marnier, pomegranate juice, egg white, lemon juice, garnished with playful white candy floss. 
1 Granary Square, Kings Cross, London, N1C 4AB
www.granarysquarebrasserie.com
Berry Fizztive at Rail House Cafe
Rail House Café in Nova, Victoria has created a highly-Instagrammable, luxurious gin-based cocktail to help keep thirst at bay this December. The Berry Fizztive cocktail is an exclusive blend of Christmas cheer and festive sparkle with its delicious mix of warming cranberry liquor and sloe gin, all topped off with crisp, chilled Prosecco.  And, if the Berry Fizztive wasn't enough to get you in the holiday mood, each cocktail is served with a Christmassy candy cane and a sprinkle of North Pole sugar dust. After all, 'tis the season to treat yourself!
The Nova Building, 8 Sir Simon Milton Square, Victoria, London SW1E 5DJ
Drink in The Panto at The Goring
The best thing about Christmas is the pantos. Oh no it isn't - it's the cocktails! But you could have the best of both worlds if you've booked tickets to the Palladium's performance of Snow White this year (or even if you haven't) because The Goring have created this delicious Poisoned Apple cocktail, a nod to Snow White's near fatal miss. Made with Julien Fremont Calvados, apple blossom honey and fresh lime, the cocktail is poured into a cold martini glass and topped with a caramelised crab apple for extra sparkle. Children joining in on the fairy tale fun can even enjoy a mouth-watering mocktail version... because apparently, Christmas is also for the kids??
The Goring Hotel, 15 Beeston Pl, Westminster, London SW1W 0JW