Want to make sure no one side lines your party in favour of something more fabulous? Easy, make yours the most banging on the menu. Village halls, pub dining rooms, football clubs and the big table at Pizza Express simply will not do. From the underground and filthy, to the gold-gilded and glorious, here are the biggest, baddest, most epic party venues out there.
A purple illuminated sign marks the spot. This so-seedy-it's-slick venue is a strip club by trade, but the Beach Penthouse upstairs is so, so much more. A sand covered area is laden with lounge areas and bedouin tents for chilling in and you can almost guarantee the staff will be scantily clad. The downside? You probably won't want to invite the in-laws.
234 Cambridge Heath Rd, London E2 9NN
Wright Brothers – Soho Oyster House
Kind of kinky, if you're into the logistics of fresh fish farming. The Cage is a supersized model of the original lobster cages used on the Wright Brothers oyster farm in Cornwall. Located on the lower ground floor of the three story Soho restaurant and bar, the cage-like walls can be folded into different configurations, creating either an intimate dining space for 25 people or opening up into a party space for 35 standing. Back of the net!
13 Kingly Street, G7/G8 Kingly Court, London W1B 5PW
A BarChick bar through and through, enter this ghetto fabulous two-storey juice bar through a haze of psychedelic overgrowth and paraphernalia. With an old shower room doubling up as a smoking area and cavernous rooms to shimmy in, host a shindig here and it'll be the house party you were too scared to throw in your teens. They don't have set rates, they'd rather chat-it-out face to face to make sure you're down with the vibe. Basically it'll either be a nice big bar spend or a room hire fee, depending how fun your guests are. Capacity 213, apparently.
88 Chatsworth Road, Hackney, London, E5 0LS
Who doesn't wanna play like T-Pain on a boat? Admittedly the vessel we're referring to is a Dutch barge as opposed to a super yacht and you'll be moored between Lambeth and Vauxhall Bridge, not Miami. But whatevs, the Tamesis Dock Boat is a floating pub y'all, this is how we do it this side of the pond. Hire for up to 150 people, it'll be classic.
181 Upper St, London N1 1RQ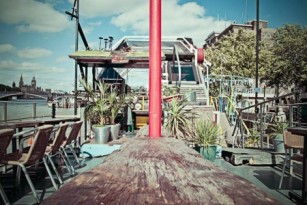 Wilton's Music Hall – Shadwell
Made up of a mid-19th Century grand music hall, an 18th Century terrace of three houses and a pub, Wilton's is something of a Shadwell treasure. Still a long way from being fully restored to its former glory, it's exactly the raw edges that give this place such appeal. Although there are many different spaces available to hire it's The Auditorium that gets our vote. A grand affair with a capacity of 250 it's a favourite among those getting hitched.
1 Graces Alley, London, E1 8JB
It'll cost you serious dollar but if you're down with spending dosh on a louche burger bar for your birthday then you'll find nowhere better. Decorated like an acid trip in Berlin there's more graffiti here than on a teenage girls pencil case. Get in touch.
74 Welbeck St, London W1G 0BA
A Georgian town house doused in Arabian glamour, Home House is comedy and class in equal measures. The ultimate venue for a decadent p*ss up, grand staircases are offset by plug in pianos with CD drives, you get the picture. Slightly spenny, you'll want to book the whole thing to avoid having to mingle with the members.
20 Portman Square, London W1H 6LW
Cleverly disguised as a derelict old pub, The King's Head is everything it appears not to be. A shrine to all things luxurious, think lashings of velvet, tiled ceilings, embossed wallpaper and more taxidermy than you're probably comfortable with… The King's Head sh*ts on every flaky, stuffed fox bearing bar in Shoreditch. Four floors of absolute madness include a club in the basement, could you ask for much more?
257 Kingsland Road, Haggerston, London E2
Imagine our faces when upon browsing the record collection at Phonica we stumbled across this tardis of a warehouse space out back. 6,000 sq feet of pure space, and in Soho no less. The total venue capacity is 320 so all kind of chaos could go down here.
16-18 Marshall Street, London, W1F 7BE
A 6000 square foot warehouse located in Dalston features a skylight that floods the room during the day and makes the stars visible by night, adorable. The collection of props and amassed paraphernalia means that guests will be entertained even if the party is a complete bore, win.
28 Millers Avenue, Dalston, E8 2DS
This notorious party spot sort of started the trend for finding a rooftop in East London and turning into a party. Needless to say they know how to do it right. With the option to hire hot-tubs (inflatable but whatevs) guests go large atop this abandoned college and council offices, or rave it up inside. With a total capacity of 700 rest assured you'll be able to invite all of your Facebook friends.
1 Westgate St, Hackney, London E8 3RL
Mahiki might not be everyone's flex but leave the moisturised models, palm trees and treasure chests behind you as your head downstairs to the No-Tell Motel. The most shocking thing about this place is that the bed, sofa, mini kitchen and bathroom aren't the most shocking thing. Round up of your mates and head for the showers, don't worry nothing dodgy, only a bloody karaoke booth with taps for volume buttons, shabba! You'll get a personal waiter, a kitschy landline and a fancy dress box so that you can rock your socks right off.
1 Dover Street, Mayfair, London, W1S 4LD