Flashing your t*ts in New Orleans to get some free beads, or going topless with the Dykes on Bikes down in Sydney – the month of Mardi Gras is here, with parties kicking off all over the globe! Cocktails, costumes, floats and plenty of party spirit – are ya'll ready for it? Hell yeah, Mardi Gras is the French translation for Fat Tuesday – so if you're planning on just stuffing your face with pancakes that's fine, but here's how the rest of the world are celebrating it…
If you're in town and looking for somewhere to party then Nola has got your back. They're hosting the biggest New Orleans Mardi Gras party in the UK and it's going to be so darn big that they're spilling out of the bar and into the one next door. Expect live music from an 11 piece brass band (think New Orleans funk 'n soul), carnival vibes, costumes and their punchy Mardi Gras cocktails. We're saving our cash on flights and heading here!
66-68 Rivington Street, London, EC2A 3AY // March 4th // Tickets £5 - £10, book here
Get your Mardi Gras party on up high at everyone's favourite 24 hour bar. They're going to have legendary Giles Peterson on the decks, live samba dancers, booming batucada drummers and carnival cocktails along the lines of Kiwi Caipirinhas and lychee coolers. It will be on a Tuesday night but what the hell? It's carni time.
Heron Tower, 110 Bishopsgate, London, EC2N 4AY // Tuesday 4th March // 8pm – 2am
Don your best feathers, turn up the samba, find our resident BarChick, check out our guide and do it Brazilian style! The Rio Carnival is one of the biggest parties in the world and kicks off apparently when a fat king gets crowned and is presented with a giant key by the city's mayor. It's known as the festival of flesh for a reason – these guys are hot! An excuse to don a show girl outfit and down a Caipirinha or two? Oh go on then!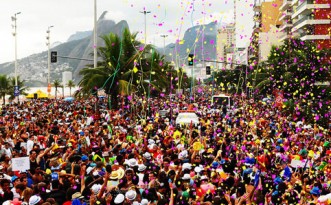 NEW ORLEANS
Well known for two things, the birthplace of jazz and Mardi Gras celebrations. The most raucous partying is centred on the French Quarter where one of the traditions is for women to flash their breasts in exchange for beads and treats thrown from the parade trucks – Ooh la la! Wonder what the boys need to do... The celebrations go on for days and what to drink? Hurricane cocktails (obvs).
TEXAS
Yeee-har! Giving New Orleans a run for its money is Texas with its balcony parties and cowboy krewes (carnival clubs). Ribs, fried chicken and music from Jagermeister and Budweiser sponsored stages anyone? Why the f*ck not?
It's all about donning a Venetian mask and sneaking in to one of the exclusive balls. Having your face covered also means you can get away with all sorts, fact. The word carnival comes from the Latin for 'farewell, meat' as it was traditional to use up all meat, butter and fatty foods before Lent. Best stock up on the meat cocktails then, not a problem.
The biggest kiki is being thrown down under to celebrate 35 years of gay and lesbian Mardi Gras! The drag queens will be out in force for Sydney's biggest street party. Buff bodies, cabaret and fabulous floats, the parade always kicks off with the Dykes on Bikes and ends up with a giant Sleaze Ball party. If it's good enough for Kylie…
BARANQUILLA
Columbians know exactly how to party and their Mardi Gras celebrations are no exception. Everything kicks off with Battle of the Flowers, followed by some of the world's best music to get your hips going. Shakira's home town so you know it… go get your Cumba on!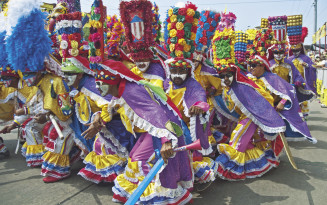 Photo credit: Proexport Columbia
TRINIDAD AND TOBAGO
It's the inspiration behind London's Notting Hill Carnival and one of the Caribbean's biggest parties…. so you know it's going to be good! Thousands of people doused in oil, paint, mud and liquid chocolate are found lining the streets and in true Caribbean style, the party continues for days. If you think you're up to it there is always the stick fighting competition, the winner gets the title of King of the Rock (and all the babes).