It used to be known as triple sec. Now if you want the real deal, you ask for Cointreau. It's been kickin' about for almost 120 years, and now the man keeping the story alive is Alfred Cointreau, the great-rreat-great grandson of the distillery founder and sixth-generation homeboy of the Cointreau fam, and we met up with him to get the low-down on all things Cointreau. 
Tip: for ze authentic experience, you'll wanna read this interview in a bad-ass French accent, a la Alfred. 
Bonjour Alfred! Awesome to meet you. You're a sixth-generation member of the Cointreau fam. Tell us – how and when did the brand begin? 
So at the beginning of the 16th century, the Cointreau's were bakers. Then we became confectioners - we were the ones who put liqueurs into sweets and chocolates, which was basically our first approach of distillation. Then in 1849, we became ready to change focus. In our first generation, we always used natural ingredients from the region to replicate recipes that already existed, but our second-generation became more creative. Now we wanted to create a recipe with exotic and rare fruits. In the 19th century in Europe, the orange was considered the golden fruit – this was how we got the idea to create an orange liqueur and that became the speciality of the house.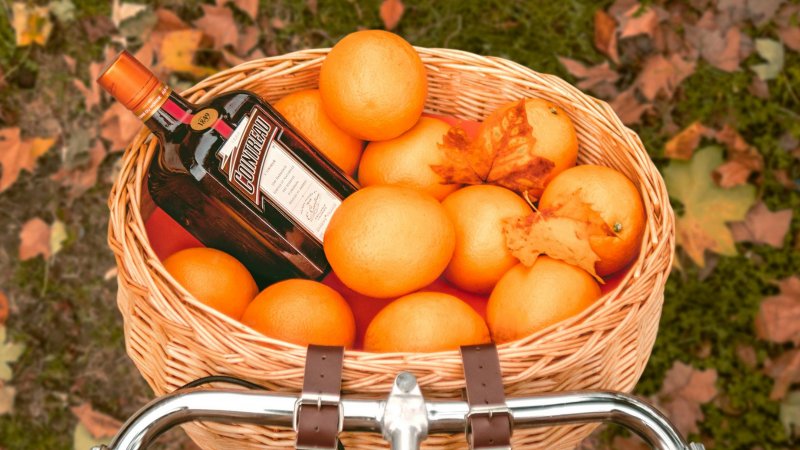 Sounds like a eureka moment! Did you immediately discover the power of orange, or were there a few other creations that came first? 
We used to have 60 recipes – the first success of the family was a cherry liqueur with cherries from the orange region. We also tried strawberry, raspberry, blackcurrant - lots of fruits like that, but orange liqueur didn't really exist before, so it was an original idea. 
So we assume you have a job title that isn't just "Great-great-great-Grandson of the founder"… what is your role within the company? 
My title is "Heritage Manager" which means I wear a few different hats – It's a bit like Brand Ambassador, but it's more about the heritage – the legacy of the brand. This hat goes through each market around the world; in the UK we have teams that take care of Cointreau and sell Cointreau, so I go to meet them, I teach them how to use it, what it is, and spread the story of the brand so I am connected with the bars and the bartenders.
I also work in the distillery, so I work with the Master Distiller, for example, to give information on the legacy and the brand, so I can work with people at the distillery, I can welcome our guests, the bartenders, the journalists. 
Was this a role set in stone for you, or did you have a choice? 
The 6th Generation of the family is made up of 15 in total (myself with my cousins) but no, we weren't pressured into joining the family business. Our parents and grandparents encouraged us to look at other options and businesses, but it had to be a personal choice. I used to work in a different industry – I was in advertising at a newspaper but I wasn't passionate about it, and I wanted to be animated about my job. I wanted to be excited. I went for lunch with my grandfather (4th Gen) and he mentioned the brand was losing the connection with the family, so I chose to join the company to continue to legacy – this was the right occasion to join and change the business.
Do you remember the first time you tried Cointreau? 
I don't. But that is because there is a ritual in the family that at the baptism (around 6 months old) the grandfather gives a baby-bottle which includes a dash of Cointreau. I have 2 daughters and I did the same with them – I went one further and at the hospital when they were born I brought a vile of orange essence to crack open so the scene of orange was the first thing they smelled at the beginning of their lives. This is the tradition. 
But of course, the first time I remember drinking it was when I was 18… *wink* 
Start 'em young. We like the way you work! So let's talk about cocktails. The Margarita has obviously made Cointreau a staple of the cocktail menu and bar. Is that your favourite? 
Yes, I have a tattoo of it on my arm. I prefer clear spirits: tequila, gin, Cointreau, obviously. And the Margarita is a cocktail I really appreciate, and was the first I mixed with my grandmother. You have sweetness, freshness from the Cointreau – the strange flavour from the agave which isn't local to Europe, and it's quite unusual for a cocktail to be served with a salt rim – I really like it, it works.
You'll find our favourite Margarita recipes featuring Cointreau over here, FYI
It must have been pretty epic to see a cocktail which champions Cointreau become so iconic around the world. What impact did that invention have on the Cointreau brand? 
You hear a lot of stories about the Margarita – the story I prefer - and I'm sure is the real one - is the story of Margarita Sames in 1948; to welcome her guests in her villa, her house – she wanted to create a cocktail with her two favourite spirits: Cointreau & tequila, blended together with salt. The guest gave the cocktail the Spanish version of her name. 
It was the story of one night - a lot of cocktails tell the story of one night, and it became a classic cocktail after that. The cosmopolitan was also the story of one night. Now bartenders are always told to be creative and try new recipes in case they make the "next" Margarita.
Talk to us about the liquid. What's the vibe, what are we working with? 
Consider the bottle. The square represents the four corners of the recipe, the four ingredients – the water, alcohol, sugar and the sweet and bitter oranges. When you pour Cointreau in a glass it is crystal clear, which translates to the perfect balance; It is the perfect spirit. When you mix a cocktail you are looking for balance, and when you use Cointreau you already get the perfect balance* when you pair it with equally quality ingredients. That's how you make sure you have the perfect cocktail.
*At this point, Alfred demonstrated to us that the bottle can actually be perfectly balanced on its edge - not something to try after a few Margs but really f*cking cool if you've got a steady hand.
Has the brand itself changed?
It has always had the same look. The square, brown bottle was always the same – but there has been an evolution of the label. Before Cointreau became a brand, it was known as Triple Sec. "Triple" means 3 times the concentration of orange essence and flavours, and "sec" means dry. When you go back to 19th century, the more sugar you added was to mask the poor quality of your ingredients, so we use less sugar to highlight the quality of the oranges – we tried to trademark that in 1885 but in France to become a brand you have to be original enough to make a difference, and "triple" and "sec" together are not original enough to become a brand.
It's easier to imitate something that already exists and people started to use to word "triple sec" when imitating us, so we decided to trademark the family name, 'Cointreau' as we were already known through France.  So the brand is the only thing we changed, but if you say "triple sec" to a good bartender, they will know to use Cointreau.
Image source: Alcademics & Cointreau.com
Do you have a favourite bar?
That is a really good question. I think a really good bar is about where you want to go back, you know? Where you feel like you're at home, you feel comfortable, you have a good relationship with the bartenders. A really good one in Paris is called Le Calbar, it was opened by two guys 6 years ago – it's a tiny place, nothing fancy, but the guys are really talented.
And here in London, of course there is The Savoy which is iconic, and then in Soho, The Blind Pig – that is a good place. I just love bars where you want to go back and back and back.
What the craziest thing you've ever seen a bartender do with Cointreau? 
I've tasted a lot of great cocktails made with Cointreau. You also have a lot of bartenders that like to make a show. Behind the bar, especially at night, you have to make the show – you can get a great show with fire. Crazy bartenders make some crazy things. 
We guess you've had your fair share of Margaritas and other epic cocktails which means you must have a pretty failsafe hangover cure?
In France, to have a hangover means you've gone too far, so the next morning, just a little bit of alcohol in the morning – something to nourish your stomach. I like to blend juicy vegetables with a little bit of Cointreau inside. Maybe something a bit spicy.
Hair of the dog. Works every time. You don't often hear about the cocktail culture of France - is it unusual to champion cocktails over the classic french serves like wine and Champagne?
In France we do not have a big cocktail culture – we are very traditional, we appreciate the wines, champagnes, cognacs – we do not usually blend together, so cocktails are something bizarre for French people. Usually in France, the heart of the house is the kitchen or the living room; in my house, the heart is the bar – we have a bar at home and we always mix cocktails when we welcome guests, friends – we have an ice cube machine, a lot of fancy glasses, shakers etc – that's something quite bizarre in France.
Do you just stick to the Cointreau cocktails, or do you like to experiment with other spirits and ingredients?
We have a saying: during the day we are competitors, and during the night we are friends because we are sharing our products. Yes, we know a lot of recipes with Cointreau but we like to experiment too. I really like a Negroni.
So what is next for Cointreau? 
We are celebrating the 118th year of the brand. As for the future of the brand – and the challenge in France especially (and plenty of other countries in the world) – is we are considered a grandpa of spirits, so we have a really good challenge to dust off the brand. What I really like is when your grandmother or grandfather first tasted Cointreau, they tasted it when they were younger, and they kept it until they became a grandmother or grandfather – because it's not something you taste just one night, but you keep it and you taste it again thereafter – and what I like to explain to the young generation is that what was good for your grandparents when they were young is still good for you, because it has never changed. So we have to educate people how to appreciate and enjoy Cointreau, how you can be creative with it, cook with it, have fun with it – it's just about educating more people and sharing it.