Time to join the likes of Gordon Ramsey, HRH Prince Charles and us in becoming a fan of this awesome Kentish distillery
Down in the Garden of England, you'll find the Copper Rivet Distillery, a magnificent operation built in the historic and beautiful Victorian Pump House No. 5 right in the heart of Chatham's dockyard. We hopped the train down for the afternoon to give their distillery tour a taste drive, and meet the producers of the only farm-to-glass single-estate gin, vodka and whisky in England. 
Who are ya, and what are you the makers of? 
We're Abhishek Banik and Stephen Russell of Copper Rivet Distillery. 

Your distillery is based in the Chatham dockyards. Tell us – why Chatham, and what does the location bring to the spirits you make? 
So many reasons. Brace yourself: 
 
First, the Russell family is from Medway - I, Stephen, was born in Chatham and went to school around the corner from the distillery. Second, Chatham has an enormously rich heritage of being a home of innovation and craft, having been the home to the first Royal Naval Dockyard.  
 
It's also perfectly situated, being within a few miles of some of the best grain farming land in the country; so we can source our grain sustainably and locally.  We also have incredibly hard water which, for all those who know their brewing, is fantastic for producing a very fruity distillers' beer.  
 
Chatham is in Kent which is one of the warmest parts of the country. This turns out to be bad for production efficiency (it helps to have a cool environment for distilling) but amazing for ageing whisky (although we lose a huge amount to the 'angels').  
 
Finally, Chatham's recent economic past has been tough with high youth unemployment, so it's fantastic to create a local business that offers technical, engineering, manufacturing, hospitality, professional services and administrative jobs. 
 
 ….Tell me when you want me to stop.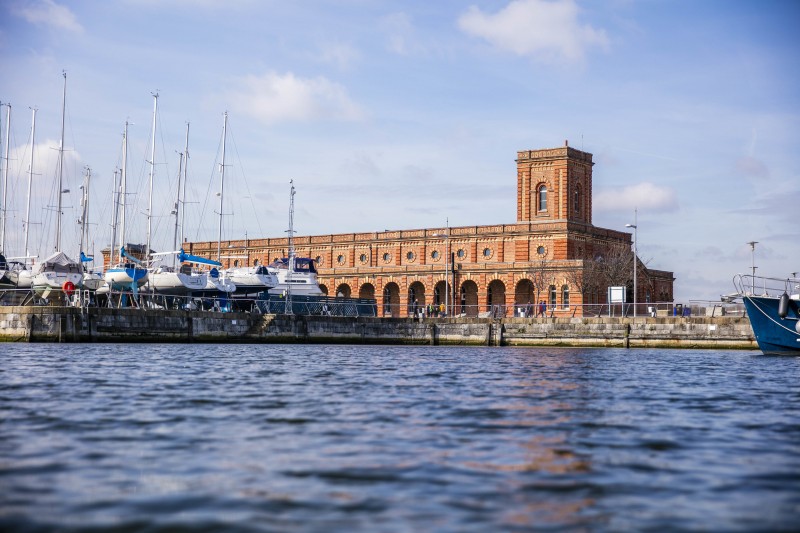 Abhi, tell us about your background in spirits and how you came to become Master Distiller of the Copper Rivet Distillery. 
Abhi: I read Biochemistry at University in India and got super interested in fermentation science. I then won a scholarship to Herriot Watt in Edinburgh to study a Masters in Brewing and Distilling. That's when distilling caught my eye, in particular gin distilling. I always loved flavour and cooking and coming up with - and balancing - gin. Gin recipes really started to get me interested. That naturally then created an intersection between fermentation science, brewing and flavour and I began to learn about whisky. From there I began to write a PhD on Brewing and Distilling and was teaching Masters' students when Stephen Russell, who was looking for help to set up Copper Rivet Distillery with his brother Matthew and father Bob, visited.  
 
We met, I started consulting and then, after they promised me that it never rains and is never cold in Kent, I came on board full time as a partner in the business.  
 
Seriously though, our project to create a multi-disciplinary, farm to glass whisky, gin and vodka distillery had not, I believe, ever been done before and was so exciting. We still all pinch ourselves. 
Stephen, what was it about Abhi that made you want him to be the man to make your spirits? 
Instant chemistry. Almost as simple as that. We were introduced by one of the directors of the International Centre of Brewing and Distilling and that validation of his technical competence, or rather excellence, was important. But we are a family-funded and run business so, in many senses, it's more about shared vision, passion, values and the pursuit of delivering excellent products. That came through when we met with and when we began to work together. 
What does a working day look like for you both?  
The beauty of what we do is that there's rarely a typical day, except to say it's typically long!  
 
Production will be up and running by 08:00 with our grain hoppers feeding the mill and beginning the brew cycle. The boilers will be heating up the stills, so we can get a wash distillation going and, depending what we're making, there'll be a spirit distillation to start. All of these processes are done manually and using the sense to guide distillation processes (real science meets art). On a cycle, according to when it's ready, we'll be disgorging finished Masthouse Whisky so it's ready for our operations team to bottle and pack. There'll be LOTS of admin to do in relation to stock movements and HMRC tracking of duty and of course dispatching orders to customers. There'll be new product development, lab trials, barrel sampling and blending trials across the portfolio of spirits. We'll also be liaising with key suppliers such as our amazing farming partners, who provide us with, among many other things, the grain for all of our spirits and also the strawberries (from just across the river) for Dockyard Fresh Kent Strawberry Gin. 
 
The Commercial team will either be at the distillery presenting the brands to customers or they're out on the road doing the same or working on support and campaigns to help our customers sell our much loved Masthouse Whisky, Dockyard Gin, Vela Vodka and Son of a Gun to their customers.  
 
The Commercial team and Production team spend a lot of time together planning production output levels and, crucially, incorporating feedback from customers about what they love about our spirits.
Can you tell us about the spirits you guys are making at the distillery, and how they are distinctly Copper Rivet spirits? 
The first thing we can say about them is that they are some of the only single estate farm to glass spirits with field level and harvest level provenance – probably in the world. This is distinctively Copper Rivet Distillery - but importantly for consumers, it allows us to create a distinctive distillery character which is extremely accessible, easy drinking with a fruity floral note which runs through, and a hint of herbal spiciness.  
 
It's incredible (to us anyway) that Vela Vodka, Dockyard Gin, Son of a Gun and Masthouse Grain Whisky are genuinely siblings. They all share the same mash build and they literally grew out of the ground together. There may be only one or two other whisky distilleries which can say that. Masthouse Single Malt Double Pot Distilled and Masthouse Single Malt Pot and Column Distilled Whiskies are also siblings - the entire process (including the field and harvest) for these whiskies is identical except for the second distillation which for the former is in a traditional pot still and for the latter is in a unique 10m tall batch column with 40 copper sieve plates.  
Tell us more about Son of a Gun - it's not a vodka, it's not a whisky… what category of spirit does this fall into, and why did you decide to bottle it? How should we drink it?
Son of a Gun is incredible. It's 'new make' grain whisky (our holy trinity of local barley, wheat and rye) which has been aged for 2 months in ex-bourbon casks. When we made it, I don't think anyone else was doing it in the UK, so we had to define a category. Coming up with names for things is really hard, so we settled on: "Cask Finished English Grain Spirit".  It doesn't exactly trip off the tongue, but it does at least fit with our philosophy of offering complete transparency over what we're doing! 
 
We started making it for a few reasons: we had the idea for the product (more of which later) which we thought would be amazing for bartenders to mix cocktails. We also thought there was no better way of showing the market that we were different and not just another gin distillery buying neutral alcohol and redistilling it with botanicals to make gin. We are a proper distillery.  
Image via Copper Rivet Distillery Facebook
And we also felt it was a way of showing people how good our whisky was going to be. If you can drink and enjoy a 2 month aged 'new make' grain whisky at 47.4% ABV, imagine the fully aged Grain Whisky at 42% ABV! 
Son of a Gun is perfect for bartenders and cocktail enthusiasts. It's packed with flavour but the flavours are quite soft and malleable. That means, if you taste it blind and I tell you it's a rum, you could believe it. Or if I tell you it's a whisky, you could believe it. And so on. So it's incredibly versatile – also, it has a light colour which helps for cocktails. I have had stunning sours on menus as a replacement for whisky or pisco, old fashioned, dirty martinis, margaritas, daquiris. Cocktails covering pretty much every category. It's a bar tender's dream. At the same, at home mixing it with Ginger Ale, King's Ginger or non-alcoholics like Mother Root, it makes for a great drink! 
You're one of the few English distilleries now producing whisky, and you have three expressions in the family to date, including your new Masthouse Grain Whisky. How do they differ and what can we expect to taste when sampling a dram? 
That's right we have 3 core expressions of Masthouse Whisky and they differ greatly. Our philosophy is to use technique and process to create flavour (rather than barrels and finishing). We want people to get acquainted with our distillery character. So we focus on grain variety, grain provenance, harvest, brewing and distillation techniques as a way generating flavour fundamentally in the structure of our whiskies.  
 
But the most important thing to say is that our distillery character, which is the core to our philosophy, is to create approachable, easy drinking, enjoyable whiskies. All of our spirits have a light fruity floral style and carry a hint of herbal spiciness on the finish.  

 
So what can you expect? To really enjoy Masthouse Whisky, probably to finish it more quickly than you thought you would and to be on to your second; and for at least one of your group to say they didn't think they liked whisky, but to declare that actually, it's pretty damn nice.  
 
Masthouse Grain Whisky is, unusually, made with a mash build of wheat, barley and rye with a hint of malted barley. These are all grown specifically for us less than 10 miles from the distillery. It goes through our signature LONG fermentation (seven-plus days) and is distilled at a relatively low temperature in our traditional pot still, before being finished in our unique 10m tall batch column with 40 copper sieve plates. That's unusually high. It's then aged in ex-bourbon casks less than a mile from the distillery. All of this produces a very easy drinking whisky, with sweet creamy nuttiness and a wonderful herbal spicy finish.  
 
Both Masthouse Single Malt Double Pot Distilled, and Masthouse Single Malt Pot and Column Distilled, are made from 100% malted barley. The Double Pot is the closest whisky we make to what you'd expect from a traditionally made single malt. While the Pot and Column offers a much lighter, easy-going dram - we call it our all day drinking or Session whisky - it makes the perfect Whisky Highball, as our Japanese customers are discovering. 
 
Our Masthouse Double Pot Distilled Single Malt has green apple and ginger biscuit, tropical fruits and floral mid-notes, toasted oak, chocolate orange on the palate, finished with malt & white pepper. 
 
Our Masthouse Column Malt carries vanilla mousse with candied zest, toffee apple and light oak shavings on the nose and, on the palate, lingering sweet cream with dried plantain, fresh cut pear and a nutty, peppery finish. 
Image via Copper Rivet Distillery Facebook
What is the Invicta Whisky Charter, and why did you decide to create it? 
The Invicta Whisky Charter is a set of rules and standards which underpin how Masthouse Whisky is, and will always be, made. At the time of writing, there were no specific, detailed standards governing the production of English whisky. We knew how much we were investing - in hard work, emotionally and financially - in producing an outrageously crafted product; so we wanted a way to share that with consumers before they bought or tried the whisky. Another way of looking at it is transparency.
We have seen a massive gin boom over the past decade – do you think we're going to see the same level of traction in the English whisky sector? Do you think this is a good thing? 
It's certainly possible that growth in English Whisky will take off. The drinking habits around gin and whisky are different, so I think we could expect different ultimate levels of consumption. But equally, I can see the export market for English whisky being a much more important part of the sales mix.  
 
I think there's a huge emphasis from producers on producing lighter, more accessible whisky and this may drive a change around the consumption habits. I've already mentioned that Masthouse Pot & Column Distilled Single Malt is an all day drinking whisky, perfect for highballs. Realistically, most people in this country don't drink whisky highballs – but then they've never tried a highball made with Masthouse Whisky … It's a revelation and, at 1/3 of the calories of a G&T or a beer, it's worth investigating! 
 
Similarly I expect a lot of 'new to whisky' consumers to embrace whisky like Masthouse Grain Whisky – it's unlike anything they will have tried before. 
Is there anyone in the industry doing something awesome you wanna shout about? Who inspires you? 
Joseph Maggliocco and the team at Michter's in Louiseville Kentucky have a near-identical philosophy to us. They pre-date us considerably, but their philosophy and absolute focus on quality and making that philosophy grow an incredible business is inspirational. They certainly don't need my 'shout' but credit where it's due and, I would say, if you haven't tried it yet, try Michter's …  
Let's talk about The Pump Room, your restaurant and bar attached to the distillery. It's beautiful – do your customers need to be spirit fans to dine here? 
Thank you. No definitely not! The Pump Room is supposed to be a relaxed environment, and It also has the most amazing views. 
 
It very much stands on its own with a reputation for great food, great drinks and being great fun.  
 
For sure the quality being produced in the kitchen and behind the bar is brand extension reflecting the quality of the spirits we produce but it's a broader celebration of food and drink and not a 'Disney' distillery restaurant experience where everything is laced with our spirits!  
 
My father was in the wine industry for 30 years or more before we started the distillery and wine is a great passion of his. So expect excellent food, an incredible (and good value wine list) and, yes, lovely spirits and cocktails if that's your thing. 
And if there's one dish everyone should try on the menu, what is it? (we can't stop thinking about that bone marrow fondue!) 
For starter (or on our small plates bar menu) the Carrot. That's it, it's just a carrot. But I promise you'll never believe it's just a carrot and you'll want to order it every time you come. 
 
For main course, we have a wonderful Chart Farm Venison dish with venison loin and a wonderful venison suet. Weird for me to say, as I am fish guy. 
You've got a wicked team behind the bar. Which cocktail on the menu do you think best represents what your bar is about? 
Sandy's Share is my favourite: Masthouse Whisky, Chartreuse, lapsang tea syrup and Damson gin. It looks like 'a lot' but it slips down.  
Have you got any fun facts about your product? Any celebrity fans? Any funny stories about the team? 
Probably our most famous celebrity fan is Prince Charles. He visited recently. 
 
Gordon Ramsay filmed an episode of his latest TV series (I think our episode airs on 14th April '22) at the distillery and he was definitely a fan.  
 
Rishi Sunak visited during lockdown, and was a big fan of the distillery but, as he's teetotal, I think that was more being a fan of what we're doing than of the product itself! 
Image via Copper Rivet Distillery Facebook
 
We have a great laugh as a team but it would be indiscreet of me to share any particular moments – except to say that when the pandemic hit, we were one of the only places in the country capable of producing the pure alcohol needed for hand sanitiser (because almost all pure alcohol, including the stuff which your favourite 'craft' gin is made from (unless it's Dockyard Gin) is mass produced abroad). So we had to start working 24 hours a day to produce alcohol. This meant my brother and I started working production shifts. It was on my 2nd production shift in charge that a pipe burst and flooded the distillery with about 6,000 litres of pot ale. My brother was on the next shift. He worked nights and had been complaining that it was pretty dull. So I assumed he'd be pleased that there was plenty of mopping up to do overnight when I knocked off at 11pm.…  It was an experience, and the production team will never let me forget my time working 'at the sharp end'.