There's a Rumolution on the horizon and it's changing the face of the UK rum industry. And oh boy, BarChick is excited...
It's being led by this epic brand who have more than just delicious rum on their mind. BarChick met up with Founder Richard Davies and Director James Molloy to get the low-down on how this killer rum is making and riding waves in the industry.
What's The Story?
Not many good things tend to come from a car accident. Usually more of an oops than an ahh moment. But that's actually how these two gents first met. After a non-rum related car prang, Richard wrote his deets down on a beer mat for James to contact him. And oh man is he glad he did that. Together they've brought Neptune to the industry, and it's now the most awarded rum in the world, and the best British Rum Brand of 2018.  But the idea of this rum first came to Richard in a dream. Previously a cocktail bartender in Gloucester, he knew he wanted to turn his hand at making his own spirits. He thought about jumping on the gin gravy train (which is tastier than it sounds) but when he started thinking about some of his favourite cocktails, he realised rum, with the versatility of a Swiss army knife, was the way forward. Killer.
The Neptune Brand
How are you on your Roman gods? Well here's a quick history lesson for ya. You listening?  Ok. Neptune was the god of freshwater and the sea in Roman religion. He is the counterpart of the Greek god Poseidon. Water is his thing. He's known for his violent nature and temperament and there are many stories that depict him as a bit of an arsehole.  Like the sea, he's a bit unpredictable so sailors passing over the oceans would (and still to this day) offer up their rum as a bit of a bargaining tool for him not to be a d*ck. Seems like a solid technique to us. A drop of rum certainly cheers us up.  This gives a pretty obvious connection between Neptune and rum, so the name works perfectly. You might think of swash-buckling pirates, but for Richard who is a keen paddle-boarder, he wanted to make sure homage was paid to the oceans with the brand. Yeah, making kick-ass rum was the main objective, but Richard also wants the brand to make a change. 
They're doing a lot to make this rum as sustainable as they can. There's a packaging revamp on its way (the already bang-on bottle is going through a make-over, but don't worry, those pretty sloping shoulders are staying) which will see more biodegradable materials utilised. They're giving back to local communities and they've stumbled across some pretty cool products to help keep the industry in check. Forget everything you know about wooden, metal and bamboo straws. These guys are flying the flag for... straw straws. You know, like, straws. Made of straw.  No excuse for single-use plastics when nature has literally given us a ready-made and named product, right?
The Rum
First thing you'll notice about this rum is the gorgeous, glowing gold colour. It's made from pure sugar cane molasses in the oldest distillery in Barbados, a fourth generation family-owned producer set on the southern slopes of the island. Neptune is both smooth pot and column stilled – before being aged in American bourbon oak casks for up to eight years. The heat of the Bajun sun helps turbocharge the ageing process to give it its dangerously smooth taste on the palate. Richard always had a taste profile in mind for this rum. Try it out straight and you'll probably pick up some citrussy notes; BarChick got a hit of orange; one of those big'ns that spray sweet juice everywhere when you try and peel 'em. Put it on the rocks and she got a hit of toasted banana bread. There's absolutely no sugar in this baby, so the sweetness is impressive. And f*cking tasty. Never thought of drinking rum as a straight sipper before? Give this one a go. You'll look hella suave with a class of this liquid gold in hand. 
You could try it out in a cocktail if straight spirits ain't your jam. The fellas are proud of their Neptune Espresso Martini, and rightly so. It's banging.  Their recipe sees 30ml Neptune Rum shaken up to a froth with 20ml Coffee Liqueur, 25ml Espresso, 10ml Pedro Ximenez Sherry and a generous grating of Nutmeg. It's a little more citrusy, with a very gentle coconut twinge. Neptune also makes for a sick Rum Old Fashioned, and the fellas have a good relationship with Fevertree mixers who have learnt that their Madagascan Cola brings a whole new life to your rum n coke order.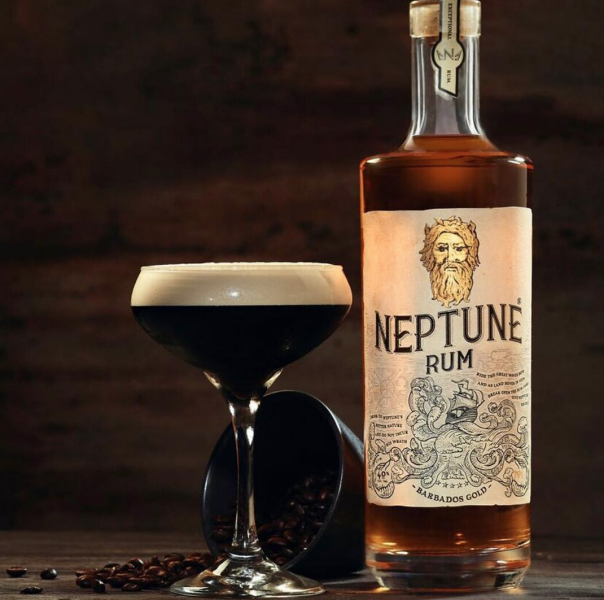 So what's next?
We bet these guys are going to carry on winning some pretty awesome awards for this product over the next few years. They already have a pretty full trophy cabinet but hey, the more trophies, the more things to drink rum out of, right? They're gonna get going with those epic beach clean-ups, making sure the British beaches are as beaut as those in Barbados, and they're gonna keep sending out those straw straws (there's 100,000 on order ready to be given to any bar who'll take em. Legends). And in terms of new products? Well, maybe that gin gravy train will get jumped on after all. Time will tell. But you know whatever product they bring to the market, the oceans are going to be at the forefront. And it's gonna taste ace.