This is where the high rollers come to play. If you want to see what really happens behind London's closed doors, then members' bars are for you. Obviously BarChick enjoys carte blanche around all the city's finest establishments, but not everyone gets that treatment. Sometimes you've just got to suck up that joining fee to get the key to some of London's best playgrounds.
Message BarChick Concierge for free and we'll see what we can do..
Soho House strikes again and this time it's in BarChick's old office on Dean Street! The place is huge with sitting rooms,  5 bars, a roof terrace, a courtyard, sitting rooms, a drawing room and a cinema... you name it they've squeezed it into one of their floors.
Best For - Cool crowd
USP - It's got that half price Monday for Under 27's and two terraces which is pretty good going for Soho
Price Tag - £££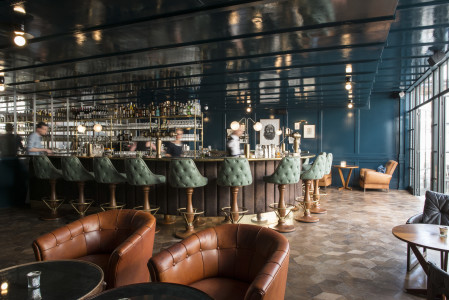 2. El Camion
This underground Soho den of debauchery kicks off when everything else is closing. There's no membership fee, you've just gotta impress the chick on the door in the hope that she hands over a Pink Chihuahua membership card.
Best For - Late night dancing and naughtiness.
USP - It was Dick Bradsell's bar (he's the legend that created the Espresso Martini) and that epic tequila collection
Price tag - N/A
3. Annabel's
Old school at its best, this place is timeless. Founded by Mark Birley in 1963, Annabel's has been keeping the world's glitterati happy for over five decades. If the walls of this basement club could talk they would make a fortune, jaw-dropping antics have gone on behind the sentry box entrance.
Best For - Royal spotting and playing the bongos on the dancefloor while hugging a bottle of Bolly.
USP - It's the only nightclub that the Queen has ever been to.
Price tag - £££
4. QV
The perfect escape from the Soho madness. Talking of madness, you can usually find Suggs playing "It Must Be Love" on the piano! Head here for great cocktails (they have 2 bars), comfy sofas, roaring fires and British food.
Best for - Cocktail fuelled meetings
USP - The honesty bar (if you can get in!).
Price tag - £££
Behind an unmarked maroon door in the thick of Shepherds Market, lies a playground for the rich and famous. Strictly members only (jacket wearing boys and heel clad girls), this is a no-blagging sort of affair, with a price tag to match. Long out dinner and then shake your ass in the club downstairs.
Best For - Sneaking off to one of the cosy upstairs rooms or passing out in front of a fire.
USP - Lurchers welcome, and it's got the prettiest and cosiest smoking area in town.
Price tag - £££
This one really is for members only, you need the keyring and the keypad code but ask nice and they may let you in on their secret. Once inside the vibe is 60's, plush and full of an understated King's Cross crowd that we've not come across before… but we like it.
Best For - Killer cocktails in King's Cross
USP - Pre-batched cocktails means no waiting.
Price tag - ££
The multi-storey of members clubs. What doesn't go on in here? - spa, gym, cinema, ping pong, bowling, the most intimidating pool in London, media cool kids on the regs. You know the drill.
Best For -  free pick n mix and photobooth.
USP - half price Mondays for under 27s.
Price tag - £££
8. Blacks
This place is all about the history - it's played host to loveable rogues and artists since the 1700s. It's recently had a bit of a facelift, and the cocktail menu has been sexed up with some punchy offerings. Settle in by a fire and wave goodbye to the the day.
Best For - Blazing fires in every room.
USP - The private dining bedroom with room for three…
Price tag - ££
9. The Welly
Hidden below the "f*ck" bar you'll find an underground den of debauchery with a hot crowd. Get the party started with a round of absinthe based shots and get involved in the naughtiness. Christian has got the keys to this party, to beg entry email him: christian@thewelly.com.
Best For - Debauchery.
USP - The leather beds with cuffs and chains, very 50 Shades.
Price tag - £££
10. The Groucho Club
This Groucho Club is legendary and is the spiritual home of Soho misfits. Don't sign up hoping for mega mixology, you come here for the atmosphere and the eye-opening shenanigans. Hang outside smoking fags, looking hot, or sleep with someone on the committee to get membership.
Best For - The characters you'll meet.
USP - Swinging by for a quick drink at 7pm and swaying out at 2am.
Price tag - ££
The luxurious garden that surrounds it, so it's amazing in summer. This Bohemian party is one you'll want in on, only they take their membership very seriously so you'll need many friends on the inside. Eat at large sharing tables, chill in the bar or play pool - all to a backdrop of members' work.
Best For - Loveable rogues.
USP - Not having a dress code
Price tag - ££
12. MAP Maison
Joseph Arowolo - the dude behind Sketch - brings some swankiness to Haggerston, with his new members bar. Get yourself in and get access to the secret terrace - and a key to your very own liquor locker, that might just stop you glugging it all at once. The signature serves, like the Bloody Mary Brunch and Black Sea are set to be total Instagram magnets. BarChick Concierge can book you in and you'll get 2-for-1 on a cocktail of your choice before 9pm.
Best for - Haggerston hotties
USP - It's swishest bar in the area (if you're into that)
Price tag - ££
You should also check out:
London's best secret bars
Best place for a first date in London
Where to grab a drink in London after midnight