There's no question Brits love a cocktail or three, but which ones really get our booze-loving hearts beating faster? Event management company MGN Events did the valiant work of analysing Google search data, running the numbers on more than 350 serves to find the 10 most-Googled cocktails in the UK. Turns out, the UK's most popular drinks have a bunch of different base spirits and flavour profiles, from fresh 'n' fruity to stirred-down and boozy. Truly a nation of eclectic tastes, no?
Read on for our countdown of the cocktails Brits seek out the most...
10. Mulled Wine 
Making it into the top 10 is the winter-warming fave mulled wine, with 26,510 Google searches. Since it's typically made in a batch, it's perfect for parties. We're partial to heating some up, pouring it into a thermos and taking it on a wicked wintry walk. Hell yeah!
Find our guide to making the perfect mulled wine here.
9. Aperol Spritz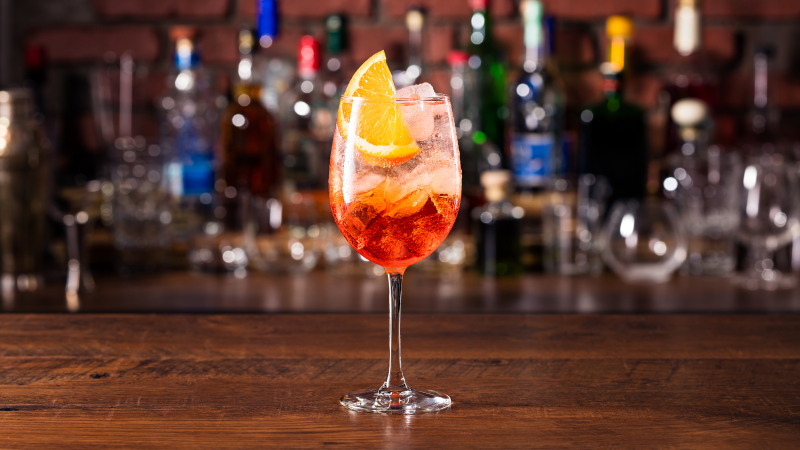 'Cos nothing says summer like a glass of the orange stuff. The Aperol Spritz is basically sunshine in cocktail form, so no surprise that it's the ninth most popular cocktail in the UK, with 27,590 searches. This one's a mainstay in both pubs and bars, and oh-so-easy to whip up at home, too. Here's how ya do it...
50ml Aperol
75ml Prosecco
25ml soda
Orange slice, for garnish
Add all ingredients to an ice-filled wine glass and stir.
Wanna switch up your Spritz? We've got all the tips you need right here, honey.
8. Negroni 
This effortless equal-parts cocktail is the OG aperitivo - and it's also the eighth most searched-for cocktail, with a volume of 28,260. Legend has it that it was invented in Florence, Italy, in 1919, at the request of Count Camillo Negroni. We owe you one, Cam.
35ml Campari
35ml gin
35ml sweet vermouth
Orange twist, for garnish
Stir the Campari, gin and sweet vermouth over ice in a rocks glass. Garnish with the orange twist. Simple as that.
In the mood for something a little different? Mix up one of these epic Negroni twists.
7. Cosmopolitan 
The gals on Sex and the City may have had questionable taste in romantic partners, but they knew a thing or two about a good fruity cocktail, and the Cosmo was their fave. This icon of the '90s has had a serious resurgence in the past few years, and it's now the seventh most popular cocktail in the UK, with 40,410 searches.
45ml vodka
15ml triple sec
30ml cranberry juice
10ml lime juice
Orange slice or twist, for garnish
Add all ingredients except the garnish into an ice-filled shaker. Shake and strain into a Martini glass, then garnish that sh*t. Pure Carrie Bradshaw vibes.
6. Old Fashioned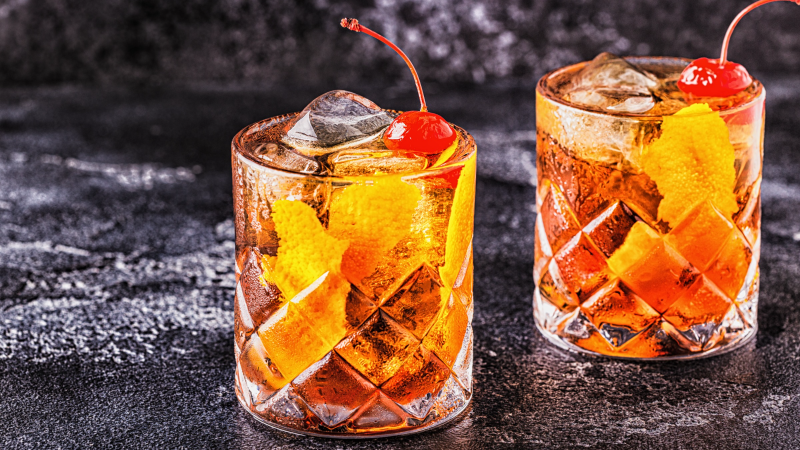 An undisputed classic. The Old Fashioned clocks in at number six on the list, with 44,590 searches. We love this one 'cos it's the perfect canvas for our fave whiskies.
Check out our guide to making a bangin' Old Fashioned.
5. Piña Colada 
Things get tropical with the fifth most popular drink in the UK, the Piña Colada, coming in hot with 51,710 searches. There are not one, not two, but FOUR different folks who claim to be the daddy of this drink. We get it. Who wouldn't wanna have "inventor of the Piña Colada" on their CV? Escapism in a glass. 
Get your Piña Colada on with our guide to making a killer version of this OTT classic.
4. Espresso Martini 
With 56,690 searches, the Espresso Martini clocks in at number four on the list. Created by legendary bartender Dick Bradsell at the request of a model who wanted a drink that would "wake her up and f*ck her up", it's the ultimate night-out fuel. Here's our fave recipe:
50ml vodka
25ml fresh espresso
25ml coffee liqueur (check out our faves here)
Shake all the ingredients hard over ice and strain into a coupe - the harder ya shake, the frothier it gets, so don't hold back! Garnish with three coffee beans.
Want more buzz-worthy cocktails? Check out these five Espresso Martini riffs.
3. Mojito 
Hailing from Cuba, the seriously summery Mojito takes third place, with a volume of 71,290. Mint, lime, rum, sugar, soda: fresh AF.
We've got the intel on how to make a killer Mojito right here.
2. Pornstar Martini 
With vodka, passionfruit and a cheeky shot of Champagne on the side, the Pornstar Martini is undoubtedly one of the raunchiest cocktails in the game, and we're HERE for it.  The late, great Douglas Ankrah invented this serve in London around 2002, and it's climbed the ranks of modern classics to earn the number-two spot among the most popular cocktails in the UK, with 80,600 searches. The real question is: how do you drink it?
Get the full rundown on this banger with our ultimate guide to the Pornstar Martini.
1. Margarita 
Taking the top spot is the Margarita, with a whopping 83,750 searches. Whether you like yours spicy, salt-rimmed or Tommy's-style, she's the queen for a reason, y'all - and that reason is TEQUILA. 
Get our recipe for the classic Marg - and four more wicked twists - here.
21/04/2023