Movember – November is a funny month… it's not quite time to get in the spirit of Christmas, it's just after Halloween and BarChick's birthday, bonfire night is over too soon and Day of the Dead is about as good as it gets. So we say hell YES to Movember, a time to do something for others and grow a moustache for charity, yes boys (and any freak girls) this is your time to shine, and here are the bars doing just that!
Market Café
Broadway Market is a bit of mecca for moustaches anyway, but the Market Café are encouraging the handlebar/Hitler look even more so with 50% off a glass of their draught prosecco to the longest tash of the week. Head on in and get measured up boys!
These guys are going all out for the Mo Bros out there. They're encouraging everyone to make a donation of choice (£15 minimum) and for every moustached dude about  there will be a rib eating contest on December 1st. You have to eat as many ribs as you can in 5 minutes and the winner gets a wet shave at Murdock, a bottle of Gentlemen Jack and brunch for 2 at Beard to Tail. We reckon it's well worth growing a moustache for.
They're rustling up a special cocktail for the month… The Movarita . It's made up of 42 Below Manuka Honey, lime and sugar, shaken then served over ice in a rocks glass with a 'Mo' garnish. The Movarita will cost £7.00 and a pound of every cocktail will go to the Movember charity.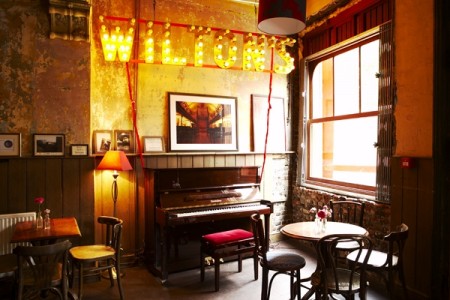 Wiltons Music Hall
It's got one of the oldest grand music halls in the world and ping pong upstairs. If you're growing a moustache for the month make it down for 10% off your drinks all night after a quick show (off) to the manager….
Get down to The Factory House if you're a "Mo Bro" or "Mo Sista" and you'll get a 10% discount off your food and drink bills throughout the month! Choose the sirloin steak and The Rudyard Kipling cocktail and you will be donating £1 to the charity. You'll also be able to touch up your tash in the loos where there'll be wax and combs to hand.
Grow a moustache and take a date to the Bon Bon Bar at Volupte. They are offering 2 -4- 1 on drinks for everyone with a tash, so you can pretend you're splashing more cash than you are and she'll never know!
If you're in the Kentish town area then this is one of our favourite spots to begin/end the night. Their tipple of choice in this prohibition style den is the once illegal, Irish moonshine poitin (one of the strongest spirits out there) and for Movember they are offering £5 poitin cocktails for any head turning tash. Deal.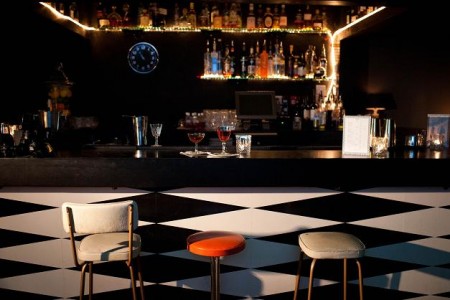 Drink Shop Dance
If you wanna check out some real men, then head down to this once sex shop now drink and dance den below a sweet shop. All the male staff are growing their moustaches for the cause. Feeling left out and hairless? They have a class where you can knit your own moustache so you look less outta place.

Tuesday 27th November, 7-9PM, £20
There's loads going down at Charlottes Bistro in Chiswick. Not only will all the boys be growing their best tash for the month, but they will be getting regular shapings from Jim of Jim's Big Trims to make sure they're still looking sharp. There will be a Movember Cocktail made with G'Vine Gin, Peychaud bitters, agave syrup & lemon juice… drink up and get yourself a foam tash. To end things with a bang there's a party on Friday 30th November, turn up between 5pm and 7pm for a free Magic Moustache cocktail and kick back for the fund-raising party.
With all its golden, gothic, grandeur you could get away with embracing your inner Steve Buscemi in Boardwalk Empire by turning up in a tweed waistcoat, bowler hat and whatever moustache you got. You'd fit right in and be the perfect candidate for their special £2 Movember cocktail before jumping on your steam train home.
Byron
Byron are doing their part and offering up a special MO burger with 50p from every burger sold going to Movember. You can also live off the things if you're a registered "Mo Girl" or "Mo guy" and have raised over £25, as they will then be offering free hamburgers, chicken burgers, veggie burgers or main course salads between 3-6pm every day for two weeks. If that isn't worth getting facial hair for then we don't know what is….
November 7th - 20th
Fancy a bit of ping pong and a trim while you're at it? Ping have got a resident barber, Deano, who will sort you out with a free prune and you'll get a free bottle of Spitfire too. Hell yeah!
(Mon – Wed 6-11pm)
It's one of London's most googled bars and you get a 45 minute time slot, a free drink with your ticket and some kick ass thermal capes. For Movember and for everyone with a suitably "worth it" looking tash they'll be giving you another free drink in the "warm" bar, nothing like some Dutch courage before heading into the cold!
If you're Brixton way and got a good enough tash to compete with their staff, then head in for a cocktail or two. They'll have a special on the menu with a pound going to the charity for every drink sold.
To celebrate to the end of yet another month full of tashes, the guys over at Lost Angel are throwing a celebratory bash. Get yourselves down for a free Mo-jito and Happy Hour between 7-9pm. As always it will be a wicked party… show 'em what you got.
Friday 30th November - Free