Brixton has seriously upped its game in the last couple of years. The market is thriving, bars are booming and the nightlife is totally rocking it… Here's our guide to doing it right, Brixton style.
KICK OFF
Start the day right with a caffeine hit at Federation Coffee. Tucked away in Brixton Village, this spot is super popular and always rammed. They've got some pretty great cakes and tings going down too. If you want something more chilled then the Blue Turtle Cafe will rock your socks off with their great coffee and relaxed vibes. Raw food and smoothies more your thing? Hit Oracle's Juice Bar for a juice and a morning cleanse.
Federation Coffee, Unit 77-78 , Brixton Village Market, London, SW9 8PS // Blue Turtle Cafe, 210 Coldharbour Ln, Brixton, London SW9 8SA // Oracles's Juice Bar, Shop 90, 6th Avenue, Brixton Village, Brixton, Lonon SW9 8PS
BRUNCH
Brunch in Brixton is all about the Duck Egg Cafe. These guys serve up eggs benedict, florentine, full English, omelettes… you get the picture. They rock eggs. And for an extra quid you can upgrade to duck egg. Do this. If you're feeling the Mediterranean vibes then Wild Caper will do you right. We're talking poached eggs, mozzarella and spinach on sourdough. Boom. If you're looking for something a bit more low-key, hit Burnt Toast Cafe; they own the Brixton bread scene. With a load of the doughy stuff, coffees and toasters on the tables, the DIY thing means you might actually get burnt toast. Keep an eye on that.
Duck Egg Café, Market House, 443 Coldharbour Lane, London SW9 8LN // Wild Caper, 11A - 13 Market Row, Brixton, London SW9 8LB // Burnt Toast Cafe, 36 Atlantic Road, London SW9 8PS
LIQUID LUNCH
Weekend afternoon boozing means Shrub & Shutter! More like chilling in your mate's kitchen, the drinks here are experimental, killer and served with tasty side snacks to keep your stomach lined, obv. Seven is where it's at for cheap cocktails and tapas. They've got board games and old books to keep you entertained and the booze is always crazy good. If you're flagging and need to fill your belly a little more, hit CHICKENLiquor, MEATliquor's poultry-swingin' sister for some wings and a pisco punch.
Shrub & Shutter, 336 Coldharbour Lane, Brixton, London SW9 8QH // Seven, Unit 7, Market Row, Brixton Market, London, SW9 8LB // Chicken Liquor, Unit 12 Market Row, Brixton Market, London SW9 8PR
AFTERNOON SESSION
For some secret bar action to see in the afternoon, The Courtesan is perfect. This total hidden gem is a cocktail and dim sum bar so expect the booze to have an oriental taste. Head down to their cute candlelit downstairs area and soak up the Orient vibes. Kaff Bar is a must for a bit of everything! They've got coffee, cake, art, booze and beats so whatever you're looking for, they've got it here. If you're craving some pub action, the Crown & Anchor is great for the unusual. With up to 25 taps of insane beers, real ales, ciders and craft beers, you'll be here for an hour just trying to decide what to order.
The Courtesan, 69-73 Atlantic Road, Brixton, London SW9 8PU // Kaff Bar, 64-68 Atlantic Road, London SW9 8PY // Crown & Anchor, 246 Brixton Road, London SW9 6AQ
SUNDOWN
Summer calls for a terrace and the Prince of Wales has a beast of one. The vibe here is chilled and friendly with a side of funky, hip hop beats. This is where Gilles Peterson and Norman Jay spin party jams on the weekend. Probably Brixton's sexiest bar, Three Eight Four is where you wanna be if you're craving great cocktails. This is more civilised boozing than the Converse and carnage that is unfolding outside the door. Keep it here if you want to keep it sexy.
Prince of Wales, 467- 469 Brixton Road, London SW9 8HH // Three Eight Four, 384 Coldharbour Lane, Brixton, London SW9 8LF
HOT DINNER DATE
Hidden under St Matthews Church is the f*cking sexy Gremio de Brixton. This cave-like bar and restaurant is probably as romantic as it gets. With a great gin selection, Spanish beers and wine, an amazing selection of tapas as well as dark corners and candlelight, this is a no brainer. What's hotter than seeing your date tucking into some kickass meats? Nothing, that's what. Hit The Joint and seduce your babe over a table of sticky ribs and massive burgers.
Gremio De Brixton, St Matthew's Church, Brixton Hill, London SW2 1JF // The Joint, 87, Brixton Village, Brixton village market, Brixton SW9 8PS
LATE NIGHT/PARTY
Grab all your mates and head to Dogstar for some gothic grunge, shabby chic vibes. This is basically the epitome of the urban cosmopolitan South London scene and is a must visit for those hankering for some true Brixton times. Another banging spot for party crowds is Plan B, ideal for those looking to throw some serious shapes to all kindsa garage, house and hip hop beats. Want something a bit more old school? Head to Brixton Jamm for cheap drinks, chilled vibes and a 6am licence. Hello.
Dogstar, 389 Coldharbour Lane, London, SW9 8LQ // Plan B, 418 Brixton Road, London, SW9 7AY // Brixton Jamm, 216 Brixton Road, London, SW9 6LH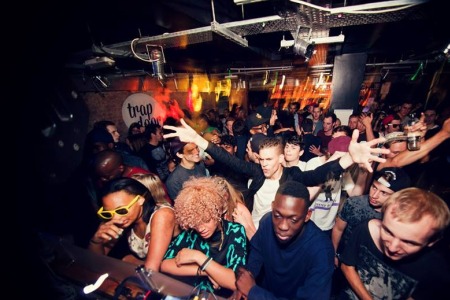 MIDNIGHT MUNCHIES
Midnight munchies are always gonna be cured at Refill, the Caribbean cuisine fast food joint that is ready for you 24/7. We're talking 'round the clock jerk chicken, curried goat, saltfish, rice and peas and patties, perfect when you spill out of a club and need a good feeding.
500A Brixton Road, London, SW9 7AW