Not all brunches are bottomless, but they are all floorless!
Oriole Jazz Brunch - Every Sunday
Kicking it in Smithfields on a Sunday? Get down the stairs beneath the bridge and head through the curtain to find this upmarket basement with palm print walls and a menu of killer cocktails. Now this intimate speakeasy is playing host to a wicked new Jazz Brunch every Sunday, bringing Oriole's world-class tiki-vibes cocktails and bad-ass food offerings together with Molto Music Group's epically extensive list of premiere musicians to really jazz up your weekend. Is this Smithfields or 1950's New Orleans? After an afternoon of bottomless prosecco, bellinis and Bloody Mary's, you won't be able to tell.
Oriole Jazz Brunch every Sunday from midday. Tickets available here, priced from £35 (an extra tenner will make it bottomless - why wouldn't ya?)
Aqua Nueva's La Fiesta Brunch
Wanna bring some flamboyant fun to your weekend brunch game? How does a live DJ, Flamenco dancers and some of the tastiest tapas in London sound? Aqua Nueva's new La Fiesta brunch is here to help the weekend kick off in superb Spanish style. The benchmark of any epic brunch is free-flowing booze, and here you can dive into bottomless cocktails & Veuve Clicquot to get those limbs limber for your own salsa moves later on. Brunch is a sharing tapas affair with dishes such as classic tortilla with red piquillo purée and croquettes & very tempting raspberry churros with Paedro Ximénez chocolate sauce to finish. Sounds like a sure-fire way to get the Saturday party started...
The brunch menu will be available every Saturday from the 28th August from £40 pp, and with the addition of free-flowing cocktails and bubbles for £75 pp. The Deluxe brunch offering includes free-flowing Veuve Clicquot & Cocktails, available for £99 pp.
Sumosan Twiga Uptown Brunch - every Saturday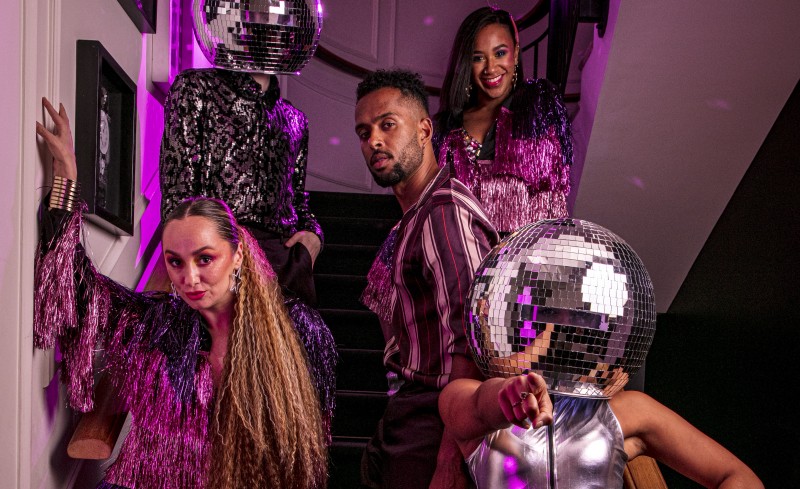 Looking for a brunch that's gonna bring a side dish of party? Follow the call of the disco ball and join Sumosan Twiga for its brand-new Uptown Brunch, set to jazz up ya weekend celebrations. Expect a kick-ass take over of performers, dancers and DJs that'll bring extra measures of funk, disco, boogie and motown, with live music from the soulful sounds of acclaimed singer Najwa, accompanied by the catchy notes of a live saxophonist that'll have you dancing on the tables in time for dessert. When it comes to food, it's all about an epic menu of Japanese-Italian fusion. Whether you're into your Asian flavours or prefer a get down with dishes of La Dolce vita - this is one brunch that is gonna have your Autumn swinging.
Sumosan Twiga's Uptown Brunch: £150pp for the bottomless alcoholic option, £110pp for the non-alcoholic bottomless choice. Taking place every Saturday (from 18th September) from 12-4pm.
Bottomless Michelin-starred Thali Brunch at Benares - every Sunday
Move over Pumpkin Spice. Benares are bringing their own spice to the party this Autumn, and baby, they're making it bottomless. Ayooo! Forget the tradish roast and gravy (we're not giving into the cold just yet) and add a touch of Michelin magic to your Sunday plans with Benares' Bottomless Thali Sunday Lunch which includes unlimited food, wine, beer and soft drinks for 90 minutes. Karate chop your way through the poppadom pile with homemade chutneys before getting your feast on with the finest curries, dal tadka, spiced sea bass, chicken or lamb, and saag aloo, alongside aromatic rice and warm chapati bread for mopping up all the delicious sauce. This is how to end the weekend on a high.
Available every Sunday through September. Bottomless Thali & Drinks - £63pp | Bottomless Vegetarian Thali & Drinks - £58pp. Benares, 12a Berkeley Square, Mayfair, London, W1J 6BS
Full Fat Brunch at The Anthologist - Weekly 'til Christmas
What d'ya get when you pair one of the legends of London's party scene with Buttermilk Chicken and Waffle, a rich Wagyu Beef Burger & Chips, and a bubbling bowl of Marmite 'Mac & Cheese'? The vibey new Full Fat Brunch presented by DJ Fat Tony, that's what. High energy meets glamour at these weekend parties that include a two-course brunch, with some exclusive "specially priced" exclusive cocktails including a 'Fat-Washed Old Fashioned', but if bubbles are more your thing or you prefer to toast to the occasion with a craft beer or two, they've gotta ya sorted. It's all kicking off on Saturday 18th September, and there's plenty of chances to join the party with a run through to Christmas, with a Fat Tony Birthday Special in the middle.
Pre-booking is essential, grab yours here. The Anthologist, 58 Gresham Street, London EC2V 7BB
Bottomless Drag Brunch at Mrs Riot - Every Sunday
Looking for something to drag you outta bed on the weekend? How about mounds of vegan cupcakes and bottomless cocktails from teapots? Yeah, we thought that'd work. Mrs Riot in Covent Garden knows how to live up to its name with its weekly outragoues drag brunches. They've got lip-sync battles, outrageous bingo, games, and dance-offs alongside scandalously fun drag acts, all hosted by the extra fabulous Margo Marshall. Letting loose? This is the place to sashay to.
Mrs Riot Bottomless Drag Brunch runs every Saturday. Tickets £49.50, available to buy here. 10 Henrietta Street, Covent Garden, London, WC2E 8PS
LCC's Proper Naughty Bottomless Brunch - Every Saturday
We've all been on our best behaviour for the last year... it's time to get a lil bit naughty, baby. There's not a better group of bad influences we can think of to bring the naughtiness out of us on a weekend than the party crew from LCC. Every Saturday in 2021, they're bringing you 90 minutes of the best bottomless cocktails, served up with a cracking good time, the 00s tunes that'll have ya scream-singing in your seats and live entertainment from the BEST lookalikes in town. You want Justin Bieber? Well... you can't have him. But you can have Dustin Bieber and we're pretty sure that's better than the real thing. 
Grab your pals and grab your tickets. Available at LCC Old Street, Shoreditch & Oxford Circus.
NYX Hotel London Holborn Brunch
There's a new hotel in town, and as well as having rooms designed with curiosity and luxury in mind plus a chilled spa for ironing out the stresses of that WFH life, it's bringing an electric brunch to your weekends spent in Holborn. Named after the Greek goddess of the night, NYX's kitchen will be serving up comfort dishes that have been given the modern treatment. We love the sound of their tequila and chipotle prawn tostadas (what can we say, we can't resist tequila on any menu), and the Southern American flavours of their creole crayfish burger sound like our kinda vibe.
50-60 Southampton Row, Holborn, London, WC1B 4AR
Q Brunch at Quaglinos - every Saturday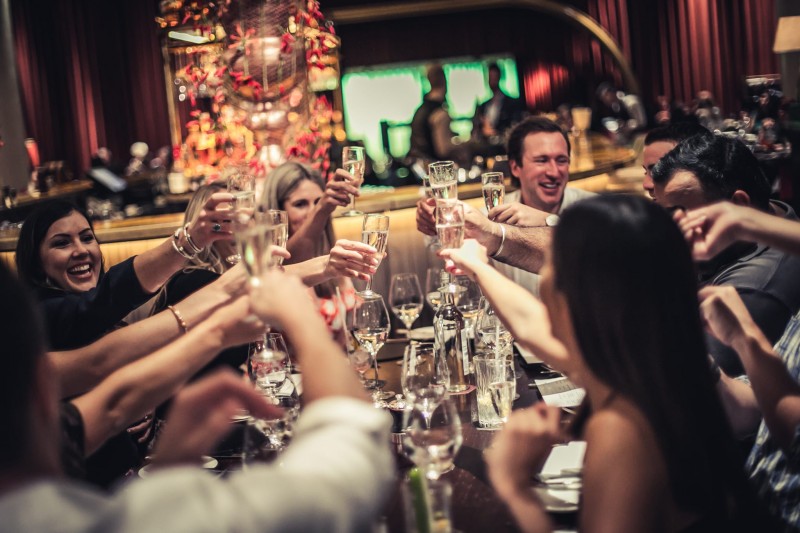 The infamous live music bottomless brunches of this subterranean glamour palace in St James are back, baby. Q Brunch is gonna be lighting up your Saturdays from this weekend, with bottomless bubbles, decadent dishes and killer live DJ performances bringing the party to your table. Q Brunch is available in the Restaurant from 11.30am-2.30pm on Saturdays. Free Flowing bubbles are available for £25 per person when eating two courses or more for the duration of your meal
16 Bury St, St. James's, London SW1Y 6AJ
St Pancras by Searcys limitless brunch - Every Sunday

Heading out of London for the long weekend? Get to St Pancras early and get it off to a bubbly start with the limitless Sunday brunch at the longest Champagne bar in the UK. St Pancras by Searcys is offering up a three-course menu of seasonal plates that can be levelled up with a limitless 90-minute supply of fizz for £45 or with Searcys Selected Cuvée Brut at just £49. That's what we're talking about. Starters include Cornish sardine fritters with avocado and lime, or Wild mushrooms on toasted sourdough drizzled with truffle oil and topped with a poached hen's egg. Classic Searcys Smoked salmon with scrambled eggs can be found on the main course options, while puddings include Sticky banana pudding with ice cream and almond brittle and a classic lemon tart with raspberries and a dollop of crème fraiche. No need to hit the buffet cart on the train. Win win!
Available from 12 - 4.30pm every Sunday. Grand Terrace, Upper Concourse, St Pancras International Station, King's Cross St. Pancras, London, N1C 4QL
Peckham Cellars Brunch
When your doors were closed for several months, you wanna reopen them with a bang, right? Right. That's why the team at Peckham Cellars have added a killer weekend brunch menu to their already awesome repertoire of dishes and wines. You might find the likes of their Cheese on Cheese Croque Monsieur (yes, that's double cheese) on their ever-changing seasonal menu, right next to their rich, smokey and extra dippy Shakshuka with its pools of gooey egg on the top (heads up: you'll def wanna be like BarChick and ask for more sourdough to scoop those babies up!). To go with the dishes they have a killer menu of drinks to round it all off, from delicious coffees made with Old Spike coffee (a wicked social enterprise speciality coffee roastery based in Peckham) to a breakfast friendly selection of non-alc cocktails from Savyll Beverage Co. Palomas before 11am? Yep, that's how we roll.
All brunch dishes under £10. Bookings for both dinner and weekend brunch are now open via RESY. Peckham Cellars, 125 Queen's Road, Peckham, SE15 2ND 
Coqbull Brunch - Every Weekend
The newly opened Coqbull restaurants in Soho and Spitalfields Market have introduced a killer brunch menu to both venues every weekend, and with a name like that, you can bet they're bringing some tongue in cheek attitude to their menus. That's how we like it. If you overcooked it the night before, you'll wanna turn to the Hangover Bull - Double stack beef, American cheese, maple-glazed bacon, fried egg, jalapeños, habanero mayo, lettuce, tomato and onions with a side of fries - to bring you back to life. And then you'll probably wanna go home for a nap. Or if hair of the Dog is your remedy of choice, hit the menu of signature cocktails ASAP for a retox revival. We bet the Velvet Picante will give you the boost you're after. 
Brunch is available Soho and Spitalfields on Saturdays and Sundays. Hit the Soho joint to check out their killer new roof terrace.