From a late-night whisky den, to an Andy Warhol inspired bar  and a hot new rooftop – London just keeps churning out sexy new bars. Here's 10 you've got to try.
Want BarChick to book you in? No problem. Just hollar and we'll sort it.
1. Swift
In a nutshell: Some epic names behind this new Art-Deco style Soho cocktail bar. Upstairs = aperitivo vibes. Downstairs = think dark and sexy with piano vibes.
Who's behind it: It's a killer bar team as two cocktail power couples join forces - Bobby and Mia (from Dead Rabbit fame) along with Rosie and Edmund aka. Nightjar & Oriole legends.
Why you should go: There's a badass whisky collection downstairs, with 250 bottles to choose from.
FYI: None of the insane garnish game like at Nightjar / Oriole, but when drinks taste this good who needs a cherry on the top?
Want in? We can get you in, you just gotta ask.
12 Old Compton Street, W1D 4TQ // Open now
2. Mac & Wild Late Night Whisky Bar
In a nutshell: New late night whisky bar in the city (open 'til 2am, rare for this part of town).
Who's behind it: From the Mac & Wild guys - famous for their epic game dishes from the Scottish Highlands. The bar is part of Mac & Wild's pop up terrace and restaurant at Devonshire Square.
Why you should go: There's Scottish small batch cocktails, with spirits and vermouths infused with locally sourced Scottish herbs and botanicals.
FYI: While you are there, check out the Gun Room - a virtual shooting room, lined with christmas trees, transporting you to a shoot in the highlands!
 9A Devonshire Square, EC2M 4YN // Open now, closes mid-to-late January
3. Disrepute
In a nutshell: A slick new members club and cocktail bar in Soho.
Who's behind it: From the guys behind Barrio and Sovereign Loss
Why you should go: Think expertly created cocktails – these guys know their stuff, where the menu is told in stories.
FYI: You'll find it where the infamous The Kingly Club used to stand - (Audrey Hepburn used to party here in its 1960s heyday).  Paying homage to its heritage, it'll be all about '60s baby.
4 Kingly Street, Soho, London, W1B 5PW // Open now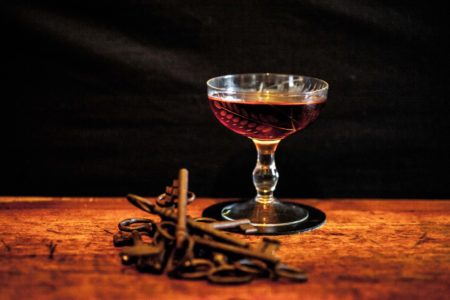 In a nutshell: Birds and 1960's style cocktails from a legendary bar guy - that's the name of the game think 'Posh (boozy) Nandos'.
Who's behind it: Winging its way to East London from the Calabrese brothers Gerry and Jon ( the guys behind Hoxton Pony and Wringer & Mangle) with their pa Salvatore Calabrese on the cocktails (the dude who invented the Breakfast Martini).
Why you should go: Cocktails inspired by classics from the same era. BarChick's excited for the Moscow Mule with homemade ginger sorbet. Yum.
FYI: There'll be all sorts of bird on the menu – from chicken, duck, quail, pheasant and more (all free-range).
Need a table booked? That's where we come in.
94 Middlesex Street, London E1 7EZ // Open now
5. Nape
In a nutshell: Casual Charcuterie bar in Peckham with wines and small plates to eat in or take away.
Who's behind it: From cured meat guys Cannon & Cannon at Borough Market.
Why you should go: The wine list is rocking (from UK wine merchant O.W. Loeb) there'll be a load of natural wines on there, along with some rotating specials (and takeaway bottles if your date's going super well – wink).
FYI: There's date-night booths, bar stools and room for standing – so they've got you covered whatever your vibe.
Hot date? Send us a free message and we'll book you a spot.
Camberwell Church Street // Opens first as a pre-Christmas pop-up from 8th-24thDecember, but then it's back in early February for good this time.
6. Untitled
In a nutshell: Hip new Andy-Warhol inspired bar in Dalston
Who's behind it: Only bartender legend Tony Conigliaro (the dude behind 69 Colebrook Row and Bar Termini).
Why you should go: Aside from the above? This is a one-stop-shop for your cocktail/food/arty needs.
FYI: The design hints at Andy's 60's-80's New York studio Silver Factory, with polished concrete and silver walls – so hip it hurts.
538 Kingsland Road, E8 4AH // Opens December
In a nutshell: Barbershop by day, tiny 12-stool Parisian-inspired wine bar by night
Who's behind it: The hot stuff team behind Pidgin (this lil' gem clinched a Michelin star earlier this year)
Why you should go: Daily changing wine list, starting at £4.50 per glass. Plus a short but sweet cocktail list.
FYI: Charcuterie is off the menu, but they do small plates and a rotating croque special -
Sausage, epoisses, pickled onion, sauce vin rouge 'pho' sounds damn delicious.
51a Greenwood Road, E8 1NT // Open now
8. Aviary
In a nutshell: New. London. Rooftop.
Who's behind it: ETM Group – the guys behind Soda Room (Liverpool Street's late night party den) and game restaurant The Jugged Hare.
Why you should go: Rooftop view in the City/Shoreditch baby!
FYI: It opens at 7am for breakfast – pow!
For group bookings bigger than 10, send us a text and we'll get you up there.
10th Floor of Montcalm Royal London House, Finsbury Square // Open now
9. Pitch Black
In a nutshell: Get blind drunk. Novelty totally pitch black bar in Shoreditch
Who's behind it: Lee Baker and Dom Balfour from Soho's Graphic and Shoreditch's Loves Company.
Why you should go: 90 minutes in the pitch black. 5 drinks to get through. It's a no-fail Tinder date option right?
FYI: Good job we can get you 20% off your tickets then hey? Message us and we'll sort it.
Side Entrance, 104-122 City Rd, Shoreditch, London EC1V 2NR // Open until 23rd December
10. Dickies Bar
In a nutshell: Big news for us cocktail fans
Who's behind it: Dead Rabbit ('The World's Best Bar' ). mixologist Gregory Buda heads up a seasonal cocktail menu this hot new bar based in Corrigan's Mayfair
Why you should go: Food and drink inspired by both Gregory Buda's and Richard Corrigan's Irish and American heritages, with fresh, organic ingredients from Corrigan's garden and farm at home.
FYI: This place is standalone, with its own identity, cocktail and bar snack lists, plus a separate entrance.
Want a table booked? Just message BarChick
28 Upper Grosvenor Street, London, W1K 7EH
11. Temple & Sons
In a nutshell: Think old-school grocery themed bar and restaurant in the city with a chef legend heading it all up.
Who's behind it: Jason Atherton – so get ready for some banging food.
Why should you go? Cocktails served out of tuna cans, mustard pots and milk bottles.
FYI: Upstairs there's a 80-seater restaurant, with custom built grills using wood, charcoal and hay. Expect more hearty British dishes, like grilled fish, meat and poultry served whole or in big chunky cuts.
Tower 42, International Financial Centre, 22 Old Broad Street London EC2N 1HQ12.
12. Hopscotch
In a nutshell: Fun Brick Lane bar with cocktails, bombs and buns – open 'til 1am baby!
Who's behind it: Jonathan Cowley – the guy behind the legendary Milk & Honey, Chick 'n Sours and Bleeker St. Burger.
Go there for: The buns and the booze – there's the Nanny goat with warm spice and hot sauce and the Maryland Crab Cake. Then on to the Hello Kyoto cocktail with Japanese whisky and plum wine.
FYI: Already thinking summer vibes – BarChick's eyeing up the green garden space out the front.
202 Brick Lane, E1 6SA
You'll also wanna check out:
50 great places for a first date in London