From sell-out whiskies and craft vodkas to tequilas that change colour and gins that *almost* break the rules. This Winter has seen some epic booze drops, and these are the launches you need to know about as we move into Spring.
NEW AGAVES
We've now done the KOL trifecta and indulged in the restaurant, Mezcaleria and Chef's Table at this sh*t hot venue at the intersection of Mayfair and Marylebone... but enjoying the experience at home? Well, that's a new one for us... but def one that can be a reality now that they've launched their online shop selling these four epic bespoke mezcals. Each one is a killer demonstration of the complexity and breadth of mezcal, from La Maceta (RRP £86) distilled in copper pot stills with notes of grass, olive brine and butterscotch, and Sandia (RRP £112) with a distillation taking place in copper and clay and notes of peanut and lactic; to Pino (RRP £112) prized for its herbaceous notes; and El Alacrán (rrp £86) made artisanally using varieties of locally sourced wood to fire the pit oven, lending the finished product notes of smokey caramel.
How to drink it: Head to the KOL Mezcaleria to see how Maxim and his team use them before heading home to give some at-home mixology a try
Where to buy it: Direct from the KOL store, RRP £350 for the whole collection
We think that most tequilas are pretty magic, but this one, well, it's got some legit magical qualities. That's right - this super-premium, 100% agave tequila changes god damn colour. Taking its name from the annual migration of butterflies from the US to Mexico, The Butterfly Cannon Tequila range comes in three expressions: Rosa, Silver Cristalino and Blue. It's the latter, infused with prickly pear and clementine to give it an unusual natural blue colour, that switches up its hues when a mixer or lime is added.
How to drink it: In a Blue Margarita, obviously. Mix 50ml Butterfly Cannon Blue Tequila, 25ml Cointreau and 25ml fresh lime juice. Add a splash of soda to spritz it up and serve over ice with an orange slice.
Where to buy it: Available from Amazon, RRP £33
NEW VODKAS
Another one for the candlestick holder collection. This beautiful smokey glass bottle designed to mirror the mountains and seas of Japan holds a craft vodka which is as impressive as the vessel it comes in. They've made this beauty with long grain Indica rice inoculated with Black kōji, which is then fermented and distilled into a high-quality traditional Japanese Awamori spirit before being redistilled into Ukiyo's pure rice Vodka. All of that effort has resulted in smooth, characterful vodka with a creamy mouthfeel. If you're trying to expand your vodka repertoire, this is one to add to the collection ASAP.
How to drink it: A bit like Japanese shōchū or sake, this Rice Vodka is pretty ideal for sipping or pairing with a meal.
Where to buy it: From Master of Malt, RRP £37
NEW GINS
The imaginative creatives behind the Monkey 47 Booze Lab, a dedicated area at the Wild Monkey Distillery, have been letting their experimental juices flow, and the result is one helluva new series of gins that have really pushed the boundaries of distillation. The Experimentum Series combines cutting-edge vacuum distillation with totally alternative methods of aroma extraction, making each creation in the line-up a totally unique and authentic flavour experience that defies categorisation. Holy moly. Each creation pays homage to a European city, and it's the bottle inspired by BarChick's hometown that has obviously caught our attention, and not just because they've been inspired by the Iconic British pub AKA our happy place. The Monkey 47 2y06: London expression, made with botanicals including silky honey and fresh mint to give a honey roast/mint sauce kinda vibe, low-key tastes like a traditional Sunday lunch - and we ain't mad about it. 
How to drink it: Want to sample it in a cocktail? You'll find Monkey 47 Experimentum Series 2y06 London served in an exclusive range of 47 hand-crafted cocktails at The Culpeper, Whitechapel, and Blue Boar, Westminster, from 25th February.
Where to buy it: You're gonna need to move quickly if this bottle sounds like a bit of you. There are only 500 available, and they're exclusively available in Harvey Nichols' flagship store in Knightsbridge from 12th March for RRP £125.
Lights, camera, ACTION... and when we say action, we mean let's pour a mean Martini and get drinking. Chances are you've heard of blockbuster smash hits The Heat, Bridesmaids and Last Christmas, but did you know they were all directed by Paul Feig? In search of the perfect Martini, he's only gone and created his own premium gin (good man) with the kind of eye-catching vintage bottle that wouldn't look out of place on the set of Breakfast At Tiffany's. Luckily it's not a case of style over substance, and the gin is as wicked as the glam glassware it's presented in. Take note of how the earthy flavour from orris root complements the underlying hint of peppery sweetness and a touch of perfumed lavender on the finish. 'Cos we all know how important a killer ending is in Hollywood, right?
How to drink it: Since this baby was literally made for a Martini then it'd be a shame not to mix up a classic crisp cocktail with a twist of lemon. Or let some of the best bartenders out there do the hard work and get yourself over to Claridges or DUKES where you can request a Martini made from this very gin.
Where to buy it: Pimp up your bar cart by grabbing yours from The Whisky Exchange for RRP £39.95
It's been a whole decade of Portobello Road Gin (we know, time flies when you're drinking awesome spirits like this) and to mark the milestone, Jake F. Burger and his Notting Hill crew have released something pretty special. After 10 years of experimental distilling, this innovative limited-edition gin presented in a bullet grey glass bottle has really pushed the boundaries of what makes a London Dry Gin, with the regulations stretched to their absolute limit. As London Dry Gin can't have any flavour imparted after distillation, this gin has played with the rules and done reverse ageing, resting it in oak barrels before distillation (AKA they've essentially used the oak as a botanical) and then steeped the botanicals for double the length of time and cut the gin with the most mineral heavy water in the world, Vichy Catalan. That's how to break the rules without breaking the rules, baby. 50.5% abv it warms the cockles of the heart like a good cask strength whiskey might.
How to drink it: Dealers choice, really - but as it comes in at a heavy 50.5% ABV, we think a Dry Martini (to really experience that extra flavour) would work nicely.
Where to buy it: There are only 1500 of these bottles available from The Distillery Bottle Shop for RRP £59
Vodka fan? Then you'll already know about this eco-conscious brand that is keeping the world thriving by planting a tree every time you nab a bottle of their spirit. Now gin fans can join the sustainable efforts and drink a forest into life with this new climate positive gin made in collaboration with regenerative farming company, Wildfarmed. This gin is a classic twist on a London Dry, distilled from organic regenerative wheat. It's pretty bold on the juniper with a refreshing, zesty undercurrent and a few hints of rosemary for a herbaceous finish.
How to drink it: With that bold juniper hit, you won't go wrong building this in a classic G&T.
Where to buy it: Direct from Sapling, RRP £35
There's a reason why the BrewDog gang have called the latest gin in their Lone Wolf collection "Gunpowder". This small-batch gin racks up at an explosive navy strength (57%). With a heavy lead of Tuscan juniper and extra fierce pink, black and Szechuan peppercorns, along with Paraguayan bitter oranges, Sicilian lemons and a final kick of Mexican pink grapefruit and star anise, it's bolder than a Prime Minister refusing to resign after a scandal. BOOM - mic drop.
How to drink it: There are a few parallels with a spicy whisky in this gin, so slowly sipping it will go down well, or you could add it to your Negroni for some next level proportions.
Where to buy it: From the BrewDog online store RRP £25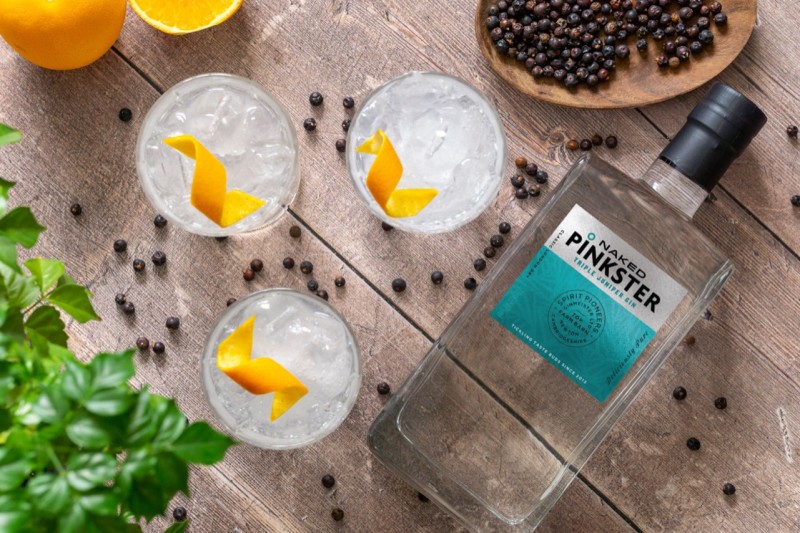 Pink might make you wink, but going naked will make you blush in other ways.  The pink gin pioneers Pinkster have ditched their signature rosiness for this new juniper-rich launch. If you like gin to be a ginny as they get, you'll dig what they've done with this one. Or moreover, what they've not done, as this is the core spirit they use to make the pink original, minus the addition of the fresh raspberries. It's what's underneath that counts, baby, as we def like this one when it's naked.
How to drink it: Keep it simple & make yourself a killer G&T - just don't go skimping on the tonic quality, yeah? You'll really be able to tell with this one.
Where to buy it: Straight from Pinkster Gin, RRP £34 (or Amazon, but Jeff has enough of your money already!)
NEW WHISKIES
If you like to pick your whiskies based on their cask lives, this 6th release from the Westland Outpost Range is gonna have your eyebrows raising and your mouths watering. The crew at the Westland Distillery in Seattle have been experimenting with Garry Oak, an entirely new species of oak in their barrel ageing, and it's revealing some distinctive and unique characteristics of the Pacific Northwest's terroir. This 50% ABV whiskey is bringing a whole loada sweetness to the nose, with wafts of raspberry reduction, maple candy, dulce de leche, but on the tongue, it's bringing cinnamon, dried apricots and a light touch of caramel, thanks to its additional ageing in Brandy and Pedro Ximénez Sherry casks, the former of which gives a fright filter to the savoury spice of the Garry Oak, while the latter offers the muted sweetness.
How to drink it: Because of the complexities brought from the blend of casks here, we say go neat and let those flavours tumble out over your tongue.
Where to buy it: The crew at the Westland Distillery have it ready to ship straight to ya, with an RRP of £159.99
This award-winning bourbon, and the best selling African-American owned spirit in the world, ain't a newbie by any means, but hey, it's new to our little island. Uncle Nearest 1884 Small Batch Whiskey is launching itself in the UK now that it has itself a distribution partner. We tried some of the goods from this Tennessee based distillery last year and it won us over from the first dram. Made using a mash of at least 51% corn and aged in new American oak barrels, it has an almost agave-like sweetness to it. 
How to drink it: Neat, while sat in a swinging chair on your porch while the crickets chirp at dusk. Or in your living room in front of the telly. Whatever - you do you, boo.
Where to buy it: Uncle Nearest 1884 Small Batch Whiskey will be available from Master of Malt and Amazon from the Spring, for an RRP of £55 
The White Peaks Distillery in Derbyshire has released the county's inaugural bottle of Single Malt, and if you were hoping to get yourself a bottle, well, unlucky pal. That boat set sail bright and early on release morning (Feb 3rd), with them selling out of the first 5000 bottles in a matter of hours. There might still be a few bottles chilling on the shelves in a couple of specialist trade stores, so if you're hoping to get a taste of those lightly peated notes with a few hints of roasted malt and moments of café mocha and liquorice all sorts, you better hit the shops or prepare to shell out big bucks on the resale sites.
How to drink it: However you like to drink your single malts. Us? With one small ice cube will do.
Where to buy it: If you're lucky you'll find it on Master of Malt, The Whisky Exchange, The Whisky Shop, Selfridges, House of Malt and Hard to Find Whisky, at the RRP of £65. Or release sites for way more. 
NEW WINES & VERMOUTHS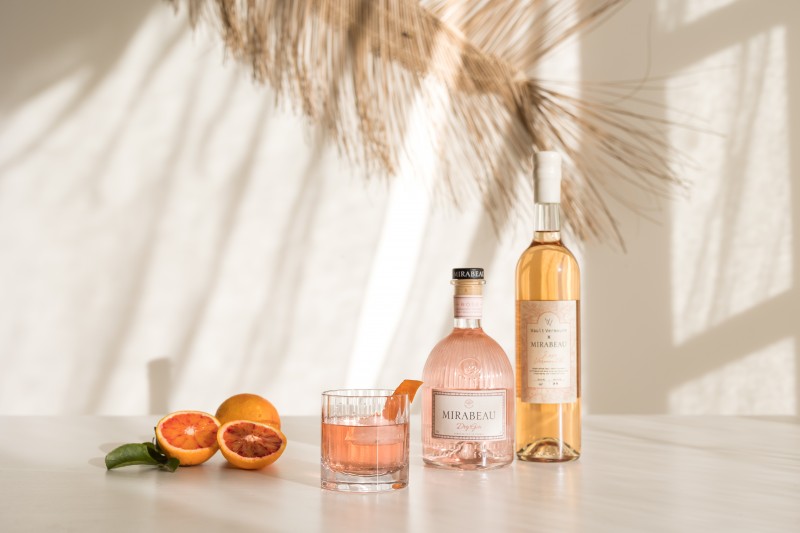 It's all coming up rosé for vermouth drinkers and fans of this perfectly pale rosé from Provence. Turns out all those cancelled events last year resulted in a surplus of their 2019 Vintage wine, and you know what they say: when life gives you excess rosé, make vermouth! So Maison Mirabeau and Vault Vermouth have come together to up-cycle and repurpose it all into this limited-edition rosé vermouth, and she's a beauty!
How to drink it: This vermouth works as a stellar aperitif in its own right, but it also happens to be the perfect partner to Mirabeau's Dry Rosé Gin for a true Rosé Negroni with 35ml Mirabeau Dry Rosé Gin, 35ml Vault x Mirabeau Rosé Vermouth and 15ml bitters. Tastes like Summers on the continent.
Where to buy it: Direct from Maison Mirabeau or Vault Vermouth websites. RRP £32.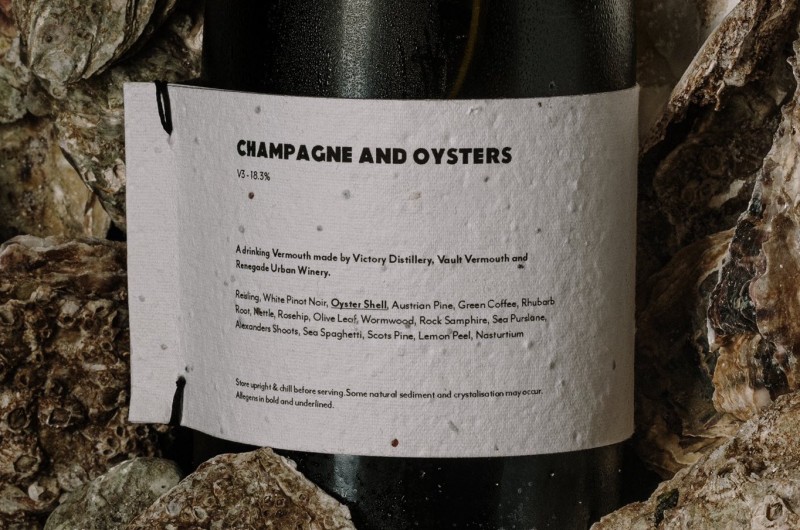 There have been two versions of the Champagne & Oysters Vermouth to come before this third instalment, and each of those sold out in record time - so if you've missed out so far, nows the time to add it to your fridge. They've upped the batch size for this one so the odds are in your favour, and if you manage to get yourself a bottle, you're in for something a bit different this time. For V3, the team at Victory Distillery have pooled their knowledge, know-how and equipment with the team at Vault Vermouth AND the crew from the Renegade Urban Winery, blending Renegade's fresh young Riesling and Pinot Noir wine with their signature Champagne and Oysters Vermouth botanical base to bring something new to the table. 
How to drink it: Serve it long with tonic or in a large measure over ice
Where to buy it: From the Victory Distillery webshop, RRP £33.
We will never not be impressed by the wines created from the grapes grown in a vineyard found in the depths of a 200-metre-wide meteorite crater in the Languedoc region of France created over 10,000 years ago. That's just downright cool. Now Domaine du Météore, named for its vineyard's epic location, has expanded its range with a new organic Sparkling Rosé Wine, Le Cratère. This organic 'methode champenoise' sparkling rosé wine made in limited quantities (just 970 bottles) from Syrah grapes has a palette of dominant red fruits which give way to a beautiful finesse of the bubbles for a real taste of elegance. If you're craving those brighter Spring vibes, this is the next best thing to a time machine.
How to drink it: Chilled, in a fancy flute.
Where to buy it: Available direct from domainedumeteore.com RRP: £28 per bottle
NEW LOW & NO ALCS
Cutting out booze cold turkey has never appealed to us. Everything in moderation, right? Damn right. If you're with us, then you'll likely dig this approach to lowering your booze intake without cutting out the good stuff altogether. Inginious Gin is a dinky bottle of 43% ABV gin that holds some BIG flavour, meaning you don't need as much when making your perfect serve. In fact, it's bringing so much flavour you only need a 5ml serving of it to get the same effect of a regular gin, which means your nightly G&T will only rack up 0.2 units of alcohol. We get where the name came from, now.
How to drink it: Pour 5ml into your ice-filled glass and top with 150ml of your favourite tonic.
Where to buy it: Online at Inginious-Gin.co.uk, RRP £26.00. 
What happens when the team at Bacardi (the spirits company, not the rum) and leading bartenders from Amsterdam get together to create a non-alcoholic spirit that'll inspire creativity and excite the palates of mindful drinkers? PALETTE is what happens, baby; a cool new non-alcoholic spirit that has refused to compromise on flavour, quality or mixability. Big claims from big names, but by the sounds of it, they've got it nailed. With two expressions to kick things off, PALETTE Bold and PALETTE Roots, your no and low shelf is about to get an influx of creativity. The former has the taste of an aged spirit, delivering an upfront and punchy experience, before moving to woody, oak and smoky notes, while the latter is bringing a deep, complex and fragrant flavour, made using juniper berries, ginger and the essential oils of nutmeg, cloves and cinnamon.  
How to drink it: There are plenty of serving suggestions, but we like the sound of the Gimlette Highball made with Roots, lime juice, lime and mint cordial plus a soda water top – a perfect mojito alternative.
Where to buy it: At the moment it's only available to buy in the Netherlands, however, if you wanna give it a try, they're mixing it up in cocktails at the likes of Lyaness, L'Escargot and Christopher's.
Founded by award-winning mixologist Carl Anthony Brown (AKA the cool fella often found repping awesome booze on Sunday Brunch), Crossip is his delicious contribution to the non-alc movement. He decided that rather than replicating the taste of alcohol spirits, he'd make liquids that exist in their own category, all with a mature mouthfeel and flavour profiles typically associated with alcohol. To give drinkers the chance to get a taste of the Crossip flavours, he's launched The Taster Collection which features 20cl bottles of Fresh Citrus, Pure Hibiscus and Dandy Smoke. Time to let the non-alc creativity flow. Our fave? It's a close call, but the Pure Hibiscus pips it for us.
How to drink it: We like the hibiscus in a Spritz: build 25ml CROSSIP Pure, 25ml Pineapple Juice and 100ml Kombucha in a wine glass filled with ice and garnish with a Pineapple
Where to buy it: From the Crossip website, RRP £35.00
NEW BEERS & CIDERS
Last year we said that Shandy Shack was the drink of our Summer. Refreshing, light, thirst-quenching and perfect for when the mercury hit the highs. Then the temperatures dropped, and so did their limited edition third flavour, a warming and spicy blend of Ginger Ale and Pale Ale, and if there's ever a time for the pale and gingers of the world to flourish, it's winter. They say it themselves: this tastes like cosy nights by an open fire, so you'll find us bunking down with a crate of these until the clocks go forward.
How to drink it: By an open fire (or cranked up radiator), straight from the fridge.
Where to buy it: Direct from Shandy Shack, RRP: £24.99 for 12
The Sandford Orchards in the heart of devon have seen how nuts y'all go for the pink stuff when the Summer hits, and that pink hysteria has inspired the production of their new Katja Rosé Cider. They've channelled some well known sparkling wine production methods into their cider production, and the result is pretty and bad-ass. This sparkling, skin contact rosé cider has been crafted from the dessert apple Katja, with Rondo grapes from Darts Farm's Pebblebed Vineyard. It's got the vibes of sun-ripened cherries and peaches with notes of apple blossom and candyfloss, balanced with tannins from the wineskins. Say it with us: Yes way, cider rosé!
How to drink it: Obviously it's banging alone, but this one actually goes nicely with light dishes - be fancy and pair it with a Salad Nicoise!
Where to buy it: Online at www.sandfordorchards.co.uk, RRP £10.40