You've broken out your short-shorts, slathered yourself in SPF and curated the perfect "summertime vibes" playlist (never mind that it's just the new Kylie single on repeat...). Another way to get in sunny mode? Stock up on some hot new bottles bringing the summer energy! From fresh and fruity vodkas to barbecue-ready whisky and the celebrity gin everyone's buzzing about, these are the spirits to check out now...
VODKA
Kavka Orchard Plum & Apple Vodka
Polish producer Kavka's flagship expression earned a spot in our pick of 20 essential vodkas, so you can bet we're digging this fruity new bottling. To make Kavka Orchard Plum & Apple, the old-school distiller uses techniques that date back to the 19th century, blending a base of rye and wheat spirits with a little bit of pot-still plum and apple distillate hailing from Sandomierz, Poland. But don't expect it to be sweet: the palate is more about freshness, with rich apple and plum and creamy notes of rye bread. 
How to drink it: Just the thing for a summery Spritz. In a wine glass over ice, combine 30ml Kavka Orchard Vodka and 20ml rosé vermouth. Top with Prosecco, fresh strawbs, a lime wedge and mint. Pow!
38% ABV, £29.95, amazon.co.uk
Sapling Raspberry & Hibiscus Vodka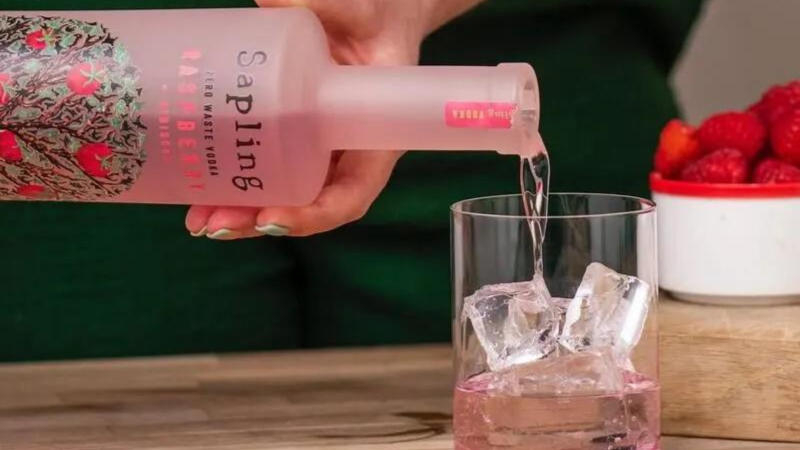 Fact: up to 40% of raspberries are rejected by supermarkets for being less than aesthetic. Boo! Luckily, Sapling Spirits has stepped in to put all this perfectly good fruit to use. The producer's new Raspberry & Hibiscus Vodka is made with wonky raspberries and hibiscus, for a spirit with fresh berry flavour and a hint of florality. Bonus: Sapling plants a tree for every bottle sold. A vodka that tastes good and does good for the planet? That's one we'll be keeping on rotation during summer and beyond.  
How to drink it: Top-notch in a fruity Sour, but we're keeping things low maintenance and mixing it with tonic. 
40% ABV, £34, saplingspirits.com
Spirit of Japan Wasabi Vodka
The crew at The Wasabi Company have been making a wasabi-flavoured vodka for a few years now, but they've just come up with a new version created in collab with the small batch English Spirit Distillery. We can confidently say this bottling turns up the heat. The new Wasabi Vodka was developed to be more intense and flavourful: the spirit itself is distilled only once, and it's blended with a small amount of wasabi-infused spirit that's made using vacuum distillation (a process that helps preserve the green stuff's nostril-tingling flavour). Oh, and the wasabi itself is grown on farms in Dorset and Hampshire, so it doesn't have to travel far to get to your glass. We love to see it. 
How to drink it: This one makes for a bangin' vodka soda - savoury, complex and super refreshing. 
40% ABV, £36, thewasabicompany.co.uk
WHISK(E)Y
Ardbeg Heavy Vapours Scotch Whisky
There are smoky whiskies, and then there's Ardbeg. This Islay whisky maker is renowned for producing drams that slap ya in the face with smoke while caressing you with layer upon layer of complex fruity flavour. Heavy Vapours is its latest limited-edition release, distilled without a purifier - a piece of equipment that's responsible for keeping those peaty and fruity flavours in balance. Yup, that means this whisky is Ardbeg's boldest yet: earthy barbecue smoke meets flavours of dark chocolate, sweet spice and a hit of mint. Totally wicked, and not for the faint-hearted.
How to drink it: Catch us sipping this one neat on a dusky summer evening after a barbecue. Scenic, no?
46% ABV, £120, available from 23 May at ardbeg.com
Method and Madness Garryana Oak Edition Irish Whiskey
Irish Distillers' Method and Madness whiskey brand is known for its experimental style, and its new bottling is no exception. Garryana Oak Edition is a first in the Irish whiskey world, taking a traditional single pot still whiskey and finishing it in Garryana oak casks (AKA Oregon white oak) for 4-12 months. So what does this special tree bring to the party? It's a particularly tough, dense wood, which translates to higher tannins and notes of black pepper, coffee cake and cloves in the glass.
How to drink it: All those spicy, sweet notes will do nicely in an Old Fashioned, thank you very much.
46%, €95, midletondistillerycollection.com
TEQUILA
Komos Anejo Cristalino
Like your tequila extra AF? Have we got a bottle for you. Komos Tequila's new Añejo Cristalino expression goes all out. First, agaves are roasted in traditional volcanic stone ovens. The fermented juice is then double-distilled in pot stills and matured in ex-white wine French oak barrels for a year before being filtered through charcoal, which removes its colour and impurities (most añejo tequilas are golden-hued, but this one's crystal clear - hence the name). The resulting spirit is rich yet fresh, with vegetal agave and citrus peel notes. And just look at that packaging... she's a beaut. 
How to drink it: Great for sipping on its own, but it makes for an ultra-luxurious Espresso Martini too: add 60ml Komos Añejo Cristalino, 15ml coffee liqueur, 30ml espresso and 15ml simple syrup to an ice-filled shaker, shake, then strain into a coupe. 
40% ABV, £179.99, amathusdrinks.com
RUM
Spirit of Japan Sansho Spiced Rum
The Wasabi Company is at it again, this time with a Japanese-inspired spiced rum. It's made with sugar cane molasses and Okinawan sugar, fermented and distilled in England, and flavoured with ingredients like sansho berries, umeboshi plums, togarashi shichimi (a blend of seven Japanese spices), smoked soy sauce and white sesame paste, for a savoury-sweet rum packed with bright citrus, nutty umami and spice notes. 
How to drink it: Pair this one with ginger beer for a Dark & Stormy like you've never had before.
42% ABV, £38, thewasabicompany.co.uk
GIN
Renais Gin
Harry Potter star Emma Watson has jumped aboard the celebrity spirits train, but this ain't your average actor-backed brand. Emma and her brother Alex have founded Renais, a gin made using grape skins salvaged from the winemaking process. Some of the fruit is sourced from Domaine Watson, their family vineyard in Chablis, where Alex and Emma's father has grown grapes for more than 30 years. Alex himself has worked in the drinks industry for a decade - safe to say they know their stuff. Their aim is to capture the terroir of Chablis, so they blend the grape spirit with a distillate infused with Kimmeridgian stone, which makes up the soil of the French winemaking region. Then botanicals including juniper, linden flowers, acacia honey and cubeb berries are added to the mix, for a gin with floral, herbaceous and white-grape notes, along with a streak of that typical Chablis minerality. Gin-gardium leviosa! (Sorry.) 
How to drink it: The brand's Terroir Martini is a winner - that's 60ml Renais, 15ml Chablis and two dashes of lemon bitters, stirred over ice and served in a frozen glass. 
40% ABV, £45, renais.co.uk
Brockmans Orange Kiss Gin
Gin gets a big old kiss of orange in English brand Brockmans' latest bottling. Valencian oranges and triple sec are combined with traditional gin botanicals like juniper, coriander seeds, cassia bark and angelica root. Us? We're big fans of the addition of almond oil, which adds to the gin's round, silky finish. Seriously summery!
How to drink it: Go for an Orange Kiss Spritz - 50ml Brockmans Orange Kiss, 10ml Aperol, 50ml Prosecco and 100ml of pink grapefruit soda. Gotta love that double hit of citrus. 
40% ABV, £34, brockmansgin.com
LIQUEUR
Mr Black Coconuts! Rum Coffee Liqueur
Wanna give your coffee cocktails a vacay-ready vibe? Enter: Mr Black's latest limited-edition bottle. It's a blend of Mr Black Coffee Liqueur, Bundaberg Small Batch Reserve Rum and coconuts, perfect for those times you're after a buzzy holiday in a glass. 
How to drink it: The whole Mr Black range works wonders in an Espresso Martini, but we like to switch things up with this one and make a boozy affogato. Add a shot to some hot fresh espresso over a scoop of coconut ice cream, and you'll be in caffeinated tropical heaven.
23% ABV, £35, mrblack.co
19/05/2023