In the process of spring cleaning your booze collection? Nothing will freshen up those shelves quite like these epic new gins.
Life is a cabaret, old chum, so why not drink like you're at one? This fabulously vibrant new gin has been inspired by the inimitable dancehall days of 1920s Manila and its crown jewel, the legendary Santa Ana Cabaret. If you're looking to add a splash of splendour to our cocktail hour, this opulent art-deco style bottle will definitely get you in the swing. They've used four native Philippine botanicals to bring the era to life, with Ylang Ylang, Alpinia, Calamansi and Dalandan creating delicate floral top notes (you might pick up some Chanel No.5 notes if you're into that kinda thing), while bitter orange and orris roots help add a taste of the exotic.
How to drink it: Build it up in a Pomelo Spritz for a taste of something authentically refreshing; 30ml Santa Ana Gin, 10ml Agave Syrup, 45ml Pomelo Juice & Soda Water
Where to buy it: Get it via Master of Malt for an RRP of £29.90
You don't need expensive pressed sheets and swanky room service to get that five-star hotel vibe at home. Or at least, that five-star hotel bar vibe. The Hari Hotel in Belgravia has launched its first-ever brand of gin in conjunction with sister property, The Hari Hong Kong. It's already got a few gongs to its name for its contemporary style and aromatic approach to a traditional London Dry. They've encapsulated the Indian heritage of the hotel's founding family with the use of botanicals, including a combo of the warming spices of cardamom, cassia bark, star anise and cloves.
How to drink it: All of those bold spices and flavours really start to sing when showcased in an extra cold Martini. Order it at The Hari Bar daily from midday to midnight.
Where to buy it: The Hari Gin will be available to purchase at The Hari in London and Hong Kong later this year - til then, you'll need to head to the Hari Bar to give it a try.
The imaginative creatives behind the Monkey 47 Booze Lab, a dedicated area at the Wild Monkey Distillery, have been letting their experimental juices flow, and the result is one helluva new series of gins that have really pushed the boundaries of distillation. The Experimentum Series combines cutting-edge vacuum distillation with totally alternative methods of aroma extraction, making each creation in the line-up a totally unique and authentic flavour experience that defies categorisation. Holy moly. Each creation pays homage to a European city, and it's the bottle inspired by BarChick's hometown that has obviously caught our attention, and not just because they've been inspired by the Iconic British pub AKA our happy place. The Monkey 47 2y06: London expression, made with botanicals including silky honey and fresh mint to give a honey roast/mint sauce kinda vibe, low-key tastes like a traditional Sunday lunch - and we ain't mad about it. 
How to drink it: Want to sample it in a cocktail? You'll find Monkey 47 Experimentum Series 2y06 London served in an exclusive range of 47 hand-crafted cocktails at The Culpeper, Whitechapel, and Blue Boar, Westminster, from 25th February.
Where to buy it: You're gonna need to move quickly if this bottle sounds like a bit of you. There are only 500 available, and they're exclusively available in Harvey Nichols' flagship store in Knightsbridge from 12th March for RRP £125.
Lights, camera, ACTION... and when we say action, we mean let's pour a mean Martini and get drinking. Chances are you've heard of blockbuster smash hits The Heat, Bridesmaids and Last Christmas, but did you know they were all directed by Paul Feig? In search of the perfect Martini, he's only gone and created his own premium gin (good man) with the kind of eye-catching vintage bottle that wouldn't look out of place on the set of Breakfast At Tiffany's. Luckily it's not a case of style over substance, and the gin is as wicked as the glam glassware it's presented in. Take note of how the earthy flavour from orris root complements the underlying hint of peppery sweetness and a touch of perfumed lavender on the finish. 'Cos we all know how important a killer ending is in Hollywood, right?
How to drink it: Since this baby was literally made for a Martini then it'd be a shame not to mix up a classic crisp cocktail with a twist of lemon. Or let some of the best bartenders out there do the hard work and get yourself over to Claridges or DUKES where you can request a Martini made from this very gin.
Where to buy it: Pimp up your bar cart by grabbing yours from The Whisky Exchange for RRP £39.95
It's been a whole decade of Portobello Road Gin (we know, time flies when you're drinking awesome spirits like this) and to mark the milestone, Jake F. Burger and his Notting Hill crew have released something pretty special. After 10 years of experimental distilling, this innovative limited-edition gin presented in a bullet grey glass bottle has really pushed the boundaries of what makes a London Dry Gin, with the regulations stretched to their absolute limit. As London Dry Gin can't have any flavour imparted after distillation, this gin has played with the rules and done reverse ageing, resting it in oak barrels before distillation (AKA they've essentially used the oak as a botanical) and then steeped the botanicals for double the length of time and cut the gin with the most mineral heavy water in the world, Vichy Catalan. That's how to break the rules without breaking the rules, baby. 50.5% abv it warms the cockles of the heart like a good cask strength whiskey might.
How to drink it: Dealers choice, really - but as it comes in at a heavy 50.5% ABV, we think a Dry Martini (to really experience that extra flavour) would work nicely.
Where to buy it: There are only 1500 of these bottles available from The Distillery Bottle Shop for RRP £59
Vodka fan? Then you'll already know about this eco-conscious brand that is keeping the world thriving by planting a tree every time you nab a bottle of their spirit. Now gin fans can join the sustainable efforts and drink a forest into life with this new climate positive gin made in collaboration with regenerative farming company, Wildfarmed. This gin is a classic twist on a London Dry, distilled from organic regenerative wheat. It's pretty bold on the juniper with a refreshing, zesty undercurrent and a few hints of rosemary for a herbaceous finish.
How to drink it: With that bold juniper hit, you won't go wrong building this in a classic G&T.
Where to buy it: Direct from Sapling, RRP £35
There's a reason why the BrewDog gang have called the latest gin in their Lone Wolf collection "Gunpowder". This small-batch gin racks up at an explosive navy strength (57%). With a heavy lead of Tuscan juniper and extra fierce pink, black and Szechuan peppercorns, along with Paraguayan bitter oranges, Sicilian lemons and a final kick of Mexican pink grapefruit and star anise, it's bolder than a Prime Minister refusing to resign after a scandal. BOOM - mic drop.
How to drink it: There are a few parallels with a spicy whisky in this gin, so slowly sipping it will go down well, or you could add it to your Negroni for some next level proportions.
Where to buy it: From the BrewDog online store RRP £25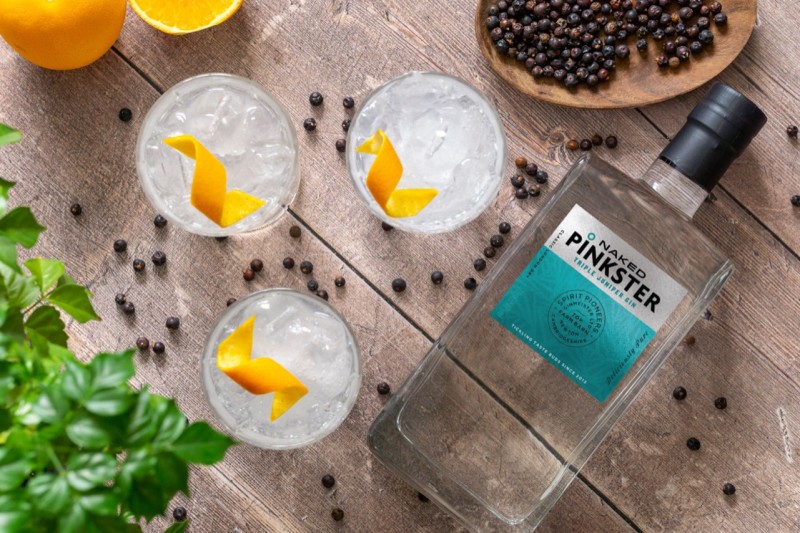 Pink might make you wink, but going naked will make you blush in other ways.  The pink gin pioneers Pinkster have ditched their signature rosiness for this new juniper-rich launch. If you like gin to be a ginny as they get, you'll dig what they've done with this one. Or moreover, what they've not done, as this is the core spirit they use to make the pink original, minus the addition of the fresh raspberries. It's what's underneath that counts, baby, as we def like this one when it's naked.
How to drink it: Keep it simple & make yourself a killer G&T - just don't go skimping on the tonic quality, yeah? You'll really be able to tell with this one.
Where to buy it: Straight from Pinkster Gin, RRP £34 (or Amazon, but Jeff has enough of your money already!)