These awesome spirits and brands haven't let a little thing like a world-wide pandemic get in the way of launching their epic new liquids. From nameless rums to CBD laced gins, these are the new kids on the block/shelves that you're gonna want to get familiar with.  
Silent Pool CBD Colorado High Gin
Partial to a remedial G&T at the end of the day? This new gin from Silent Pool will take you to a whole other level of chill, cos it's laced with 200mg of CBD oil per 500ml bottle - that's the highest concentration of CBD in the UK, yo. Colorado High gin is made by blending Silent Pool's flagship gin with CBD sourced from hemp grown in the Rockies, Colorado. It's got bittersweet notes of CBD so serve it up with Indian tonic and garnish with a twist of grapefruit. Aaaaannd relax.
Chill with a bottle of your own and purchase here. Not sure wtf CBD actually is? We've got everything you need to know about it here.
Limited Edition 'Romy's Gin' from 6 O'clock Gin 
Fancy a trip to the gorgeous shores of Goa, watching palm trees stirring in the breeze as the sun sets on another dreamy day? Yeah, us too - but for now we'll settle for a G&T made with this brand new mango, ginger and lime flavoured gin. Bristol distillery 6 O'clock Gin have teamed up with kickass Chef Romy Gill to create a spirit that's both epic and exotic. Inspired by her memoirs, Romy's gin recipe includes Indian spices and herbs, alongside juicy Indian mango. The result is a rich n' fruity gin that balances sweetness with warming spice. At least our taste buds get to take a trip this summer...
'Romy's Edition' is only available until November, so get your skates on and order one now.   
The Rum With No Name
Just as lockdown hit, the crew from Silk Road Distillers were told they weren't allowed to use their name for their exciting new style of white rum cos it conflicts with an EU Trademark. Bummer, right? Wrong. They've decided to pull a full Sean "Diddy" Combes and rock a kick-ass re-brand. They're putting their new name in the hands of anyone who wants to chip-in to their crowdfunding campaign and put a suggestion in the hat! Pretty epic if you love rum, fancy a year's supply of the stuff and have always wanted to see your name on a billboard. Rummy McRumFace, anyone?
The Crowdfunder campaign will take place from the 25th May to the 8th June. Winners announced soon after.
Black Lines Negroni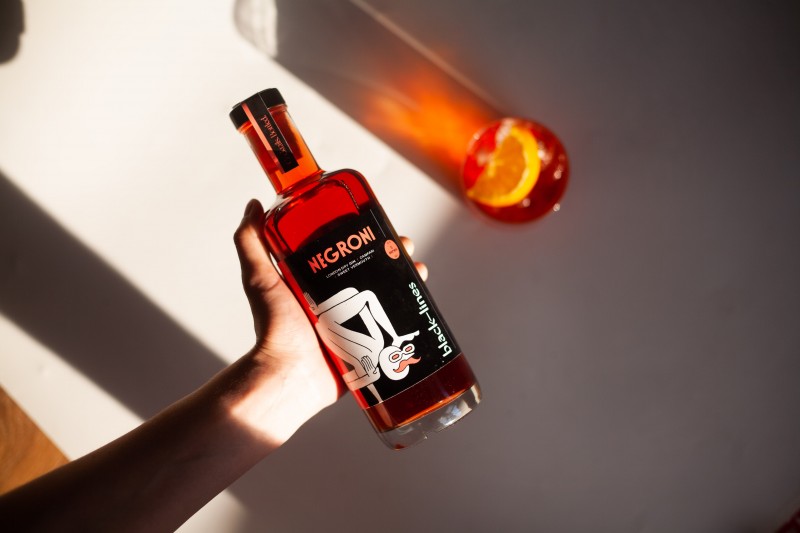 Who doesn't love a Negroni, that's what we say - in fact, you guys chose this Italian classic as your winner of BarChick's World Cup of Cocktails. Nice work. This makes us even more excited for the arrival of the new Black Lines Negroni. If you've not come across these badass bottled cocktails yet, now's the time. Perfectly crafted cocktails championing independent British spirits, who also support emerging artists - what's not to like? Oh yeah and the drinks are banging. Their version mixes ELLC gin with vermouth and Campari for an amber aperitif that's as bold and bitter as it is herbaceous. Bring it on.
Grab your Black Lines Negroni here, and order soon for an extra treat. They've teamed up with our fave London deli, Brindisa so each of the first 100 online orders will include a tin of their dreamy Perelló Gordal Olives marinated with Guindilla chilis. F*ck yeah. 
Berczy
Talk to any American and they'll tell ya just how big RTD Hard Seltzers are right now. While we've well and truly jumped on the Tinnie Train in the UK, our can du jour leans more towards the humble G&T rather than the soda water-based refreshers... but that's about to change, baby! These epic new British all-natural tinnies made from fermented sugar beet are launching early June, and they're bringing flavours made from real fruit - not a nasty sweetener, preservative or artificial flavour insight. Ace! We can't wait to kick back with a can of their Peach & Raspberry in the park. FRESH. 
Berczy Drinks officially launches 11th June
Mr Black Single Origin
Consider yourself a bit of a coffee aficionado/snob? You're gonna be buzzing for this new release from Mr Black. This Aussie coffee liqueur has added a Single Origin product line to its portfolio, and it's wicked. Already famed for its use by the world's best bartenders and baristas (and BarChick, of course) the Single Origin series will showcase the best coffee regions from around the globe, with the first batch made exclusively with speciality coffee from Acevedo, Colombia. Ideal for nightcrawlers, the new Single Origin from Colombia is best enjoyed neat or over ice. 
Grab a bottle of The Mr Black Single Origin Colombia here.
HUN wines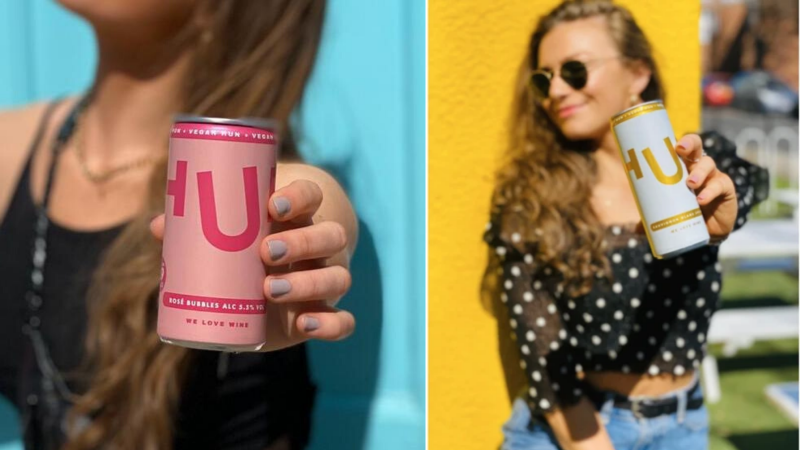 U OK Hun? You will be once you get your hands on the sassy new cans from wicked East London-based wine company, HUN wines. They've just launched their canned Sauvignon Blanc, pale Rosé and low cal Rosé bubbles (all sourced from Stellenbosch, South Africa) just in time for a potential lockdown ease (fingers crossed) and a (slightly shortened) summer of BBQs. We love that they're fairtrade and vegan, but what we love more is that they'll fit perfectly in our handbag. Yes HUN.
You can now purchase cans of HUN from here, or from your local Tesco. Wanna know more about the canned wine trend? Check this out. 
Vita Vodka
This zesty vodka has been kickin' about for a few years, but you could only get your hands on it if you ordered it in a bar. Until now. Vita Vodka has just launched for sale online in the UK, and unlike when you would swipe a swig of liquor from your parent's booze cabinet and top it up with water so they wouldn't notice (spoiler alert: they noticed) this vodka, with hints of fresh citrus and a trace of light bitterness, has actually been designed to be mixed with H2O. Say whaaat? With robust flavours of the Med, it stands up next to both sparkling and still! That's one way of getting us to drink more water...
You can add this vodka to your grown-up booze cabinet by purchasing here.
Brewdog Lone Wolf Cactus & Lime Gin
After launching their inaugural LoneWolf gin a few years back, Brewdog's distilling crew are at it again, and this time they've brought a taste of the American Wild West to their bottles. Welcome to gin's wild frontier, baby. They launched this new member of their gin fam on Cinco De Mayo, and they've added all the flavours you want to accompany a bad-ass Mexican feast by distilling their signature citrus gin with kaffir lime and Queen of the Night, a fragrant cactus flower that appears only after dark. Howwwwwl.
Join the pack and get a bottle of Brewdog's newest LoneWolf here.
Wild Thyme Colonsay Gin - Cait Sith
With so many gins on the market, it takes a lot to catch BarChick's eye these days. But this new release from Hebridean island distillery Wild Thyme Spirits has managed it. This small-batch Old Tom style gin called Cait Sith (pronounced Caught Shee) takes inspo from a mixture of Celtic folklore and the beautiful, natural surroundings of the Isle of Colonsay. In true Old Tom style, it's drier than a Dutch Genever, but sweeter than a London Dry, with hints of orange, pink grapefruit and vanilla. Best served as a G&T with premium tonic, lots of ice, and a large slice of pink grapefruit. Hmm-mmm.
Deliveries of this new gin will begin in June. Orders taken now.