Shorter days & longer nights have officially arrived. Luckily, so have a bunch of top-notch new bottles
From rum with a cause to spirits sans booze, these are the liquids you need on your radar now. Kate Malczewski is the writer in the know…  
Whiskies to warm up with: 
Glenmorangie A Tale of Cake 
There are few things we love in this world as much as whisky, and cake might be one of 'em – so when we heard that Glenmorangie was rolling out a single malt Scotch inspired by the king of puds, we knew we had to try it for ourselves. (BTW, no icing was involved in the making of this dram – the whisky was finished in Tokaji dessert wine casks as an ode to cake. Clever, right?) It's got the fruity drinkability of Glenmorangie's classic Scotch, plus a big, rich smack of honey. Yes please! 
£75, available from Drinks Supermarket  
Stauning Whisky 
Earlier this year, we took a virtual tour of the Stauning distillery in Denmark and had a little cry at the beauty of the place – it's basically a cathedral dedicated to making whisky, serving major hygge vibes. Visiting the distillery yourself might not be an option at the moment, but you're in luck: Stauning has just launched sleek new bottle designs for its whiskies, meaning you can bring that stylish aesthetic straight to your booze shelf. And we're happy to report that the liquids themselves are just as rad as the bottles. Our fave is Stauning Smoke, a killer peated single malt that tastes like a cuddle by the bonfire, but let's be real – whisky lovers should get their hands on the entire range.  
Teeling Whiskey x Umbrella Company 
The hottest collab since David Bowie teamed up with Queen, Irish distillery Teeling and north London brewery Umbrella have made boozy magic together. First, Umbrella aged its famous ginger beer in Teeling's whiskey barrels for two years; then, Teeling got those barrels back and put whiskey in 'em, resulting in this beauty: a dram that's laced with a gingery zing. We know which bottle we're using for our next hot toddy! And you can snag that whiskey barrel-finished ginger beer, too, you lucky dog… 
£45, available from Umbrella London 
Your new favourite vodkas: 
Belvedere Heritage 176
Ok, so Heritage 176 is technically a spirit drink, not a vodka (that's because it's initially distilled to a slightly lower strength than is legally required for vodka – we checked the fine print so you don't have to, you're welcome!). But it's the latest from the Polish vodka legends at Belvedere, known for their characterful vodkas, and trust us – it belongs here. Made with malted rye, this spirit has not-so-neutral notes of toffee, roasted nuts, lemon zest, allspice and black pepper, but its flavours aren't overpowering. (Confused? Check out our guide to characterful vodkas.) If you're a vodka fan like our man JB, 176 is what you need to take your Martini to the next level.  
Crystal Head Onyx
Finally, a vodka that's just as extra as us. Crystal Head Onyx is made from Blue Weber agave sourced from a single farm in Mexico, blended with water from Newfoundland, then casually filtered through Herkimer diamonds, NBD. The final product 'drinks like a vodka but has the nuances of Blue Weber agave', which we're very into. And Crystal Head always gets bonus points for its skull-shaped bottles – this one, shiny and midnight-black, is worth keeping on display to bring a touch of Wednesday Addams to your life.  
£46.95, available from The Whisky Exchange 
Rums to sip and mix:
Hawksbill Spiced Rum
This spirit's on a mission to save the turtles, and we're fully on board. Hawksbill is a blend of rums from Trinidad and Guyana, with warming spices added to the mix so that flavours of cinnamon, nutmeg, cardamom, and vanilla shine through. 10% of the rum's profits go to conservation projects that support the Hawksbill turtle, the cute-yet-powerful animal that gives the rum its name. What are you waiting for? Drink some rum, you badass conservationist you! 
£23, available on Prime 
East London Liquor Company Rum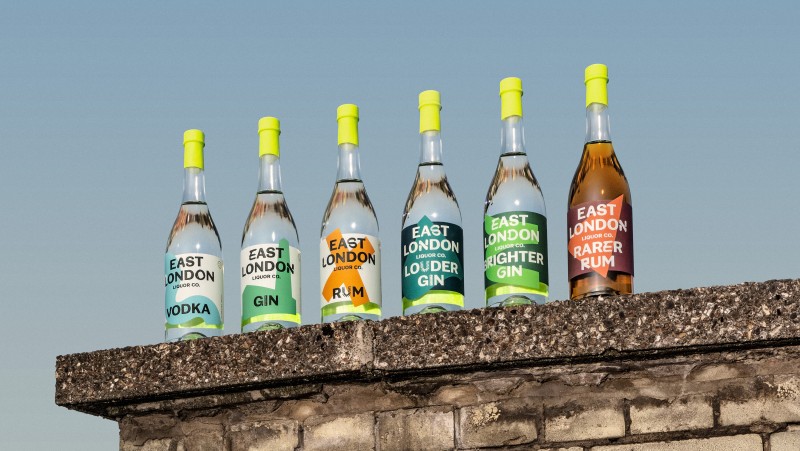 The madness of 2020 certainly hasn't stopped ELLC from doing cool sh*t. Not only have they redesigned their bottles with streamlined, colourful new branding and launched a classy gin collab with Kew Gardens (more on that later…) – they've also brought out a bangin' new white rum. Made up of spirits sourced from three Jamaican distilleries, it's got lush tropical-fruit notes, perfect for a Daiquiri (though we also hear it's a great one to sip neat. We love a rum that can do both!).  
£23, available from East London Liquor Company
For the gin obsessed: 
Four Pillars Modern Australian Gin
Australia has gifted the world some truly great things: Tim Tams, Kylie, flat whites – and now, this gin. The folks at Melbourne-based Four Pillars distillery are finally bringing their Modern Australian Gin to the UK after it made waves Down Under, and we think you're gonna love it. Its botanical notes start out straightforward enough, with juniper (duh), fresh grapefruit zest and apples, but then things get kicked up a notch with a subtle heat from green Szechuan peppercorns, plus the Aussie fruit quandong. Dreamy! And if you needed any more reassurance that this stuff is freakin' delicious, you should know that Four Pillars just won International Gin Producer of the Year at the International Wine & Spirits Competition. It's kind of a big deal… 
£33.50, available from Marks & Spencer 
East London Liquor Company x Royal Botanic Gardens, Kew
Still struggling to keep that lonely indoor plant alive? Thank it for all the joy that it's brought to the world, then let it go and pick up a bottle of this new gin from ELLC and Kew instead. With botanicals like Douglas fir, lavender, liquorice root and orange peel and more, Kew Gin will basically transport you to a garden paradise – and you don't have to worry about it withering away on your windowsill. If only gardening was always this easy…  
£29.50, available from East London Liquor Company 
Other boozy bottles to try: 
Cucielo Vermouth di Torino
Cucielo's pair of moreish Italian vermouths have been around for a couple of years now, but they're hitting shelves in Oddbins for the first time on 23 November, so mark your GCals accordingly. Cucielo Bianco is refreshing, fruity and aromatic – just begging to be made into a Spritz; meanwhile, Rosso is rich and toasty, with vanilla and berries in the mix. Both are deliciously bittersweet, which makes 'em just as great for solo aperitifs as they are in cocktails.  
£21.75-£22.75, available from Oddbins starting 23 November; currently available on The Whisky Exchange 
Stambecco Maraschino Amaro
Here's another super-lovely bittersweet boozy bev that belongs on your bar cart. Stambecco Maraschino is an amaro – an Italian herbal liqueur – infused with maraschino cherries, citrus peel, coriander seeds, cinnamon and a bunch of other things that make it really freakin' tasty. We hear that it's divine in a twist on a Manhattan or served ice-cold on its own, and we're swooning over its chic bottle design. OK, so we might be the **tiniest** bit obsessed with Italian booze – can you blame us, though?  
£24.99, available from Amazon
And when you choose not to booze: 
ZEO
The world of non-alcoholic spirits is a bold new frontier, and it ain't always easy to find one that's as satisfying as the boozy stuff. Thankfully, bartending legend Simone Caporale has stepped up to the task and brought us ZEO, which has two variants. The first is Botanical Dry, a clear zero-proof spirit infused with caraway, peppermint, coriander and lots of other good stuff. Taste-wise, this one is extra spesh because it also contains fermented rye extract, which gives it a boost in terms of both flavour and texture. It's actually got a nice lil burn, similar to alcohol, without being legit spicy. The second is Spiced Oak, inspired by whisky (think notes of vanilla, oak, warming spices and tobacco). We're dreaming of it in an Old Fashioned…  
£25-£27, available from ZEO
Everleaf
If you've tried Everleaf before, you know it as a sunshine-yellow booze-free aperitif that's one of the best non-alcs in the biz. Now, the drinks geniuses behind the brand have expanded their range with two new flavours (and a very attractive new look). Everleaf's original aperitif has been renamed Forest, and variations called Mountain and Marine have joined the party, too. So what do they taste like? The hint's in the name – Forest is made with 14 bittersweet botanicals that find their home in the woods (think cassia bark, orange blossom and gentian), serving up spicy-sweet notes of cinnamon and vanilla; Marine gets its round umami flavour from seaweed, but also has a gin vibe thanks to juniper; and Mountain is piney-fresh and floral with rosehip and cherry blossom. We've just got one last question for ya: hangover who?   
£18, available from Everleaf