Here's our pick of the list for you to (metaphorically) sink your teeth into until they open again - including what we'd drink
You know you've been in lockdown too long when your wildest fantasies are about being led across a softly-lit dining room, having a white napkin laid across your lap, and seeing gleaming cutlery and wine glasses laid out on a pristine tablecloth.
Keep your dirty talk… the 7 words getting us hot under the collar are… 'Would you like to hear the specials?' Oh mama.
So it was with a helluva lotta lust that we read the new UK & Ireland restaurants that are so banging that they've made it into the Michelin Guide Great Britain & Ireland. 
Okay, so it might be anyone's guess when we'll be able to get dressed to the nines and get to head to these killer restaurants again BUT we can prepare, right? PLUS a few of these babies are offering At Home kits, and we've let you know which!
NEW THREE STARS
The London-based Queens Who Are Killing It

Everyone knows the best threesomes involve food… and when we say threesomes, we obviously mean the number of Michelin stars above the door. Three stars means "exceptional cuisine, worth a special journey" - and while that does not mean a Barnard Castle kinda special journey, it does mean these are on our Must Visit lift when lockdown lifts. And guess what - the two new restaurants awarded 3 stars are both headed up women. F**k yeah. 
Where: Notting Hill
What: Finest British ingredients & relaxed dining experience
Big up the gals! Two new badass babes have joined the London contingent of chefs who are kicking back in the capital with three blinging stars. Clare is from Northern Ireland & you can see this influence running through her dishes. One for a long lunch with mates that slides into the evening, we reckon. 
Damage: £145 Core Classic Menu with Wine pairing for an extra £115 per person
Dish we want: The 'Beef and oyster' is a pimped up plate of Highland wagyu beef and Porthily oysters. Not too shabby. 
Drink of Dreams: We'll go for the Whiskey & Seaweed from the Core Creations cocktail menu - butter washed Irish Whiskey, kelp, sea lettuce & black cardamom. 
https://www.corebyclaresmyth.com/
Where: Mayfair
What: Traditional produce from South-West France & the finest ingredients from the British Isles.
Not that we need any more reason to visit The Connaught - the award-winning & sexy as hell bar is where you'll find BarChick relaxing with a Martini as soon as Bojo gives us the go-ahead. But now we'll be swinging from cocktails to dinner in one effortless swoop as we continue the night at Hélène Darroze's epic restaurant. The blush pink hues & soft lightning makes you look fab but tbh no one's looking at each other, cos the sensational dishes are a work of art in themselves. 
Damage: £145 for the 7-course Taste of Winter menu, with a Your Round The Wine World wine pairing for £120 extra. Really celebrating finally getting out of lockdown? Max it up to pair with the Ultimate Wine Experience for £495. Whoof. 
Dish we want: The Signature Baba dessert with Armagnac Darroze, pineapple, passionfruit, vanilla & coconut chantilly sounds like a bit of us. 
Drink of Dreams: We'll be heading into the Connaught bar after dinner to finish with a Martini mixed at the table. There is really is nothing that beats it. 
www.the-connaught.co.uk/restaurants-bars/helene-darroze-at-the-connaught/
NEW TWO STARS
Level Up: Doing it at the Double
These cracking restaurants have managed to double their luck and go from 1-star establishments to the impressive 2-stars award, which is counted as "excellent cooking, worth a detour." Hell yeah we'll make a detour from our 1-hour-of-exercise-per-day loop, just give us the go-ahead!
Where: Pimlico
What: A swanky & sleek approach to the diverse dishes that China has to offer
Tired of all that Chinese takeaway you scoffed during the last few months? Prepare to have your tastebuds blown into another dimension. Not chicken ball or msg soaked noodle to be seen here. China has over 3000 years of culinary history, and that's the insane inspiration for the magic that goes on here. 
Damage: £108 for the evening Taste of China Menu is a feast we'd happily fork (or chopstick) out for. 
Dish we want: Steamed king crab claw, velvet egg white and aged rice wine? Oh, go on then. 
Drink of Dreams: Head downstairs to the dark + sultry Forbidden City Bar for a cocktail - there's a kickass selection. We want the Fujian: Portobello Road No 171 Gin, Ketel One Vodka, Fukuju Yuzu Sake & Oolong Tea Scent. 
Where: Bethnal Green
What: No-menu restaurant of Modern European cuisine with flavours from Latin America
Yep you read that right - no menu here, folks! On arrival, you'll be presented with a blind tasting menu, which is guided by the chefs who are on hand to present each dish. The space is fresh, light & bright, with an open kitchen so you can see the team at work. Which is even sweeter when you've been cooking for yourself for the past 3 months. 
Damage: Go for the Long Tasting of 10 courses for £140 if you've got 3 hours to spare (and hey, we deffo have). On a tighter schedule/budget? The 5-course lunch tasting is a reasonable £65 if you want Michelin quality for less. 
Dish we want: The sample menu showed a dessert of Zacapa Rum Ice Cream with Caviar & Avocado. Sounds just random enough to be incredible. 
Drink of Dreams: We'll be going with the whole Long Wine pairing at £83 which includes the likes of a Barolo Domenico Clerico 2014. Yum. 
Where: Southwark
What: Tom Sellers is here to tell you the story of British food via an ever-evolving tasting menu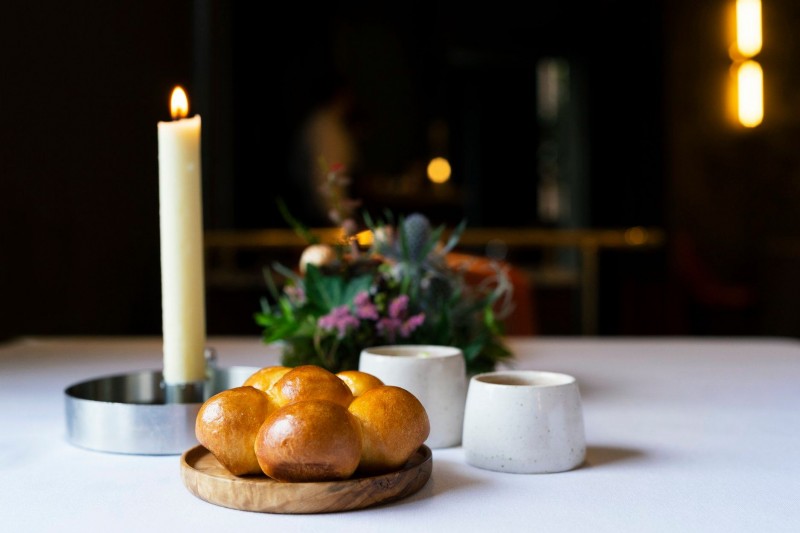 Another no-menu joint - instead, the meal is built around your preferences and will typically include a mixture of Story classic dishes alongside new and seasonally inspired creations. This is quality cuisine with a touch of whimsical fun added, which is just the post-lockdown levity we need. 
Damage: The 9-course dinner tasting menu is £145 per person, or go for a 7-course lunch at £100. 
Dish we want: The sample menu mentioned Cod with Rose coco beans, razor clams & champagne. Just luxe enough for us, thanks. 
Drink of Dreams: Their 'Vegetables' cocktail is for lovers of all things sour - Somerset Cider Brandy, Meadowsweet Distillate & Sour Rhubarb. Since we're sweet enough already, this could be the one. 
NEW ONE STARS
Getting in the game
A whole host of restaurants have been given the Michelin green-light and got their 1-star wings. These include London-based Casa Fofo in Clapton, Muse by Tom Aikens in Belgravia and Behind in London Fields. If you're traveling out of the capital then head to Hide & Fox in Kent or maybe Roots in York (fans of Great British Menu will have seen Tommy Banks cooking up a storm over Christmas). These are three new 1-star London joints we'll be hot-footing it to when we're allowed to dine in style once more:
Where: Soho
What: Classy California cuisine 
Missing sun, sand and sea? Us too. This is why we'll be getting our dose of LA-lifestyle by heading directly to Sola when we're allowed. With the light-flooded dining room, an abundance of plants + feel-good food, you'll think you're in the Golden State. 
Damage: The 5-course Prix Fixe menu is an undaunting £79, or go for the Tasting Menu at £119 
Dish we want: These guys are serving up Flambé Langoustine with Duck Liver Dumpling, "Century" Quail Egg & Girolles. Be still our beating hearts. 
Drink of Dreams: Treat yourself to the Ashes & Diamonds 2015 'Vineyard 1' Cabernet Sauvignon, Rutherford for £177 a bottle. 
Where: Mayfair
What: Lavish Indian food with tons of flair & flavour
Think you've had enough of Indian food during lockdown? You ain't seen nothing yet. Expect British ingredients with authentic Indian spices & some innovative ways of serving you the good stuff. 
Damage: Their Tasting Menu is a decent £98, with Captivating wines paired at £59 pp and Prestigious wines £89 pp.
Dish we want: The Tandoori Ratan of Chargrilled Sea Bass, Chicken Tikka, Kasundi King Prawn & Lamb Seekh Kebab sounds better than anything we got in a foil tray these last few months.
Drink of Dreams: Keep it cool with a Mango Lassi cocktail - exotic, chilled, and giving you a taste of the tropics. 
https://www.benaresrestaurant.com/
Where: Hackney Wick
What: Carefully sourced, sustainable & seasonable menus everyone went wild for
Daniel Hambury/@stellapicsltd
If you didn't get yourself to Cornerstone in Hackney in 2019 then can you even call yourself a foodie?? One point the Insta feed of every gourmand in London was showing off their dining experience at Chef Brown's awesome restaurant. It will come as no surprise to many that he's bagged himself a star.
Damage: Turn up & go mad for the a la carte menu with dishes ranging from £5 for a pimped up oyster, to £23 for some banging Brill with Parsnip & Smoked Pork Belly. Or ask for a Chef's selection menu if you wanna be left in good hands. 
Dish we want: Oh come on. It has to be *that* Crab Crumpet with cauliflower & Old Winchester, right?!
Drink of Dreams: The Squid Ink Mary sounds like it would sort out a hangover or two.