-AMERICAS-
Run by cocktail enthusiast Jake Valianes, the stripped back and stylish Linwood Essentials has been influenced by Jake's year on the road, from the 24-strong drinks list, which veers brilliantly towards the experimental (think: Earl Grey air and Froot Loops milk), to the equally abstract tapas-style food.
Where: 930 Queen Street West, Toronto, Ontario M6J 1G9
A bar in homage to the history and hospitality of the South, from the southern classic cocktails at the bar to the Blue Point oysters from the kitchen. Co-owned by Alba Huerta, she's a powerhouse in the US booze scene, and has been hard at work on this new spot for a long time - we hear it's paid off big time.
Where: 1919 Washington Avenue, Houston, Texas TX 77007
With Soigne Group's Josh Goldman and Julian Cox (of Picca and Sotto) at the helm we're guessing this place will be, ahem, well, brilliant. In Santa Monica, this is a local joint with a whiskey bent and Peruvian bites from chef Richie Lopez. They say this will also be a space for the bartending duo to test and experiment drinks for their other endeavours.
Where: 522 Wilshire Blvd, Santa Monica, California 90401
A Brooklyn beer hall from the founders of the beloved Brooklyn flea and food market, Smorgasburg, we reckon this will be a winner. The food comes from favourite Smorgasburg vendors such as Ramen Burger and Pizza Moto and the craft beer from local breweries. With a clean industrial design, the long communal tables look perfect for getting stuck in.
Where: 899 Bergen Street, Brooklyn, NY 11238
-EUROPE-
Liverpool - Slims Pork Chop Express
If you've had too many hot dogs at Salt Dog Slims then slip next door to the newly opened Slims Pork Chop Express, and they'll sort you out with some badass ribs. Get your lips around a Duck & Rum Old Fashioned and get organising brunch the following morning - with French toast and pancakes how could you resist? Just don't try to unstick the coins off the floor otherwise you won't be welcome back.
Where: 85 Seel Street, Liverpool, L1 4BB
Birmingham - The Dark Horse, Moseley
With the closing of Moseley's mega pizza joint, locals were miserable until… The Dark Horse opened up. Halleluiah! Welcome to a quirky pub that is just dripping with character and food offerings to satisfy even the fussiest. Pizzas, burgers, a lot of booze to get down you, and corners to hide in.
Where: Alcester Road, Birmingham, B13 8JP
London - Craft Cocktail Company
At this new spot in Bethnal Green, these guys are taking the art of drinking very seriously and to new levels by making cocktails in barrels and then bottling them. Genius! A cool space and super quick service – bring all your mates!
Where: Arch 253, Paradise Row, Bethnal Green, E2 9LE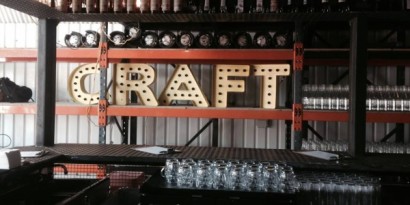 Tucked away in the Gothic Quarter, this isn't the same Box you know from London/NYC; no sex shows here, just a hot young couple who are as passionate about their bar as they are about the rum they stock. They mascerate their own rum in huge jars with anything from chilli to dark chocolate and then pipette it into shot glasses, which are damn delicious. We love it for the good times vibes.
Where: Carrer D'en Gignas 30, 08002 Barcelona, Spain
Munich - Rooftop Bar at the Flushing Meadows Hotel
This new boutique hotel has something of a speakeasy about it in an unassuming residential block. Better still, is the awesome square bar on the top floor. With a great terrace and even better cocktails, the barmen have learnt their trade in London's classic hotel scene. They even stock the very rare Sipsmith VJOP (Very Juniper Over Proof) gin.
Fraunhoferstr. 32 80469 Munich, Germany
Berlin - Monkey Bar, Hotel Bikini
This bar caused queues around the block when it opened. Trendy chain 25hours has launched a new hotel in the getting trendier part of West Berlin, and locals are loving the rooftop terrace with 360° views of the city and the monkeys of Berlin Zoo.
Where: Budapester Strasse 40, 10787 Berlin, Germany
The hottest table in town right now is an epic concept: mussels and gin. What's not to like? In the middle of Westerpark, they do local, fresh mussels served five ways alongside a raft of great G&Ts. With a nice outdoor space, good tunes and a lovely crew running the place, it's good times guaranteed.
Where: Gosschalklaan 12, 1014 DC Amsterdam
Zurich - The George Bar & Grill
Located on the Rooftop of the Casino Zurich overlooking the river in the city centre, The George has a slick retro look with a grand sunny terrace. When it comes to food they specialise in beef, Swiss style, and from the classic copper cocktail bar centre stage they have a thoughtfully-stocked booze selection.
Where: Sihlstrasse 50, 8001 Zurich
Days from opening at the time of writing, this cocktail emporium and rum empire inMontorgueil will be headed up by master shaker Joseph Akhavan and Samantha Sanford. It promises a friendly environment, nibbles from lunch until late and excellent cocktails.
Where: 58 rue d'Aboukir, 75002 Paris 
-OCEANIA-

Peter Gordon's hotly-anticipated Sugar Club in Sky City is the only bar in Auckland that does 25ml single shots (as opposed to the 15ml NZ standard). That would be a good enough reason to visit, but it also boasts spectacular 53rd-floor views, an Asian fusion mini-degustation menu and epic cocktails.
Where: Level 53, Sky Tower, Cnr of Federal and Victoria Streets
-MIDDLE EAST-
Part of a spate of new openings targeting a middle market with a more laidback retro vibe and affordable price tag, Pier 7's new opening The Scene is chanelling an NYC meatpacking look with a casual open-plan dining area and massive terrace. They serve contemporary British-influenced fare, and when the alcohol licence comes into effect expect cocktails, G&T remakes and classic cold beverages.
Where: Pier 7, Dubai Marina Mall