An old library turned into a new drinking den, a hidden bar within a bar and the latest instalment from the creative King of the drinks world. PLUS a second home for one of London's original secret speakeasies.
Now Open
This joint from the two legends behind both of the Milroy's venues is a new bar in The City that doesn't really have City-bar energy. Yeah, the price points can be high (we're talking whiskies available at over a ton a dram) but they've swerved that wanky suited n' booted vibe and given us slick with a raw edge. Having roped in the crew from Tom Dixon Studio to give it it's sexy look, and Callooh Callay's former Bar Manager, Liam Broom, to create a cocktail menu you won't be able to stop thinking about, they've made a bar you'll want to keep coming back to. Don't leave without trying the Pineapple/Miso. It's a fine-tuned demo of exactly how to make a perfect cocktail that ticks all the flavour boxes. 
80 Houndsditch, London EC3A 7AB
Now Open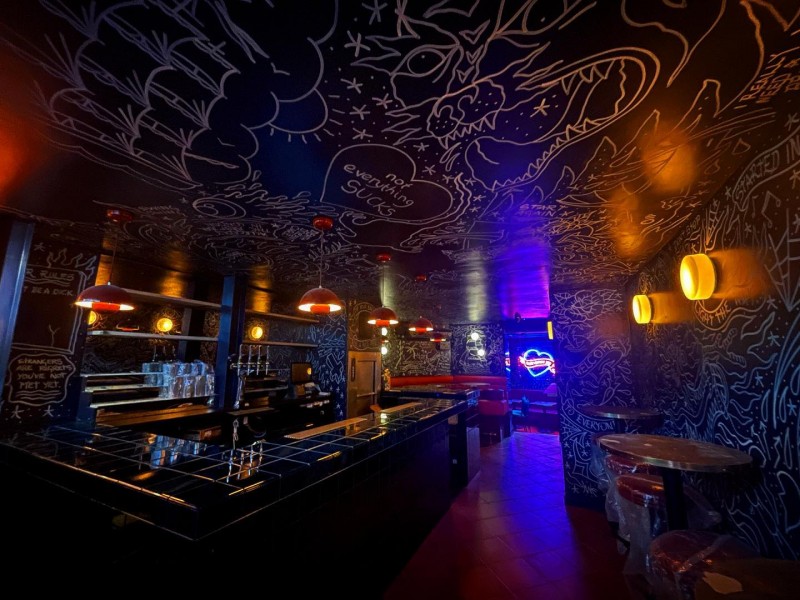 The Scottish are coming! Since conquering Dundee & Glasgow, the Abandon Ship bars now have their sights set on a full invasion of the English capital, with six venues planned for this year, and they're taking Covent Garden first. With more neon than the Las Vegas strip, walls tattooed with graffiti and a menu of imaginative cocktails, it looks like they've got the recipe for fun-time bars down. If you're a home-sick Scot, get ready for a taste of home. They've brought Tennents on tap, Buckfast and Irn bru cocktails, plus Lorne sausage and tattie scone rolls.  All they've gotta do now is work out how to get the Scottish tap water flowing and you'll feel like you're back north of the wall again.
63 Neal Street, Covent Garden, WC2 9PJ
Now Open
The problem with secret bars is we can never keep them a secret, and this new hidden spot at The Cinnamon Club is too good to keep to ourselves. Tucked beneath the Cinnamon Club in the Grade II listed Old Westminster Library, this new basement bar has all the vibes of a vibrant Indian bazaar. Got a hot date planned? The seductive curved archways and sexy alcoves are where you wanna be. The drinks are served up from the Inopera terrazzo bar, created by leading mixologist Robin Honhold, formerly of Lyan Studio, using spices and ingredients from The Club's kitchen upstairs. 
The Old Westminster Library, Great Smith Street, Westminster, London SW1P 3BU
Now Open
Time to meet the new East London bar with a West London postcode. The team behind the new Bow Bar haven't let a little thing like their Paddington location stop them from opening a sick East End inspired bar. Headed up by mixology duo Francesco and Pietro, this new bar around the corner from the mainline station has brought the trademarks of London's more hipster neighbourhoods to W2, with an immersive cocktail menu served up alongside a banging East London beer collection. They've even kept the snacks authentic to East London, with legit Jellied Eels on the menu. We'll give those a swerve while bee-lining for a taste of their Columbia Road Martini (made with Roku Japanese Gin, Grey Goose Vodka and a Middle-East Rose Infusion). 
225 Edgware Road, Paddington, London W2 1JU  
Opening 24th February
Get yourself ten storeys up at The Standard and you'll find yourself in the hotel's sexy new bar more likely to cure your hangover than give you one. Hell yeah! Sweeties is the latest London bar to jump on the mood-boosting bandwagon, with a killer menu of cocktails spiked with energising adaptogens and nootropics to give you a natural lift. We usually hit the tequila when we're seeking those feel-good vibes, but rumour has it the effect is even better when you add these into the mix. Throw a rotating line-up of DJ's into the mix and a bad-ass view of the London skyline, and this will be the best damn legal high you've ever had, baby!
Sweeties at The Standard London, 10 Argyle Street, WC1H 8EG
Opening 2nd March 2022
Shucks away, baby - the duo behind one of Covent Garden's most popular seafood joints The Oystermen are getting ready to give South East London a taste of what they do best. Walter's is their new neighbourhood restaurant and bar that's gonna be serving up the best of British inspired classics from lunch through to dinner, while the attention-grabbing antique bar in the centre will host a menu of v. impressive wines. Like your wine with a bit of sparkle? You're gonna love the list of fizzy plonk from all regions, while still lovers will wanna hit up the list of lesser known and artisan producers. Us? We'll be checking out their next level premium spirits that will feature in the diverse cocktail list. 
84 Park Hall Road, London, SE21 8BW
Opening 3rd March
It's been a long three year's waiting to see what Ryan "The Lyan" Chetiyawardana will do next, but now the wait is almost over. New bar Seed Library is on its way to East London, the OG stomping ground of this multi-awarded mixologist, and it's bringing a whole new vibe to the Lyan pride. Unlike its big sis on the Southbank with its shiny, plush decor and complex ingredient-led serves, this new bar is bringing a more laid-back, simple approach to the cocktail making that's gonna go down in the wood-panelled basement of One Hundred Shoreditch. Although, when it comes to the definition of simple, we bet ours is totally different to Mr Lyan's, so we say better go prepared for an experience like you've not had before.
Seed Library, 100 Shoreditch High Street, E1 6JQ
Opening (officially) late March
This bar at the new (floating!) Hawksmoor restaurant in Wood Wharf has been low-key open for a while now, but it's about to get it's official debut into society. Any carnivore worth their canines will already know how they roll at Hawksmoor: the best steaks in London, Sunday roasts that could bring a tear to your eye, and beef dripping chips that'll mean you never look at a fry in the same way again. But their bars deserve just as recognition, yo, and The Lowback is Hawksmoor's most ambitious bar yet. With a nine-metre-long bar, dark green marble floor, polished timber ceiling and velvet booths to enjoy their brand new cocktail list, this water-level bar is not to be skipped.
1 Water Street, London E14 5GX
Opening Date TBC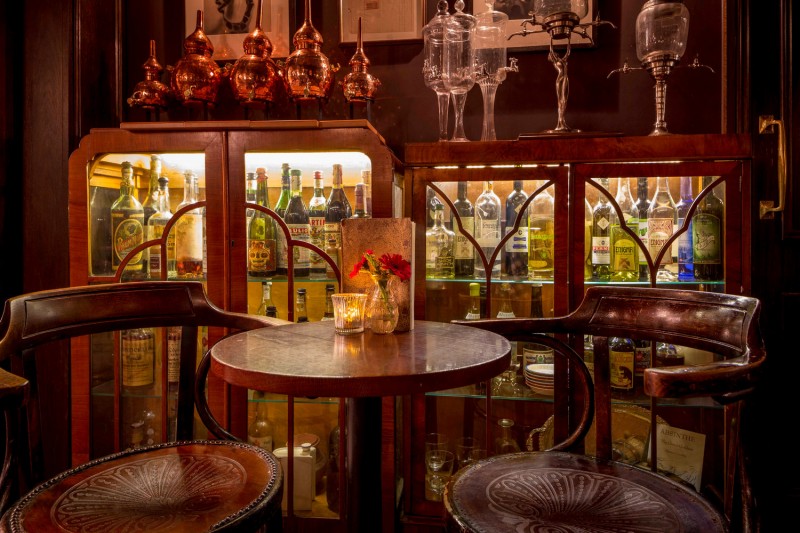 It's one of the bars that lead the resurgence of the Speakeasy in London, now we're being treated to the second instalment of this award-winning bar... but as is the nature of a real speakeasy, deets are all very hush-hush. Even the location of Nightjar 2.0 is just speculation atm, but if the rumour mill is to be listened to, eyes should be kept firmly on the Carnaby corner of Soho. What we do know for certain is the iconic and kinda wild presentation of their creative cocktails will definitely be making the journey to this second venue. Bring it on!
Location TBC