BRB, just relocating to the park...
Summer without a fridge full of tinnies is like an Oscars ceremony without some meme-worthy drama. Whether you're hitting the park with your homies or don't want time to stand in the way between you and you 5pm cocktail, these are the freshest new ready to drink cocktails coming atcha now British Summer Time is here.
Pair the lighter evenings with some lighter drinks this summer with the elegant new range of canned Spritzes from our fave non-alc aperitif, Everleaf. They've paired their three expressions, Forest, Mountain and Marine, with light tonics to create a ready-to-roll line-up of effervescent serves. Just keep them in the fridge and you're always gonna be picnic-ready. 
Everleaf cans will be available to purchase in 12 packs from Everleaf's website from the beginning of May for £30 
Vive la Hard Seltzer Revolution, bebé! One of our favourite Parisian bars, Le Syndicat, has given its French take to the Hard Seltzer movement. No, they've not created cans that take two hours for lunch and somehow make that 'just rolled out of bed look' look chic. They've incorporated the best of French ingredients and spirits to create a fam of four Hard Seltzers, championing local creative industries and blending the worlds of mixology and perfumery with a tres chic collaboration between Le Syndicat and the perfumers of Jean Niel AKA the oldest French perfumery house. It's tricky to pick a fave but we loved the lingering spice of the Peach, Apricot & Ginger can. Fiery!
Currently available in France RRP €27 for 12 with expansion across Europe on its way. Look out for it in the vending machine at the back of Le Syndicat.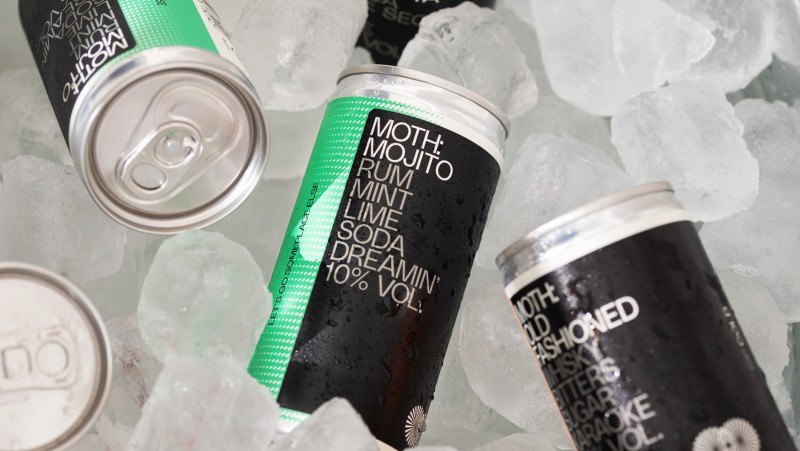 We once heard that everytime someone orders a Mojito in a crowded bar, a bartender dies a little bit inside. Life is too short to be muddling mint and sugar when you can just crack open one of these dinky cans from the legendary Moth crew. This hella refreshing can has joined the Moth ranks, using Duppy Share Rum, mint, lime and soda to create this zero-effort maximum reward Summer drink, so there is just a ring pull crack between you and that maxin' chillaxin' feeing. 
Moth Mojito is RRP £3.99 available from Waitrose.
When we wanna dodge the commitment of opening a bottle of wine, you'll usually find us reaching for one of the plonks in the Kiss of Wine line-up. They've covered all the colour bases, and now for spring they're adding to the fam with two new wines ready to be cracked open at a moment's notice; a Caladoc Rose from Provence (yep, summer in a can) and a Valencian Garnacha Tintorera, a punchy red that is perfect for BBQs.
The new 'Picante' Garnacha Tintorera 2020 is priced at £5.95 a can, while the "Chill" Caladoc Rosé 2021 is priced at £4.50. Both are available (with the rest of the line-up) here.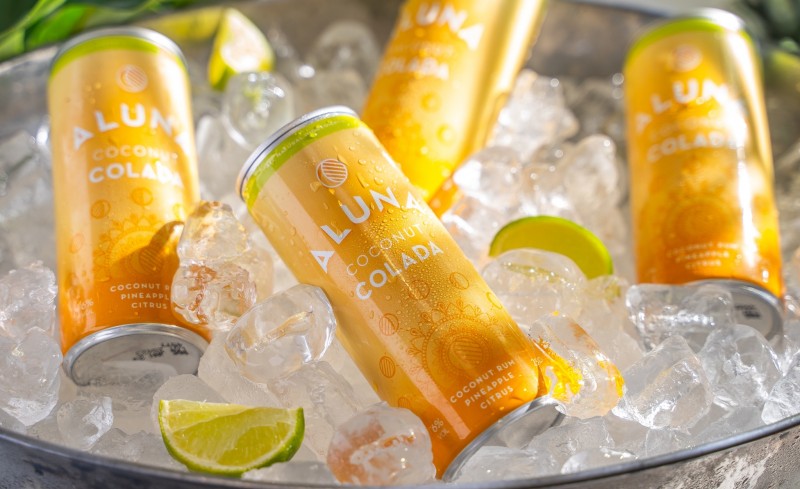 If you like Piña Coladas and getting caught in the... snow? Nope, we didn't have sub-zero temperatures on our spring bingo card either, but what we do have is a wicked launch from the guys at Aluna Coconut. They've packed our favourite feel-good cocktail into a 250ml 6% ABV on-the-go can, using their premium Aluna Coconut Rum, pineapple juice, coconut water and lime juice. Just crack it open and pour over ice, or sip on this liquid sunshine straight from the can.
Aluna Coconut Colada is available to buy via www.alunacoconut.com for £2.95
To complement the new range of 30% ABV Grey Goose Essences AKA vodka infused with fruit and botanicals from across the world, the guys behind this iconic french vodka are launching their first line-up of RTD cans this June: the Grey Goose Essences Vodka Spritzes. Using two of the Essences expressions, Strawberry & Lemongrass and Watermelon & Basil, they'll be mixing each with soda to create a naturally vibrant 250ml can coming in at a laidback 4.5%. We bet they'll be as refreshing as dipping your feet in a pool during a heatwave. 
Grey Goose's RTDs will launch in June 2022. RRP TBC.
Bar quality cocktails in your crib weren't just for lockdown. These cool crafted bottles from the crew at Tails are now available to shake over ice and enjoy on your sofa (complete with QR codes on each bottle showing ya how it's done), with some slick new look packaging and a banging list of recipes using some epic quality spirits, including Bacardi Rum Daiquiris, Dewar's Blended Scotch Whisky Sours, Bombay Sapphire Gin Gimlets and 42 Below Vodka Passion Fruit Martinis.
TAILS will be available from April in supermarkets, specialist liquor stores and online across the UK & Ireland.
They've experimented (and found success) with epic craft beers, now the crew at the Beavertown Brewery are trying their hand at hard seltzers, and turns out they're pretty good at that, too. Ghost Hard Seltzers come in four different ABVs and flavours, but they're all naturally fruity, bubbly, low-cal, vegan, and gluten-free. Woof! Available in lemon and raspberry; peach and tropical flavours; peach and lemon; and tropical and raspberry. Swing by Beavertown's Corner Pin pub & Tottenham Taproom to grab a few, or get them online for chills and chill this Spring.
Ghost Hard Seltzers range from 2.5% ABV to 8% ABV, priced from £2.40 to £3.25. Grab yours here.
Looking for a Spritz with a kick? Sean 'Diddy' Combes has turned given his premium French vodka a side-hustle for the Summer and launched a series of Cîroc Vodka Spritz's available in four 355ml canned variants: Watermelon Kiwi, Sunset Citrus, Pineapple Passion, and Colada. Each combo, made with vodka, soda water and "natural" fruity flavours (nothing artificial in here) comes in at 7%. Good for getting buzzed at your BBQ. They're kicking things off State-side first, but we reckon it won't be long before they'll have made the flight over The Pond. 
Ciroc Vodka Spritz can be found on U.S shelves from 1st April, priced at RRP US$16.99 per four-pack.