Rum Day, Rum Month or just the weekend. Whichever one you're celebrating, you're gonna want to do it with one of these bad-ass new rums on the block. From aged rums to planet-saving rums, flavoured rums to rum-based liqueurs - your home bar isn't complete without one of these sick new bottles.
John Paul Jones Lowland Rum
Sure, the name sounds like it could be your local town's family law firm but, but this new rum on the block is more likely to get you into trouble rather than outta it. And that's a vibe we're all about. This signature "lowland rum" expression from this young company is inspired by one very old dude. John Paul Jones was a big name back of the seas in the mid 1700's who became a British-fighting naval commander in the American Revolutionary War. This rum is oak ages and lightly spiced with a small amount of fresh and complimentary ingredients (we're talking the lines of ginger root, seaweed and black peppercorns) which makes it pretty deserved of a place at the helm of any cocktail creation.
How To Drink It: This is a great sipping rum, but if you wanna mix it up in a cocktail, take heed from the JPJ Managing Director Ollie and build yourself up a classic Pimms with a splash of JPJ to add that extra zing. 
Where To Buy it: Directly from the JPJ crew | RRP £38 | 40% abv | 70cl
Takamaka Zannannan Rum
You can tell yourself the only reason you haven't hit up the Seychelles recently is because of the Pandemic, but let's be honest - that place is bucket list goals, baby. What ya can do is drink the Seychelles in the form of this new Takamaka rum - and honey, we think that's just as good. The new Zannannan Rum joins the fly Takamaka line up which includes the likes of the Koko and Dark Spiced expressions, bringing the more youthful vibe of the Seychelles to the party. Give this young rum a sip and you'll get the soft sweetness of ripe pineapple tempered with crisp, sharp tones and a slow, lingering finish. Now all ya need is a beach to drink it on. Maybe you do need to make that bucket list a reality...
How To Drink It: Enjoy it in a tropical cocktail like a Mai Tai or top with soda and garnish with lime for a classic long drink with a twist.
Where To Buy It: From Master of Malt from the end of August | RRP £20.50 | 25% ABV | 70cl
Twin Fin
Cornwall, meet the Caribbean. While the life of Twin Fin begins on the warm, golden sands of the Caribbean, it comes to maturity once it has crossed the Atlantic and settled down on the rugged coast of Cornwall. That's where it gets turned into this bold family of exotic rums by blending it with fruits and spices from around the world. They launched in 2020 with their inaugurel Spiced Golden Rum, but this summer they added three newbies to the fam; Pineapple & Pink Grapefruit; Coconut & Lychee & the Barrel Aged. Hitting the beach? You're gonna want at least one of these as your wingman.
How To Drink It: It depends which bottle you plunk for, but we love the Cornish Caipirinha: Muddle 50ml Twin Fin Pineapple and Pink Grapefruit Rum, Juice of ¼ Lime, a slice of pineapple and 1tsp of sugar in a tall glass, stir in lots of ice and mint then top with pineapple juice and a touch of soda.
Where To Buy It: You can grab the whole family here | RRP £28-35 | 38-40% ABV | 70cl
Aluna Peach & Pomelo Liqueur
When it comes to making next-level Pina Coladas, Aluna Coconut is the bottle we reach for. When it comes to creating a more mindful Bellini or pimping a soda with something fruity, we reach for the new Aluna Pomelo. It's a fresh and fragrant blend of Aluna Coconut Rum, natural white peach and pure coconut blossom nectar with some killer versatility.  They've used all-natural flavours and minimal sugar to great this blushing bottle, so if you're keeping the vibe light this Summer, this bottle is The One.
How To Drink It: The Bellini is named after the 15th Century Venetian painter because of his love of pinkish hues so this sparkling beauty is the perfect way to celebrate or just start the evening in style. Add 30ml Aluna Peach & Pomelo to 30ml Peach Puree and 5ml lemon juice and top with 100ml Prosecco. Garnish with peach slices.
Where To Buy It: From The Aluna Gods | RRP £20 | 25% ABV | 50cl 
Two Drifters Carbon Negative Rum
This isn't a new rum, but it is a rum with a slick new look. Think of it as a socially conscious teenager that's gone through a She's All That make-over. This slick new rebrand has been designed to reflect the eco-credentials of being the world's most sustainable rum brand. Hell yeah! The new lighter and British-made bottles feature a natural cork with FSC wooden top, 100% compostable tamper seal, paper labels made from 95% sugarcane fibre, 5% hemp and linen with a plant-based adhesive. And the liquid inside them? Well they remain epic, from the Signature Rum with its full-bodied and buttery notes to the deliciously different Overproof Spiced Pineapple Rum which brings rich and fruity vibes + buff notes of ripe pineapple, salted caramel and creme brûlée. In addition to their existing carbon negative production, they have also now launched their new low carbon emission website. They've taken this eco thing seriously and we f*cking love 'em for it.
How To Drink It: We love to float the Signature Rum on top of ginger beer to make a sick Dark & Stormy.
Where To Buy It: From their new low carbon emissions website made with low carbon emission technology | RRP £40-£45 | 40-60% ABV | 70cl
Appleton Estate 15 Year Old Black River Casks rum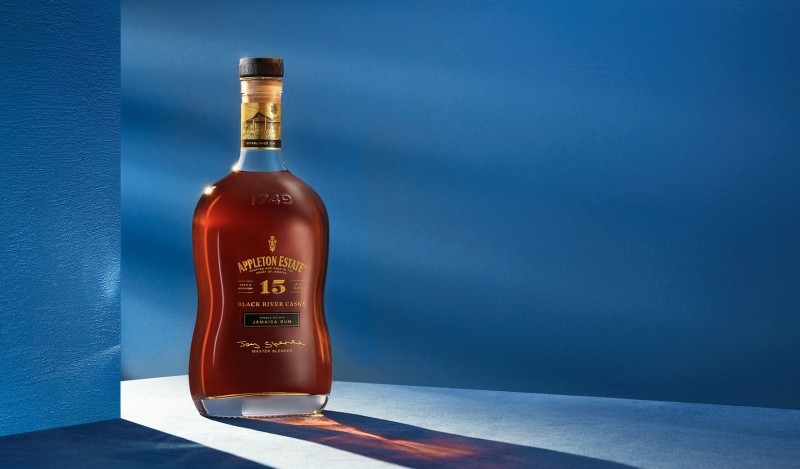 Ever since we met Master Blender Joy Spence for an early morning tasting, we've been big fans of Appleton Estate rums. This new 15 Year Old Black River Casks expression of aged rum hasn't disappointed. As you'd expect, it's been aged for at least 15 years which has resulted in a smoother and more robust sipper. This super-premium edition pays homage to the Black River in Jamaica's Nassau Valley. The waters flow from the spring where Appleton Estate sources the limestone-filtered water used to create its rum. It's made in Jamaica and from Jamaica.
How To Drink It: This is a rum not to be messed with. A beautiful rocks glass, an ice cube or two (if that's your vibe) and BOOM - you've got one smooth serve.
Where To Buy It: From Master of Malt | RRP £70 | 43% | 70cl
Bacardi Tropical Rum
While we wait patiently for BACARDÍ to jump on the 00's revival bandwagon and bring Bacardi Breezers back (seriously, give the Millenials what they want) we've been enjoying the tropical vibes of this new limited-edition flavoured rum which has been inpired by it's hella chill Caribbean roots. Like all the other flavoured rums in the fam, this one begins with a base of BACARDÍ white rum and is infused with all-natural pineapple, coconut, and guava fruit flavors. Did someone say endless Summer? 
How To Drink It: With tropical flavours like that, it's gotta be an equally tropical cocktail. Give it a go in a Pina Colada or get it muddled up in a Mojito.
Where It Buy It: From VIP Bottles | RRP £26.99 | 35% ABV | 75cl