As if you need an excuse to get on the bubbles before midday after the year we've had...
With the hospitality industry getting back on track, it's time to return to normality... and by that, we mean hitting the best new brunches London has to offer with your crew ASAP.
LCC's Proper Naughty Bottomless Brunch
We've all been on our best behaviour for the last year... it's time to get a lil bit naughty, baby. There's not a better group of bad influences we can think of to bring the naughtiness out of us on a weekend than the party crew from LCC. Every Saturday in 2021, they're bringing you 90 minutes of the best bottomless cocktails, served up with a cracking good time, the 00s tunes that'll have ya scream-singing in your seats and live entertainment from the BEST lookalikes in town. You want Justin Bieber? Well... you can't have him. But you can have Dustin Bieber and we're pretty sure that's better than the real thing. 
Grab your pals and grab your tickets. And til the end of the week, you can use the code:  BRUNCH4FOR3 to book space for 4, and only pay for 3 of ya!
Available at LCC Old Street, Shoreditch & Oxford Circus.
NYX Hotel London Holborn Brunch
There's a new hotel in town, and as well as having rooms designed with curiosity and luxury in mind plus a chilled spa for ironing out the stresses of that WFH life, it's bringing an electric brunch to your weekends spent in Holborn. Named after the Greek goddess of the night, NYX's kitchen will be serving up comfort dishes that have been given the modern treatment. We love the sound of their tequila and chipotle prawn tostadas (what can we say, we can't resist tequila on any menu), and the Southern American flavours of their creole crayfish burger sound like our kinda vibe.
And heads up: 'cos this joint is new, they're treating you to 50% off all food and drinks from 17th - 31st May (reservations only). There is also an introductory room rate of £99 B&B valid on stays from 17th May – 31st August 2021 if you wanna bit of a staycation. Quote NEWNYX when booking at www.nyxhotels.com to redeem.
50-60 Southampton Row, Holborn, London, WC1B 4AR
Q Brunch at Quaglinos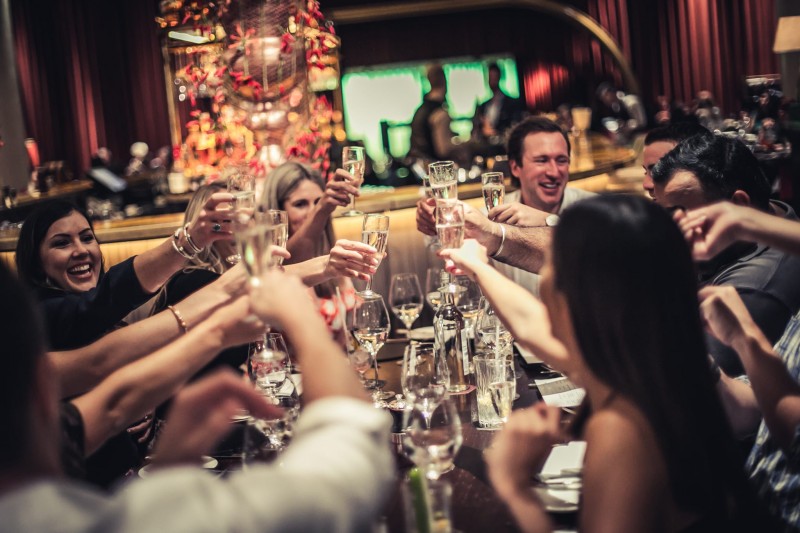 The infamous live music bottomless brunches of this subterranean glamour palace in St James are back, baby. Q Brunch is gonna be lighting up your Saturdays from this weekend, with bottomless bubbles, decadent dishes and killer live DJ performances bringing the party to your table. Because extra days off work are to be celebrated, they're cranking up the gears on the Bank Holiday with a hella special guest in the form of legendary Mobo award-winning DJ Trevor Nelson who will be taking to the decks for a special Soul Brunch from 12-4pm.
Q Brunch is available in the Restaurant from 11.30am-2.30pm on Saturdays. Free Flowing bubbles are available for £25 per person when eating two courses or more for the duration of your meal
16 Bury St, St. James's, London SW1Y 6AJ
Gospel Motown Brunch at The Anthologist
Time to summon your congregation/squad and hit the town for a divine brunch complete with a gospel choir and live Motown singers. Amen, honey! If belting out Aretha in your shower is your fave pastime, this is how to spend your Sunday afternoon. In between diva ballads and the hits from Sister Act, tuck into pancake stacks, eggs royale and braised short ribs with polenta mash. Partial to a bit of stage fright? Those bottomless cocktails should ease the nerves and get you singing along full volume from your table in no time.
The brunch you've been praying for is launching on 30th May and runs every Sunday, from 12pm-4pm. From £44.95pp for 90 minutes, including bottomless Bloody Mary's, Prosecco, Rum Punch, selected beers and a brunch dish.
58 Gresham Street, London, EC2V 7BB
St Pancras by Searcys limitless brunch
Heading out of London for the long weekend? Get to St Pancras early and get it off to a bubbly start with the limitless Sunday brunch at the longest Champagne bar in the UK. St Pancras by Searcys is offering up a three-course menu of seasonal plates that can be levelled up with a limitless 90-minute supply of fizz for £45 or with Searcys Selected Cuvée Brut at just £49. That's what we're talking about.
Starters include Cornish sardine fritters with avocado and lime, or Wild mushrooms on toasted sourdough drizzled with truffle oil and topped with a poached hen's egg. Classic Searcys Smoked salmon with scrambled eggs can be found on the main course options, while puddings include Sticky banana pudding with ice cream and almond brittle and a classic lemon tart with raspberries and a dollop of crème fraiche. No need to hit the buffet cart on the train. Win win!
Available from 12 - 4.30pm every Sunday. Grand Terrace, Upper Concourse, St Pancras International Station, King's Cross St. Pancras, London, N1C 4QL
Peckham Cellars Brunch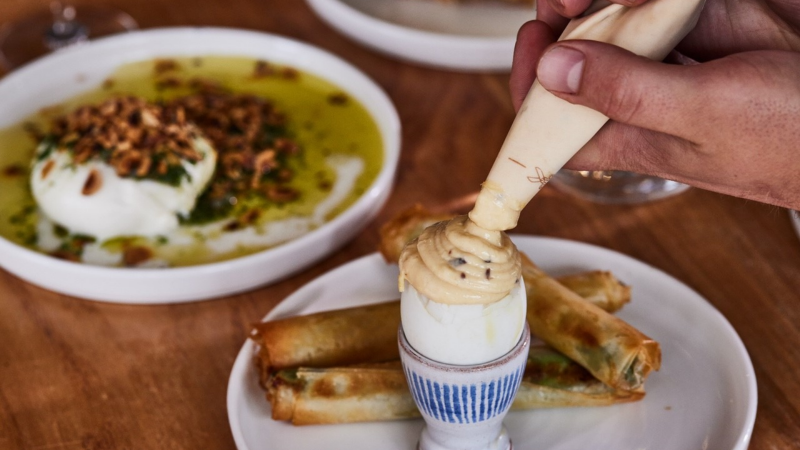 When your doors have been closed for four months, you wanna reopen them with a bang, right? That's why the team at Peckham Cellars have added a killer weekend brunch menu to their already awesome repertoire of dishes and wines. Breakfast burritos packed with sausages or roasted portobello mushrooms can be found on the menu next to their signature Filo wrapped asparagus, dippy duck egg & anchovy aioli (which you'll also find on the dinner menu if you wanna head back in the evening for seconds!) That all sounds pretty sick, but we'll be hitting the extravagant Peanut Butter French Toast with its rich scoop of vanilla ice cream. No way we're missing out on that.
All brunch dishes under £10. Bookings for both dinner and weekend brunch are now open via RESY.
Peckham Cellars, 125 Queen's Road, Peckham, SE15 2ND 
Coqbull Brunch
The newly opened Coqbull restaurants in Soho and Spitalfields Market have introduced a killer brunch menu to both venues every weekend, and with a name like that, you can bet they're bringing some tongue in cheek attitude to their menus. That's how we like it. If you overcooked it the night before, you'll wanna turn to the Hangover Bull - Double stack beef, American cheese, maple-glazed bacon, fried egg, jalapeños, habanero mayo, lettuce, tomato and onions with a side of fries - to bring you back to life. And then you'll probably wanna go home for a nap. Or if hair of the Dog is your remedy of choice, hit the menu of signature cocktails ASAP for a retox revival. We bet the Velvet Picante will give you the boost you're after. 
Brunch is available Soho and Spitalfields on Saturdays and Sundays. Hit the Soho joint to check out their killer new room terrace.