Love it or hate it, there's no avoiding some kind of New Year's Eve blow out, and hey it's the night you are allowed to forget all last year's sins and start from scratch. Plus you get a snog at midnight guaranteed. Genius. Have a good one…
If you want to night-fever your way into 2014 then Disco is definitely for you. Open from 10pm–5am you've got plenty of time to hit a bar before arriving. Check your bag in on the conveyer belt on the way in and proceed to strut your stuff in front of the giant disco-ball DJ booth.
13 Kingly Court, London, W1B 5PW
Fancy a spot of healthy competition? Enjoy a night of unlimited ping pong and pizza in a UV ping pong room. Elle McPherson and Pippa Middleton party here, so you should too.
121 Holborn, EC1N 2TD
Street food vibes in a warehouse until 3am, where do we sign? Hawker House favorites Baba G and Rola Wala, Dalston Yard regulars Sweet Tooth Factory, Yum Jungle and Vinn Goute, and Merchant Yard legend Ben Spalding all make an appearance, plus there'll be a Champagne bar, jazz band and DJs.
38-50 Pritchard's Road
London, E2 9AP
Dark Circus Party at Bloomsbury Ballroom 
There'll quite clearly be some kinkiness on the cards at this Dark Circus Party. With entertainment from the world's leading fetish club, Torture Garden, you'll be waving goodbye to 2013 with a whip in one hand and a whisky in the other. Corsets and top hats are a must, and don't invite your mother.
The Grand Hall St Pancras, Euston Road, London , WC1H 9JE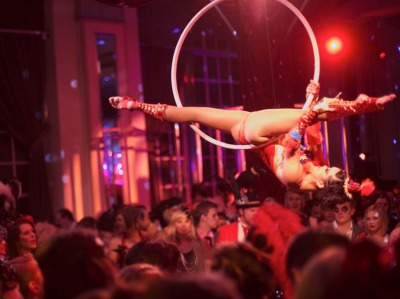 Line your tum with a three course meal at The Breakfast Club before retreating through a SMEG fridge door in Spitalfields to The Mayor of Scaredy Cat Town. Or head through the launderette in Battersea to the The King of Ladies Man for a night of Prohibition decadence and debauchery, not seen since the glory days of New York's Cotton Club. Obviously you'd be letting yourself down if you don't wear something 1920s inspired.
Shoreditch // Battersea 
Get your speech ready and wear something real nice, you're going to the Oscars baby, well kinda. You'll find all the glitz and glamour of Hollywood here as well as a complimentary glass of Champagne upon arrival. Awards include best dressed and the hugely coveted personality of the evening… get working on those jokes.
3-4 Archer Street, London, W1D 7AP
It's nice to see Jones & Sons thinking outside the box; a five-course dinner and an (award-winning) Elvis impersonator certainly isn't how most of our NYE's begin, but we're willing to give it a go. The guys behind this are the reason Broadway Market's Cat and Mutton pub was so good back in the day, so you know they'll do it right.
23 – 27 Arcola Street, London, E8 2DJ
A Phantom of the Opera party beneath the Art Theatre in Covent Garden, it may sound a bit Halloween but whatevs, we're into anything that involves hiding sins behind a mask. Owner JJ Goodman and friends will be on hand to make sure that all proceedings are riotous and you'll get a sparkler at midnight.
6-7 Great Newport Street, London, WC2H 7JA
The London Cocktail Club Goodge Street 
Inhibitions are unwelcome at this old-skool par-tay, as are complex softly spoken conversations (bleurgh). It's going to be loud, extroverted and unashamedly awesome and you'll be dancing on the bar, the floor and the walls, shabba, now that's what we like to hear.
61 Goodge Street, London, W1T 1TL
Get your ghettz on at this super-sick hip-hop party. You'll be in a low squat and twerking against the walls in no time with sets from Foreign Beggars' DJ Nonames, Mr Thing, Spin Doctor, Chris P Cuts, Mo Fingaz and MC Prankster.
18 – 20 Houndsditch, Aldgate, London EC3A 7DB
Join Peckham's cool cats at the Bussey Building for four floors of foolishness. The first floor is for rare grooves and Motown classics, the second floor will be the 'funk pit', the third floor will be a 70s throwback and finally it'll be rock 'n' roll, Latin and ska on the fourth floor. All that variety.
Bussey Building, 133 Rye Lane, SE15 4ST // 9pm-6am // Tickets £10 here
It's gonna be a Honky Tonk hoe down y'all! Live music, dancing till dawn and a whole lot of old American favorites on the menu. Think big beef ribs, burgers and Honk dogs, there'll even be bacon rolls at 2am to make sure you keep your strength up. It's gonna be a happy-hootenanny-New Year, ye-ha!
6 Hollywood Road, London, SW10 9HX
There's only one thing BarChick loves more than fancy dress… scandalous fancy dress! Yes, come dressed as your favorite disgraced celebrity of the 90s and noughties… yeah there'll be a few Mileys, Britneys and Lohans and they've got a Paris Hilton look alike on the decks. Roll out the red carpet, it's gonna be tackified to the max.
100-106 Leonard Street, London, EC2A 4RH // Event info here 
The NYE Love Boat Party at the Queen of Hoxton 
There's gonna be a rave downstairs, a giant wigwam on the roof and Big Apple Hot Dogs serving up aptly named Loved Truncheons and Pimp Steaks (free if you arrive before 10pm). Think retro cocktails, Studio 54 styling, Champagne poppin' and a smooth and sleazy soundtrack of feel-good house, dirty disco, yacht rock and boogie from 1977 to 2014. But we had you at wigwam, right?
1-5 Curtain Road, London, EC2A 3JX // Event info here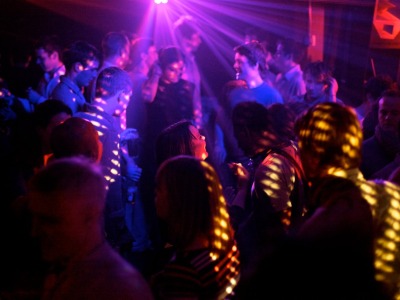 Those looking for something decidedly more upmarket may want to swing by The Savoy. There'll be a 20s inspired dinner and a dance in the Lancaster Ballroom followed by a booze up in The American Bar and Beaufort Bar. Book a room or a suite if you expect things to get heated… pop it on your plastic and pray.
The Savoy Hotel, 189 Strand, London, WC2R 0EU // Event info here 
We know where we'll be heading when we've out-partied ourselves… straight to Duck & Waffle to get back on it, that's where. Located on the 40th floor of The Heron Tower you won't get higher than this… and the deal maker? It's open 24/7, even for NYE, done.
Heron Tower, 110 Bishopsgate, London, EC2N 4AY
Party at one of West End's wackier joints, there'll be food, DJs, an enchanted indoor garden and 3-piece band. And let's not forget those epic loos.
9 Conduit St, London W1S 2XG
The Blitz Party at Great Suffolk Street Arches
Celebrate at the Suffolk Street Arches WW2-style (it's sexier than it sounds, trust us). The Great Suffolk Street Arches will be transformed into a wartime shelter complete with six rooms featuring live swing bands, performers and DJs. You'll be drinking gin cocktails and British ale (natch) until the small hours.
Great Suffolk Street Arches, 29 Great Suffolk Street, London, SE1 0NS
Wanna get high as you watch the fireworks over The Thames? Then hit Aqua Shard on the 31st floor of The Shard. This'll be their first NYE party and of course there'll be bubbles, canapés and glamour everywhere. Tickets will set you back a hefty £295 but it'll be worth it, probably.
Level 31, The Shard, 31 St. Thomas Street, London, SE1 9RY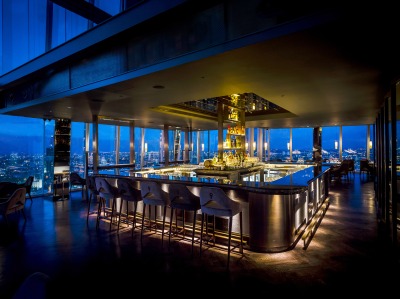 Secretsundaze and Circo Loco at The Electric Brixton and The Coronet
If you've got an appetite for an all-nighter and beyond, then chow down on this feast of a party. Hit notorious daytime rave secretsundaze at the Electric Brixton 'til ridiculous o'clock and carry on at Circo Loco at The Coronet. Not for the faint hearted.
Town Hall Parade, London, SW2 1RJ
Front row seats to the epic Thames fireworks would probably be enough to sell this place alone. Instead they're throwing Mexican food, tequila and a whole lotta mescal into the mix too. Dance to Latin, afrobeat, hip-hop and dancehall throughout the night.
Queen Elizabeth Hall, Southbank Centre, Belvedere Road, London, SE1 8XX
Fancy seeing in 2014 deep underground in Soho, sure you do. Coal Vaults will be open for business as usual, offering an early sitting for those who want to disappear off into the night after dinner, and a late sitting that'll see diners into the New Year. Five courses will be paired with cocktails and wine for a set price of either £50 or £95.
187b Wardour Street, London, W1F 8ZB
Paradise By Way of Kensal Green
Expect this masked ball to descend into sheer madness as Paradise is transformed into a hedonistic fantasy with DJs till 4am. No need to worry about New Year's Day fear either, just pop back and get involved with their famous Bloody Mary Club and a recovery brunch… sigh.
19 Kilburn Lane, London, W10 4AE