New Year's Eve: the night when staying in is more frowned upon than not walking on the left hand side of the escalator, is just around the corner. Don't panic if you still haven't got your plans sorted, you don't have to resort to an overpriced set menu at some local Italian. There is still a ton of fun stuff for you to do.
Want more ideas or help getting in? Message BarChick Concierge for free and we'll sort out an epic night.
Places you can rock up to
No ticket required, just message BarChick and we'll give you the lowdown of where you can party for FREE!
Little Bat
This laid back neighbourhood cocktail bar is keeping it simple and sleek this NYE. Forget gimmicks and gallons of watered down punch and expect only the most killer of cocktails at this Islington drinking den. Ask BarChick to book you a table.
6pm – Late// Bookings of 4+ receive free champagne and canapes on arrival// 54 Islington Park St, London N1 1PX
The Vault
Soho's hottest secret speakeasy is locking its doors at 11.30pm and anyone left inside….well we don't exactly know what will happen but we can promise it's going to be epic! So if you fancy sippin' on some of the finest drinks in London in a bar hidden beneath a whisky shop then ask BarChick to get you a table.
5pm – late // The Vault, 3 Greek Street, London, W1D 4NX
Ten Bells
If you fancy a good olde fashioned knees up then get yourself down to this east end boozer. Expect FREE entry before 9pm, FREE bubbles at midnight and FREE food – what's not to love.
7pm – 3am free entry before 9pm and £15 thereafter on the door // Ten Bells 84 Commercial St, London E1 6LY
Loves company
Wave goodbye to a sh*t year (their words not ours) by groovin' to some Motown on the d-floor until the wee hours. And when you've had enough dancing, chow down on some of the free toasties on offer – HELL YEAH!
9pm – late // Loves Company, 104-122 City Road EC1V 2NR
Fanny Nelsons
This banging neighbourhood hangout ticks all the boxes for a laid-back NYE. Whatever you're into drinks wise, the folks at Fanny Nelsons have got ya back. Killer cocktails, local beers and artisanal wines that'll keep even the grape geeks happy, this place screams session. So grab your crew and ask BarChick to book you a table this NYE.
11am – late// 32 Horatio Street, London, E2 7SB
Swift
This hot little bar has just opened and for New Year's Eve they're keeping things chic. Serving up Oyster and bubbles alongside their killer cocktail menu if its sophistication you're after then you've come to the right place. Good thing BarChick can book you a table.
3pm – late // 12 Old Compton Street, W1D 4TQ
Behind This Wall
Anyone without best laid plans for New Year's Eve could do a lot worse than booking a booth at this party basement bar and saying good riddance to 2016 in good company. You can even start your new year's resolutions early by making your way through their botanical and herbal drinks menu – well it kinda has a healthy feel! Ask BarChick to book you a booth.
6pm – late// Basement, 411 Mare Street, London, E8 1HY
The Marylebone
If you're heading central but want to avoid the drunken crowds and queues round the block for McDonalds then take refuge for the evening in this classy joint who a hosting a Gold themed evening – fancy! Themed goodies, special cocktails, resident DJ and all for free. It's going to be a banger. More then 10? Ask BarChick to get you a VIP package.
4pm – late// 93 Marylebone High St London, W1U 4RE
Sager + Wilde
Our favourite hipster hangout is throwing a 90s bash to welcome in 2017. Cheeky Vimtos, Britney and Pork Baps are all on the menu so dig out your bucket hats, crop tops and chokers to fit right in.
11pm until you drop// Paradise Row, 193 Hackney Road, E2 8JL
Hottest parties in town
See in the 2017 in style at the hottest places in town. You'll need to be quick as there are only a few tickets left!
Oriole
Celebrate in style with a classy bash at one of the best bars in the world. There's champagne, canapes, live music – the works. But we're most excited about the celebratory cocktail tasting menu they've created which coming from the world's finest is guaranteed to be killer.
9pm – til late//  Oriole, Smithfield Market, Smithfield Markets, E Poultry Ave, London EC1A 9LH//  Tickets £150 pp include all drinks and food // Buy tickets here 
NOLA
So epic are NOLA's NYE parties that they takeover hotels. This year they're headed to the Courthouse Hotel where they are throwing a New Orleans inspired Masquerade Party – BOOM. It's an all-inclusive affair with the ticket price including as many NOLA Signature & Classics cocktail menu as you can drink – result! Champagne, Canapes, Cocktails and music from the Cash Cows – it's gonna be one hell of a party. Book through BarChick and get a free bottle of Veuve Clicquot champagne on arrival.
9pm-3am// NOLA Courthouse Hotel, 337 Old Street, London, EC1V 9LL// Tickets from £125pp// Buy tickets here and talk to BarChick for free Champagne.
Party hard
Small entry fee = epic parties
The King of Ladies Man
Dig out the disco pants and get practising your Night Fever strut as The King of Ladies Man is throwing a funky 70s party this NYE – BOOM! Expect pink flamingos, gold lame details, 'disco drinks' served to you by hunky Hawaiian shirted bartenders and DJs spinnin' tunes until 3am.
7pm – 3am// The King of Ladies Man, 5-9 Battersea Rise, SW11 1HG// Tickets cost £10 and include a welcome cocktail// Buy tickets here
The Shop
This neighbourhood emporium cum drinking den have got Harry Love hosting their NYE. So head down to this little Kensal Rise gem for a night of killer cocktails and epic tunes.
7pm – late//75 Chamberlayne Road, NW10 3ND// Tickets £10 on the door
Ruby's Bar & Lounge
With music from the fallen greats (RIP Prince and Bowie) and a special f*ck 2016 cocktail on offer, Stokey's favourite drinking den is another bar choosing to throw a good olde fashioned knees up. Open till 4am book your ticket soon as this place is bound to be packed with late night revellers.
9pm – 4am//Ruby's Bar and Lounge, 72-76 Stoke Newington Road, London, N16 7XB// Tickets from £5// Buy tickets here
Barsmith
Prosecco, pizza and all things 80s is on offer at this vibrant Farringdon hangout this NYE. As if donning lyrca and leg warmers wasn't reason enough to hit up Barsmith their resident DJ will be playing 'name that year' to keep party goers entertained. Brush up on the Kylie back catalogue then.
8pm-3am// Barsmith 18-20 St John Street, Farringdon, London, EC1M 4AY// Tickets from £15 buy them here
LCC - Various location
There's no doubt you'll get an absolute NYE blowout at LCC (these guys know how to celebrate). Here's what's going on:
Covent Garden Cocktail Club
It's double party time as it's also CGCC's 8th birthday too, so it's a 'Black Tie and Cocktail Dress' theme. There'll be endless martinis and lots of fun going down at this awesome basement bar.
6-7 Great Newport Street, London WC2H 7JA // 5pm-3am // Tickets £15 on the door // Happy Hour 5pm-7pm; 2 for £12 on ALL cocktails // Complimentary cocktail upon arrival
LCC Shoreditch 
The Shoreditch hangout gets turned into a Gotham City Ball bat cave for the eve- you'll be swinging from the chandeliers 'til dawn.
Unit 12, 29 Sclater Street, London E1 6HR // 5pm – 3am // Tickets £15 on the door // Happy Hour 5pm-7pm; 2 for £12 on ALL cocktails // Complimentary Bacardi cocktail on arrival
LCC Islington
A twisted Masquerade Ball with carved ice, medieval masques and absinthe fountains.
108 Essex Road, Islington // 5pm – 3am // Tickets £15 on the door // Happy Hour 5pm-7pm; 2 for £12 on ALL cocktails // Complimentary cocktail on arrival
LCC Shaftsbury Avenue
A punch fuelled Caribbean knees up, think Pirates of the Caribbean meets tiki- bar. There'll be flowing Reggae Rum Punch and a rum heavy menu all night.
224 Shaftesbury Avenue, London, WC2H 8EB // 5pm – 3am // Tickets £15 on the door// Happy Hour 5pm-7pm; 2 for £12 on ALL cocktails // Complimentary cocktail upon arrival
Hoxton Square and Kitchen
It's Studio 54 theme tonight, so channel your inner Grace Jones / Elton John/ Debbie Harry swagger and get involved. They'll be French DJ/Producer The Reflex on the decks – he'll be pumping out banging disco edits, along with funk aficionado Harry Wolfman.
8pm – 3am // 2-4 Hoxton Square, London N1 6NU// TICKETS: £10 / £15 / £20 – get them here
A party with us
If listening to some serious music is your thang then join these seasoned party pros at the South Place Hotel for a night of heavy dancing. On the decks will be a whole host of familiar DJs from A Party With Us, 12inch & Nixwax. They're even got their sets designed by the peeps who sort out Block9 at Glastonbury Festival – epic.
9pm – 3am// South Place Hotel 3 South Pl, London EC2M 2AF// Tickets from £15 and can be purchased here 
Bottomless NYE
For when you wanna drink the bar dry
Keystone Crescent
This members bar is opening its doors to the cool crowd who want to see in 2017 in a slick and stylish way. No gimmicks or fancy dress themes just epic BOOZE. Of which there will be a lot of…… unlimited in fact – hallelujah! So if you fancy a night of free-flowing drinks at this hidden gem below the streets of King's Cross this NYE then get your tickets here.
8pm-4am // 28 Keystone Cres, Kings Cross, London N1 9DT// Tickets are £95 and include unlimited wines, Prosecco and a menu of six cocktails specially curated for the night//
Fiesta at Mommi
Get an all-in ticket and you'll be tucking into a 5 course menu and unlimited drinks (cocktails, beers, wine and fizz) – this could get wild. Burn off all that booze and food dancing to live DJ pumping out Latino and soul bangers 'til late.
8pm-late // Food only tickets: £65pp, Dinner + bottomless drinks: £125 Per Person. Entry only: £10, get tickets here, or get BarChick Concierge to sort it.
On a high
Catch the fireworks from the best seat in the house
Sky Garden
Dig out your fur and feathers and party the night away against the backdrop of London's iconic skyline at Sky Garden's Great Gatsby themed extravaganza. Expect killer cocktails, delicious food and dancing under the stars with a whole host of live bands and djs.
6pm until 2am // 1 Sky Garden Walk, London EC3M 8AF// Buy tickets here
Theatrical style
Bourne & Hollingsworth's (B&H) Events:
These guys own it when it comes to big party nights. Whilst their house party might have sold out but there is still time to grab a ticket to one of their three epic bashes.
B&H: The Blitz Party
Taking place in a secret air-raid shelter, complete with sandbags, hurricane lamps, reconnaissance maps and blackout curtains, expect a night of live music pumping out remixed 40's classics, prohibition-style cocktails and retro hijinks.
9pm-3am // B1, Victoria House Basement, Southampton Row, WC1B 4DA // Tickets £55  Buy tickets here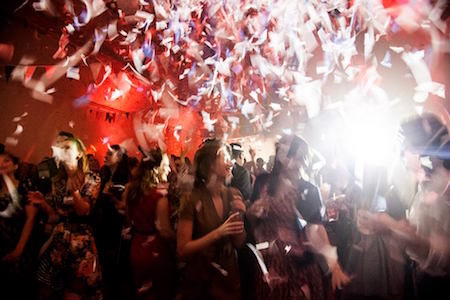 B&H: Dark Circus party
Squeeze into your corset (good luck after Christmas) and run away to this crazy circus party, with epic aerial acts, treacherous trapeze artists, potent cocktails, and surreal, subversive fun. This evening certainly hovers on the kinky side, encouraging the 'thrill of diguise' with masks and costumes, plus there's the promise of 'intimate' curtained areas… hot stuff. So pick a persona and…see you in there?
9pm-3am // The Grand Hall St Pancras, Euston Road, London, WC1H 9AU // £55 entry,Get tickets here
B&H: Prohabition party
Take a giddy trip back to the mischievous twenties, where there'll be hijinks galore, with roulette tables, secret cocktails menus and boozy tipples served in teacups. It'll be a fun-loving crowd, getting fancy-free and footloose to live bands and DJs on gramophones – all in a secret London location.
9pm – 3am // Secret London location, revealed two weeks before the event // Tickets, from £55 - get BarChick Concierge to sort out your booking.
Quaglinos
Don your glad rags and head into central London for a decadent Great Gatsby themed affair at Quaglinos. To kick of the festivities, why not treat yourself to a decadent three-course dinner in their glamourous restaurant or if you fancy a liquid supper then book yourself straight into the bar. Either way stay for the live band and shimmy your way into 2017!
From 5.30pm until late 16 Bury St, St. James's, London SW1Y 6AJ, UK //Dinner tickets from £100, Bar tickets from £50 // Buy tickets here 
Feast
See in 2017 eating food glorious food
Mac & Wild
These strapping Scots are hosting a good old fashioned Scottish knees up, bringing Scotland's best Hogmanay merriments to the big smoke. Lads and lassies will kick off the celebrations by indulging in a hearty Scottish feast washed down with a specially paired Hogmanay whisky flight, or…just stick to the Champagne! Post feat head downstairs for a night of late night entertainment in their whisky den.
6pm – 2am// Dinner tickets start at £49 pp // Mac & Wild 9A Devonshire Square, London EC2M 4YN // Ask BarChick to book you in.
Berber & Q's
Inspired by smoky late night Beirut drinking sessions, Berber & Q are throwing a tasty Middle Eastern feast, along with live DJs playing thumping beats. There'll be oysters and grilled Merguez to start, along with Saffron & Grapefruit mimosas, then on to delicious mezze and towering sharing plates. There'll be flowing Middle East-inspired cocktails all night too and growlers of Berber & Q and CRATE's own brew, along with Moroccan and Israeli lagers on tap all evening baby!
6pm – 1am // 338 Acton Mews, London E8 4EA // Tickets: £69 (+ booking fee). Buy them here. 
You should also check out: