For those of you who don't know about Nightjar, this place came outta nowhere a few years back and blew straight up into one of the best bars in the world. Pow. Edmund Weil was kind of nobody in the bar scene when he set this place up (Edmund who?) but he shot to sucess and now him and his wife Rosie are legends;  running not only this place but nailing it with their awesome new spot Oriole too. Hats off.
When it comes to cocktail menus, they don't get better than at Nightjar. The drinks used to be created by Marian, the oh-so-serious and f*cking brilliant bartender who went all out creative with the cocktails.  He's moved on to his own place The Gibson now so we were pretty excited to see what they had in store next. New Bar Manager Martina Breznanova had big shoes to fill but she's rocking it with her cool exterior, head full of ideas and one of the best bar teams in the biz. Every detail is considered: spices, sweets, infusions, mango butter - you name it, Nightjar will have not only done it, but probably made it in house, on their heads.
Mozzarella in cocktails? Why not. Bee pollen syrup? Sweet. Vessels that have been hand painted by one of the bartender's mother's in Italy? Obviously.
For this new menu they've switched the focus to lighter drinks and are keeping it bright 'n breezy by bringing some sunshine with Tiki style drinks and exotic, tropical flavours. We were first in to check out these killer cocktails this week, hell yeah. Keep your eyes peeled on our Facebook and Insta for awesome videos coming soon too...
Bennett Cocktail
If you're a Gimlet drinker, you're going to be into this. You wouldn't usually expect this kind of smokey chilli blast in a gin cocktail, but it's epic. Bennett was a kick-ass Chilean land owner so the inspiration behind it is all things South American: red hot chilli, Mexican tarragon, corn infused gin, limes and of course - smokey mezcal. These guys have even gone and made their own chilli sweets (think haribo cherry meets fiery jalapeño) to garnish and BarChick's wanting to order them in bulk. The Bennett has got a kick but definitely won't set your mouth on fire because it's the perfect sweet, spicy, smokey mix and is served up ice cold with a rock of ice floating in the middle. Exactly the kind of drink that'll kick off your night nicely.
The Mayflower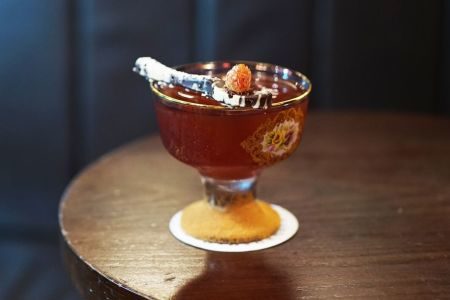 It smells like chocolate, it looks like chocolate, but it doesn't taste like chocolate. Kinda trippy for the senses. OK there's a hint in there but it's actually a fresh and fruity drink, laced with mandarin juice and sweetened up with dill and bee pollen infusions and rose petal infused Hennessy. Nice. Similarly to most of the cocktails on the list, The Mayflower is a reinvention of a classic and this one nods back to the classic from William Schmidt's cocktail book The Flowing Bowl.
Buffalo Fizz
Nothing quite beats a simple Caprese salad: creamy buffalo mozerella, juicy tomatoes, fresh basil… ever fancied drinking one in cocktail form? Probably not. These guys have and it's the most exciting drink in London right now. Inspired by summers in Italy, the ingredients in this long drink taste delicious before you even add booze (hello licking salty mango butter from a spoon). But all things in life taste better with booze and this is no exception. Black Cow vodka is the star of the show, it's a vodka made from milk which gives it that creaminess that makes this cocktail spot on. The mango butter adds a salty sweet edge and the balancing sharpness comes from their homemade Limoncello, because you can't call yourself Italian until you've got Limoncello steeping in your fridge. Your Instagram will thank you when it comes to your table showing off a giant red metallic ball thats actually a sprayed dried lime. Obviously.
Lei Lani Volcano
This drink had us at peanut butter ice. It's a Tiki number and is bringing the party to the new Nightjar menu with all the best things from the exotic beaches you're dreaming about: coconut blossom nectar, cacao butter, banana bread beer (ask nicely and they'll let you try a little - it's delicious), roasted feijoa (our new favourite fruit) and of course a good glug of Havana Club. The serve is as wild as the drink itself with bright flowers and the awesome giant peanut butter ice cube swirling in the middle - and yes, you can lick if you try hard enough.
Cocktail a la Louisianne
Like to keep your drinks stiff? Fan of the Sazerac? You're in luck 'cos this cocktail takes it to the next level. It's inspired by New Orleans, which figures seeing as Nightjar rocks live jazz and blues every night. They've left the celebration of NOLA's musical roots to the stage however and up at the bar they're nodding to its voodoo culture. It's exactly the kind of cocktail you're expecting: Johnnie Walker Gold, Benedictine, orange liquer, their own in-house bitters, a hint of absinthe. What you're probably not expecting however is the cloud of voodoo smoke it's served in the midst of.
Nightjar's voodoo smoke is an aromatic mix of patchouli and Palo Santo smoke, the kind of creepy scent you'd sniff at a voodoo ceremony. The Cocktail a la Louisianne is not only perfectly balanced but it's bloody evocative, and as owners Rosie and Edmund aka. coolest bar-owning couple on the planet will tell you, one sip and you forget how sh*t or stressful your day has been.
We'll drink to that.