Last year, going out in November was literally illegal. This year, there's so much going on it'd be almost criminal to miss it...
NEW OPENINGS
Corrochio's - Open from 27th October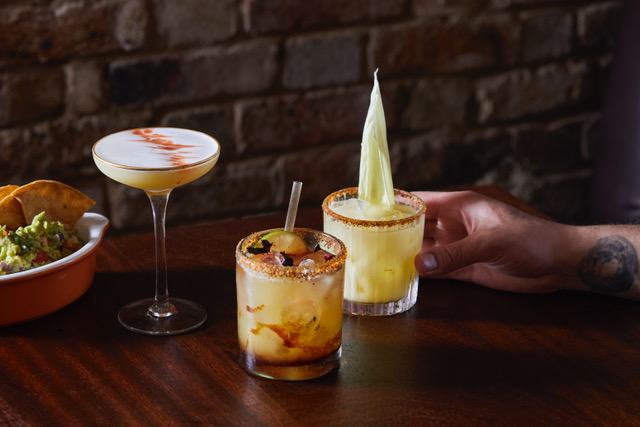 We love us an underground drinking den. Love 'em even more when its filled with our fave Mexican spirits. Corrochio's has arrived at Ruby's in Dalston to rep the whole of Mexico, from our ride or die (tequila) to the lesser-known Mexican heritage spirits like Sotols and Raicillas. Owner Daniel Corrochio isn't afraid of a little experimentation, and he hasn't rushed to get to perfection. Some of the cocktails on this inventive menu have been in development for 5 years. Talk about a process. The result is a line-up of drinks that'll blow your mind, like the Monarca; a concoction of Abasolo Mexican whiskey mixed with Nixta Corn Liqueur, Mole + Hoja Santa Bitters & Cocchi di Torino. Of course, ya can't go ham on the agave without making sure your stomach is prepped first, and amigo: they've got the goods, and it's the real deal. Authentic Mexican food, by proper Mexican cooks. No prizes for guessing where you'll find BarChick this Winter... 
76 Stoke Newington Road, London, N16 7XB | corrochios.com 
The Barbary Next Door - Open from 30th October
The Barbary is getting a little sis, and she's bringing a bit of Spanish sass to the fam. Zoe and Layo Paskin will open the doors to The Barbary Next Door, adjacent to The Barbary (you can see how they came up with the name) in the heart of Covent Garden. In the midst of the colourful Neal's Yard courtyard, The Barbary Next Door will be a relaxed 'hood restaurant and wine bar. She's open from early 'til late, serving a wicked menu that takes its cues from the fragrant spices and smoky flavours of Moorish Spain and North African cooking. The Barbary's head chef Daniel Alt is multi-tasking and taking the helm of this second kitchen, while the kick-ass wine list focussing on Spanish, French and Moroccan bottles is being overseen by wine director and sommelier Honey Spencer.
The Barbary Next Door will open on 30th October 2021. Bookings can be made at thebarbarynextdoor.co.uk. A limited amount of seats for parties of 2 guests are released on the 1st of every month for the following month ahead. But this place is mostly about the walk-ins.
El Norte - Open from 6th November
More Spanish vibes coming to London this November with this wicked opening from Spanish brothers Alberto and Arian Zandi. The fraternal duo from Madrid opened Zuaya - a Latin American restaurant in Kensington in 2018 and Como Garden - an Italian restaurant located next door to its older sibling last year - now it's time for El Norte. This place is a bit of a first for London's Spanish restaurant scene, taking its cues from the country's northern regions with a sharing style menu of traditional Spanish dishes with a modern and luxury twist. Love your Spanish wines? These guys have brought the goods from their motherland, along with a cocktail menu of the classics alongside a few house-made specials.
 19/20 Dover Street, London, W1S 4LU
The Chelsea Pig - Reopening from 11th November
This place is a bit of a Chelsea institution, and it's about to reopen its doors with a fresh new look courtesy of the globally renowned designer, Timothy Oulton. This is the designer's first stab at creating a sick looking space in the hospitality biz, and the result? Wall-to-wall vibes for all five senses, from the handcrafted moonstone bar to the vintage furnishings, and the rich colour palette offset by modern chandeliers. Obviously, the rep The Chelsea Pig has for being a go-to destination for in-the-know locals stays the same thanks to a wicked all-day dining menu that champions all the British faves, and a bar stocked with the usual suspects ready to be made up into any of the cocktails that have been specially curated by Scarfes Bar alumni, GM Michele Ridolfi.  
35 Old Church Street, London SW3 5BS | thechelseapig.co.uk
Dai Chi - Opening date TBC, November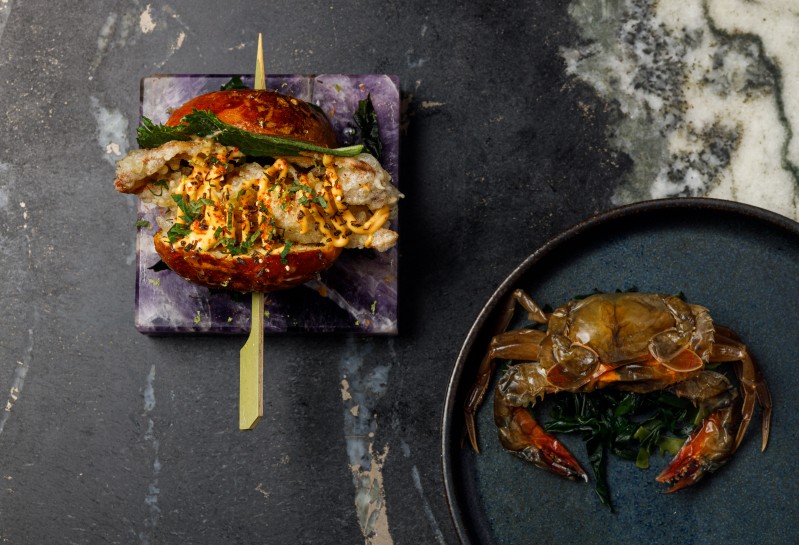 Two things you need to know about Osaka's famous Kushikatsu dining culture: 1. kushi = skewer 2. katsu = deep-fried. Now you know that, you'll know what to expect at Dai Chi, the new restaurant coming to Soho this November from the team behind Angelina in Dalston. This place is gonna be all about exploring the art of deep-frying the highest quality vegetables, fish and meat on traditional kushi skewers - think fried Lotus root, goma and black sesame whipped with tofu & aged balsamic, and Scallop, bergamot ponzu and Exmouth caviar. This Kushikatsu menu will be served omakase-style, a bit like how it goes down at big sis, Angelina. Feeling flush? Flex your plastic with an upgrade to the more complex omakase menu with the addition of boujie Kushikatsu sticks of fried A5 wagyu tenderloin and white truffle, and deep-fried oysters with blackberry & yuzu kosho granita. Credit card bills are future you's problem.
Dai Chi, 16A D'Arblay Street, W1F 8EA | hwww.daichi.london/
POP-UPS
Macallan Manor House at Rosewood London - Open until February 2022
We're donning our dopest tartan and shimmying off to Rosewood London this Winter to immerse ourselves in the land of Scotch at The Macallan Manor House. Created in collaboration with, you guessed it, The Macallan whisky, the space has taken inspo from the rolling Scottish hills of The Macallan Estate. Get ready to pass through the grove of autumnal trees rich with copper tones as you step into this manor house. They've gone ham on the natural foliage and textures for an authentic retreat of highland hues, coppers, driftwood, and deep red tones. Once you're at your seat (decorated with woven blankets for you to get cosy under) it's time to turn up the heat with the unique and interactive tableside Hot Toddy experience that'll have you curating your perfect winter warmer with a selection of The Macallans finest drams. Auch aye!
Rosewood London, 252 High Holborn, London, WC1V 7EN | holborndiningroom.com/theterrace/
Dalloway Terrace Autumn Installation with Telmont Champagne - until January 2022
The Dalloway Terrace goes through more seasonal transformations than the Kardashian clan, but honey, we are here for it. For this year's Autumn/Winter glow-up, they've channelled the sophisticated vibes of Telmont Champagne and British perfumer, Miller Harris to create a dazzling flowering space designed by floral designers Early Hours - the perfect spot for a bit of refined R&R. With a bespoke cocktail menu harnessing Telmont's ancestral 'je-ne-sais-quoi'; and names with a Miller Harris scent in mind, the cocktails created by General Manager Giovanni Spezziga are a vibe, including The Rose Silence; a decadent and rich serve shaken up with The Botanist Islay Dry Gin, Muyu Jasmine Verte, Telmont Grande Reserve Brut, freshly squeezed lemon and egg white. Sounds like the dream accompaniment to the terrace's elegant and deliciously fragrant afternoon tea if ya ask us.
16-22 Great Russell St, London WC1B 3NN | dallowayterrace.com/
Flat Iron Square x Bulleit Whiskey Frontier Bar - Until 14th November
Looking for a hit of that Southern charm this Autumn? Swing by Flat Iron Square for a true taste of 'Murica at the Bulleit Whiskey Frontier Bar pop-up. They've got epic cocktails, live music and a line-up of wicked interactive experiences involving more Bourbon than a Mississippi knees-up. Sign yourself up to one and you'll find the amber stuff paired with three delicious dishes and the Bulleit Frontier Workshop which'll mix up the worlds of cocktail creation and leather craftsmanship. Yeah, you read that right. Split into three parts, you'll get a killer whiskey tasting, an Old Fashioned Cocktail making class and an opportunity to create a unique leather coaster. Alongside all of that, there's food from Flat Iron residents and chicken connoisseurs, Mother Clucker. Bring it on.
53b Southwark St, London SE1 1RU | Sign up to a workshop here.
Casa Tulum at Hush Mayfair - until 30th November
Cool ocean breeze, palm trees & an ice-cold tequila cocktail in your hands. Nope, you're not in Mexico; you're in Mayfair, & this escape to paradise comes without the 11-hour flight! Bingo. THIS is Casa Tulum, hun - the tropical Autumn takeover of HUSH's terrace with PATRÓN & Two Keys mixers. The Hush bar team has created a bespoke menu of delicious serves celebrating Mexico's national distillate, like the frothy Agave Ramos, a tall shake-up of PATRÓN Añejo, citrus, agave, cactus, vanilla, egg white, cream & Two Keys Pink Grapefruit, as well as, of course, 2021's trendiest cocktail of the year - The Paloma - all waiting to help transport ya to tropical climes as summer in the capital exits stage right.
8 Lancashire Ct, London W1S 1EY | www.hush.co.uk/casa-tulum
Coravin Wine & Bubbles Bar - open from 2nd November until January 2022
Raise ya hands if you've ever looked at a swanky wine list and found yourself fancying a glass of something baller only to find that its only available by the bottle and cost more than your monthly rent? HOLLA. Well vinophiles, this pop-up from the wine preservation legends, Coravin, is gonna be your jam. This 3-month long pop-up is the very first wine bar and retail pop-up from the brand that specialises in the wine-by-the-glass concept. The Coravin Wine & Bubbles Bar will feature the longest list of sparkling by the glass in the UK, with over 50 choices of Champagne and English sparkling available, and every vino on the 300-strong list will be available by the glass, including some of the world's most sought-after bottles, with glasses ranging from £8 to an eyewatering £850. One for the company card, we reckon.
4-7 Lancashire Court, London, W1S 1EY | www.coravin.co.uk/winebar
Market Halls Fulham weekly event series - ongoing
Market Halls Fulham has a social diary almost busier than BarChick's this Autumn. They've launched a line-up of unmissable events, from live music sessions to family movie mornings. Mondays are gonna be carefree for the foreseeable, with 2 for 1 pitchers of beer from lunchtime 'til close & giant 20inch wood-fired pizzas from Made of Dough, while Wednesdays are all about wellness. For some that means wine, for Market Hall that means classes from Move Studios in partnership with wellness brands such as Lululemon. Then it's all about beats and booze on Thursdays with drinks deals, live music and a monthly open mic night. See ya there.
472 Fulham Rd, London SW6 1BY | www.markethalls.co.uk
Wild Monkey Pop-Up Gin Bar - Open Thurs-Sat until March 2022
We love Monkey 47. I mean, what's not to love. There's a lot going on in that little bottle, and they haven't plucked the 47 out of no-where, ya know. Nuh uh, honey - this gin comes in at a punchy 47% ABV, and there's a pretty hefty chorus of 47 different botanicals bringing all that mightily flavour. Sound epic? Course it does, and this winter they're bringing a wicked Monkey 47 Gin experience to London in partnership with Waldorf Hilton. Wild Monkey will be a next-level gin pop up bar offering decadent cocktails and a series of Wunderbar experiences to immerse yourself into the world of Monkey 47 Gin. Learn everything ya need to know about this adventurous brand whilst sipping on three new Monkey 47 cocktails: Monkey 47 Sonic, Bees Knees and The Martini. Sounds like the perfect way to take the load off after a bit of Central London Christmas shopping if ya ask us.
Waldorf Hilton Hotel, 45 Aldwych, London WC2b 4DW | Masterclass held on 10th and 24th November & 8th and 15th December 6:30pm-7:30pm and 8pm-9pm. Tickets available for £25pp here 
New & limited edition MENUS
Whisky Dinner at New Street Grill - 4th November
When the nights get colder, we're all about warming ourselves up with a dram or three. For one night this November, the Bengal Bar is making the most of its Autumn partnership with Jameson Black Barrel and The Glenlivet, and hosting an exclusive seasonal whiskey dinner at the New Street Grill presented by each brand's respective ambassadors. Starting with a welcome drink at the door and an amuse bouche as you take your seats, it's then onto a delicious three-course meal that will feature clever whisky infusions such as Glenlivet 15YO aged Tartare of beef fillet, black truffle and crackers; and Jameson cured River Itchen salmon, pickled fennel and cucumber, all boasting warming and autumnal flavours throughout. Each course will be accompanied by a dram that has been specifically chosen to accompany each dish.
16A New St, London EC2M 4TR | £120 per person | Book here 
Limited Edition The House of Creed Collaboration at St James Bar - from 5th November
We are massive fans of the Imagination menu currently blowing the minds of drinkers at the St James Bar. The exciting, playful and impressive drinks list has seen the crew take their creativity to a whole new level, and now it looks like their imagination knows no bounds as they've added a few additions to the menu with a limited-edition collaboration with The House of Creed. The three new carefully crafted signature cocktails have been inspired by the iconic Creed fragrances; Aventus, Silver Mountain Water and Green Irish Tweed using innovative experimental techniques to formulate a bespoke menu that brings the scent of the fragrances to life. WOW. Wanna immerse yourself a bit further? A private consultation can be arranged pre or post your visit to The House of Creed x Sofitel St James collaboration at the Creed boutique. 
6 Waterloo Pl, St. James's, London SW1Y 4AN
Skylon's Martini Menu with Cambridge Distillery - Available until 15th November
James Bond season is officially here and that means only one thing, baby: Martinis. Inspired by the latest blockbuster, the renowned Southbank bar Skylon has launched a Martini menu with 'The World's Most Innovative Distillery', Cambridge Distillery. Consisting of three delicious cocktails, with names inspired by 007, all include a different gin from Cambridge Distillery's portfolio. Bond isn't one to shy away from that baller lifestyle, so the No Time To Die, made with Cambridge Truffle Gin created using Piedmont truffles, seems to hit the right kinda luxurious notes the secret agent is accustomed to, while the Martini Royale tips its hat to Bond's globetrotting ways, made with Cambridge Japanese Gin - the first gin distilled purely from Japanese botanicals to complement the Juniper.
Belvedere Rd, Royal Festival Hall, London SE1 8XX 
The Cheese Bar x REAL Kombucha Pairing Menu - Tuesday 9th November
We all know cheese and wine go together like Ant & Dec, but hey, it also bangs with kombucha, and we can prove it. For one night only, The Cheese Bar in Seven Dials Market (AKA the world's first ever conveyer belt cheese restaurant) is hosting a special pairing menu of epic cheeses with award-winning premium kombucha brand REAL. The menu will showcase a selection of 6 British Cheese plates with individual condiments, each one expertly paired with a pioneering non-alcoholic tipple. REAL aren't just keeping the non-alc glory to themselves though. They're also championing other bad-ass non-alcs, including Domaine des Grottes 'L'Antidote', Big Drop Brewing Co's 0% IPA and Cult Jar Shrubs. Of course, you'll be getting plenty of their signature pours: Dry Dragon and Royal Flush. Experts from REAL and The Cheese Bar will be on hand to talk you through the pairing notes for each course. So let's skip the hangover and raise a glass to the city's best dry drinks!
Seven Dials Market, Short's Gardens, London WC2H 9AT | www.exploretock.com/thecheesebar | A £10pp deposit is required for bookings, which will come off the bill on the night. 
Autumn Tales menu at 108 Brasserie with Alex Monroe - available until the end of November
To celebrate the launch of jewellery designer Alex Monroe's brand-new 'Fables' collection, 108 Brasserie is introducing a colourful new 'Autumn Tales' cocktail menu; and they've turned to Aesops fables for inspiration. The drinks are bringing tradition and legend with a delicious twist, and they're all non-alcoholic, made with the pioneer of the non-alc spirit world, Seedlip. Linking to Alex's new collection, which references vine leaves twisting around Grecian columns, the over-confident Hare and the patient, determined Tortoise, and the wise horned Mountain Goat who tricks a cunning Wolf, the drinks make use of Autumnal fruit syrups, utilising surplus fruit and will infuse each of the expertly created cocktails including figs, blackberries and Clementine oranges.  
108 Marylebone Lane, London W1U 2QE | 108brasserie.com/
Wild Turkey Thanksgiving - 24th November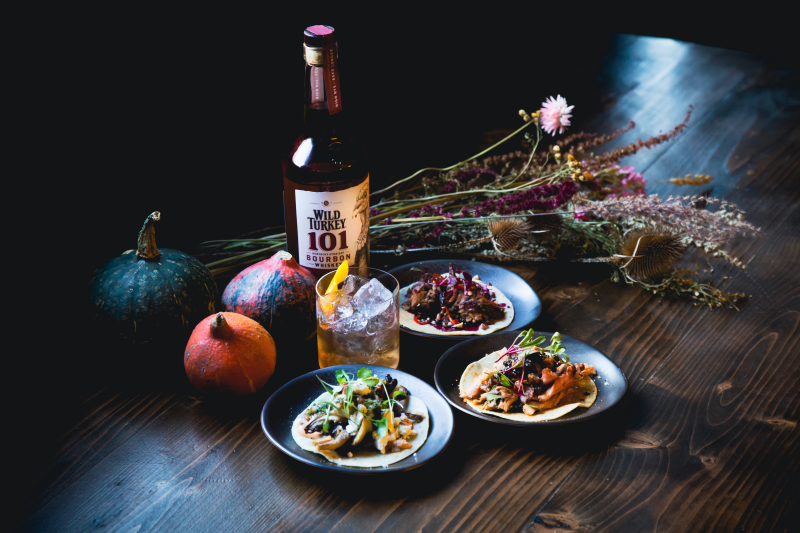 This year Hotbox is going all out for Thanksgiving on Wednesday 24th November (yeah, we know that isn't actual Thanksgiving, but hey, this is an American holiday so let's chalk it up to the time difference) with a delicious one-night-only festive menu in partnership with Wild Turkey Bourbon. The menu, crafted by chef Lewis Spencer, has given the "Turkey Day" festivities a Hotbox twist. We're talking Turkey and Suckling Pig Tacos, Chargrilled Pumpkin and Smoked Wagyu Brisket, and delicious sides like Macaroni Cheese and Skillet Corn Bread. To wash it all down, the Wild Turkey Thanksgiving Pumpkin Spiced Old Fashioned will bring warming, autumnal vibes to the meal.
Tickets cost £50 per person, including 2 cocktails, a starter, a main and a side. Tickets can be booked here.
Thanksgiving at Joe Allen - 25th November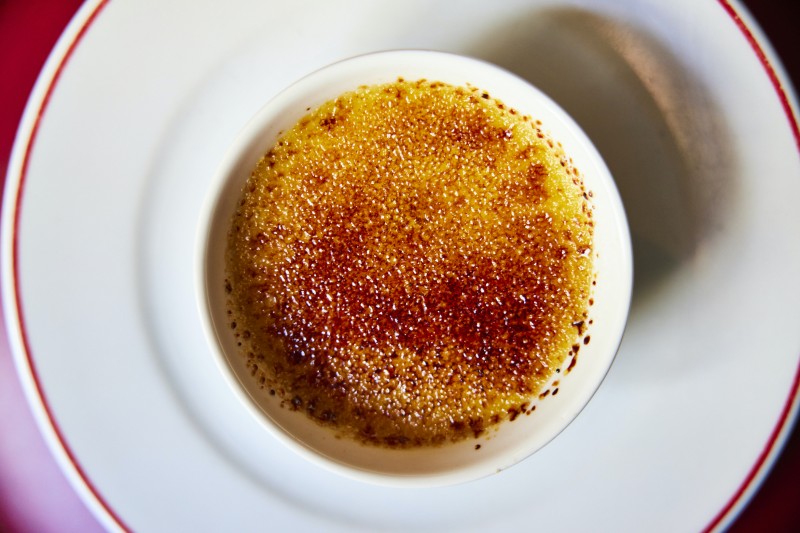 It's time to dig out those elasticated waistbands and stock up on the Rennies. The biggest, most indulgent American holiday of the year is on its way. This year we're thankful for legally being able to leave the house, and for Joe Allen, the American Brasserie and theatreland institution, that is embracing its New York roots and hosting a one-night-only Thanksgiving celebration, serving an all-American feast in the heart of Covent Garden. Get ready to chow down on bowls of creamy sweetcorn soup served with warm, homemade cornbread muffins, and a sumptuous roast turkey complete with all the trimmings The holiday obvs wouldn't be complete without the nation's favourite fall flavour, which will be featuring in the form of Joe Allen's Pumpkin Crème brûlée.
2 Burleigh St, London WC2E 7PX | joeallen.co.uk