Each month that lovely lot at olive Magazine, aka the gurus of all things food, bring you a spankin' new series about the best places to get your boozy lunch on in the capital. The ultimate food porn, olive is to food what BarChick it to booze, so if you're as into your sushi as you are your Sweet Manhattans, you should probably check out their Facebook page.
TOP 5 BOOZY LUNCHES IN 2013
Why isn't this place rammed every service?  It's right in the thick of things (just off Leicester Square), has cooking pedigree and talent in spades – chef Tom cooks seasonal British ingredients with a trend-conscious, Scandi-esque touch. There's a stylish bar upstairs, and as it's in the hotel of the same name, you can stay the night too.
1 Leicester Street, London WC2H 7BL
Otto is the owner and host and he'll greet you with a Kir Royale and the promise of fantastic French food such as Poularde de Bresse with black truffles. The quirky, slightly down-at-heel décor only adds to its appeal and there are brilliant deals at lunchtime.
182 Gray's Inn Road, London WC1X 8EW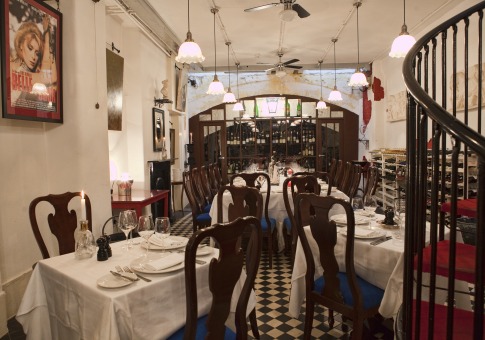 Specialising in dishes from Liguria and Piedmont and run by an ex-lawyer and rugby player (the 20-something chef/owner), this Kensington restaurant isn't flashy in any way but has brilliant, thoughtful service and fantastic pasta (trofie with pesto in particular). The name (a-choo-gah) means anchovy.
343 Kensington High Street, London W8 6NW
In Bruno Loubet's impressive open kitchen there's a focus on making veg the star of the show, but dishes like buttermilk cauliflower with duck heart are good for meat lovers, too. Tony Conigliaro set up the bar – complete with a genius cocktail 'pram' that's wheeled across the huge converted granary when you fancy a digestif.
1-3 Stable St, Granary Square, London N1C 4AB 

Photo credit: Amy Murrell
Damn it, no way can we get a table before 9pm, but you can see why: brilliant cocktails, friendly, good-looking staff, massive hunks of meat (8-hour bacon ribs, beef short rib with kimchi) and the world's best canapé: goat's butter and anchovy crisps. The Col Fox's Lowdown is our top choice on the cocktail list.
69-73 St John Street, London EC1M 4AN