BarChick is a massive PingTron fan (arguably the biggest) and actually pretty damn good at it. Anyway the good news is they have a brand spanking new residency at the all new and improved Westbourne Studios Club which opens its doors on Friday 19th October. Not only will there be UV ping pong there but there are rumours of hot roller girls and UV cocktails. Wooohooo.
Built in 2002, Westbourne Studios was named "the most interesting internal space in London in the last decade". We're not sure who decided this was the case but it could well be now they have PingTron in the house and now that naughty DJ Seb Fontaine is in charge of the parties.
Yes there's a cinema there, yes there's a siiiick sound-system (for you geeks it's a Funktion-One Res 5 speaker). Then there is a new drinks menu from some ex-Home House dudes. It closes at 3.30am, which is one of the latest licenses in West London, so I guess we'll be seeing you all there. Sure it's a members club, but find one in the queue, or just pay a little extra on the door.
Alternatively you could win our competition, we have 2 memberships to give away to 2 lucky people. All you have to do is tell us who you would give the second membership to and why you both deserve it? Send your answers to pickme@barchick.com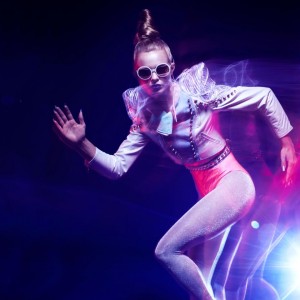 Photo credit: Shara Hayz sharahayz.com