From beers in a ball pit, to drinks in a bondage room and bubbling cocktails out the back of an RV van, put these insane bars on your London hitlist.
Need help getting in? Message BarChick and we'll sort it
1.Ball pit bar - BalliBallerson
Take a dip in this chest-high ball pit while knocking back retro-themed cocktails using Wham Bars, Dip Dabs and Pink Shrimp Foam. There's food too - all strictly ball related, with meatballs and deep-fried cheese balls.
79 Stoke Newington Road, Dalston, N16 8AD
2. Party in a 1940's tube train - Cahoots
Get aboard this underground booze train, once an air raid shelter, now home to a 1940's tube carriage. Cocktails are garnished with peardrops and crumbled Oxo cubes, served up in teacups, Thermos flasks and milk bottles. There's a ration on seats - so make sure you snap one up. Message BarChick and we'll book you a spot.
Carnaby Street to Kingly Court, London
Head to this RV van, hidden down a Shoreditch backstreet, and you'll find yourself doing science experiments to create insane bubbling and magical taste-changing cocktails. Pull on a yellow jumpsuit and get involved. This place is hot stuff yo, so message BarChick Concierge and we'll save you space in the van.
The RV, Cleve Workshop, Boundary Street, E2 7JD
4.Secret bar behind a wardrobe - Callooh Callay
It's all surrealist chic in here with an eclectic decor, mismatched furniture, vintage light fittings, and bathrooms plastered an 80's style old-school cassette mural. Head upstairs and step through the wardrobe, OMG there's a bar behind the wardrobe! (Do say this, the staff aren't bored of it at all). Avoid date-night disaster and get BarChick to book you in.
65 Rivington Street, London EC2A 3AY
Drink Shop Do is literally the home of adult entertainment. No this isn't a sleezy sex den, but rather a café by day, drinking den by night that has an ever-changing monthly calendar of awesome events! From Jenga dating (speed dating whilst playing speed Jenga - obvs) to cross stitch classes, screen printing to Beyonce dance classes, Londoners need never be bored again.
9 Caledonian Rd, London N1 9DX
6. Book your own private igloo - Coppa Club
Rent out a lantern-lit (heated) glass igloo overlooking Tower Bridge and watch lit-up ships cruise by, while sipping on cocktails, while in-built speakers pump out funk, soul and jazz. Ooh yeah.
3 Three Quays Walk, Lower Thames St, London EC3R 6AH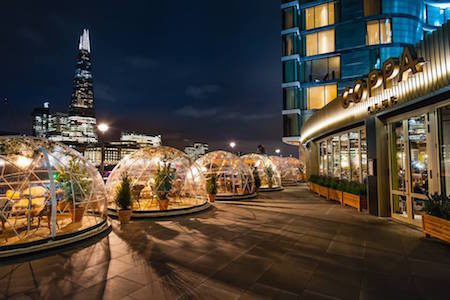 7.Drinks in an old mens' toilet - Cellar Door
Stroll down the stairs of this old men's public toilet and you'll find this snug low-lit booze den where it's all about the live acts, drag queens and killer cocktails. Get in on the action - book a space with BarChick Concierge.
Zero Aldwych, London, WC2E 7DN
8.Retro acade bar - The Four Quarters
If you're in need of a retro hit, head to Peckham's first arcade bar. Rock up at the Pac Man machine and pretend you're 15 again.
187 Rye Lane, Peckham, London SE15 4TP
9.Cocktails in an ice cave - Ice Bar
One of those things you've just got to do once - don a cape and spend 40 mins in a faux ice cave, gawping at carved ice sculptures and drinking brightly coloured cocktails served out of carved ice. You might not be rushing back every week, but you'll come out with some cool snaps - P.S remember appropriate shoes (BarChick learnt the hard way).
31 Heddon Street  City of Westminster, W1B 4BN
10.Cocktails and acrobats at Aeronat's circus bar
Lug yourself to Acton - it'll be worth it, this wild bar feels like you've just stepped into a circus, with a big top-style ceiling and a glowing Dodgems sign. There's crazy live performers and other hijinks - pow! Nab a spot in the front row - hollar at BarChick and we'll book you in!
264 Acton High St, W3 9BH
11. Bric-a-brac 'n booze - Little Nan's
In this secret basement bar, crammed with all sorts of kitsch memorabila, from Queenie Elizabeth cushions, rocking horses and cuddly toys a-hoy. Set against a backdrop of dangling foliage, sip cocktails in teacups while you take in the insane surroundings.
Various locations:
Arch 14, Deptford Market Yard, Deptford, SE8 4BX.
The Basement at The Golden Anchor, 16 Evelina Rd, London SE15 2DX
The Basement, The Rio Cinema, 107 Kingsland High St, Dalston, London E8 2PB
12.A bar through a detecive agency- Evan's & Peel
Ring the doorbell and you're buzzed in, down to the detective's office, where you spin him a tale about your unsolved case. The detective will talk you through it, then he'll turn to the bookcase, and up it opens - a secret passage into a huge hidden speakeasy. Mouth = drops. Book your appointment with Mr Peel, (luckily BarChick knows him personally, so drop us a message and we'll sort it out).
310c Earls Court Road, London, SW5 9BA
13. Forest Room at Red's True Barbecue
Not many are in the know, but head down the stairs at rib joint Red's True Barbecue, into a weird David Lynch-style corridor - carry on down until you real this epic secret bar. Based on the secret prohibition moonshine drinking sessions that used to take place in the woods, this bar is like a forest on a starry night with a tree plonked in the middle... coming out of a piano. Just surreal.
54-56 Great Eastern St, Shoreditch EC2A 3QR
14. Drink in a bondage room - Ninety Eight Bar & Lounge
But this is where it gets really trippy. Head down the spiral staircase, into a room that's like Willy Wonka on acid, with bubblegum machines, and toys stuck on the wall. Wander through into the other rooms and it gets weirder - to the bondage room where everything (except you) is covered in bandages, from the tables, to the chairs and the walls. Maybe a bit too weird for a first date. Whoever you're taking, make sure there's space - get BarChick Concierge to book you in.
Morrell House, 98 Curtain Road, London, EC2A 3AF
Like a crazy house party, pass the pile of shoes at the door where it's all kicking off. There's sofas and bric-a-brac everywhere with a real rowdy vibe - get stuck into one of the huge punch bowls and dive into the fun.
68 Notting Hill Gate, W11 3HT
16. Victorian gin parlour - Worship Street Whistling Shop
In the depths of Shoreditch you'll find this hidden Victoria gin parlour. All candlelit, with a street lamp in the middle of the room, it's like you've time travelled. They've also got a cocktail lab, where they mix up all sorts of crazy boozy concoctions (expect lots of dry ice, smoke and fire). They also have an awesome little room you can book, complete with your own booze cabinet - get BarChick Concierge to book it for you.
63 Worship Street, London, EC2A 2DU
17. Beautiful forest bar - The Glade Bar Sketch
Like the rest of Sketch, this bar is totally OTT and pure escapism - with beautiful Renaissance style trees painted on the walls, a branch chandelier and bamboo chairs. Oh and then there's he legendary Sketch toilets are space-like egg pods. This place!
9 Conduit St, Mayfair, London W1S 2XG

You might also wanna read:
Awesome secret bars you've got to try