It took a break-in to the Santa Teresa Rum Distillery in 2003 for CEO Alberto Vollmer to realise that the only way of protecting his 200 year old business from the bad boy gangs that surrounded it was to get them involved. Way easier said than done but this is what kick-started The Alcatraz Project, a rehabilitation project that uses rugby to demonstrate discipline, honour, resilience and teamwork. Today the project is helping around 200 ex-gang members and the Alcatraz rugby team is one of the top rugby teams in the country. The power of great booze!
So with the Rugby World Cup in full swing (18th September – October 31st) Santa Teresa are bring their love of rugby and rum to a cocktail bar near you. Sadly they're leaving the gangsters back home.
The Deal:
- Each bar involved will be serving a special Santa Teresa cocktail
- Each cocktail ordered will get you points on your loyalty card (just ask for one) that you can use to get free stuff.  The more mates the quicker the points basically!
5 points = key ring/stressball,
10 points =Mini football,
20 points = Alcatraz rugby team polo shirt.
Want in on being a team player? Some of the bars will have life size cut outs of some of the Alcatraz Team. Stick your head in whole, get a pic taken and hashtag it #rugbyrum to win Rugby World Cup prizes and a bottle of Santa Teresa Gran Reserva.
Here's where to get involved:
About as much a sports bar that BarChick likes them to be; live sports, a bit of soul and not too focus on the TV so that the vibe, drinks and food don't meet the best standards.
ORDER:TBC
The Rum Kitchen Notting Hill and Carnaby Street
Well known for their rum and Caribbean vibes you may or may not be surprised to know that these guys will be showing their sporty side with screenings of the games. Whilst you're here hit the food menu too, they do a mean jerk chicken wings and get the rainbow salad in if you want your five a day.
ORDER: El Alcatraz de mi Mente made with Santa Teresa 1796, ginger, pineapple, maple syrup, lemon Juice, Orinoco Bitters and topped with ginger ale.
The Black Dog bars give out good nights like pros. The little sister of the original Black Dog Ballroom has everything from a roof terrace, extensive cocktail list and basement bar for wicked club nights. Most importantly though there is a big screen for the games so order a hotdog, Santa Teresa cocktail and grab a seat!
ORDER: Santa Teresa Smash made with Santa Teresa Claro, lime juice, passion fruit, apple and pineapple.
About a 2 minute walk from Kings Cross station, this place is always packed and always vibey. A converted Victoria Pub it also has a roof terrace upstairs which is open all year around. Great spot to come hang before/after catching a train… or any other time for that matter.
ORDER: A classic Mojito alongside our twist on the classic cocktail 'Koko Mojito' a blend of Santa Teresa golden rum, coconut rum, lime juice, coconut syrup, mint and coconut bits.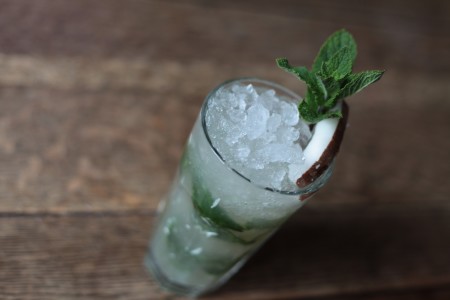 Not up for watching the game but still want in on all this Santa Teresa action? The Barrio bars won't be showing the Rugby but will be serving up the special Santa Teresa cocktail just the same.
ORDER: Rumshakle made with Santa Teresa Gran Resserva, Crème de Peches, Orgeat, Lime Juice, Pineapple Juice and Angostura Bitters
Out of all the Barrios this is where you'll find BarChick, mostly because it's a two minute walk from HQ but also because the psychedelic Latino playground gets us going. Dodge the standard Shoreditch crowd and head for a pagoda style booth and kick back!
ORDER: Rumshakle made with Santa Teresa Gran Resserva, Crème de Peches, Orgeat, Lime Juice, Pineapple Juice and Angostura Bitters
Union Bar & Grill -Paddington, Chiswick and Regents Sq
These going are really going for it with different burger toppings for each of the 20 competing countries, all servings will be coordinated with whatever team is playing, natch. Hit the English Stilton Burger like a loyal fan and wash it down with a Mauling Mule Santa Teresa cocktail that will be one quid cheaper around every game time. They even serve The Captains Brew cask ale from The London Beer Factory that's been made with Chris Robshaw (England Captain)'s help. All this with a canal side view (Paddington/Chiswick) and banging food.
ORDER: Mauling Mule a large Santa Teresa Reserva golden rum poured over ice, topped with ginger beer & 2 large squeeze of fresh lime for £7.50. Around game time the price will go down to £6.50 so time it right!