September is here (already!?) and it's packed with all the goods.
September = all the back-to-school vibes. Instead of buying ourselves new notebooks, we'll be checking out these killer new menus, awesome new openings, and all the pop-ups in between.
What's On:
Champagne & Oysters at Churchill Bar & Terrace - Throughtout September
Can it get any better than Champagne and Oysters? Not if you're trying to live that boujie lifestyle which yeah, we're kinda partial to. For the whole of this month you can get this decadent double act at the Churchill Bar & Terrace, and it's not just any champagne and oysters. It's Telmont Champagne, with its rich, fruity and fresh feel on the palate, and eight of the finest British Oyters you could ever dream to knock back. Whether you're soaking up the Indian Summer sun on the terrace or swerving the latest downpour in the bar, this is how to live your best life in Marylebone this month.
Includes a bottle of Telmont Champagne and eight British oysters for £100, four Oysters and two glasses of Telmont Champagne for £46.
Black Cow Saloon 3rd-5th September
Saddle up, gang, cos there's an awesome weekend of boozy campsite vibing going down at the Black Cow Saloon AKA the 3-day festival of music, DJs, killer food and more vodka than a Russian wedding returning to Dorset the first weekend in September. Expect a killer line-up of live performances from musicians spanning genres, as well as DJs until the early hours. Add poetry from Murray Lachlan Young, food offerings from Mark Hix & Willie Harcourt-Cooze, and a fashion pop-up from Alice Temperley into the mix and you've got a weekend you won't wanna miss. Looking for BarChick? You'll find her at the Black Cow Espresso Martini Sidecar getting buzzed on the good stuff.
Weekend tickets including camping (tents, motorhomes, or campervans), parking, booking fee, and VAT are £75 per person. Available from blackcow.co.uk. Seaborough, West Dorset, DT8 3QY
Everleaf x Nomadic Dinners - 5th September
If you go down to a secret wooded North London location this September, you're sure of a magical surprise as Everleaf, our fave non-alcoholic aperitif, is partnering with Nomadic Dinners to host an exclusive outdoor dining experience. They've taken inspo from nature for the lunch which will be held in Nomadic's extraordinary hidden forest, so if you're looking to escape and reconnect with the natural world whilst enjoying an expertly curated menu cooked over live-fire using wood harvested from the surroundings THIS is gonna be your vibe. Your ticket will get ya a botanical welcome drink and a foraging tour followed by a three-course meal around a large woodland table upcycled from a fallen tree, finished with toasted 'mallows and herbal teas by the fire. Love it.
Tickets can be purchased from Everleaf's website for £99. 
Nuet Smörgåsbar at Callooh Callay - 8th-12th September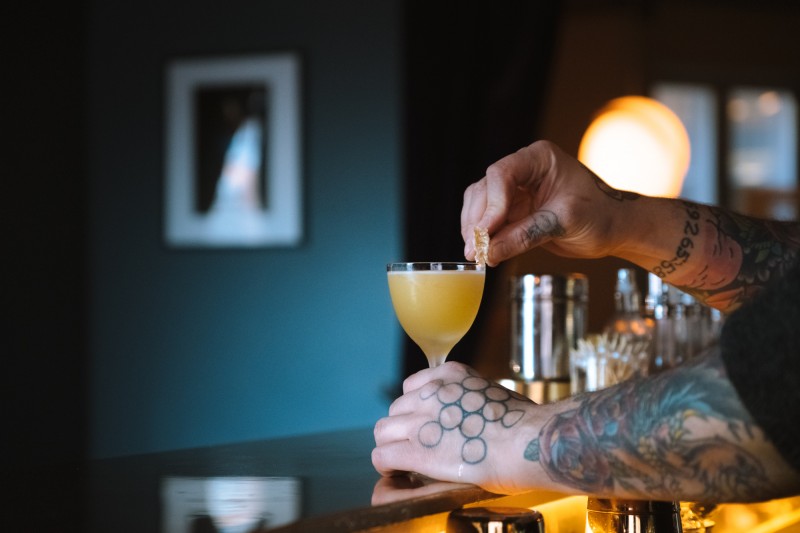 A retro Scandi cabin filled with vintage skis, sheepskin rugs and fire lanterns hidden behind a wardrobe at the back of a v. cool bar? Sounds like an adventure we wanna go on. This September, the Scandi Aquavit brand, Nuet, are hosting the Nuet Smörgåsbar pop-up at Callooh Callay, Shoreditch. The kick-ass CC bar team have been experimenting with the Scandi-spirit and they've come up with a versatile and unique menu of seven different and equally moreish Nuet serves to enjoy while you bunk down in their cosy cabin. See ya there.
Callooh Callay, 65 Rivington St, London EC2A 3AY
Hoppers Adventures of Arrack Dinner Series - 8th / 29th September
How much do you know about Sri Lanka's national spirit, Ceylon Arrack? A little? A lot? Never heard of the stuff? Whichever one you answered, you're gonna want to hit up one of the 'Adventures of Arrack' dinners taking place on the beautiful outdoor verandah terrace at Hoppers King's Cross this month. This four-course dinner of epic Sri Lankan dishes is paired with a collection of bad-ass Ceylon Arrack cocktails (plus a goodie bag to take home) making it the perfect intro to one of the oldest distilled spirits in the world. Bring on the education, baby.
Event starts at 6:30pm. Tickets available to grab here for £70pp. Hoppers Kings Cross, Unit 3, 4 Pancras Square, London N1C 4AG 
Mexican Independence Day at Barrio Shoreditch with VIVIR Tequila - 16th September
Remember Sunny D? Course ya do. How could you possibly forget that teeth-fuzzing sweetness of your childhood! Well if you're craving a hit of that sweet, sweet nostalgia, hit up Barrio Shoreditch this month when they'll be celebrating Mexico's independence with an entry-free party featuring the mariachi beats of Mariachi Loco and a DJ set from DJ Limão, as well as the launch of its limited-edition cocktail, Sunny B. Unlike the original, this one is laced with a more adult friendly ingredient: tequila, baby! The Sunny B mix of VIVIR Blanco, Watermelon puree, orange juice & lime and will instantly transport your taste buds to warmer climates (but if ya want the real deal, check out the comp they're running to win a trip to the Four Seasons Mexico!)
Free tickets for Barrio's Independence Day party on Thursday 16th September are available from barriobars.com. Limited edition Sunny B cocktail available at all Barrio sites from Thursday 16th September.
Sweet & Sparkling at Swift Shoreditch - 18th September
Pastries and Champagne? Turns out they're not just for a boujie breakfast in bed, which is good news for everyone. For one Saturday in September, Bar Swift's Shoreditch based sister is hosting a sweet collab with micro-patisserie, Abi Pastry and Perrier-Jouët Champagne. Head there from midday and pick up a chilled glass of Perrier-Jouët Champagne and an extra decadent dark chocolate bonbon filled with Lillet Rouge caramel ganache & a pink grapefruit and blood orange pâtede fruits. Ooh la la. The full menu includes three delicious Perrier-Jouët Grand Brut cocktails curated by Swift and paired with Abi Pastry's petit gateau.
Tickets are priced at £55 for sessions at 12pm and 2pm and are available from here. 91-93 Great Eastern St, London EC2A 3HZ
Oktoberfest "Wunderbar" at Pergola Paddington - 18th September - 31st October
Strike up the Oom-Pah band, dust off ya dirndl and get ready to leap into your lederhosen, lads -  Pergola Paddington is bringing you 'Wunderbar'; a horn-blaring, stein-sloshing Bavarian knees-up that's gonna be the next best thing to being in Munich this September. This colourful Oktoberfest transformation is gonna see this rooftop canteen made-over into a majestic communal beer hall, festooned with rich reds and greens, bursting with flower-laden barrels and filled with happy people (that'll have something to do with the real German beers, delicious Bavarian food and a hearty helping of 'Gemütlichkeit' AKA that sense of comfort, warmth and wellbeing you can only get belting out Sweet Caroline amongst friends.) Over the 6 weeks of festivities, expect parades, bottomless brunches, Gingerbread House building, a 'Pink' Oktoberfest party and even the chance to be crowned Beer King & Queen of Wunderbar. Ist gut ja? 
Tickets start from £10 and include a beer stein or cocktail.  Pergola Paddington, 4 Kingdom St, London W2 6PY
POP-UPS:
PRINT HOUSE X MEZCAL VERDE - Fridays & Saturdays through September
Dreams of a Mexican getaway been scuppered? No es problema – Stratford's actually where it's at this Autumn. Hadn't you heard? Home to East London's largest al fresco terrace, Print House Bar & Kitchen is Stratford's best-kept secret, although it seems like someone blabbed cos now they've collabed with the coolest name in mezcal to create a summer pop-up well worth travelling for – and it's too good not to shout about. Introducing Print House x Mezcal Verde, the pop-up transporting ya to Oaxaca with live music and a specialist Mezcal menu, plus buff cocktails created by Enrico Gonzato that showcase the Mezcal Verde range and versatility, including the Fire & Brimstone – a fiery blend of Mezcal Verde, Cointreau, lime, agave, jalapeño and fresh coriander; and the refreshing Clover Club made with Mezcal Verde, St Germain, lime, dry vermouth, soda and fresh raspberries. Aye aye aye!
Print House Bar & Kitchen, 133 high street Stratford, E15 2RB
The Republic of Beer - 8th-9th September
No this isn't an April Fool's joke. This month, the team behind Budweiser Budvar have created a unique immersive pop-up experience in the heart of London for two days straight. Forget that mini-break to Europe; this month you're are invited to 'The Republic of Beer' where cans of slow-aged lager literally grow on trees. Kinda. Dangling from the branches of the Budvar Beer Tree you'll find free, chilled cans ripe for picking. We'll take that over a piece of fruit any day. Then you can sit back, crack it open and relax while you learn more about this Czech lager from one of the uber cool brand ambassadors.
8th & 9th September from 1pm- 6:30pm at The Republic of Beer, Observation Point, London SE1 9PP 
The Jose Cuervo Tequila Taproom - 10th-12th (London) & 17th-19th (Bristol)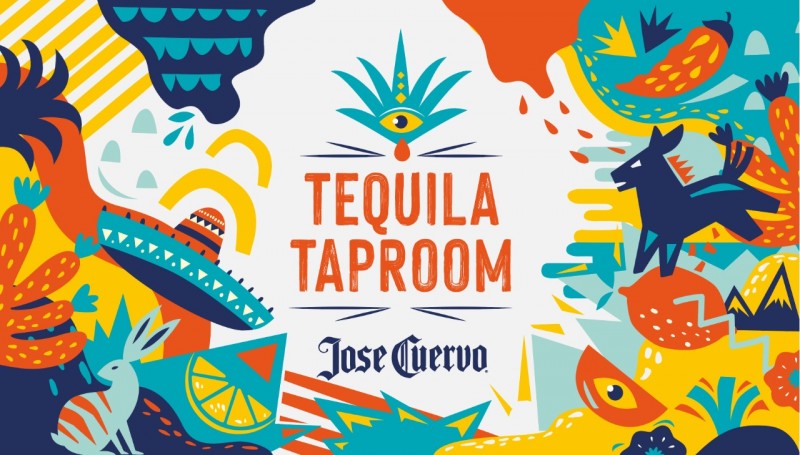 When it comes to taprooms, the crew at Jose Cuervo have decided it shouldn't just be beer drinkers that have all the fun. They're bringing the world's first tequila taproom to London & Bristol this September, swapping out pale ales, IPAs and all-beers-brewed-in-between for refreshing tequila cocktails. Yes, tequila served from taps. BarChick's plumbing dreams have actually come true. And just like any regular taproom experience, the Jose Cuervo Tequila Taproom will have in-house Tequila Educator, Oliver Pergl, on-hand to provide visitors with a tequila masterclass so you can impress/bore your mates with some sick tequila facts on your next night out. This free to enter pop-up kicks-off in Shoreditch before packing up the tequila taps and heading off to Bristol for the final leg. No need to book.
London: 46 Great Eastern St, London EC2A 3EP | Bristol: 11-13 Stokes Croft, Bristol BS1 3PY
ST-GERMAIN Supper pop-Up Terrace Take Over at Great Northern Hotel until 28th September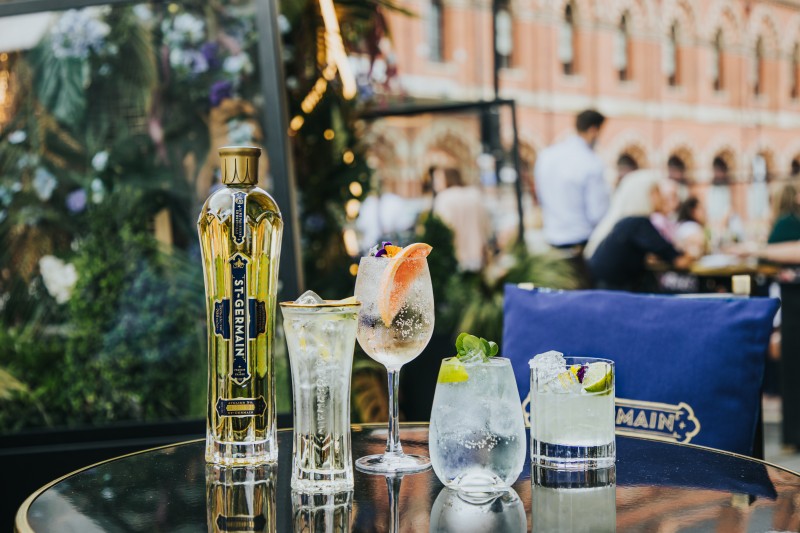 Like an explosion in a confetti factory, there's been a full floral takeover at the GNH Bar & Terrace this Autumn, with an instagrammable bold floral display from botanical legends McQueens Flowers, and refreshing cocktails made with our fave elderflower liqueur ST-GERMAIN popping up 'til the end of September. This is 'je ne sais quoi' al fresco style, bebé. You'll find us on the terrace sipping on a ST-GERMAIN SPRITZ made with sparkling wine, ST-GERMAIN liqueur, soda water and beautiful edible flowers, hoping for a the reprise of Summer we all deserve.
Great Northern Hotel, Pancras Rd, London N1C 4TB
New Menus:
Lyaness x Nude Glassware Menu - Available 13th–26th September
Got a glassware obsession to rival ours? You're gonna love the awesome limited edition cocktail menu running at Lyaness this month. The bar crew at this Southbank bar have partnered with the contemporary glassware bosses NUDE in honour of the London Design Festival. They've been letting their creative juices flow right into a new menu of three shaken and stirred down cocktails inspired by the sleek silhouettes, delicate rims and the gently weighted bases of NUDE's Hepburn glasses by American designer Brad Ascalon. Oh, and they're gonna be served in them too. Obviously.
Reservations are recommended but not required for a NUDE x Lyaness fix. 20 Upper Ground, London SE1 9PD
Imagination at St James Bar 
Impressionism. Relativism. Symbolism. Fantasy dragons. Iron Man comics. Elton John lyrics. Either we're playing a very odd version of the Generation Game or these are all the things used for inspiration in the new Imagination menu at the St James Bar. Obviously, it's the latter (but we'd also pay to see the former tbh). The team at St James Bar have never been shy of getting creative when it comes to their cocktails (shout out to their previous Passport menu which was an absolute ride) so expect to see some baller scientific techniques going down on this menu. Spherification, carbonation, foams and a few garnishes that'll trick your palate - they've literally thought of everything. One cocktail even uses unicorn cordial. Get ready to have your mind blown.
6 Waterloo Pl, St. James's, London SW1Y 4AN 
St Pancras by Searcys Le Grand Unlock
Did you know you can get to six countries from St Pancras Station without leaving the platform? Yeah, it sounds like some kinda Harry Potter sh*t, but this is actually better... cos it's true. In partnership with Veuve Clicquot and Minuty, Europe's longest Champagne Bar is treating ya to a journey from Belgium to Germany, France, Spain and Italy to the Netherlands via a 'Tasty Case' of small plates, bespoke Champagne cocktails and more bubbles than the pandemic. Expect small plates like Dutch pancakes with caramel and apple; Spanish Charcuterie and olives; Slow-cooked beef Bourguignon with creamed potato; and Im Schlafrock, a German sausage roll with pickled vegetables, priced at £36 and suitable for two.
St Pancras International, Euston Road, London, UK
Iris at The Gherkin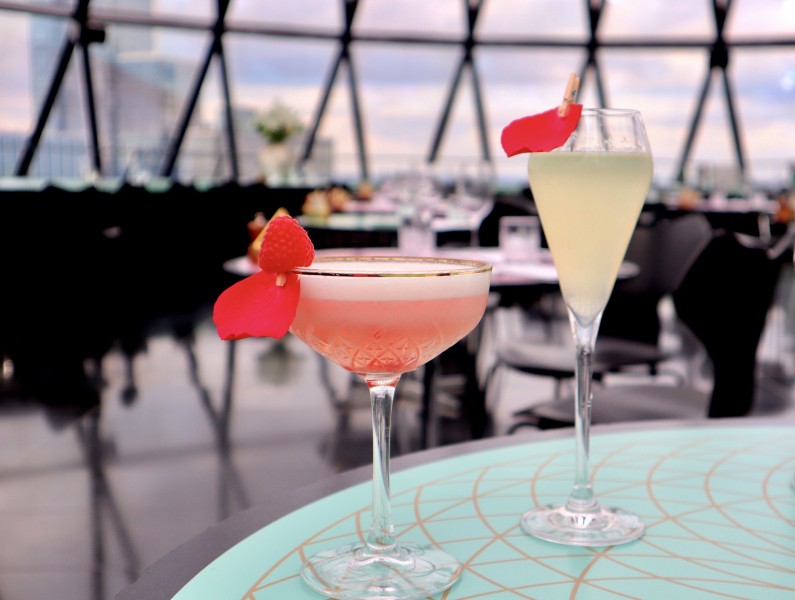 It's the most iconic vegetable-shaped skyscraper in London, but it's not the slightly phallic shape that gets our hearts racing; It's the bar at the top that tickles our pickle. The Iris Bar at The Gherkin is back open for business, baby, with its unrivalled 360° views across the City's skyline and a new cocktail menu rocking plenty of fizz-forward serves. Position yourself next to one of the panoramic windows and try to spot a Rainbow. No luck? Direct your gaze to the bar and make eyes with the bartender - they'll fix you one up with a colourful mix of rhubarb infused Bombay gin, banana liqueur, lemon, and vanilla, all topped with Champagne. No pot of gold included, but there are some epic bar snacks available.
30 St Mary Axe, London EC3A 8EP
New Openings:
Tigre Tacos at Doña - Opening 1st September
Tacos AND mezcal? Easy tiger. Or should we say... Tigre? The Tigre Tacos crew known for bringing the 70's Southern California vibes to their Mexican street food trucks are now going to be known for bringing 70's Southern California vibes to its first permanent home upstairs from Doña, the hot pink mezcal den hidden away along Stoke Newington High Street. Just like it's buff downstairs neighbour, it's gonna be bright, bold, and inspired by the spirit of modern Mexico. Rawwr. 
92 Stoke Newington High St, Clapton, London, N16 7NY
SOMA at Kricket - Opening 2nd September
From a little 20 seater shipping container in POP Brixton to the prideland (AKA Soho), the duo behind Kricket are nailing it so hard they've now opened their first bar with a modern and minimalistic take on the basement speakeasy.  Found opposite the restaurant, this bar is all about killer drinks made with seasonal ingredients, high quality spirits and spices that take centre stage, all influenced by the Indian subcontinent. Did someone say Indian Summer? Named after the Hindu Moon God, SOMA will be open til the early hours. You'll be able to book a table if you're a crew of 6 (or more) but this is Soho, honey, be a little spontaneous and walk-in on the fly.
14 Denman St, London W1D 7HJ 
The Londoner Super Boutique Hotel- Opening 6th September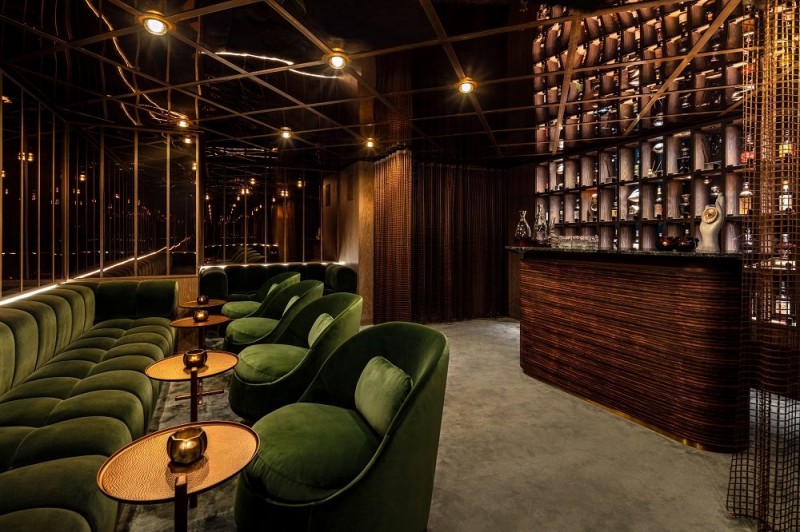 Forget the Premier Inn... this is Premier Square, baby, and it's bringing 16 storeys of luxury to the West End this Autumn. From a sick world-class rooftop to a raucously chic lobby bar, this new super boutique Leicester Square hotel is about to open with six luxuriously cool dining concepts (including a tavern and revive bar); along with 350 bedrooms each offering some fly London views; a chilled spa complete with swimming pool, gym, beauty salon and a barber, and of course, you can't open a hotel in Leicester Square without incorporating a couple of cinemas. As bar as boutique urban playgrounds go, this one is baller.
The Londoner, Whitcomb Street, London WC2H 7DT
Johnny Walker Experience Edinburgh - 6th September
Walk this way! Edinburgh has become home to the decade's most eagerly anticipated visitor experience for whisky lovers! Hell yeah! If you've ever fantasised about immersing yourself in the world of Johnny Walker, baby - that fantasy is ready to come true. Right in the heart of Scotland's capital, the 200-year history of the world's best-selling Scotch is getting an eight storeyed 72,000 sq ft home. Johnnie Walker Princes Street will offer a bad-ass food and drink experience, including the 1820 rooftop bar with insane views over Edinburgh Castle, and the Explorers Bothy; a pre-booked whisky tasking experience by day and public whisky themed bar by night.
145 Princes Street, Edinburgh, EH2 4BL
Design District Canteen - Opening 13th September
If you get horny for sick architecture, you're gonna dig this new impactful structure which is the slick new home to six global street food operators on the Greenwich Peninsula. This Design District Canteen isn't your ordinary food hall. The epic dining space has been designed by Spanish architects Jose Selgas and Lucia Cano has been created to rep the vibe of a European square (with more of a modern spec). The light, airy glass-roofed space is littered with trees for that inside out feel. All pretty fitting for a structure that was named one of TIME Magazine's 'World's Greatest Places 2021'. V. impressive.
Greenwich Design District, The Gateway Pavilions, Peninsula Square, London SE10 0QE
Fatt Pundit Covent Garden - Opening 20th September
We're big fans of the OG Fatt Puditt in Soho, and as they've opened a second location in Covent Garden, we guess we're not the only ones. Hey, once you've tasted their crackling spinach, you're hooked. The Fatt Pundit menu is always firey, vibey & authentic AKA Indo-Chinese at their best. For their second home, they're borrowing a few of the classic dishes from the Soho site, but also giving this new joint its own personality with fresh plates (like the Honey Chilli Duck with steamed pancakes and Crunchy Jersey Royals in a chilli and garlic reduction) and a sick new beverage concept. That means a menu of signature cocktails inspired by the flavours and spices of India and China, plus an unusual wine list celebrating small, organic producers from all corners of the world. That's one hell of an encore.
6 Maiden Ln, London WC2E 7ND
The Avocado Show - September Opening Date TBC
So apparently people are still so obsessed with avocados that London is getting another restaurant dedicated to the brunch staple this September. The Avocado Show has been a "viral sensation" in Amsterdam for a while (tbf those are some v. 'grammable avos) and now the trend is laying foundations on Oxford Street to really make sure that wedge between millennials and the property ladder is well and truly in place. Who needs to own a home when you can have the iconic avocado Bun Burger and a bowl of indulgent Avo Fries?
Opening late September at 6 Princes Street, London W1B 2LG