So you need that fix... but since the smoking ban, finding a bar gets harder all the time (check out BarChick's best ones here). Well luckily there's a new(ish) drinks trend hitting the city and it's all about tobacco cocktails. You might not get the same hit but it's worth a try... and it's definitely better than going out covered in nicotine patches, especially if you get lucky… which is more likely to happen minus the fag breath…
There's a bit of a debate going on about whether tobacco infused spirits are bad for you... but give a sh*t, isn't all alcohol meant to be bad for you? Along with red meat and sleeping around? We say... live a little!
This awesome Chelsea speakeasy take their tobacco cocktails pretty seriously. Their bartenders have got their hands on a load of Perique Tobacco Liqueur to play with, which led to their new 'Goes Up in Smoke' menu. Some of the names are a bit dodgy, like The Cig'nature Cocktail or In Vogue… (actually quite funny). Plus teamed with Perique, Hennessey V.S., Havana Club 7 Y.O. and vanilla syrup, it tastes pretty good too.
Chelsea Cloisters, London, SW3 3DW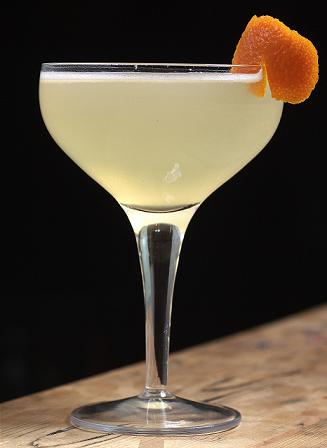 The Cig'nature Cocktail
If you like a good Old Fashioned, Venn Street Records have also come up with a tobacco twist on this classic with their Old Tabashioned (see what they did there!). Ok, so the name might make you cringe a little, but with a big measure of Woodford Reserve bourbon, tobacco syrup, chocolate bitters and bourbon cherry, at least the drink won't! And if you still need a smoke after that, their seating area out front has loads of space.
78 Venn Street, London, SW4 0BD
Make sure you book before heading down to this sweet little speakeasy – you might not get in otherwise. But there aren't many better places to get stuck into a smoky, cigar infused drink than a 50's prohibition-style bar. The Old Castro is Havana Club barrel proof rum infused with a Romeo y Julieta No.2 cigar, Madagascar vanilla and orange bitters served chilled from a cigar tube over vanilla candyfloss. Sounds weird, but man up cos it's delicious.
1 Great Eastern Street, London, EC2A 3EJ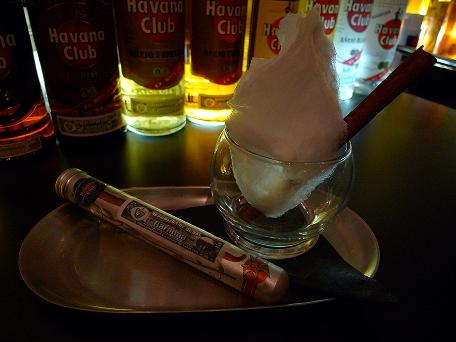 Old Castro
The French love to smoke, so this perfect Parisian hideout in the middle of hectic Chinatown is the place to grab a tobacco cocktail, (if the dickhead on the door lets you in that is). Anyway if you get in then relax to the sound of chilled beats and perve over their hot barmen and pretty clientele. Their Havana cocktail is cigar leaf infused Buffalo Trace bourbon with Marsala sweet Sicilian wine, bitters and a rinse of smokey Islay whisky.
13A Gerard Street, London, W1D 5PS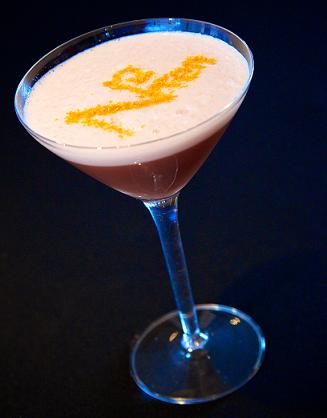 Tobacco Road
These guys are big on cigars anyway, and their smoking terrace is one of the best in town, so it's the perfect place to match a fancy cigar with one of their Tobacco Road cocktails and make like you're an aristocrat… or a pimp. The drink is a tasty mix of Havana Club Anejo Especial rum, Perique Liqueur de Tabac, Rubis Chocolate Wine and their special sours mix.
Ten Manchester Street Hotel, Marylebone, London, W1U 4DG
The latest Hawksmoor bar underneath their Spitalfields restaurant is super sexy, and they're keeping the drinks simple: 5 permanent ones and 5 that will change every month. Of course, their permanent five contain some classics, including a Tobacco Old Fashioned – a smoky twist on the old classic, with a good double of either Four Roses small batch bourbon or Pikesville rye whiskey, sugar syrup and Angostura bitters, which are then aromatised with homemade cherry pipe tobacco bitters that they flame to create an amazing aroma.
157 Commercial Street, London, E1 6BJ
With live music and wicked table service, this 20's style speakeasy is a good place to get experimental with your drink… and these guys are good at it! Their Zazerac (that's not a typo, they're being clever) is a twist on the old classic, with a big measure of Appleton 8yr rum that they've lightly tobacco-smoked themselves, a dash of absinthe, sugar and Peychaud's bitters, all served up in a cocoa bean – very cool, well done.
129 City Road, London, EC1V 1JB
Zazerac
This wicked Tiki bar is a retro chic rum haven. They set drinks on fire, the DJs get everyone moving on the weekend and you can get your own glass to keep behind the bar… which gives you a discount on shots. So far so good. Their Jack Fashioned is El Dorado 12 year old rum, DOM Benedictine, cigar infused maple syrup and bitters, stirred down and served over ice with a homemade chocolate moai on the side. Nice.
177 Portobello Road, London, W11 2DY
The bar itself is a bit Manhattan, with chilled beats, old gramophones and antique cocktails shakers, but the barmen are on top of their game, so don't be afraid to experiment in here. They've got their hands on some Perique Tobacco Liqueur and created the Periquation cocktail, with SW4 London gin, Perique, Luxardo Maraschino and fresh lemon juice. If the tobacco doesn't suppress your appetite, hit the tapas too!
31 Kensington Park Road, London, W11 2EU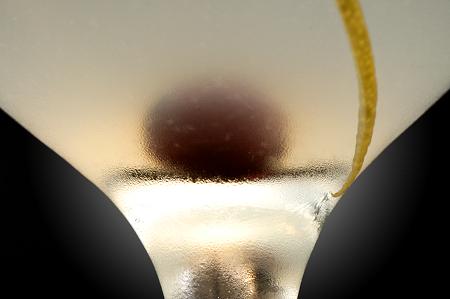 Periquation Cocktail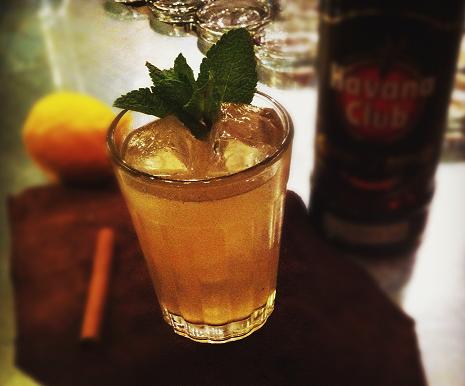 Havana Lane
This lovely little underground hangout is always turning out wicked drinks, with an added Provençal feel… plus they also have the UK's only indoor pétanque court, so you can go all out French on this one. But they're taking the tobacco cocktail thing a little further in here and they've gone for an all-out smoking lounge flavour with their Havana Lane, by infusing Havana Club rum with leather, yes leather and cigar! They shake this up with fresh lemon juice, sugar syrup and some mint leaves to create a tasty drink with a difference.
115 Chancery Lane, London, WC2A 1PP
Emulating the famous bar in Cuba, this place has live music most nights and a cool Latin vibe, so it's perfect if you're after a nicotine fix and a bit of a dance as well! The 'All Up in Smoke' section of their cocktail menu is probably one of the largest selections of tobacco drinks that you'll find in one place. The Nicotini was one of the early tobacco cocktails created by a group of barmen in Florida when the smoking ban first came in, and Floridita have created their own version of the drink with grapefruit vodka, Aperol, fresh grapefruit, lime juices, honey syrup and tobacco bitters. Boom.
100 Wardour Street, London, W1F 0TN
This super-chic piano bar in the Corinthia Hotel is pricey, but worth it. It's all table service, so get comfy, be lazy and let them come to you. Go for the Bassoon Smoked Margarita. It's not your ordinary Margarita, with Jose Cuervo Tradicional tequila (that's the good stuff not that cheap sh*t), fresh lime juice, Cohiba cigar infused agave nectar, a dash of absinthe, orange bitters and "smoked salt air" on the top… it sounds kinda mysterious? Well it's basically a salt foam that they make themselves – try it, you might just love it.
Whitehall Place, London, SW1A 2BD
Bassoon Smoked Margarita
Hot new Fitzrovia hangout Dabbous is the latest cool kid on the block, and with a Michelin-starred chef upstairs and badass barman Oskar overseeing the downstairs, these guys are always up for a bit of experimentation. They're bringing together tobacco and tequila (porn for BarChick) in the Mellow Yellow, with Cazadores Blanco tequila, Cointreau, cigar syrup and lime juice mellowed by yellow pepper and served in an Ardbeg whisky rinsed Martini glass. If this isn't for you then the Cat Diesel is another tasty mix with their cigar syrup.
39 Whitfield Street, London, W1T 2SF