If you've not popped a bottle of Champagne to celebrate a life event (or just the start of the weekend), you've not been celebrating right. We spoke to Charline Drappier at Champagne Drappier to get the deets on the world's most famous sparkling wine.
WTF is Champagne? 
The AOC designation (that's Appellation d'Origine Contrôlée, FYI) for Champagne links the product with its geographical origin and makes it subject to some pretty strict rules of production and manufacturing. That's why Champagne is named for the specific region in France where it is produced. Champagne (the place) has a tradition of 300 years of producing Champagne (the wine) which means producers there have had three centuries of getting familiar with the soils and micro-climates of the region. They're pros, no doubt.
"The AOC Champagne was the first sparkling wine AOC, simply because it is the region where it has been invented," says Charline. "We find ourselves in one of the northernmost wine regions for dry wines. The semi-continental weather is key to the balance between acidity and fruitiness."
How is Champagne made?

Image via Good Pair Days
When it comes to Champagne production, it's all about tradition, baby. "'Méthode traditionelle' used to be called 'méthode champenoise'," says Charline. "Every sparkling wine is somehow inspired by Champagne. Location, experience and traditions are probably what makes it so special." You can still refer to Champagne production as "méthode champenoise", but this is a title reserved ONLY for Champagne. The clue's in the title, yo. Whatever you call it, this method is pricey and labour intensive, so it's really only viable for high-end sparkling wines. If a particular sparkling wine is lower on the value scale, chances are it has been made with the Charmat process instead, though other methods exist as well.
So what does the traditional method actually entail? Basically, it means that the wine undergoes a secondary fermentation inside the bottle, creating those infamous bubbles. 
What's the flavour profile?
"Champagne has too many faces to narrow it down to one flavour profile, from Blanc de Blancs, to Blanc de Noirs, to vintages or rosé. Champagne is known for its 'finesse' of bubbles and freshness [which is] linked to the level of acidity," Charline explains.
What grapes are used to make it?
Charline says: "In Champagne, we can use Pinot Noir, Meunier and Chardonnay grapes. There are also the forgotten grapes - Arbanne, Petit Meslier, Fromenteau and Blanc Vrai - which altogether represent 0.3% of the appellation."
Which bottles should I try?
If you're all about that baller lifestyle, chances are you already have a fave Champagne. Us? We don't think you can go wrong with a crisp Taittinger or a glass of Laurent Perrier Rosé, though if we're honest, we're yet to find a Champagne we don't like. But if wanna pick a fave, well... the fun bit is just starting. So what should you be looking for to find your perfect bottle?
If you favour drier wines, you're gonna look for "brut" on the label. If you want something dry but a little sweeter, look for "extra dry" or "extra sec". For sweet Champagne (which is banging with desserts), opt for Moscato.
Spot the word "vintage" on a label? Well, that's a bottle made from grapes that the winemaker considered to be a pretty sick year for production, and so only contains the grapes of the year mentioned on the label (rather than a blend of years). That's not to say non-vintages are inferior. The blending of grapes from different years actually means the producers can maintain consistent quality and taste.
BarChick Loves:
The Pinot Noir grape is the champ in this sexy bottle of plonk. In Drappier Carte d'Or, it comprises of at least 80% of the blend, making it close to a Blanc de Noirs. Aromatic and richness, you'll pick up notes of stone fruits such as white vineyard peaches, and some spicy notes that creep in towards the end.
www.champagne-drappier.com | RRP £30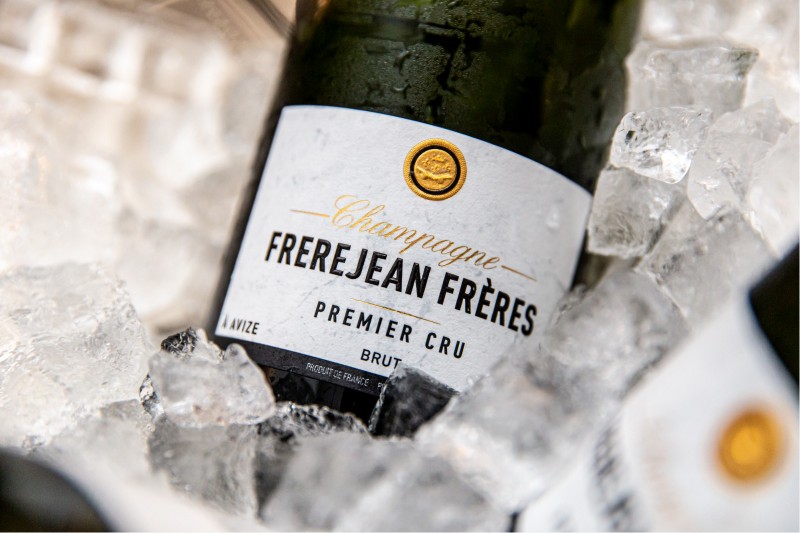 This Champagne focuses on traditional techniques and is all about championing Champagne's "quiet revolution", AKA the growing shift towards low quantity, high quality and characterful wines. Quality, terroir, and craftsmanship are at the heart of the Frerejean Frères Maison. Their cuvées are produced using only premier and Grand Cru Chardonnay and Pinot Noir vines, with an ageing process that takes a minimum of five years to ensure added complexity and finesse. The result? Scents of dried fruit, honey and almonds, and juicy flavours of apples and pears, candied fruits and brioche. 
www.frerejeanfreres.co.uk | RRP £39
The collection of Champagnes from this house are all unique, but with one awesome thing in common: a solid backbone of sustainability. That's right, mother nature comes first with these bubbles, baby, and Maison Telmont are all about the preservation of the terroir and biodiversity. When it comes to the fizz itself, it's the Réserve Brut that we're all about, with its harmony of richness, fruitiness and freshness all brought together with its ultra-fine, crisp bubbles.
www.champagne-telmont.com | RRP £50
Looking for more in our sparkling wine series? Check out our guide to the ultimate brunch staple: Prosecco
By Georgie Pursey
Originally published 10/01/2022