Do you know your Champagne from your English sparkling, or your cremant from your Cava? We chatted to some of the best producers of sparkling wines from around the world to find out what the differences are between your fave flutes of fizz, and we're kicking things off with the staple of any epic bottomless brunch: Prosecco.
So WTF is Prosecco?
It's bubbly, it's fresh and it's sweeter than your average sparkling wine, and that's why Prosecco is always your night out wingman. Elvira Dmitrieva, CEO of Independent Wine, gives us the low-down on Italy's sparkling export. "Prosecco is produced in the region of Veneto, a wine-growing region recognised by UNESCO as a World Heritage site for its viticultural heritage," she says.
A bit like Champagne, Prosecco comes with a DOC and DOCG (that's Denominazione di Origine Controllata and Prosecco Conegliano Valdobbiadene Superiore, or Designation of Controlled Origin and Controlled and Guaranteed Denomination of Origin for the non-Italian speakers in the room). That means it has its own rules about permitted grape varieties, maximum harvest yields and ageing requirements.
How do they make it?
"Prosecco is produced with the Charmat method, invented by Federico Martinotti and Eugeneè Charmat and adopted in our territory, Conegliano Valdobbiadene DOCG since it is the method that most enhances the expression of the territory," explains Marta Miraval of Borgo Antico DOCG, one of the best-selling Proseccos of its kind. The Charmat method sees the product achieve its fizz through a second fermentation in a large stainless steel vat before it is bottled under pressure. This creates "a very fine persistent bubble on the palate with aromas of flowers and ripe fruit enhanced by residual fermentation sugar", she says.

Image via www.whitelabel.pt
Sophie Lord, wine buyer at Virgin Wines, gives us a few more deets on the process. "As the carbon dioxide is produced as a by-product of the fermentation process, there is nowhere for it to go and so it dissolves back into the liquid, which is what creates the fizz. The wine is then filtered and bottled under pressure after 10-14 days to preserve the fresh character of the wine and ensure fruity flavours of orchard fruits (such as pear and apple) and blossom.
"From when the grapes start their first fermentation to the finished bottle, the process takes about 30 days. Prosecco is also much less labour intensive to make, hence the lower cost and these production methods lead to the fundamental differences in Champagne and Prosecco," she notes. That's right, more bubbles for your buck, baby.
When it comes to the flavours and aromas, it's the specific type of grape used that gets the credit. "Prosecco is more about the fruit flavour profile of the Glera grape - associated with pear, apple, plus honeysuckle and floral notes," says Elvira. "Glera grapes are harvested by hand in small crates and brought to the winery in refrigerated lorries, then pressed gently in a press. The first fermentation is a slow and cool one (around 13°C). Then, in order to block malolactic fermentation from happening, everything has to be sterile - just one speck of dirt can get the acetic acid going and make the wine taste a bit off."
Let's talk pink!
For a sparkling wine that's been around since 1962, it sure took its sweet time to get on board with a bit of diversity. Prosecco DOC Rosé was officially given the green light by the Italian government back in May 2020. Obviously, it's been greeted by the same level of hysteria as its pale golden sister - who doesn't want to see their bottomless brunch through rosé-tinted glasses?
And now that pink Prosecco is 100% legit (as long as it's made using between 10-15% Pinot Noir alongside Prosecco's signature Glera grape) the market has obviously expanded at a rate similar to the nation's waistlines after a year of lockdown. You're still gonna pick up the same classic vibrancy and effervescence of the white stuff, but the blush brings with it added floral and fruitiness, with summer berry vibes.
What should I look for?
Obviously, we have our faves, but we also asked the pros to give us their top tips for picking the perfect bottle.
Looking for awards from recognised bodies, like Decanter, as an independent sign of the high quality of the wine is what Elvira recommends when choosing a bottle. "We'd pick an extra dry wine by Ca' Di Rajo not only because it boasts pretty impressive accolades but in the first place it's a simply delicious fizz. It offers aromas of white flowers like acacia and jasmine, yellow apple, and red grapefruit peel, with a touch of sweet pear-drop candy. On the palate, it is dry, with a lightweight body and a low-level alcohol of only 11%." 
"Another tip is that if you like a fruitier Prosecco, look out for the words 'extra dry' on the label," suggests Virgin Wines' Sophie. "This actually has a touch more sweetness than those labelled as 'brut'. And if you spot one labelled 'dry' it is sweeter again. Virgin Wines' vegan Senti Prosecco Extra Dry NV is made by Umberto Menini. With a 40-year career in the wine industry, his hallmark is precision and this award-winning, quality fizz is filled with citrus intensity, pear and apple fruit and delicate, soft bubbles." 
Meanwhile, Borgo Antico's Marta favours Borgo Antico Prosecco when it comes to the fizz she has created. "It stands above the crowd because it has inimitable aromas given by the territory, and a refined bubble given by impeccable processing. It is unique and has an important demand in the market, we are present in the best wine bars and restaurants. It is the best-selling DOCG on the market which speaks for itself!"
Our top picks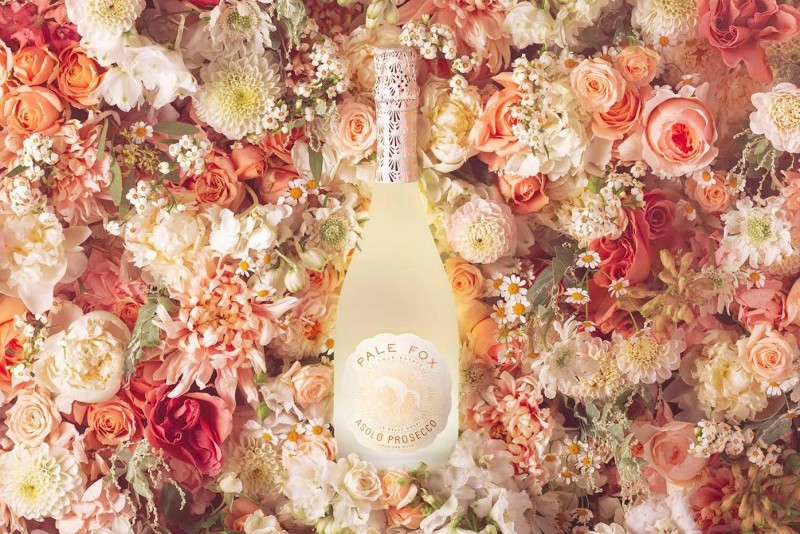 This chic bottle of fizz is the must-have accessory for your next celebration. With the complexity of a Netflix drama and the freshness of a Bel Air Prince, Pale Fox is your party season must-have. Weddings, garden parties, a Friday night - this vegan Prosecco with its 90-day second fermentation is packed with ultra-fine bubbles and a minerality you'd be forgiven mistaking for Champagne. Pop the bottles and get the party started.
You might think when you're one of the world's most famous super models you'd be more inclined to only sip Cristal when you're hitting the plonk, but Cara Delevigne and her equally genetically blessed sisters Poppy and Chloe decided to create a fly Prosecco. Most of the production process of Della Vite (translation: "from the vine" - though it does sound very similar to "Delevigne"...) is powered by solar energy, filtered through a ceramic system and fully certified vegan. They ferment their DOCG Prosecco for an extra 30 days, which makes for a wildly delicious sparkler that bangs when paired with nocellara olives and figs with honey. 
DOC RRP: £19.95 | DCOG RRP: £25.95
When it comes to the pink stuff, this is the bottle we tend to reach for - and not just for its delicious summer berry notes and the killer addition it makes to an evening in the garden eating fresh salads and fish. The proceeds from this ethically sourced eco-friendly wine are used to help clean up the world's oceans by funding grassroots, community-led marine conservation projects all around the UK's shores and coasts by supporting their charity partner Sea-Changers. As if you needed another excuse to open a second third bottle. 
By Georgie Pursey
17/12/2021