In a world where spirits are usually created by the big dogs, or the artisan craftsmen, we now see new brands being made by bartenders for bartenders. After all, nobody knows this stuff better than those on the front line.
ABSOLUT CRAFT
When Absolut needed someone to help them make a new range of artisan vodka flavours for bartenders they called on Nick Strangeway, an ex-bartender, now drinks creative director at London based company Strange Hill. An internationally renowned cocktailier, Nick's CV is star studded; he set up the bars at Hawksmoor, Hix and Cecchonis to name a few. Using this experience he created thousands of flavour compounds and distillates, with the goal of creating a product that would be relevant to bartenders. The liquid was bottled as Absolut Craft, a range of artisan, small batch vodkas, three flavours have been released so far, herbaceous lemon, bitter cherry and smoked tea, and more are on the way. With Craft, Absolut has turned away from its classic look and produced a cool, vintage style, medicinal bottle, to distinguish it from the rest of the infamous vodka's range.
Where can you drink it? Herbaceous Lemon will be launched this April, the rest will follow.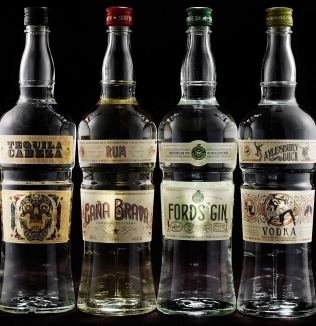 86 & CO
London born Simon Ford turned the information he learned from bartenders in his 15 years as a spirits industry exec into a bartender friendly range of spirits. 86 & Co's ergonomic range, consisting of tequila Cabeza, Cana Brava panama rum, Aylesbury Duck vodka and his namesake Ford's gin. They come in bottles thoughtfully created with little touches like a rim on the bottle's neck for fast removal from the bar's well, practical unit measurements on the side for refilling with juices and syrups when empty and a slightly tapered mouth so speed-pours don't slip out on a busy Friday night. The best bit? The same kind of love and attention has gone into creating the liquid inside the bottle as they have the glass itself, the Aylesbury Duck vodka is distilled from Canadian glacial water, with none of the usual carbon treatment, resulting in a vodka with character and flavour.
Where can you drink it? If you can't wait until the end of 2013 for the brand's UK release, you'll have to fly to the US to try the range. 86 & Co's brands are on the cocktail menu at New York's PDT, Employees Only and Pegu Club.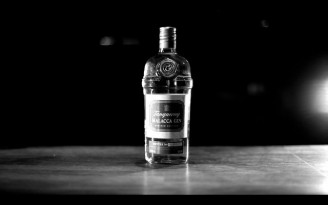 TANQUERAY MALACCA GIN
Malacca gained cult status after disappearing from the market in the late 90s. Charles Tanqueray's 1839 recipe, originally developed for Far Eastern trade, was ahead of its time, its softer taste and lower proof only now becoming popular as our taste for gin increases. During Malacca's absence, bartenders and bloggers couldn't stop talking about the stuff, at one stage bottles of the discontinued spirit were fetching as much as $200 on Ebay. Bartenders wishes are about to come true however, as Diageo release 100,000 bottles this month for exclusive sale to bars only. Malacca's appeal seems to have come from its lower level of juniper, the key botanical in most gins, in this case the addition of grapefruit makes a gin that's more citrusy than herbal, making it a delicious gin for an Aviation cocktail, or with ice and Fever Tree tonic.
Where can you drink it? Only The Savoy Hotel Bars, Purl and Worship Street Whistling Shop are confirmed to be carrying it so far.
SHAKY PETE'S GINGER BREW
Forget the beef: I'll take a brew please. If you haven't tried 'Shaky' Pete Jeary's namesake cocktail at Hawsmoor you're missing out on one of their tastiest offerings. The mug, filled with a fizzy mix of homemade ginger syrup, fresh lemon juice, gin and London Pride ale is as well-known as the restaurant's Kimchee burgers and triple cooked chips. Due to popular demand bartender Pete is working on launching a RTD (that's ready to drink in bar-speak) bottled version of the drink, so we can all crack one open and recreate that Hawksmoor vibe at home.
Where can you drink it? The bottled cocktail is still in its design stage, so get your fix at one of Hawksmoor's restaurants until it's launched.
DEAD RABBIT ORINOCO BITTERS
Scotsman Adam Elmegirab has recreated a long lost bitters recipe from a sepia toned 1880s advertisement. The former bartender's bitters are found behind most of London's top bars, but to try this one you'll need a plane ticket as Orinoco is only available in one bar, New York City's hottest new opening, Dead Rabbit Grocery & Grog, a FiDi Wild West tavern style pub and cocktail bar recently opened by two well-known Irish barmen.
An Angostura style bitters (Angostura was a style of bitters before it became a trademarked brand name), Orinoco was created when Adam and the owners of the Dead Rabbit set out to recreate a bitters that would have been used in a saloon in the same area in the 1850s. The end result is bitters with warm spicy flavours of cardamom and sandalwood thanks to the addition of Angostura bark, along with citrusy orange peel notes.
Where can you drink it? It's the house bitters at Dead Rabbit Grocery and Grog, and it's available for purchase in their store and via the website.