Is perfection possible? It's a philosophical question that's been debated for centuries – and we got the chance to drink about it for two epic days at the No.3 Gin Pursuit of Perfection final in Schiedam. 
No.3 Gin's cocktail competition was bigger and better than ever this year, with bartenders from the UK, Italy and Germany battling it out. No.3 Gin global brand ambassador, Ross Bryant, explained: "The Pursuit of Perfection is aligned with the No.3 Gin brand platform, and entwined in our beliefs to constantly pursue perfection in all that we do as a brand. It seemed only fitting to extend this to our cocktail competition, and invite those perfectionists within bars and our lively industry."
No.3 Gin's leading man, Ross Bryant
As for the grand prize, the winning perfectionist not only earns the title of Pursuit of Perfection champion - they also get a cool £5,000 to host the ultimate bar takeover anywhere in the world. Dreamy, right? 
Here's how the comp worked. First, competitors were tasked with creating the ideal No.3 cocktail, inspired by the gin's three main flavour profiles: citrus, spice and juniper. The very best entries of the bunch were chosen, and the shortlisted bartenders then came together to compete in regional heats. 
From these intense rounds, 10 competitors were selected: from the UK, Adam Taylor, Ashley Haines, Ryan Mackie and Lorenzo Piscitello; from Germany, Raki Sillah, Claudius Engel and Robin Lühert; and from Italy, Davide Wang, Daniele de Angelis and Gioacchino Sorrentino. All 10 earned the honour of heading to the finals at De Kuyper Royal Distillers in Schiedam, where legendary wine and spirits company Berry Bros & Rudd produces No.3 Gin in partnership with De Kuyper.
Let's be-gin: The competitors on day one of the comp
BRINGING THE HEAT
And that's where we joined the gin-soaked party. The two-day competition kicked off with introductions by leading man Ross before we all headed on a tour of the De Kuyper distillery (cue some casual fangirling over the antique pot stills that are used to produce No.3 Gin). Then it was onto the nail-biting semi-final round, in which the bartenders had to make their No.3 Gin cocktail for a panel of expert judges. Yep, we're talkin' the biggest names in the biz: Simon Difford, founder of Difford's Guide; Alessandro Palazzi of Dukes Bar in London; Myriam Hendrickx, master distiller at De Kuyper; and Christoph Henkel, sales manager for Kirsch. No pressure.
Where the magic happens: Royal De Kuyper Distillers in Schiedam
Naturally, the competitors stepped up to the challenge, creating next-level serves featuring unique ingredients like red pepper cordial, beetroot, coconut oil and soy milk. Only three contestants could continue on the path to perfection, and after much deliberation, the judges chose Adam Taylor, Raki Sillah and Gioacchino Sorrentino as the finalists. 
But the team at No.3 Gin had a surprise in store for the remaining bartenders: the seven semi-finalists were given another chance to make it through to the final by competing in a heart-thumping speed round. In the blink of an eye, Martinis were mixed, G&Ts were poured and Corpse Reviver No.Blues were shaken, and lightning-quick Lorenzo Piscitello secured the coveted fourth spot. 
Clockwise from top left: Gioacchino Sorrentino, Lorenzo Piscitello, Adam Taylor and Raki Sillah
Time for the finals, baby. For this last round, Adam, Raki, Gioacchino and Lorenzo had to create a cocktail based on the two flavour profiles they didn't use in their first drink. Each bartender gave a dazzling 10-minute masterclass on their serve, and the judges once again deliberated. In the end, it was Gioacchino Sorrentino, owner of Soul Salerno in Salerno, Italy, who was crowned the No.3 Gin Pursuit of Perfection champ. "He really nailed the brief," Ross said of Gioacchino's performance. "While flavour was a large factor in scoring, it's not all about the liquid. His presentation was clear and concise and very well suited to No.3 Gin."
We can confirm that both his presentation and his cocktails were bangin' – especially his winning serve, My Type of Gimlet. "I took inspiration from one of my favourite classic gin cocktails, which is a Gimlet," Gioacchino explained. "It's super simple but also super complex, just like my personality and just like the beauty of No.3." 
Now Gioacchino will go on to plan his £5,000 No.3 Gin takeover in a bar of his choice, anywhere around the globe (New York City and Japan are at the top of his list, but the world is his oyster). "Winning the No.3 Gin Pursuit of Perfection competition means a lot to me," Gioacchino said. "It was a once-in-a lifetime opportunity, and I'm very, very happy and proud. Also, it has been a pleasure meeting all of these people who, like me, share this passion for bartending. This is what competitions are for - not just for winning, but mainly for meeting people who will not be forgotten. So for all of these reasons, I just want to say thank you."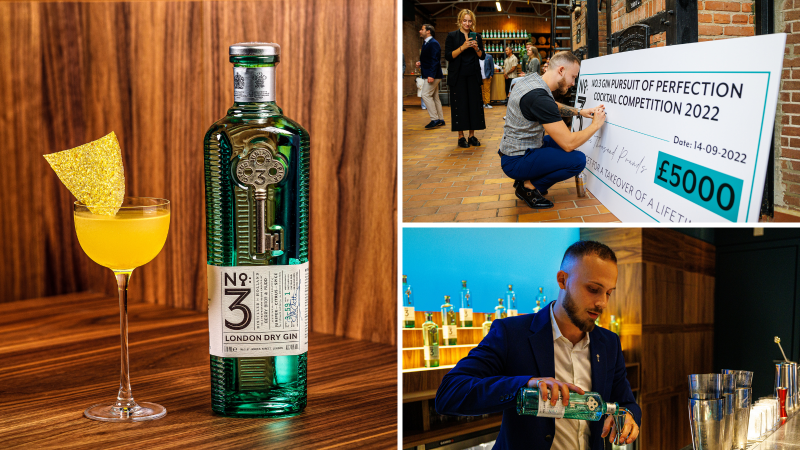 Pursuit of Perfection champ Gioacchino and his winning cocktail, My Type of Gimlet
My Type of Gimlet
40ml No.3 Gin
25ml green apple and coriander cordial
1 bar spoon Italicus liqueur
10ml citric blend
2 drops salt solution
Apple leather garnish
Shake all ingredients except the apple leather with ice. Strain into a coupe glass and garnish that bad boy. Utter perfection.