Cramming a couple of dodgy tables onto the curb and calling it al fresco is definitely a London thing. When doing street food city style it's important to pick your hood wisely; yes to Broadway Market and Soho, no to Edgware Road and the exhaust fumes thanks. Take a seat in the street, simmer down and buckle up, it's time to wing it on the pavement, the people watchers paradise.
Unless you're real outdoorsy, winter means queuing for a seat at the bar here tentatively waiting to taste the tapas you've heard so much about. Summer, however, means that the four tables outside are no longer the booby prize and you'll be queuing for them and unbeatable views of Frith Street instead.
54 Frith St, London W1D 4SL
Tall people, fat people, people with too many shopping bags… if you think it'll be easier to find a spot at Honest Burger because of the three tables outside the front door then think again. The plus side is that Meard Street is totally pedestrianized and thus more sheltered from the psycho cyclists and black cab drama.
4a Meard Street, London W1F 0EF

If you're on Dean Street skip straight past The Townhouse and head for Quo. An old faithful with a handful of great tables and bench style seating out front. The Jazzy striped awning offers protection from the sun's rays but not from the beggars, keep change handy or use a firm tone. Eat, drink and be merry here, the Hart brothers deliver nothing but the real deal.
26-29 Dean Street, London, W1V 6LL
The only danger you'll be at risk of here is bumping into Lindsey Lohan and her shenanigans. Cocktails are spectacular and there isn't a classic you could throw at the bar team without it being thrown straight back at you with a cherry on top. Less about living dangerously and more about ending up on The Daily Mail sidebar of shame.
1 Chiltern Street, London W1U 7PA
This tainted terrace sprang to fame last year when Charles Saatchi was busted choking cooking goddess Nigella. These days you might still see the beast dining smugly at the scene of the crime (it really is a good spot). Order bubbles and look mean. #stillteamnigella.
20 Mount St, London W1K 2HE
This is the finer side of street side dining. Green hedges and towering trees await you on the Garden Terrace at Park Lanes' Four Seasons Hotel. Sure, it's one of the city's fanciest hotels, but they've managed to keep the bling to the bare minimum.
Hamilton Mews, London W1J 7DR
Because of being a butchers by day and all that, Hill & Szrok only does al fresco in the evenings and on Sundays. You'll be sitting in prime position on popular Broadway Market but your experience will be less about soaking up the rays and more about having somewhere to air your meat sweats, sexy.
60 Broadway Market, London, E8 4QJ
Skip a few steps off the Kingsland Road and you'll find yourself at Jones & Sons. They've got an entire roof terrace up top, but they can't use it because of licencing and a lack of food lift… logistics. Whatever, get comfy out front where there's enough space for a handful of lucky diners, it could be you.
23 – 27 Arcola Street, London, E8 2DJ
Our favourite wine bar has managed to squeeze some seats outside their premises. With everyone currently jousting to rent/own/sashay on a square foot of Hackney you should thank your lucky stars you've been given the chance to sit outside in this newly salubrious part of town. Don't worry about the crack heads, they won't be around much longer.
193 Hackney Road, E2 8JL
This is Japanese street food, only not quite how they imagined it. Set just behind Haggerston Station if you squint your eyes and slurp your ramen loudly enough you might be able to forget that you're just a part of East London's noodle revolution.
Arch 334, 1a Dunston Street, London, E8 4EB
Back in the glory days people didn't even distinguish between eating in the restaurant and eating on the pavement here. Under new management there's a piece of rope separating the hipsters from the homeless folk, but not much else. Cram in and look cool, you're at The Cat.
76 Broadway Market, London, E8 4QJ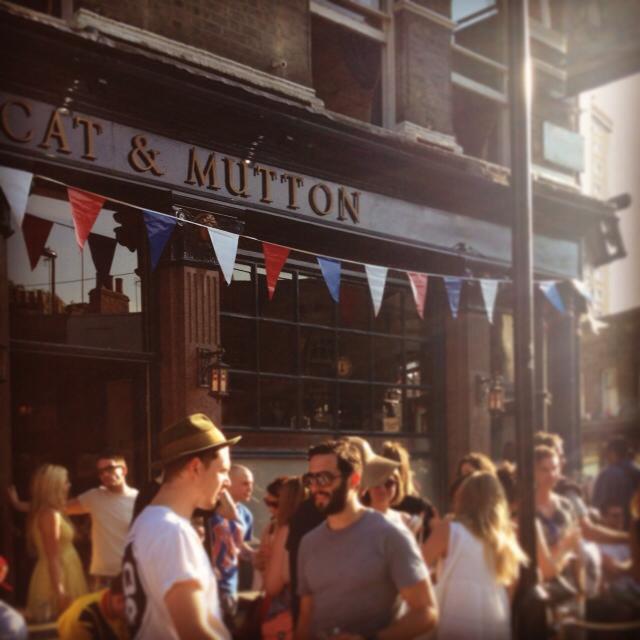 If you're eating and drinking here during the day we salute you, although the food (particularly the brunch) is banging, we tend to associate Dalston Superstore with the monster that materialises after midnight. You'll be sandwiched between Dalston's Turkish restaurants and you almost definitely won't leave after one drink.
117 Kingsland High Street, London E8 2PB
When Soho's 10 Greek Street took up residence in Hoxton Square we wonder if they knew what they were letting themselves in for; half of Essex as it happens. If being asked to 'get yer rat out' is your thing (no judgement) then park up here and smell the biscuit baby. Tuck into some decent food and wine while you're at it too.
8-9 Hoxton Square, London, N1 6NU
Here we go, Thai street food served on the street… under an antiquey veranda but that's beside the point. It's like Bangkok but in Peckham, except for the fact that the multiple garden benches mean really comfortable table service.
168 Bellenden Road, Peckham SE15 4BW
Ever been to South London for a BBQ? You should. Big on beers and beards this is the sort of 'industrially cool' joint that's got the cool kids boarding the bandwagon to cheaper rent and bigger gardens. Will you be one of them?
58-60 East Dulwich Road, London, SE22 9AX
House of Tippler – East Dulwich
Of all the tiny terraces House of Tippler's takes the trophy for being the tiniest. Drinks industry aficionado Tim Oakley has left just enough space to squeeze six people seated. You'll be sharing the pavement with cyclists and the occasional curbed car, but with drinks this good do you care?
123 Lordship Lane, East Dulwich, London, SE22 8HU
The Breakfast Club - Battersea
How do you like your eggs in the morning? Poached and on the roadside please. The Breakfast Club in Battersea has done a decent job of disguising the tarmac by using trademark bright colours, lovely chequered floor tiles and some potted plants. Breakfast is served.
5-9 Battersea Rise, London SW11 1HG
We love it when a restaurant goes all out with a theme. Taking inspiration from the filthy south (South America, not Peckham) Red Dog will serve you food almost guaranteed to give you heart palpitations. Decked out in untreated wood, you might forget where you are and start giving it redneck ranch talk, if you're not careful.
27-31 Bedford Road, London SW4 7SH
Smithfields is confusing, on one hand it's a culturally rich home to the largest wholesale meat market in the UK, and on the other it's all about glossy bankers and big-ass bonus packets. Want to get in the thick of the melting pot? Perch outside on one of Polpo's table and chairs and order the same sort of food they've been doing right for years in Soho, it makes sense.
3 Cowcross St, London EC1M 6DR
When it comes to doing it in the street, quaint markets are preferable. Bonnie Gull will serve you fish and cocktails to a backdrop of the sort of seaside-chic that was all the range at the end of the 80s.
55-57 Exmouth Market, London EC1R 4QL
If you thought it was difficult to book an indoor table here on a crap weather day, try booking an outdoor one when the heat is on. In any case you can't book for dinner which inevitably means a wait and a phone call. Don't come starving and simply take your aperitif game elsewhere as you wait for Exmouth Markets smuggest sunny spot.
32 Exmouth Market, London EC1R 4QE