Mornings just got a lot sunnier thanks to the Sunshine Mary, a twist on the classic Bloody Mary that's taking London bars by storm. A brightly coloured combination of Kamm & Sons Ginseng Spirit, lemon juice, Tabasco, celery salt, horseradish, salt, pepper and yellow tomato juice.
It's the yellow tomato juice, grown in fields on the Isle of Wight and juiced by The Tomato Stall, that makes the difference (the farm's entire stock of yellow tomato juice was sold to bars serving Sunshine Marys this year!). Sweeter than the regular red stuff, it holds up against loads of spice to make a full flavoured drink. For those who haven't heard of Kamm & Sons yet (where have you been?) it's a herby spirit made with a ginseng base and loads of other botanicals like echinacea and manuka honey, a combination that not only tastes good, but all that ginseng is actually good for your poor alcohol soaked livers, you're welcome!
Make at home, or head to the following London bars for your fix...
 Sunshine Mary
35ml Kamm & Sons
150ml yellow tomato juice
15ml fresh lemon juice
6 dashes of green Tabasco sauce
Pinch of salt, pepper, and celery salt
Touch of horseradish
Add all ingredients to a tall glass filled with ice or mix a larger quantity in a jug. Garnish with a slice of yellow capsicum, or a yellow tomato and serve.
Not content with putting on some of the best parties in town, the two brothers behind Krankbrother have turned their attention to food and drink. A bar in one arch and a restaurant in the other, there's also a mega 60 capacity terrace for you to kick back on. Go on the weekend for boiled eggs with anchovy soldiers and Sunshine Marys. Old school.
397-399 Geffrye Street, London E2 8HZ
The ultimate hangover cure? Comfort food plus Bloody Marys of course. Hit Beard to Tail for industrial decor, concrete walls and a whole lotta meat. The latest hangout from the guys behind Callooh Callay do a mean Sunday roast. It's like the US of A has rolled over our family lunch and given it a calorific, deep fried makeover. Cure your sorry heads with a round of spicy Sunshine Marys. You won't be sorry.
77 Curtain Road, London EC2A 3BS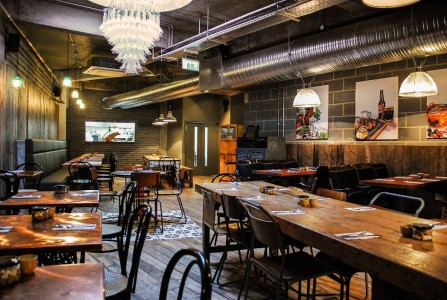 Caravan Exmouth Market & King's Cross
Kiwi owned Caravan recently opened their second venue in the King's Cross Granary Building, serving their signature kickass coffee and awesome eats in the warehouse-like room. The original Exmouth Market joint won us over with their sacks of coffee and awesome brunches, and it was one of the first places to serve the Kamm & Sons Sunshine Mary.
11-13 Exmouth Market, London, EC1R 4QD // Granary Building, 1 Granary Square, London N1C 4AA
Bring your attitude and settle it down on one of the mismatched sofas at DBJS, the too-cool-for-school bar on Kingsland Road. The walls are covered with resident artist's work and the place is made for chilling and people watching. Peckish? Order a stone baked pizza and work through the creative menu of cocktails and speciality beers.
32-34 Kingsland Road, Shoreditch, London, E2 8DA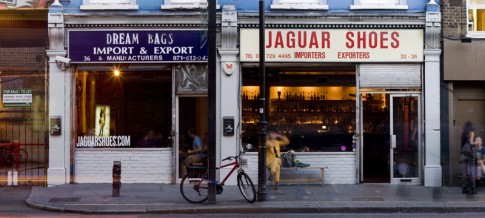 Hawksmoor (all locations)
London's meat kings need no introduction, but did you know they also do a mean breakfast?  The Guildhall location kills it with their full English brekkie and homemade plum doughnuts, or if you need a lie in head to Seven Dials or Spitalfields where it's all about the roast beef for Sunday lunch. Obviously you know what to drink. Hair of the dog at its best ya'll.
Various locations
With turquoise retro booths, wood panelled walls and long communal tables, this modern day brassiere in Noho is the perfect morning hangout for meetings, catch ups and a damn good breakfast. The food here is seriously good, with all the eggs you can handle and lots of small plates for sharing during lunch. We say team your eggs up with the Sunshine Mary, it's a lighter version of the Bloody Mary that uses yellow tomatoes and ginseng…damn good start to the day if you ask us.
43-51 Great Titchfield Street, London, W1W 7PQ
Photo credit: Paul Winch-Furness
Quite recent to the bar scene, the retro House of Tippler is the perfect place to kick back and waste the day away at; Sundays just got serious. It's great for al fresco dining too with various themed areas to keep people on their toes and coming back for more, in fact the front terrace is the perfect people watching spot. Get the drinks in, put some shades on and get comfy, you ain't going nowhere.
123 Lordship Lane, East Dulwich, London SE22 8HU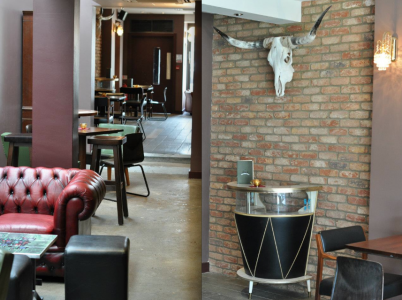 If you want a good view over London then you need to head up The OXO Tower to drink in the views, and their amazing menu. This is a place to come to impress because no matter what time of day you arrive the views will be breath taking, BUT we say hit this place in the day to really get your money's worth and start your day right. Team up the sunny views with your Sunny Mary... that view just got better!
OXO Tower Wharf, Barge House Street, South Bank, London, SE1 9PH 
This place is made for lulling away long afternoons; but be sure to arrive with a huge appetite. If you're feeling a little hung over get into your slacks, splash some water on your face and get down to Hunter S. Order a Kamm & Sons Sunshine Mary and team it up with one of their monumental roasts… these get a lot of praise and you'll definitely see why, don't be expecting to move anywhere any time soon.
194 Southgate Road, London, N1 3HT
Kinda done up like an old fashioned aunt's kitchen, The Rotary Bar and Diner has a kitsch type vibe to it and some serious menus, plus their cocktails are pint sized! That makes any bar high up in our books. This place has British meat, Cornish fish, BBQ, buns, salads and now brunch… so basically anything for anyone. BarChick may like her nightlife but day time bar fun is always a favourite pastime. Get the Rotary Breakfast Tacos, spicy sausage, eggs and holy f*ck salsa, washed down with a trusty Kamm & Sons Sunshine Mary… now you're ready to seize the day properly!
70 City Road, London, EC1Y 2BJ