Twinkling fairy lights, hot cocktails, steaming pots of fondue: when the mercury drops in London, the city's bars and restaurants know exactly how to bring the heat. Check out these super-seasonal pop-ups and terraces, and embrace the festive energy.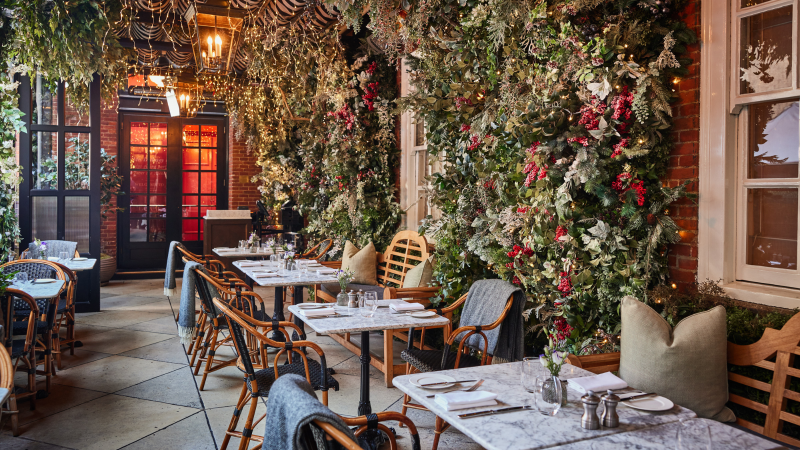 When: All festive season
What: London's most photogenic, greenery-laden veranda just got even more Instagram-worthy, can you be-leaf it? The Dalloway Terrace at The Bloomsbury Hotel is channelling the English countryside with snow-kissed foliage and a nature-inspired cocktail menu featuring the spirits of Herefordshire-based Chase Distillery - think winter warmers like Sloe Gin Mulled Wine, with Chase Sloe Gin and Pinot Noir, and a lush Alpine Toddy featuring Chase Rhubarb & Bramley Apple Gin. Maybe we are country folk after all...
Where: 16-22 Great Russell St, Fitzrovia, London WC1B 3NN
When: 16 November-31 December 
What: Spitalfields spot Brother Marcus is joining forces with Greek spirit Metaxa to transport its terrace into festive territory. Sparkling lights? Check. Cosy heaters? Check. A massive Christmas tree? You KNOW it. And the cocktail list is going full-on seasonal, too - get ready for serves like The Brandy Snap, with Metaxa 12 Stars, double cream, fresh ginger juice and condensed milk, offers a taste of sweet gingerbread, and The Festive Old Fashioned, featuring Metaxa, sea salt honey reduction and bitters. 
Where: 2 Crispin Pl, Whitechapel, London E1 6DW
When: From 17 November
What: A Champagne-soaked alpine chalet? Our interest is peaked. Number One Park Lane, the swanky restaurant at the InterContinental hotel, is teaming up with Moët & Chandon to revamp its terrace into a Swiss-inspired al fresco sanctuary decked out with heaters and blankets - and loads of bubbly, of course. Round up your mates, sip Champagne cocktails and go IN on some raclette, tartiflette and apple strudel.  
Where: The InterContinental London Park Lane, One Hamilton Place, Park Lane, London W1J 7QY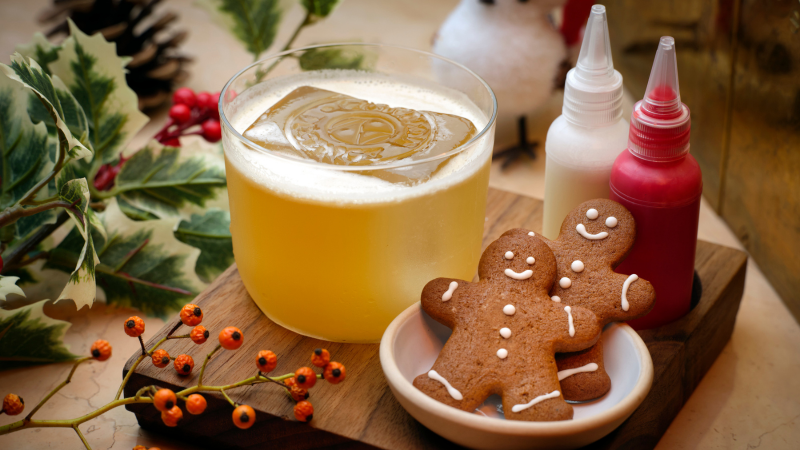 When: 16 November-Christmas
What: The NoMad's newest bar is celebrating its first holiday season in style, transforming into a winter wonderland and serving up a limited-edition menu of festive drinks. The new list features three sections: Naughty, with heavy-hitting boozy riffs on classics; Nice, with lighter, lower-ABV options; and Cocktail Explosions, a selection of over-the-top sharing cocktails. We're already eyeing up the Not The Buttons - that's a mix of bourbon, cortado sherry, ginger, lemon and brown butter, served with a gingerbread man and icing for a bit of DIY garnish action. 
Where: Common Decency at NoMad London, 28 Bow St, London WC2E 7AW
When: Until 22 November
What: Forget pumpkin spice. This fall-inspired pop-up at Mayfair hotspot Hush is all about spiced rum. The resto has teamed up with rum brand Sly Dog to transform its outdoor terrace into a an autumnal wonderland, featuring a canopy of sunset-coloured leaves, loads of pumpkins and rococo mirrors, for a drinking and dining experience that's straight out of a storybook. Snuggle up with a blanket and one of the collab's warming cocktails - we're eyeing the Wolfpack Punch, an absolute banger with Sly Dog Spiced Rum, mango chilli cordial, strawberry, lime, chilli liqueur, soda and absinthe. 
Where: Hush Mayfair, 8 Lancashire Ct, London W1S 1EY
When: Through January 2023
What: Wanna experience fairy tale vibes IRL? No, we're not suggesting you subject yourself to a live-action Disney remake. Just head to The Happenstance near St Paul's and take a seat at its Enchanted Forest terrace, where you can live out your Cinderella fantasies among hanging planters, glowing lanterns and twinkling lights while sipping killer Tanqueray Gin cocktails. The food menu also brings some serious autumnal energy, with dishes like royal estate venison pie, pumpkin-and-sage ravioli and wintry puds. Sounds like a happy ending to us.
Where: The Happenstance, 10 Paternoster Square, London EC4M 7DX
When: Through autumn and winter
What: Covent Garden cafe Lilly's is taking comfort to the next level at its new al fresco terrace, offering fondue and festive cocktails to get you in the mood for colder weather. If there's a better way to warm your bones on a chilly autumn eve than with a cuppa mulled wine and a massive pot of melted cheese, we don't wanna know about it. Sweet tooth? The cakes here are lush too - this spot is the creation of former Claridge's pastry chef Kimberly Lin, after all. 
Where: Lilly's Cafe, 3 Henrietta Street, London WC2E 8LU
When: Through autumn and winter
What: The rooftop at Nordic-Japanese supervenue Pantechnicon has gotten a winterised makeover, and she's lookin' FINE. Pull up a sheepskin-backed seat and dive into an epic new menu of cold-weather drinks and dishes. We'll be channelling a Scandi Don Draper with a Nordic Fashion in hand - that's Kyrö Malt Rye Whisky, labdanum, caramelised honey, rooibos and bitters - before getting stuck into allll the aquavit cocktails and some lush miso-glazed pumpkin. 
Where: Pantechnicon, 19 Motcomb Street, London SW1X 8LB
When: From 11 November
What: The rooftop transformation at Lucky Club's Camden outpost is gonna make North London feel like the North Pole (with central heating and ample tequila, of course): we're talkin' festive decor, more Christmas lights than a suburban neighbourhood in the American heartland and a beaut line-up of wintry cocktails. Cosy up by the open fire pit with a Lucky Hot Chocolate - that's a hot choc spiked with mezcal and chilli, FYI - or get involved with the wicked selection of seasonal Margs. 
Where: Lucky Club Camden, North Stables Yard, Camden Market, Chalk Farm Road, London NW1 8AH
Want more places to cosy up with a bev? Hit these London wine bars.
Originally published 19/10/2022
Updated 11/17/2022