The round-up you've all been casking for... 🥃
Back in 2021, a collection of 3,900 bottles of whisky became the highest value private collection sold at auction from a single collector. Ever. The price? A cool $9.1m. WOOF! Collecting whisky is a lucrative hobby, honey. It might take a while to get your collection to that value, but these 20 bottles are a delicious place to start... though you'll probably wanna double up so you can actually drink them.
Single Malt Scotch
Glenfarclas 25
Why we love it: This whisky might be at the slightly punchier end of the price scale (pushing the £120 mark), but when it comes to taste, it's as smooth as honey, honey. This dark gold liquid has been matured in oloroso sherry casks, which means you're getting some serious body. Give it a sniff and you'll pick up marmalade and freshly ground coffee. Enough to tempt you into making this a breakfast dram.
How to drink it: Neat, with a cube of high-quality dark chocolate. Trust us, it's lush.
Where to buy it: From the Master.
Royal Lochnagar 12
Why we love it: If it's good enough for the royal fam, it's good enough for us. The Royal Lochnagar distillery can be found on the Balmoral Estate up in the picturesque highlands of Scotland, so it's literally the king's neighbour. Their signature expression is always aged to 12 years, and despite being part of Diageo, it's a pretty small-scale distillery. We think that's pretty cool. 
How to drink it: This is a smooth whisky, so you don't really need to add any ice to it if you just want to sip it lightly. It rocks with a little bowl of nuts on the side. Salted, natch.
Where to buy it: Prime will get it to ya tomorrow.
Auchentoshan Sauvignon Blanc
Why we love it:  We like that this is kinda unusual. It brings together the fresh citrusy, apple vibes of Savvy B with the smooth, tripled-distilled taste of Auchentoshan's single malt whisky. It's designed to be served chilled. If you're one of those fancy people with a wine fridge, keep your bottle in there. If you're not, this is a good excuse to get one. Yeah, you could use a normal fridge, or an ice bucket but... hey, we're giving you an opportunity here. Buy the wine fridge.
How to drink it: Make sure it's chilled and serve straight up. 
Where to buy it: This is a special edition only available through Amazon.
Cardhu 12
Why we love it: This Speyside single malt is one smooth operator. It's got a gentle sweetness going on which gives way to delicate smoky wafts. We also dig the shape of the bottle with its curves; it makes it easy to pour your drams like a boss.
How to drink it: You might risk losing the smokiness if you add ice, so keep it neat if that's the bit you're looking forward to.
Where to buy it: Go with Master of Malt for this one.
Port Charlotte 10 Heavily Peated
Why we love it: This is the whisky for those that like the burn of heavy smoky peat. It's a big-hitting 40ppm (that phenol parts per million, FYI). The higher that number, the peatier the whisky. It's one of the most popular whiskies to come out of the Bruichladdich distillery on Islay, thanks to its black-pepper spice and a thick layer of smoke that blankets the tongue. If you really love your whiskies peated, hit up Bruichladdich's Octomore 8.3 which measures a completely bonkers 309ppm - that's the highest PPM on record. Not for the faint hearted. BOOM!
How to drink it: Due to the smokiness of this one, we suggest adding a few drops of water to release the flavours when drinking it neat.
Where to buy it: At The Whisky Exchange.
Global Whiskies
Nikka Coffey Grain - Japan
Why we love it: No, we haven't spelled "coffee" wrong - this Japanese grain whisky isn't gonna be a replacement for your morning caffeine fix. This epic dram is made in Coffey stills, better known as column stills (it gets this lesser-known alias from its inventor, Aeneas Coffey). It's a distillation option usually reserved for grain whiskies, allowing for continuous distillation rather than having to distil in batches. That's gives it a fruity and vibrant profile that rocks a sh*t loada vanilla. We're into it, big time.
How to drink it: This whisky pairs well with a loada different foods - start a meal with foie gras and end it with a crumbly cube of fudge.
Where to buy it: They've got it on Amazon.
Penderyn Gold Madeira Finish - Wales
Why we love it: They say that whisky production in Wales dates back all the way to the fourth century. Yeah, that's a whole lot of experience they've got going on over the other side of the Severn bridge. At the moment, one of the few distilleries you'll find in Wales is Penderyn in the foothills of the Brecon Beacons in South Wales, and boy, is this a whisky you want repping your nation. The Penderyn Gold is the original house style, aged in ex-bourbon barrels and finished in ex-Madeira wine casks to bring out its full gold character. 
How to drink it: Put it in your hipflask and take it with ya on a walk to keep you company.
Where to buy it: From the Whisky Exchange.
Teeling Small Batch - Ireland
Why we love it: The rich, creamy flavours that come outta this blended whiskey are thanks to the double maturation its been treated to. It's originally aged in ex-bourbon barrels, then the Teeling fam move it into casks that previously held Central American rum and leave to soak up those rich, cinnamon and dried fruit flavours for a year. For a brand's flagship expression, it's got it all. 
How to drink it: An Irish whiskey as good as this deserves to be used in a cocktail just as iconic: The Irish Coffee. Here's how we make ours.
Where to buy it: Master of Malt have your back with this one.
Bimber Ex-Bourbon Oak - England
Why we love it: Bimber is the first distillery to have produced whisky in London in over a century. That's a big deal, yo. This distillery is run by a Polish crew of whisky bad-asses who bottled their first release in September 2019. We would say "The First" is the bottle you need in your whisky collection, but those bottles sold out in three hours. THREE HOURS. You can, however, still get their Ex-Bourbon Oak Cask expression, and that, my friends, is the next best thing.
How to drink it: We actually like to hit this dram up in a cocktail. It's got that sweet vanilla hit from the barrel so it really sings in an Old Fashioned.
Where to buy it: Get ya hands on what's in stock at Master of Malt.
Stauning Kaos - Denmark
Why we love it: Stauning Distillery in Denmark might be the most beautiful we've ever (virtually) visited. The architecture is modern, but their production methods tip their hat to the old school, and they've paid off in the creation of their core collection of whiskies. We dig them all, but it's the Kaos that gets our heart racing fastest. It's chaotic in its DNA, but in its taste, it seems totally logical, rocking complexity and versatility with a sick mash-up of Stauning malted rye, smoked and non-smoked single malt whiskies, which bring toasty, rich, chocolatey notes to your glass (we've got the 411 on the Kaos backstory from one of the founders right here).
How to drink it: While virtually touring this epic distillery - you'll appreciate sipping this dram even more when you see how they make it.
Where to buy it: Master of Malt have the whole Stauning line-up available here.
Starward Left Field - Australia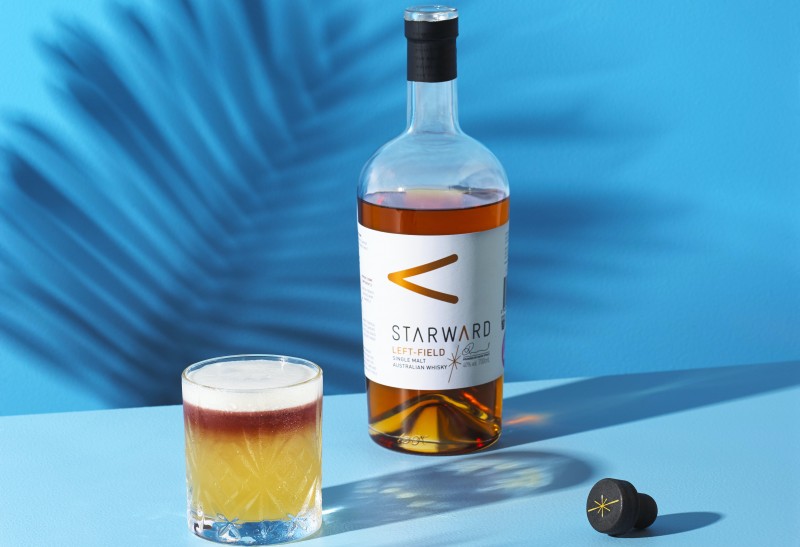 Why we love it: This Australian whisky is made in Melbourne, AKA the city of four seasons in a day. This unique climate means the liquid draws out its signature fruity, delicious flavour in just three short years. They call this elemental maturation, and it's why this stuff literally couldn't be made anywhere else. We think that's pretty cool. They have a few stars in their collection, but we're really into the newest release: Starward Left Field, made in 100% French oak casks which previously held Australian red wines, giving it a rich and spicy mouthfeel. 
How to drink it: As far as Starward is concerned, there's no right way to drink this whisky. Take it to a BBQ, sip it neat, shake it up in a cocktail - it's your call. But we dig it in a New World Sour.
Where to buy it: Waitrose have the exclusive on this little ripper.
Blended
Johnnie Walker Blue Label
Why we love it: When it comes to blending whisky, it pays to be picky. And the crew at Johnnie Walker? Oh, they're pretty fastidious when it comes to choosing the liquid that goes inside their blue-labelled bottles. This iconic blend has been hand-selected from a pool of rare Scotch whiskies that take flavour to new depths. Only one in 10,000 casks make the cut. Slim odds for even the best of 'em. Remember the Royal Lochnagar 12 we were talking about earlier? That's one of the premium whiskies you'll find kicking about in this high-end blend. 
How to drink it: Best served neat, along with some ice-cold water to enhance its powerful character.
Where to buy it: There's currently a tenner off on The Whisky Exchange.
Hibiki Japanese Harmony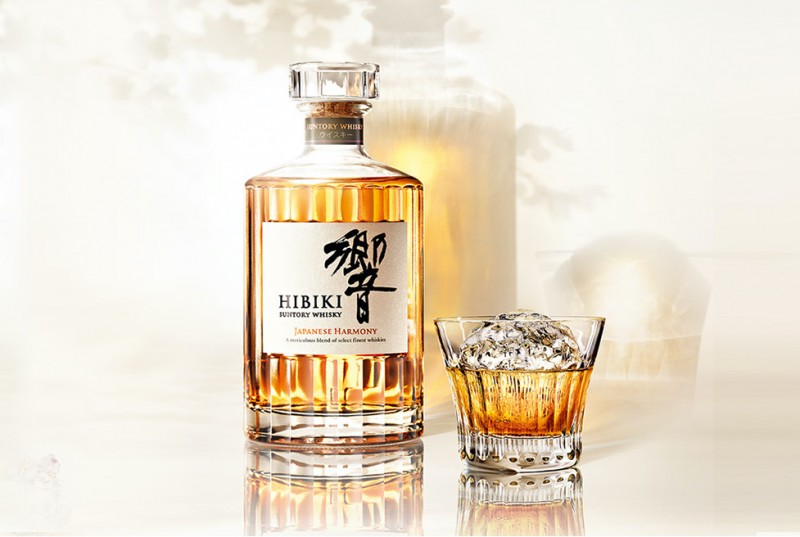 Why we love it: The clue's in the name on this one, sugar. This blended whisky has harmoniously combined malt and grain whiskies to create a moreish Japanese dram that's easy like Sunday morning. This is a warm spring evening dram rather than a winter fireside sipper. Gentle and light. Expect candied oranges and white chocolate vibes with a bit of gentle woodiness. It's a shame this stunning 24-faceted bottle ain't cheap, cos it's pretty easy to get through it at speed.
How to drink it: Add a chunky cube of ice to your glass (the bigger the cube, the slower it melts - that's the aim) and find a sunny spot in your garden/balcony/window to enjoy it.
Where to buy it: We got our bottle from the whisky basement of Harrods (cos we fancy) but you can also grab a bottle from Master of Malt.
Glasshouse
Why we love it: Picture the scene: you're hanging with all your besties. The whole gang is together. The sun is out. The BBQ is lit. And this is the bottle you're taking to share. Get that cool bag filled with ice, grab a few bottles of ginger ale and hand this baby around. It was created for this moment.
How to drink it: This is a whisky to be served in a highball, so pour it over ice in your fave long glass. Soda works, but ginger ale is better. 
Where to buy it: Get it at The Bottle Club.
American
Woodford Reserve
Why we love it: Chances are, your first few forays into drinking Old Fashioned cocktails were made with the amber stuff from Woodford Reserve. It is the ultimate gateway bourbon into a lifelong love affair. With notes of caramel and vanilla, it's just on the right side of sweet without being sickly or saccharine. Plus that bottle looks completely bad-ass on your shelf. 
How to drink it: Like we said, Woodford was made for Old Fashioned drinking. It also tastes epic in a Manhattan, so crack out the glacé cherries, do your best Don Draper impression and get drinkin'. 
Where to buy it: Get it on Prime.
Bulleit Bourbon
Why we love it: Another absolute banger on the Kentucky bourbon scene, Bulleit brings the balance of slight spiciness with sweet maple and some epic notes of oak. It's smoother than a waxed seal, has hints of nutmeg and then finishes in a deeeelightful toffee silkiness. 
How to drink it: You can't go wrong with a Bulleit Boilermaker - a sip of cold beer followed by a sip of bourbon, ooh yeah. Or why not try it in a Bloody Mary? Yep that's right - switch up the vodka for bourbon and suddenly you get an insane depth and richness. That's next-level hair of the dog right there. 
Where to buy it: Get it on Prime.
Few Rye
Why we love it: Wanna go a bit rogue with your rye? This is the bottle to grab. Few Rye delivers plenty of bang for your buck - and when we say bang, we mean the rich, malty and fruity flavours we crave from a drink like this. Little fact: it's made in the city of Evanston, Illinois, the inhabitants of which had to put up with Prohibition for over a century thanks to the fact many of the Prohibition advocates came from here. Phew, sucks to be them. In a cheeky little nod to drier times, Few is actually named after the initials of Frances Elizabeth Willard, a major player in the Temperance Movement. Sick burn, bro. 
How to drink it: Crack it into a Few Boldvardier (see what they did there?) for a classy, tasty and seriously more-ish riff on a Negroni. 
Where to buy it: Get it from Master of Malt.
Originally published 25/02/2021