For when you wanna brunch like the badass baller you are.
Whether you're starting the party at one of these sexy spots, or continuing from the night before by getting on unlimited Champagne (you legend), these are the top spots for flexing that credit card. They're fun, they're frivolous, and you can even get your fancy pants on.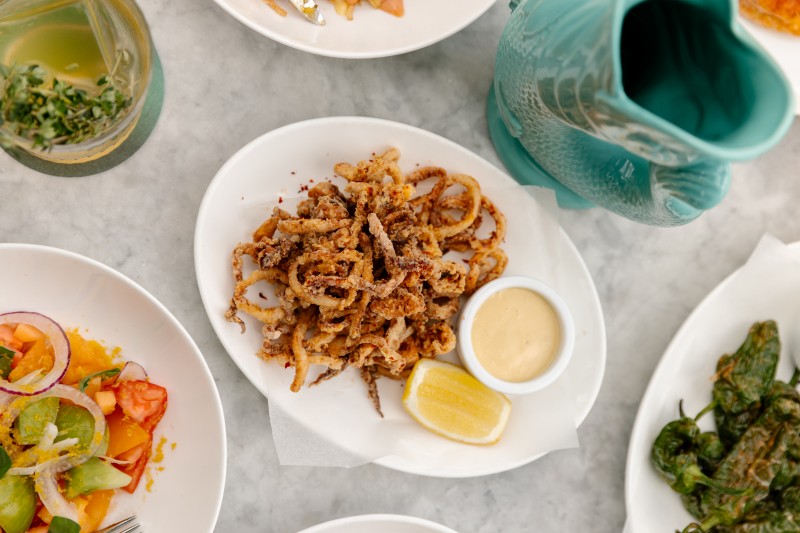 Ever heard of a Gluggle jug? We hadn't either until we headed to the insane Seabird brunch, and now we're fans for life. Here's the 411: it's a fish-shaped jug filled with 6 servings of a cocktail of your choice. So, enough for you and your bestie to feel pretty good about yourselves by the end of the sesh, then. But that's not all. Seabird is upping the ante by inviting diners to start with a Botanist Gin Martini - there's even a whole mountain of these babies on display. A practically pure gin cocktail on an empty stomach? Punchy. We like it. It won't stay that way for long though, cos the menu here will give you serious food envy. The Mediterranean inspired dishes include Crab Claw Omelette with Manchego and Lobster Waffle topped with caviar. Woof.
Whether you're chilling like you're in Miami on the epic, sun-drenched terrace, or kicking back to the live DJ in the pretty-as-a-picture pastel restaurant surrounded by seashells, then one thing's for sure - Seabird is hitting all the high notes, and we love it.
Sky-High brunch at Seabird will take place every Sunday from 11am – 4pm. All guests who dine for brunch throughout May will receive a complimentary martini from The Botanist Gin martini tower on arrival. Bookings here. 
14th Floor, South Bank, 40 Blackfriars Road, London, SE1 8NY
Brunch in a tropical jungle paradise is one thing. An epic South American menu plus bottomless rosé wine? Now that's some free-flowing summer fun we can get on board with. If this sounds like your idea of Sunday heaven (and why wouldn't it?) then get yourself to one of the boujiest brunches going, on the terrace of one of London coolest hotels, The Mandrake. 
Whether you're here to tuck into the mega buttermilk chicken burger, chow down on sensational vegan desserts or top yourself up with unlimited Veuve Clicquot Champagne (yep, that's an option) then this al fresco brunch is one of the hottest tickets to see out the weekend. A live DJ only adds to the vibey atmosphere that'll make you want to party right on through 'til Monday. Bottoms up, botanical style. 
The classic Al Fresco Botanical Sunday Brunch is available at £65 per person. Add free-flowing rosé for £45 or free-flowing Veuve Clicquot for £85. Available Sundays from 12pm-4pm. Bookings here.
20-21 Newman St, London W1T 1PG
Craving a Bloody Mary as big as your head with no less than 10 garnishes? There's only one place to head. Laurent at Hotel Cafe Royal is bossing it with a hangover cure pimped up with Belvedere vodka, Slutty spice mix, a slice of bacon and even a king prawn. Plus it's called... the Bloody Slutty Marie. We didn't think it could be better, until we found out you could go bottomless. 
Style and substance join together at Laurent in the frankly beaut of a hotel, Cafe Royal. Avert your eyes from the glimmering golden back-bar and take a look at that menu. It's a masterclass in New Yaaawk decadence. We forgot any Sunday morning cares with the Truffle Popovers Benedict and the Chicken Sandwich. Yes, that is unlimited Veuve Cliquot you see on the menu, which makes sense because this show-stopper of a brunch spot is the kind of place you feel in the need for fizz. Just save some space for their signature Royal Bloody Mary with garlic-infused Black Cow vodka and wasabi - it packs the kinda punch you need to get your weekend going. 
Bloody Mary or Mimosa Brunch £45 | Veuve Clicquot Brunch £65 
68 Regent St, Soho, London W1B 4DY
This group of Michelin-starred Asian restaurants merges serious style with epic food. When one of their signature dishes is silver cod in Champagne sauce, are you really that surprised? Their brunch is lavish to the max, and the menu makes BarChick delirious. You can go for Classic (with tea), Character (cocktails with wine) or Signature (cocktails with Louis Roederer Brut Premier NV Champagne). No prizes for guessing what we chose.
Get stuck into a menu that includes a basket of dim sum, crispy duck salad, and stir fry beef with Merlot. Yes, rib eye in red wine, people. Last but by no means least the dessert is a chocolate pot so damn fine, you'll wish you could swim in it. Want to bookend your brunch with some serious bling? Finish up with the Hakka Punch cocktail. Rum, coconut, absinthe and gold flakes. POW. 
Between £50 and £62
8 Hanway Pl, Fitzrovia, London W1T 1HD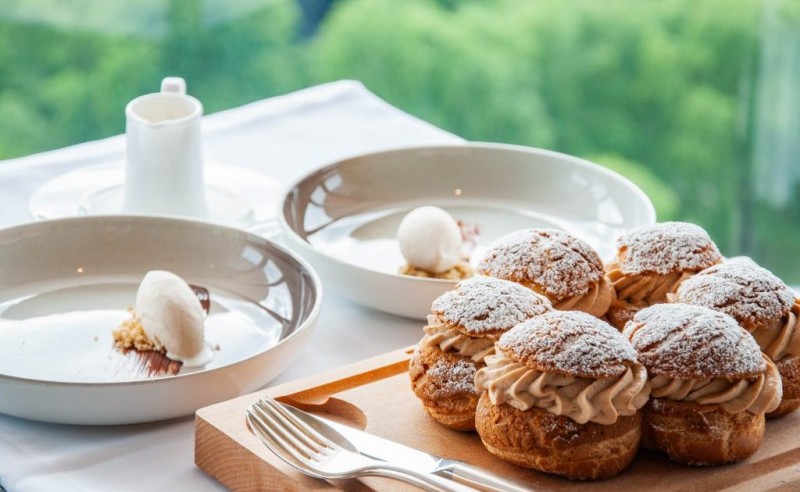 We always find a spot of altitude can take your eggs benny to another level. At Galvin at Windows, it's level 28. Head Chef Joo Won has taken brunch to new heights with a bad-ass menu featuring old favourites as well as the sort of dishes you will find absolutely nowhere else; Gently crisp & sweet Tempura lobster tail with an oozing egg and hollandaise; Sourdough toast cloaked with Black Pudding & Apple Compote (with an option of additional Foie Gras if you're feeling really f*cking extra); and Paris Brest brought to you on a trolley with Hazelnut Cream & Chocolate Sauce?  When washed down with a bottle of Galvin Champagne NV, it's a f*ck yes from us every time. 
Served every Saturday from 12.00pm until 3.00pm. A La Carte menu sees dishes from £4 - £90.
22 Park Ln, Mayfair, London W1K 1BE
For ultimate party times/weekend feasting/eating away the hangover, ROKA's Han Setto brunch is killing it. Things we love: you get loads of top-quality Japanese food. Choices are kept to a minimum until it's main course time (hello, miso black cod and glazed baby back ribs). You can have unlimited bubbles, wine, and Bellinis. Plus the vibe is pure fun. Read: gaggles  of high-heeled gals celebrating birthdays, but we say let your hair down and get back on that horse, it is the weekend.
£43.00 per person | £59.00 per person with Prosecco, red & white wine throughout your meal
71 Aldwych, Holborn, London WC2B 4HN
Nothing says badass like dim sum for breakfast. When we wanna feel like we're brunching in some sultry noir movie, then this 1930s Shanghai-inspired joint is  where we head.  With speakeasy vibes, opulent velvet curtains, more gold than Mr T's safe deposit box, this Mayfair hotspot is giving off serious sex-appeal. 
Pour some Champers, you've got half a bottle to get through alongside your three courses. Tip: go with your pals who don't mind a bit of sharing, then you don't have to waste brain cells on picking between dishes like wild sea bass with ginger, or Cantonese duck with orange. But don't drain all the battery on your phone snapping your food/videoing the live music - you're gonna want to save some for those toilet selfies.
Brunch Chinois is every Saturday from 12-4pm in Club Chinois.
Between £58 and £78 per person
17 Berkeley St, Mayfair, London W1J 8EA