Christmas: an excuse to booze frivolously and swap that serious scotch for something sparkly/creamy/spicy and garnished with a goddamned drummer boy. You heard us. From living it up sky-high to warming up in a secret basement, these bars have nailed festive drinking and are mixing up the best Christmas cocktails in London. Go get some. Three Wise Men at Duck & Waffle, London Rich Woods aka. The Cocktail Guy is a legend when it comes to his seasonal twists on cocktail. We had the Easter Nutella Negroni, the Milky Bar Snowball and now frankincense, hay and mother freakin' 24 carat gold leaf are in the mix. Cognac, truffled dark chocolate, frankincense, myrrh, hay
Seymour's Porter at Seymour's Parlour, London These guys are celebrating their first Christmas and doing it in old-school style taking inspiration from 18th Century travellers who mixed their ale with Cognac. They've added egg to make it luxurious and thick, ginger to spice it up and liquorice and cocoa to give it depth and sweetness. It sounds epic. Porter, cognac, ginger, cocoa nibs, liquorice and a whole egg Star of Christmas at Dry Martini, London This gin-based cocktail is perfect for warming those cockles on a cold winters day. With a balance of flavours from herbs, spices and a touch of homemade Myrrh tincture, it's garnished with Tibetan sandalwood frankincense to give it an extra bit of festive feels. Star of Bombay, Myrrh tincture, Pedro Ximenez 30 yo, Akvavit, lemon juice, sugar, mint leaf and burnt Tibetan sandalwood frankincense 
Christmas Cocktail at Aqua, London The three things BarChick is most likely to fill her face with over the festive period has gotta be chocolate, cheese and booze so Aqua have saved us some serious time by putting them all together with this rich and creamy concotion. Rum, cherry liqueur, cacao, egg white, double cream and milk Hot Coffee Toddy at all London Cocktail Club locations, London It's about time the hot toddy got an upgrade and when it's left down to LCC you know it's gonna be a fun one. Part morning coffee, part toddy, part Quality Street (you heard us); this is how BarChick'll be getting our caffeine fix. Tia Maria, Glenfiddich 12, honey water, orange bitters, coffee mix and hot water
Shady Pine at The Richmond, London Ever wondered what a p*ssed Christmas tree tastes like? Probably not, but this is it. At oyster house The Richmond in Hackney they're keeping things light n' fresh with tequila and actual douglas fir trees. Espolon Reposado, cider vinegar, Luxarado Maraschino, lemon juice and Douglas fir Christmas Spiced Champagne Cocktail at Duck & Waffle, London Nothing says Christmas like mince pies and champers which Rich Woods has brought together with his usual finesse. With a house-made mince pie liqueur (which is basically like a mince pie crack in liquid form) it's the next level holiday snack. Only booze. DW Mince Pie Liqueur, spiced orange bitters and Champagne
The Hottie Holiday at the Distillery, London Christmas is all about hot cocktails and while the sound of milk, whiskey and port all together might sound strange, it's bang on, especially with that cinnamon and clove Christmas syrup in the mix. Even better, it comes served with a Candy Cane garnish. Jameson Irish Whiskey shaken with milk, Wine Port and a home-made Christmas syrup Nutcracker at Pollen Street Social, London This Michelin Starred restaurant doesn't take itself too seriously. Inspired by the ballet this tasty warming, sweet and kinda spicy number comes with a little drummer boy toy to keep you company. Bulleit Rye, chestnut, black cardamom, maple, cream and cocoa nibs
The Yuletide at NOLA, London This bar is famous for the wicked things it does with bourbon and they're keeping on track with this festive offering. With sherry and citrus flavours in the mix, it's bound to warm those cockles on a cold, winters night! Noix St Jean, Amontillado sherry, Bulleit Rye, Galliano L'Autentico, Abbots bitters and orange oil Milky Bar Snowball at Duck & Waffle, London Back again for another year of awesome, this classic is where it's at. It's like a kids sweet treat but with a grown up kick, loaded with a mega concoction of Milky Bar and Advocaat and kept light with bubbles. Step aside Baileys. Vodka, distilled lemon, Milky Bar Advocaat, egg and prosecco spritz
Alpine Sour at Coq d'Argent, London Part of their yearly transformation into a wicked ski lodge Lodge d'Argent, the city's best roof terrace is now complete with cosy knits, vintage skis and animal horns. Their drinks also take a detour towards winter warmers and christmas remixes and this Cognac/brandy number will sure keep you warm. Hennessy Fine Cognac, apricot brandy, lemon juice, aromatic bitters and egg white Marshmallow Punch at Sager + Wilde (formally Mission), London This smooth gin cocktail is sweet, festive and with the smooth marshmallow syrup is *almost* as good as cozying up to a roaring fire, nibble on a toasted marshmallow garnish and settle in for a session. Hendrick's Gin, vanilla extract, orange juice and marshmallow syrup.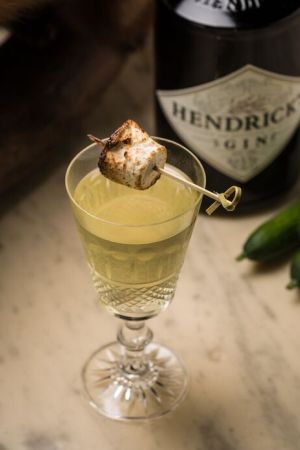 Dirty Santa at Dirty Bones, London Kind of like an Apple Berry Cobbler, only boozy and best downed with a side of Mince Pie Mess (which is exactly what it sounds like and seriously addictive). Finlandia vodka mixed with fresh ginger, blueberries, Velvet Falernum liqueur, cinnamon, apple juice and lime juice, and vanilla and cinnamon infused maple syrup. Bubbles & Baubles at Steam & Rye, London This is a combo of BarChick's favorites: sweet and rich port that shouldn't just be saved for cheese board session, Brit ginseng spirit Kamm & Sons that's so herbal it's almost good for you, plus we'll never say no to Prosecco. Kamm & Sons, port, Angostura Bitters and prosecco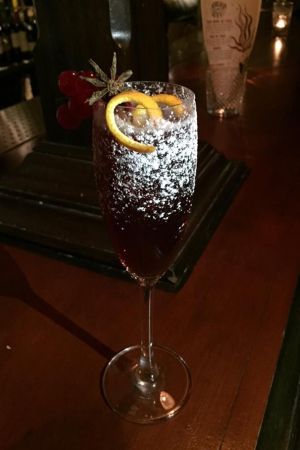 Hot & Cold at The Vault, London Sneak past the bookcase at our favorite whisky shop and get double parked. Get the best of both worlds to warm you up and cool you down, literally - this killer drink comes served up in two parts in a science lesson looking vessel. get your geek on. Cold - Bryhh, Dolin Dry, Maraschino, Angostura & orange bitters. Hot - Michters Rye with orange zest. Citizen Cane at The Cocktail Trading Co, London While you probably never knew drinking out of snow globe was even a thing, it is and it's pretty damn ridiculous. While you might only know the Brazilian rum from downing a cheeky Caipirinha in the sunshine, this winter wonderland has enough Sav Blanc to feel familiar and easy. Cachaça, Sauvignon Blanc, cardamom-vanilla infusion, rosebud tincture and lime juice.
Jul-Mumma at Barnyard, London This little sister to Michelin Starred darling Dabbous is relaxed, playful, and loves to throw back a cold one. While every other joint is ladling out mulled wine like it's going out of style, Oskar Kinberg kept with their beer obsession and instead of adding spices went for spicy booze. Bring it on. Gin, cardamom lager, porter & ginger ale.
Not in London? BarChick likes to get around and we've found these delicious drinks in a few of our favourite UK cities
Mincemeat Manhattan at The Tippling House, Aberdeen This bar's housed in a industrial aged warehouse, and it's one of the best in the city so no details were overlooked here. Not content to let the mince pie inspiration stop at the liquid, this bad boy comes topped with a pastry pie lid. Epic. Mincemeat infused Buffalo Trace, spiced apple syrup and whiskey barrel bitters.
Mince Pie & Brandy Cream at Ginger's Bar, Birmingham Containing pretty much everything we love about Christmas (sherry, mince pies and thick cream) in a little milk jug. The bar that has created it is owned by Michelin Star chef Glynn Purnell - and this guy knows flavours so it's safe to say this is gonna be a goodun. Manzana Verde, mincemeat and biscuit paste and cream.