SAKE
Pronounced 'sah-keh', it refers to all alcohol in Japan, whereas over here it refers to Japanese rice wine. Made from the multiple fermentation of rice, it has a similar brewing process to that of beer, the sugar needed to produce alcohol must first be converted from starch.  Got that?
Most importantly , like tequila it's an upper, so drink up, and get happy! 
Sake drinking guide
It is served in a small flask called a tokkuri, and is traditionally drank from a small, flat, handless cup called an ochoko or a sakazuki.
It can be drunk warm or cold. Usually regular sake, honjozo-shu and shunmai-shu are served warm andginjo-shu and namazake are served cold. Bad sake is generally served hotter.
Hold the tokkuri with both hands and fill up your guests' cups, it is bad luck to fill up your own. If you are higher in status (or older) than those you are pouring for it is acceptable to hold the flask with only one hand, but if not your free hand must at least be touching your pouring arm. Rules are rules people, do it.
Hold the cup up when you are being served, traditionally with your right hand around it and your left palm underneath it.
When you toast you say 'kanpai'. (pronunciation: kahn-pie)
Walk down the stairs, swing a left at the waterfall, eye up the pretty girl in the purple kimono and welcome to Wabi. The bar is bright and welcoming and surrounded by the likes of honey blossom and bamboo shoots and the staff look energetic in their yellow Asics. The barmen will charge your drinks with all sorts of intriguing concoctions like akashi-tai umeshu, calpis, yuzu jam and midori… or try some of their Japanese whiskies.
If sake is more your thing, you are in safe hands here. They have over 19 sakes including sparkling and aged sake, their selection is wide and varied so customers can try lots of different styles. If you are looking to spank it, get the Tedorigawa Tsuyudodo Nama Daiginjo for £120, minor. If not their most popular bottle is the Dewazakura Dewasansan Ginjo at half the price, it has floral aromas and a refreshing finish, so it works perfectly with their delicious food. Oh and they are currently working on a seasonal sake menu that will offer sake at their peak and matching season, something for all you pros.
36-38 Kingsway, London, WC2B 6EY 
If you need a ramen fix, get it here, but hold back if you're thinking of bringing a date, then expect lots of sucking on ramen, and potentially getting a little messy. These guys know a thing or two about boiling bones, what to wash em down with; their sake selection is impressive.
They have 12 sakes listed under hot, cold, sparkling and sweet and they are served either in a carafe, a masu (a traditional handmade pine wooden vessel) or a bottle. Their sake is unique and sourced from small brewers, but the prices are kept low to encourage customers to try more, however if you do want to splash out order the Sake Fukuju (Daiginjo) at £85 for a 720ml bottle. BarChick recommends the Gozenshu 'Nine' Bodaimoto (Junmai) cold sake at £8.20. If you are feeling exotic try one of their homemade fruit (date, pear, apple) infusions of sake, served in a cool glass vessel with an ice cube in the side to keep it cool without it melting into the drink. Talk to them, they are more than happy to share their knowledge.
31 Peter St  London W1F 0AR
Hidden in South Kensington a little off the beaten restaurant track, welcome to a little piece of Japanese perfection. Settle in at the beautiful bright turquoise bar, you can sit restaurant end or bar end - obviously we chose the latter. The sake sommelier is a true professional and will guide you through the different types, teach you how to drink it and educate you on all the etiquette that goes with it. The sake menu is big and well rounded and the price range means that there's something for everyone. By the end of the evening we promise you will be a sake professional.
The food here is delicious too and goes perfectly with the sake.  Cod cheek, Wagyu beef, octopus, duck and some delicious sushi to get stuck in to, oh and make sure you give the horse a pat on the way to the loos.
117-119 Old Brompton Road, South Kensington, SW7 3RN 
Part of the restaurant brigade on Charlotte Street, Nizuni stands out for its delicious sashimi, sushi and maki all housed in a very friendly setting. Not only have they nailed the food, but they have also put a lot of thought and commitment into their cocktails, and their sake list. They have ten sakes to choose from, so take your choice depending on price or temperature, the staff are knowledgeable and more than willing to share their knowledge.
If you don't want to keep it straight then hit the sake cocktails, all of which are BarChick approved. Take it to the beach with the Sake Colada made with sake, Malibu, pineapple juice, Calpico and double cream or cure that cold with the Nippongria made with sake, triple sec, brown sugar, honey ginger tea, orange, lemon and lime.
22 Charlotte Street, London, W1T 2NB 
Get in here and get eating, their ramen is legendary. Say yes to the gyoza, don't neglect the spinach and sesame and obvs order the Tonkotsu. Accompany your lunch/dinner/afternoon tea with some hot flasks of sake, Japanese whiskies or a couple of specially brewed Japanese beers. We also loved the cocktails, have the lot!
We recommend accompanying their ramen with some sake. Honjozo Akashi Tai is an unusual sake because it can be served chilled or warm, when cold it's very crisp, when warm it becomes very smooth and sweet. The Daiginjo Akashi Tai sake is their most expensive, at £16 a flask, it's a high grade sake that is always served chilled and has honey and floral notes.
Finish with their mochi balls (the best balls you'll ever put in your mouth), and accompany them with their Umeshu plum sake. The sake is marinated with plums for 6 months then the product is aged for two years, producing a sweet, rich prune flavour which is perfect after dinner, enjoy!
63 Dean St  London W1D 4QG
If you wanna combine a bit of Japanese drinking with some celeb spotting this is the joint for you… Welcome to how the other half live, and damn it's a smooth operation. When in Zuma, drink sake. They have over 55 different types, so it screams out for a sake session… hot/cold/sparkling/sweet that's up to you (just hope at the end that the bill is up to someone else).
Let the dedicated sake sommelier team guide you through the options, these guys are so serious they even have their own Biwa no Choju sake brewed in the waters of Lake Biwa so give it a go, but if you really want to blow some cash order the Chiyosiku Platinium Daignjo, priced at £1,200 a bottle (do it). The sake is served in a small wooden masu and the waiters often over pour the glasses as a traditional sign of prosperity and good fortune, we love a heavy hand. If you are looking for something a little more unique, order the Hire Zake. The toasted fin of a blowfish (fugu) is steeped in hot sake for about ten minutes and then served. Owing to the poisonous nature of the fugu (some parts are 10,000 more deadly than cyanide) you can't get this anywhere else in the whole of Europe (because you need a special licence), so we recommend you take advantage, when in Rome and all.
5 Raphael Street, Knightsbridge, London, SW7 1DL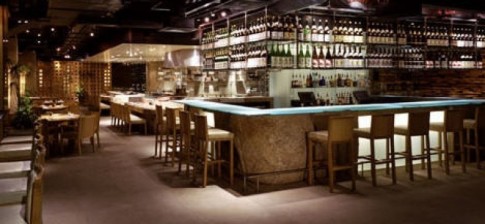 The more fashionable of the Nobu siblings, it's damn slick in here and the party scene is always rocking. Join the hot fashionable crowd in the lounge bar and suck up the vibe. You are here to look good, drink sake and pick at bar snacks… just don't blink too hard when you get the bill otherwise you'll give the game away.
They always have about eight sakes on offer, all of which are exclusive to Nobu and vary in terms of price and taste. Some are creamy, others are sharper and spicier and others have a subtle and delicate finish. We're most intrigued by the semi-dry Hokusetsu Ongakushu 10 year old sake that is aged to the sound of soft, delicate, soothing music (£22 for 180ml), does sake get any smoother?
15 Berkeley St, London, W1J 8DY 
High atop Oxford Street sits Aqua. Find the entrance on Argyll Street, and just embrace the feeling that you are entering a seedy club. Speed up in the lift and hit the perfectly executed cocktails, the sake or the Japanese whisky. They'll charge your drinks with an array of oriental spirits while you strut around like a movie star in your swanky surroundings.
They have 11 different sakes which change seasonally, and the list is versatile and impressive. If you are looking to splash out then order the Akitabare Suirakuten "Heaven of Tipsy Delight" (£183 for 720ml), but if you're new to the sake scene then stick to the Azure, it's smooth and clean and it's hard not to enjoy. The bartenders are knowledgeable and more than happy to talk you through the bottles and the traditional ceremony of drinking sake, so indulge and drink in their knowledge.
When the sun's out, the balcony bar, cocktail in hand is the only way to roll. We recommend the Aqua Kyoto cocktail made with gin, sake, sherry and elderflower. See you sky high.
 5th Floor, 240 Regent St, London, W1B 3BR
JAPANESE WHISKY
The Japanese have been doing it Scottish style since the 20s. The signature Japanese passion and precision, combined with the Scottish methods, makes for a smooth, exquisite quality whisky. Try the Suntory or Nikka Single Malts and blends, and keep it traditional by drinking with bubbly mineral water in a highball.
Dark and brooding, just how BarChick likes her men, welcome to Mizuwari. Hidden away in the basement of Bincho Yakitori, Japanese whisky is the name of the game down here. Inspired by the original izakayas of Japan, there's a lot of wood, sultry candlelight and some very rare Japanese whiskies. Sit at the bar and watch the barmen chip away at homemade ice balls or mix Whisky Sours in bowls, Japanese tea ceremony stylee.
With over 50 whiskies, these guys boast the biggest collection of Japanese whisky in London, including some very rare expressions like the Hakushu heavily peated and Yamazaki bourbon barrel. Until now such special whisky has only been on offer in 5* hotels and restaurants, but here you can enjoy it in relaxed surroundings. If you are looking to splash out order the Karuizawa 1984 Sherry Butt at £45 per serve, but you don't have to spend this much to get real quality, we recommend the Yamazaki Mizunara cask because you get the full essence of the Japanese oak on the spirit.
Mizuwari literally translates as 'mixed with water' and even though it sounds strange, their water is their secret ingredient. They mix two parts water to one part whisky and it is stirred over hand cut ice cubes and diluted with our Binchõ-tan charcoal filtered water, which purifies whilst adding flavour and minerals.
If you want to impress get involved in their bottle keep service, they'll keep it under lock and key and whip it out on your next visit… smooth.
16 Old Compton Street, London, W1D 4TL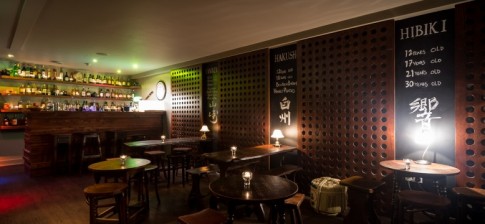 SOCHU
Shochu is a Japanese vodka-like spirit made of distilled sweet potato that dates back to 1549. Unlike sake which is only ever made from rice, shochu is distilled from several raw materials like barley, buckwheat, sweet potatoes and sugar. The alcohol content is usually about 25%.
The poshest kid on the block, Roka, has got a super sexy Japanese drinking den hidden in its depths, welcome Shochu Lounge. Manga art is scattered on the walls and there's soft lighting, dark wood and deep red upholstery.
The masterminds behind the bar have created their own shochu using fresh and seasonal ingredients and guests can create their own bespoke bottle. Sample and experiment with flavours with the help of the master of shochu and pick what you like, it will then be stored on the wall with a personalised label, swanky. Or alternatively you can purchase a 4L jar of the stuff for £260, minor.
Alternatively sit at the bar and sample the shochu tonics, there's every flavour from clementine, lemon, plum, blood orange, jasmine flower and rhubarb. Enjoy!
37 Charlotte Street, London, W1T 1RR