When life gives you limes, you know what to do. And so do these guys.
Whether you're getting your weekend started, celebrating Cinco de Mayo or just fancy a taste of that Mexican life in the middle of the week - these are the Margs we're all about when it comes to home drinking.
Jose Cuervo Tequila | Toschi Agave Syrup | Organic Citric Acid | Water
A Margarita you can fit in your back pocket? We're down. Rather than bottling their cocktails, the team from NIO have packaged up their premium crafted serves in uniquely designed sleeves slim enough to keep on ya until the mood strikes. Then it's a case of rip off the corner, pour over ice and sip. Their slim-packed Tommy's is sharp, citrusy and bad-ass - a taste of Mexico in your pocket.
Build a box of NIO cocktails here.
Ocho Blanco Tequila | Forever Lime | Agave
Having a rule-of-6 Cinco De Mayo celebration with your mates? Wanna stock up? This Quarantini bumper box is the way to do it. Choose two bottled cocktails created on-site at The Sun Tavern by the wicked bar team, enough for 8 serves - all for £28. Sure you can go for Irish Old Fashioned, Negroni, Sazerac... but why would you when Margs are on the cards??
Each bottled cocktail contains 4 cocktail serves. Get your box of treats here.
Altos Tequila | Fresh Lime Juice | Agave
When BarChick wants to let her hair down, this is the Soho haunt she heads to. While letting loose in lockdown hits a bit differently now, you can still score the good stuff The Pink Chihuahua is known for, cos this basement bar is bottling up their Margs for when you wanna go loco in your casa - you just gotta get them delivered. Our choice? Well, nothing says "dance on your kitchen table" quite like a Tommy's. And you won't have to negotiate El Camion's ladder-like staircase when it's time to call it a night. May as well make it two bottles.
Ocho Blanco Tequila | QuiQuiRiQui Tobala Mezcal | Tio Pepe Fino Sherry | Cocchi Americano | Bergamot | Citrus Cordial
Q: What do you need to experience the 5th best bar in the world during a global pandemic? A: a freezer full of ice, your favourite rocks glass and a few bottles of their epic RTD cocktails. The formidable pair behind Shoreditch's Tayēr + Elementary don't do things by halves. That's why when it comes to creating a bottled Margarita, they've gone all out, hitting us with an agave double whammy of tequila and mezcal. The result is a blend of ripe creamy agave, with an earthy smokiness cut with ripe citrus. Oh mama. 
Each 300ml bottle is priced at £30, available to buy through the T+E shop & Cask liquid Marketing (where they currently have 20% off - get it while it's hot!)
The Pink Chihuahua's bottled Margarita's come in 750ml bottles (approx 6 cocktails) for £40 each. You can get them here.
Patrón Silver | Patrón Reposado | Patrón Anejo
Why have one Margarita when you can have... three? That's the spirit! And if you're gonna go all-out for a day dedicated to Margs, then do it in style. Premium tequila Patrón has partnered with the master mixologists behind the world's best bar (& one of BarChick's faves), The Connaught Bar, and the results are pretty epic. Begin your agave adventure with the Alpha Margarita (Patrón Silver, homemade orange wine liqueur & coriander bitters), then crack on with Omega Margarita which makes the most of Patrón Reposado. Finally, it's all about the Sigma Margarita - a killer combo of Patrón Anejo, homemade sherry orange liqueur for sweet depth & supasawa for the citrus zing. A lockdown threesome you won't be regretting in the morning.
£35 from The Drinks Drop. All the sales profits will be donated to the Covid fund of the Drinks Trust in aid of the industry professionals affected by the pandemic.
Ocho Tequila | Lime | Orange | Hint of Neroli | Pinch of Salt
This sh*t-hot East London drinking hole is parked firmly on the World's 50 best list, but their cocktails are rocking a bit more mobility. Pretty sweet news for anyone sat at home missing the way the Vennng brothers make magic with booze. They've nailed the classics and bottled them up for delivery, with a touch of Three Sheets class. For their margarita, they've kept it traditional (ish), and bad-ass. Time to make some space in your fridge, amigos, cos with this Marg you're never more than a bottlecap twist away from Kingsland Road's answer to Mexico.
Each 500ml bottle is priced at £29. Available to order through Top Cuvee
Enemigo Tequila | Triple Sec | Lime | Salt
Nothing like cracking open a cold one at the end of the day, amirite lads? These slick, dinky cans from MOTH (that's a Mix Of Total Happiness, honey) taste like closing those 20 tabs on your browser on a Friday afternoon and checking in for a weekend of chilling with your crew. They might be small but this bar-quality mix of Enemigo Tequila, Triple Sec, lime and salt makes them hella mighty. The perfect sized serve for one, these cans are ready to go when you are. Whether you're going somewhere or not.
MOTH cocktails are available to buy exclusively from Waitrose for £3.99 per can. You can currently get 4 for 3. Get on it.
Tequila | Cointreau | Orange | Mandarin Wine | Caramel
The gang at Coupette have created a sick travel corridor between Mexico and France with their hot new bottled take on the Margarita. These sexy wax-sealed glass bottles of L'Orange Couture have been inspired by Fashion Week. This is avant-garde mixology, mon amis. Taste that? That's mandarin wine and caramel, and it's giving this classic one helluva sexy French accent. These guys know how to work it, baby. 
Coupette's bottles are available in 350ml & 500ml bottles (that's 2 to 5 serves) starting at £26.50
AquaRiva Blanco Tequila | Cointreau| Citric Acid | Aromatic Bitters
Listen up, gang. None of us are going anywhere anytime soon *sigh* but the eccentric squad at Mr Foggs are sending adventure your way anyway, with their bold selection of deliverable cocktail kits. Hit up Mexico from your living room with their sharp and sweet AirMail Margarita complete with garnishes and a stash of strawberry bob-bons. Sweet. 
Each pack includes 2 x 100ml servings in a single pouch, priced at £19.50 - order it over here.
Organic Sparkling Agave Wine | Organic Key Lime | Orange | Ginger | Elderflower Juice
Aperitivo Hour, meet Hammock Time. This chill can of Margarita Spritz from the Miami Cocktail Co brings a kick-ass canned hybrid of summer vibes, subbing out the traditional tequila for agave wine AKA fortified wine made from fermented blue agave blended with Blanco tequila. They've pimped it with sweet and floral notes of elderflower and ginger, and balanced it all with a lush spray of lime juice. Perfect for sipping on a sun-dappled Italian terrace, under a Mexican beach-side cabana or at your local park. Whatever works for you. 
Available to purchase online from Revl.co.uk for £3 or enjoy 4-for-3 at Waitrose.com
Tequila | Agave | Lime | Chilli
The batched cocktail pros Black Lines have added a touch of chilli to their Tommy's Margarita and it's bringing more heat than an episode of Bridgerton. Hot damn. Just get that bottle straight in the fridge and when you can't wait any longer, pop the cap, pour over plenty of ice in a rocks glass and garnish with a chilli top. You're gonna want some alone time with this bottle. Trust us.
This 500ml bottle contains 5 serves, priced at £24. They'll hook you up with a bottle here.
Dangerous Don Espadin | Organic Ginger vodka | Supasawa | Salted Agave
Nothing brings the party more than a Margarita, and this sassy pouch comes from Stokey's dedicated Mezcal bar, run by two babes with a passion for Tequila's smokin' hot cousin. The Doña Margarita is made with Dangerous Don, a wicked mezcal which mixes two of Mexico's most beloved treasures (and BarChick's fave things): mezcal & coffee. Boom. Treat yourself to a party box of 3 Margs and you'll get the full Doña Experience. That means an exclusive link to a live stream concert by Steam down to enjoy while you sip. Lets get this party started.
The 3 pouch box from Doña x The Drinks Drop is priced at £30, while the 6-pack box is priced at £50.
The Lost Explorer Espadín Mezcal | Kaffir Lime | Eucalyptus | Cane Syrup
Few London cocktails have legend status, but we can pretty confidently say Hacha's Mirror Margarita is 100% legendary. If you haven't tried "the best cocktail in the UK" yet, now's the time to change that, and while you're at it, you need to give their Mezcal Marg a ride, too. This smokey twist on the award-winning OG is made with The Lost Explorer Espadín Mezcal, a sweet, herbaceous spirit with notes of apple, cherries and wood smoke. They have a minimum of two bottles per order, but trust us, you won't mind buying bulk when you try it.
Each 500ml bottle (4 large serves) is priced at £35. Get your bottle from the Hacha webshop.
Ocho Reposado | Lime | Agave | Bitters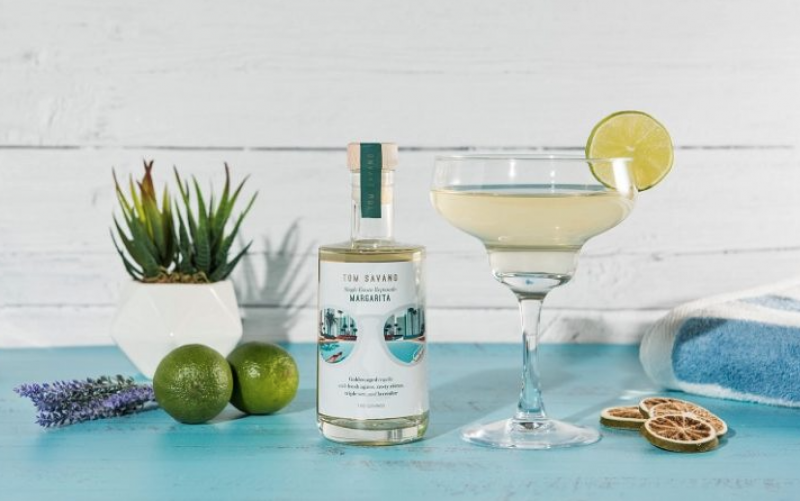 When something promises to be 'so smooth and fresh you'll feel you're lying on the warm sand surrounded by palm trees with one sip' then we sit up and damn well listen. This bottled riff on a Tommy's is crisp and refreshing, combining the golden flavours of aged tequila with tangy lime, sweet agave, and their secret bitters with a hint of smokiness. Move over Tommy, this is Tom's Margarita now.
Grab a 250ml or 500ml bottle here
Ocho Tequila | Persian Lime | Agave | Nori Seaweed Bitters
Sherbert lime notes, umami seaweed... this screams mouth-watering flavour bomb for the tastebuds, and we're into it. Those badasses at World of Zing sure know how to mix a creative cocktail.